"Devotion" Score Mixer Alvin Wee on Letting the Music & Emotion Take Flight
Growing up in Malaysia, Alvin Wee was drawn to "big action movies" such as the Harry Potter series and Transformers. "I liked sensory overload, the loud, visual spectacle. My favorite movie was Superman with Christopher Reeve. It's also my favorite score, by John Williams," says Wee, the Score Mixer on Sony's Devotion, now in theaters. Wee was also the score mixer for Disney's Encanto, working closely with composer Germaine Franco.
Wee got to do both epic and intimate with director J.D. Dillard's Devotion, the true story of the friendship between US Navy fighter pilots Capt. Thomas Hudner, Jr. (Glen Powell) and Ensign Jesse Brown (Jonathan Majors) during the Korean War when both were honored for their heroism. Devotion is notable for being equal parts action movie with Top Gun– like aerial maneuvers and a poignant drama about the genuine friendship between the two men, one white and one Black, from very different backgrounds.
As score mixer, Wee worked in close collaboration with Devotion composer Chanda Dancy. "I appreciate the collaborative process," says Wee, who studied arranging and jazz composition at Berklee School of Music in Boston. "As a musician myself, I am able to bring more of the production process to collaboration. My goal from the beginning is always the 'A-ha!' moment. I live for that moment when the director, conductor, or composer is asking me 'what if …' and I'm able to help realize their vision."
He also credits Devotion sound mixer Joel Dougherty for "making sure the music is well represented. For instance, there's the big scene when the [fighter planes] get to the bridge, and the plane comes down. It could have been all gunshots and explosions. I like things loud, so I mix loud, but even I thought the sound was exciting … Joel said we needed the music to be just as good as the effects, and it makes the scene. [Director] J.D. [Dillard] had a lot of say, obviously; if the music was not mixed well, it would not have been able to compete with the effects."
Wee's knowledge of jazz and the technical aspects of production turned out to be unexpectedly useful since Devotion is set in 1950. Dancy composed period music for several sequences, most notably an important scene in a casino in France where the Naval officers meet the young screen legend Elizabeth Taylor.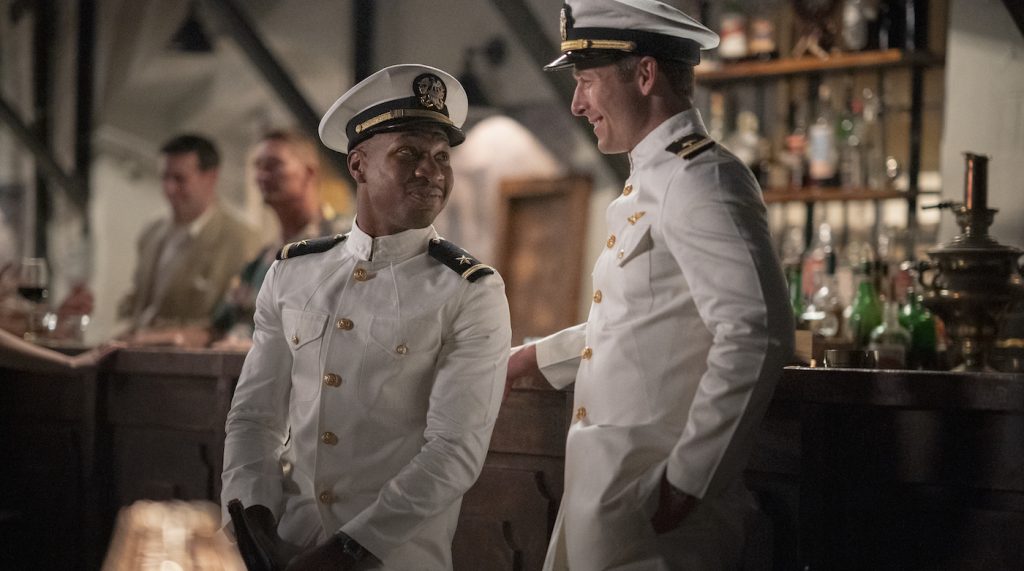 "It was a conscious decision to make sure that musically it was appropriate to the time, and Chanda did her own version of it. The casino scene has a big band playing Chanda's original music, but it's reflective of the era," Wee says. "We were in the studio in Nashville, and we used the same setup and the same types of musicians that would have been in a 1950s big band. We used the same arrangements and harmonies. I researched recording and mixing techniques to make it historically accurate. We made sure it was right, down to the types of notes in a solo, the tempo, the sonic representation, whether it sounds like Django Reinhardt or Duke Ellington. We made sure it was done intentionally."
When he first got to work in the Devotion sound studio, says Wee, "I didn't see any visuals. Chanda and J.D. were working closely, but at that point, I had nothing but music to go on in the initial mixing," he says. "Once I started mixing, I got the sense of beautiful, tender moments with pianos, quiet moments in the score that needed sculpting. We wanted big, and we wanted intimate. When Jesse and Tom are having a conversation, we didn't want music to get in the way. So I went with my instincts. Once I saw the visuals, I knew the communication was right, and the way it translated made sense."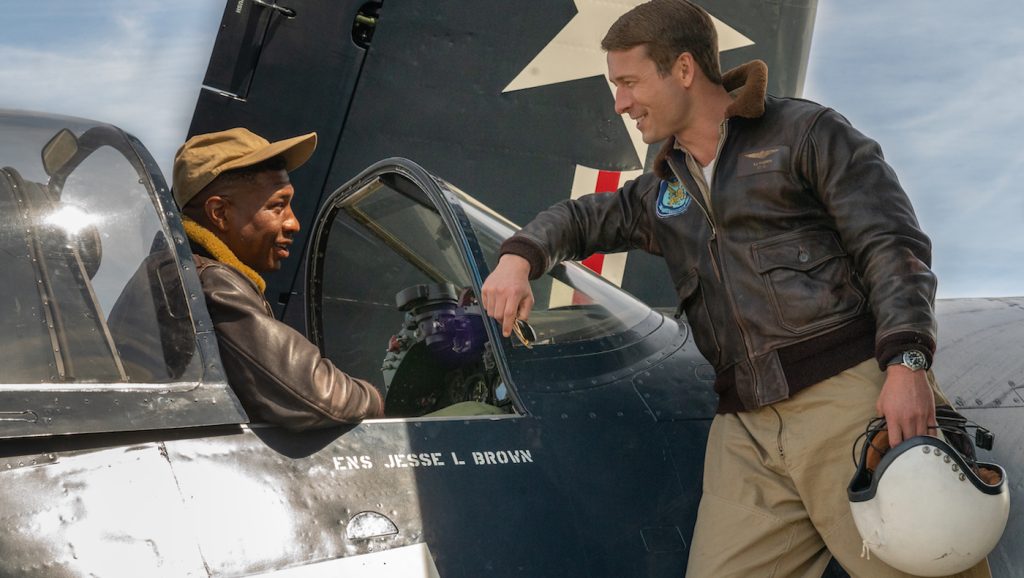 Wee moved to Los Angeles to work in music production but eventually found his way to film. He was hired as score mixing assistant on the 2014 movie Kingsman: The Secret Service. "That was my introduction to film music. I've never looked back," says Wee, whose music department credits since then include No Time to Die, Encanto, Top Gun: Maverick, and the upcoming Whitney Houston biopic I Wanna Dance with Somebody, which reunites him with composer Chanda Dancy.
The top-to-bottom attention to detail in Devotion was all the more rigorous because the film is based on real-life heroes.
"We got to meet [members of Jesse's and Tom's] families at screenings, and it makes it more real; there's a weight to it," says Wee.
"At the end of the day, everyone is so invested; we all tried to represent the story as well as we could. No one in that room in Nashville was doing it for any other reason. There's so much to be said about the people who gave their lives for their country. I wanted to make sure it was done accurately and people understand the emotion and heart behind it."
Devotion is playing in select theaters now.
For more upcoming films from Sony Pictures, check out these stories:
"Spider-Man: Across the Spider-Verse" Trailer Finds Miles Morales in a Spot of Trouble
"Devotion" Director J.D. Dillard on Leading Jonathan Majors in his Emotional War Epic
"The Walking Dead" Showrunner Angela Kang to Lead Marvel's "Silk: Spider Society" For Amazon & MGM
Featured image: Jesse Brown (Jonathan Majors) and Tom Hudner (Glen Powell) in Columbia Pictures' DEVOTION.