Sorry to Bother You's Costume Designer Deirdra Govan's Vintage Vision
Boots Riley's Sorry to Bother You is a revelation. It's usually a cliché to say "you won't see another film like it this year," but you won't see another film like it this year. Or next year. Or, likely, the year after that. There's a reason Sorry to Bother You took years to make, even though everyone who read the script fell in love with it—when you go this far afield from what people expect, it takes time to bring them around to realization that the films we remember and that end up shaping cinema often seem bizarre on first blush.
Without giving too much away, Sorry to Bother You focuses on a young telemarketer named Cassius Green (Lakeith Stanfield) and his political activist girlfriend Detroit (Tessa Thompson). Cassius is trying to make a name for himself in sales while Detroit is trying to right wrongs in a dystopian future America that's trippy and bizarre yet scarily believable. When Cassius discovers a magical secret to success for a man of color in business, Sorry to Bother You goes from clever and weird to gonzo and brilliant. Stanfield and Thompson are dynamite, and they're joined by co-stars who seem to relish the chance to play in Riley's sandbox. Jermaine Fowler, Omari Hardwick, Kate Berlant, David Cross, Armie Hammer, and Terry Crews are all on hand in a film that, as you can see, defies easy descriptoin.
For costume designer Deirda Govan, joining Riley's passion project started with her receiving the script from a producer friend, along with a simple message.
"She wrote one sentence, 'Kill it,'" Govan says. "I read the script on the plane, and I literally lost my mind. I was so blown away and excited. Never had I read something that had such an incredible tapestry of magical realism for a multi cultural cast of black, brown and Asian people."
Govan got to work immediately—before she was hired.
"I was designing it in my mind as I was reading it, creating visual call outs, doing research on my phone, saving images and articles. I came back five days later and stayed up for three days putting together a presentation, and I presented it to Boots, and he loved what he saw. We were a match made in heaven."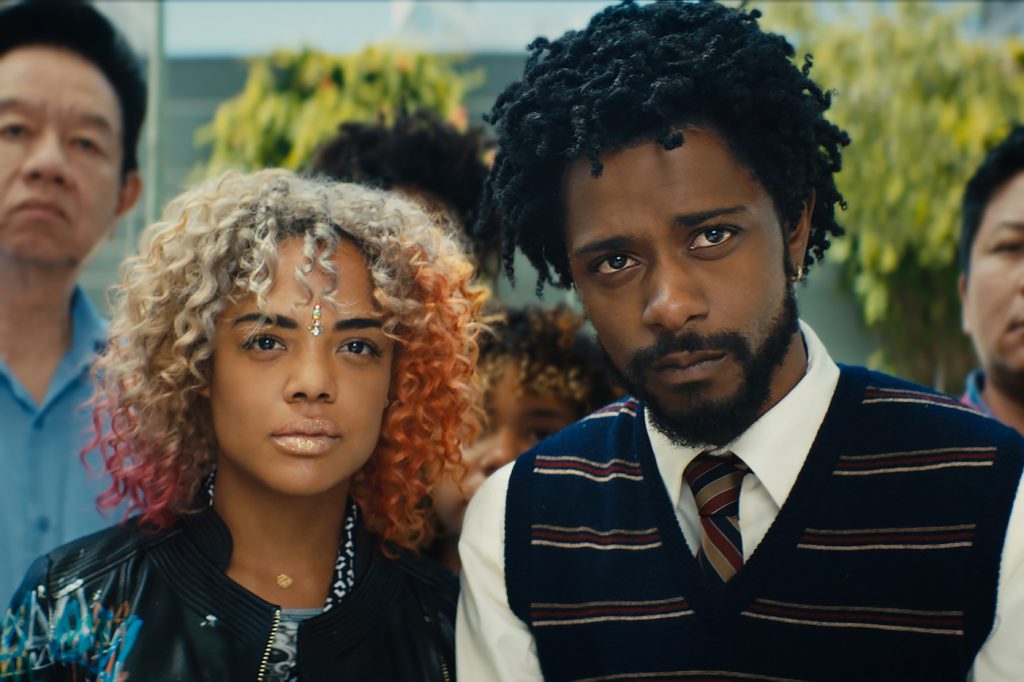 One of the cinematic references Govan used was Michel Gondry's Eternal Sunshine of the Spotless Mind. That film, with a script from Charlie Kaufman, was also a sci-fi fantasy set in a semi-dystopian world in which you could have unpleasant memories erased. For Govan, the film's punk heart, specifically in the character of Kate Winslet's Clementine, was a way to begin thinking about Sorry to Bother You's potential look.
"I referenced Eternal Sunshine to Boots, and he was like, 'Yes, you get it.' I'm a major film buff, and I was able to speak that language to him and make those the reference points, especially when we wanted to talk about style. I wanted to do for Tessa style what Eternal Sunshine did for Kate Winslet's. Style is about making it your own, having your own slant, and taking that creative risk taking was very comfortable for me."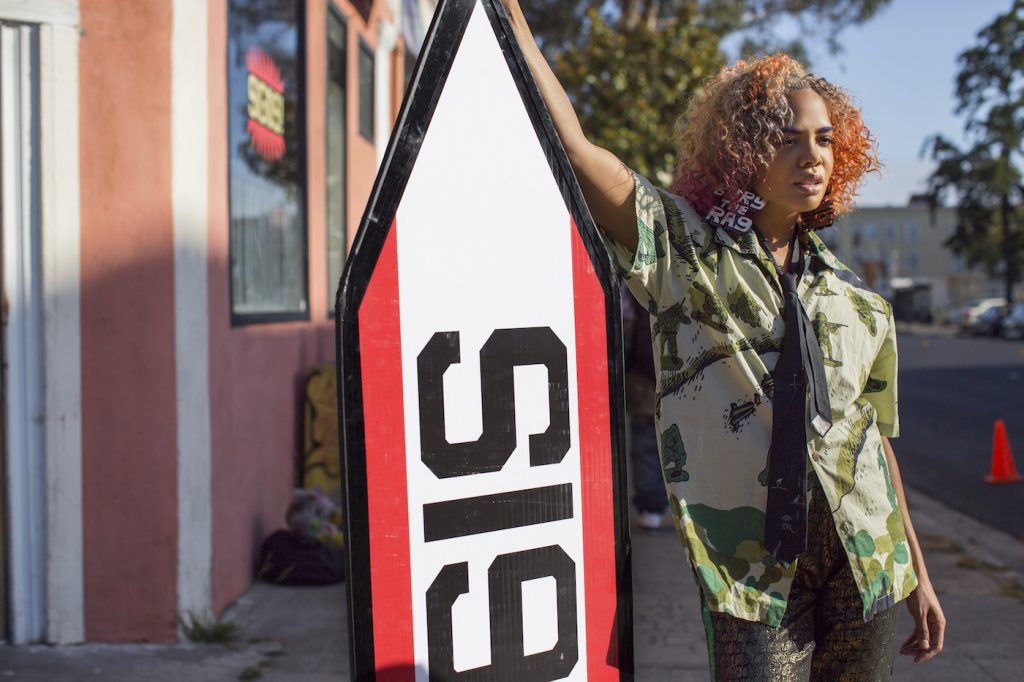 "The stylistc echoes for Detroit's character reside and live in the place of a little bit of punk, a little of Patti Smith, Grace Jones, mixed with Afro Futurism and Afro Punk, and chic," Govan says. "Eternal Sunshine really got me because Detroit had rainbow colored hair, and Winslet's hair color and way of dressing was all found vintage. None of these characters were owned by fashion labels, I wasn't going to go buy Gucci or Tom Ford. This film was completely vintage fun, department store shopping, hunting every nook and cranny of Oakland. I found one piece at Salvation Army, one piece on Haight Street, and so on. And I had over 100 costumes to create! It was a testament to my will to be as diligent as possible and take garments I'd find and rework them."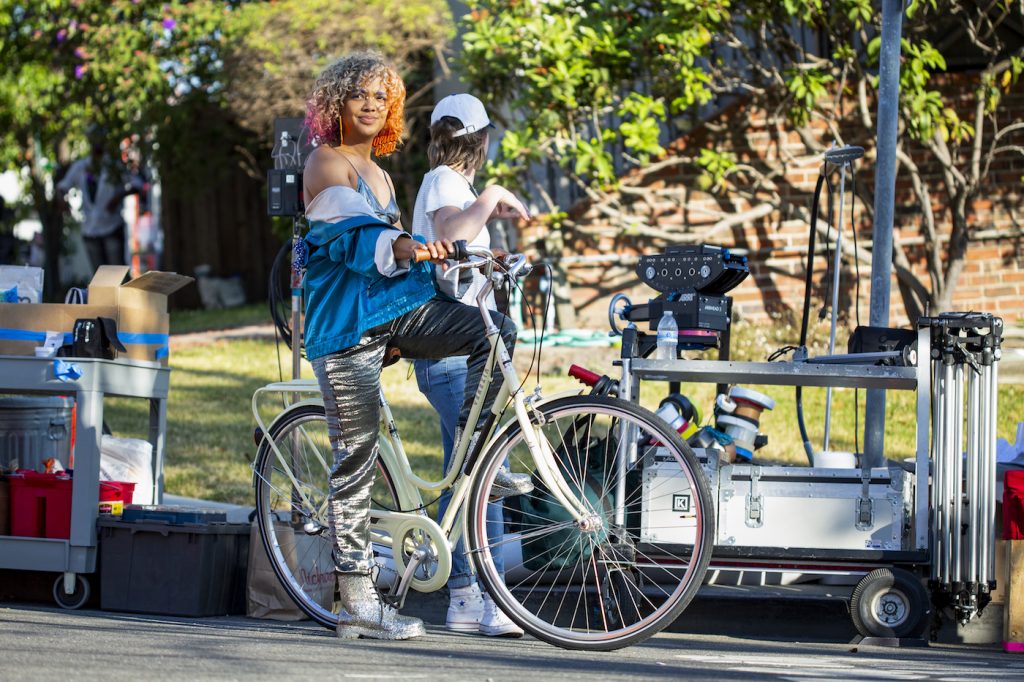 Whether it was sewing African cloth into a pair of Tuxedo pants for Detroit, or creating a brand new corset from vintage materials, Govan's mad scientist approach to Sorry to Bother You's costumes are a major reason the film is so visually singular and uncanny. Yet the characters also look good, despite wearing clothes that you or I could probably not pull off.
"People have asked me, oh my god, where did you find her look?" Govan says of Detroit. "None of these characters lived in one shop. It really requires a curated eye, and an understanding of shape, form, texture, color, how everything will work together for each character. For Cassius, his mother dressed him, and he wears the same clothes he wore in high school, his shoes are his dads, his ties are his uncles, yet he mixes and matches those patterns together."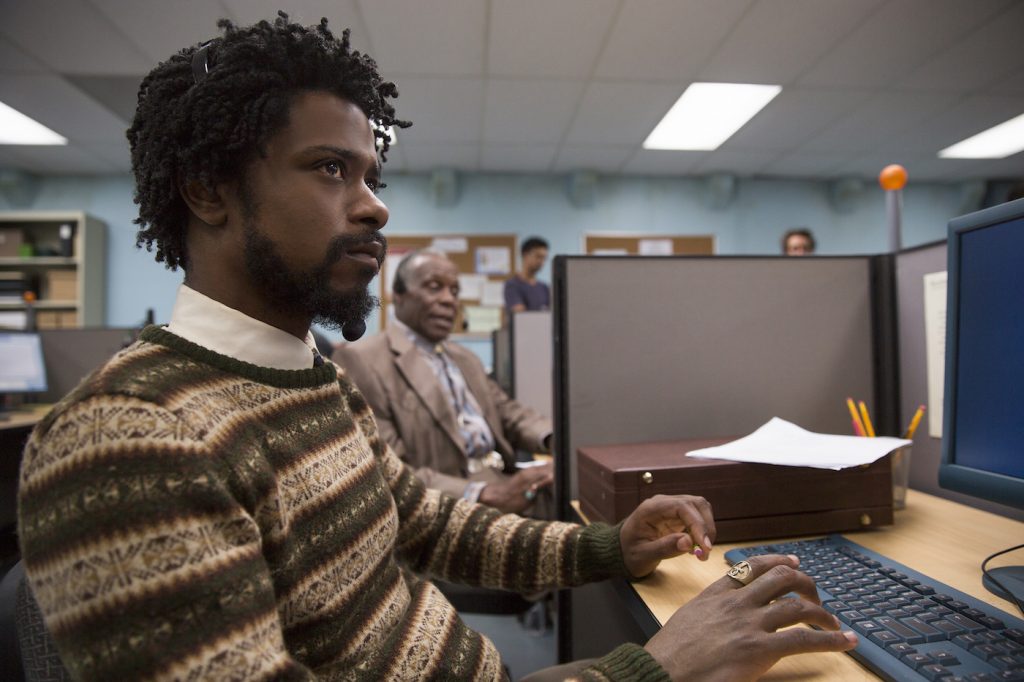 The look in the film changes once Cassius begins emulating a "power caller." Govan explains that Cassius would have raided his dad's wardrobe to find clothes that make him appear more put together, business-like, mature. "When he stars trying to be a power caller, he goes with the plaid green suit, he's not going to buy a suit, he's going to borrow what his dad had."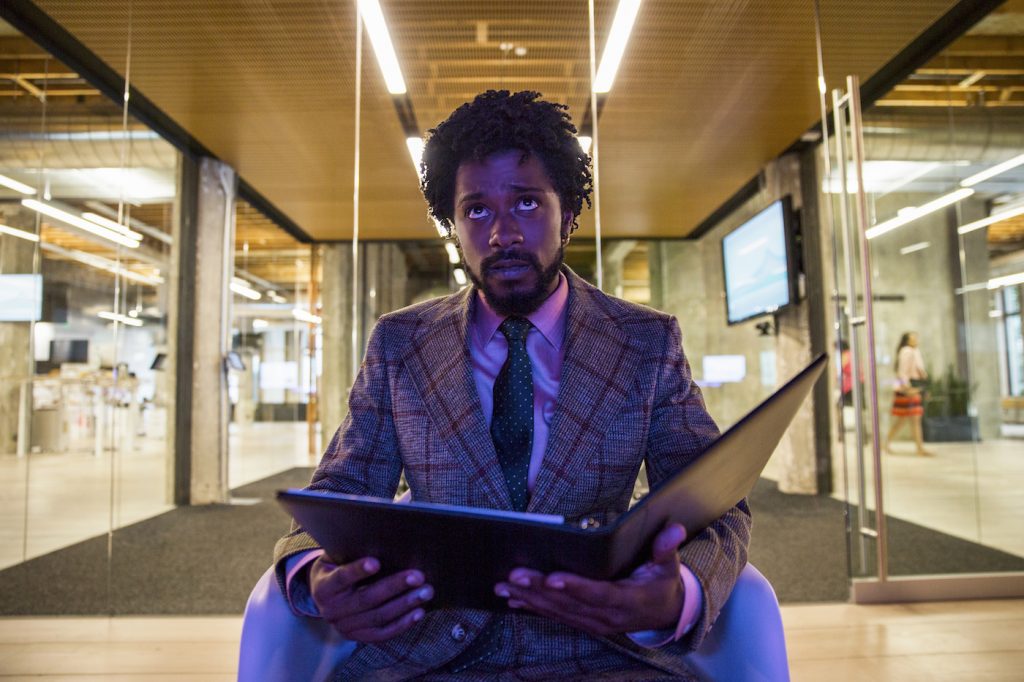 The film gets progressively weirder as Cassius begins to find his way in the corporate world, and the wardrobes and palette of the film change as Cassius does.
"What's exciting to me is that I think some of us in society and look at people and go, 'Wow, I wish I could dress like that.' The fascinating turning point for Cassius is when he observes Mr. Blank (Omari Hardwick) from afar, and he's thinking, 'How'd you get that, how'd you afford that, I wanna be that.' A lot of us are not always happy with what we have, we always want more, that's a part of the script that I don't think a lot of people get. The grass is always greener."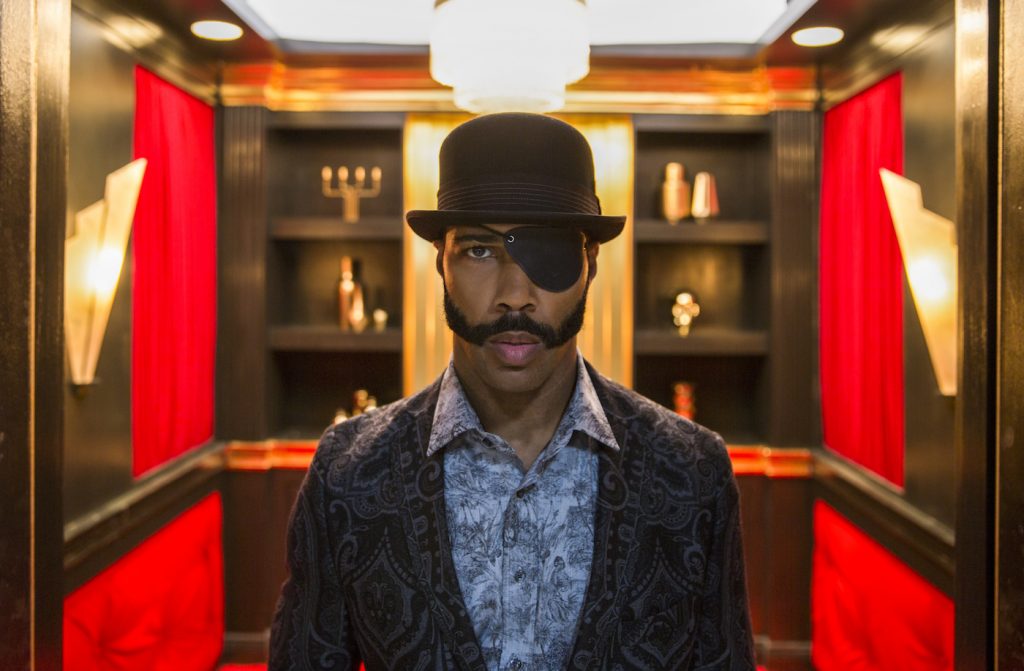 Govan loves how Sorry to Bother You taps into so many different modern problems—from gentrification to feeling like your choices are limited and your future bleak—in an unusual but poignant way. For a film as beautifully odd as this, it speaks to feelings that are universal.
"I just think we make choices we really don't have any other choice," Govan says. "Sorry to Bother You calls attention to people to pay attention to what's going on in society, between the Have's and Have Nots. It asks what happens when you forsake everything to attain wealth? What do you leave behind?"
The Sorry to Bother You team was all in on Riley's vision. Govan worked closely with cinematographer Doug Emmett and production designer Jason Kisvarday, touting the former as a young master and the latter as a designer with an impeccable, handcrafted approach to his job. "I was so excited to be a part of this film. We all knew going in that all our visions needed to be in-line with each other, because at any point in time if anything was out of kilter visually, it wouldn't work, because the movie's just so far off the grid. So we were all in very close contact with each other, which is normal, but on this movie, we had to be even tighter. We gave our best, and it all stems from Boots and who he is and the awesome soul that he is, and we wanted to do our best for him."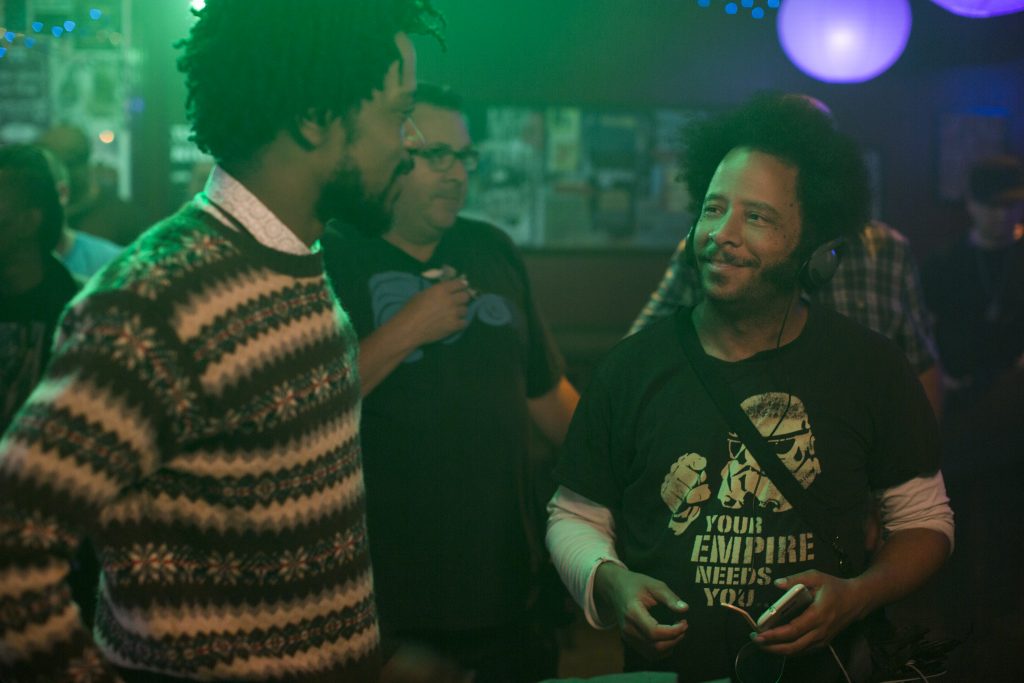 The reaction to the film, which began in Sundance where the audiences were by turns stunned and gleeful, to the critics hailing the film as fearlessly ambitious (the New Yorker's Richard Brody in particular absolutely adores it), Govan is enjoying every moment.
"When I hear it compared to Get Out, that's a little overwhelming in a positive sense. It's powerful. That's why we do this. I love this business, I'm passionate about it, and Sorry to Bother You doesn't happen that often."
Featured image: (l to r.) Tessa Thompson, Lakeith Stanfield, director Boots Riley, and Jermaine Fowler on the set of SORRY TO BOTHER YOU, an Annapurna Pictures release. Credit: Pete Lee / Annapurna Pictures