Guillermo del Toro's "Pinocchio" Reveals Official Trailer
We can think of no filmmaker better suited to adapt Carlo Collodi's iconic story about a wooden marionette who's magically brought to life to help heal the soul of a grieving woodcarver than Guillermo del Toro. And now, at long last, we have our first really good look at what the visionary behind Nightmare Alley, The Shape of Water, and Pan's Labyrinth has done with the material. 
The trailer introduces us to Sebastian J. Cricket (Jiminy Crickett in the original story), our Orthopeteran guide through this new take on Pinocchio, and voiced by Ewan McGregor. "I have so much to say," Sebastian J. Cricket says as the trailer opens, "about imperfect fathers and imperfect sons." Sebastian is here to tell us the story of the woodcarver Geppetto who lost his son and, in his howling grief, carved a new one out of an old tree. 
Del Toro has been pursuing the project for years, and this most passionate of directors said in a statement when the project officially got underway in 2018 that no other story affected him as deeply as the one about the wooden boy brought to life. "No art form has influenced my life and my work more than animation, and no single character in history has had as deep of a personal connection to me as Pinocchio. In our story, Pinocchio is an innocent soul with an uncaring father who gets lost in a world he cannot comprehend. He embarks on an extraordinary journey that leaves him with a deep understanding of his father and the real world. I've wanted to make this movie for as long as I can remember."
McGregor joins a star-studded cast voicing Pinocchio's characters, including Cate Blanchett, Tilda Swinton, Christoph Waltz (voicing the fox), Finn Wolfhard (voicing Lampwick), Gregory Mann (voicing Pinocchio), and David Bradley (voicing Geppetto).
Check out the immensely wonderful trailer below. Pinocchio arrives on Netflix this December.
Here's the synopsis for Pinocchio:
Academy Award®-winning filmmaker Guillermo del Toro reinvents Carlo Collodi's classic tale of the wooden marionette who is magically brought to life in order to mend the heart of a grieving woodcarver named Geppetto. This whimsical, stop-motion musical directed by Guillermo del Toro and Mark Gustafson follows the mischievous and disobedient adventures of Pinocchio in his pursuit of a place in the world.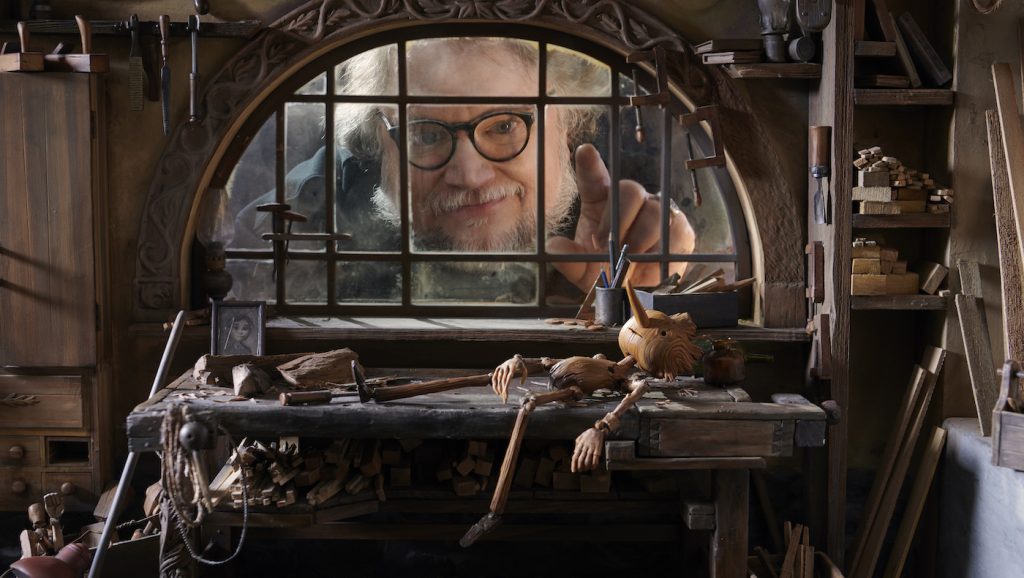 For more on big titles on Netflix, check these out:
Netflix to Expand "The Gray Man" With a Sequel & Spinoff
"Stranger Things 4": Watch Jamie Campbell Bower Become Vecna
"Black Mirror" Season 6 Cast: Zazie Beetz, Aaron Paul, Josh Hartnett, Paapa Essiedu, Kata Mara & More
"Tentacles Squelching Wetly": Meet the "Stranger Things 4" Subtitle Writers
Featured image: Guillermo del Toro's Pinocchio – (L-R) Gepetto (voiced by David Bradley) and Pinocchio (voiced by Gregory Mann). Cr: Netflix © 2022