"Stranger Things 4": Watch Jamie Campbell Bower Become Vecna
Stranger Things season 4 was the biggest, gnarliest, and most satisfying season of the Duffer Brothers' ambitious series. Our heroes are a little older, the stakes are higher, and the Upside Down's mysteries are becoming clear as we near the finish line (the show will end after season 5). There has been no mystery bigger than this season's reveal of Vecna, the tortured torturer who has been pulling the strings—er, tentacles—behind the horrors haunting Hawkins since the beginning. Now, Netflix has released a new behind-the-scenes look at how Jamie Campbell Bower became the show's Big Bad. Bower was revealed to be the first patient in Dr. Martin Brenner's (Matthew Modine) sadistic experiments , and whose evolution into the grotesque villain Vecna was inadvertently aided by a young Eleven (Millie Bobbie Brown).
Bower shares a very interesting tidbit about his audition process—when he read for the role, he was given two sets of sides (the term for the pages of a script an actor will read); one was from the Edward Norton psychological thriller Primal Fear, where Norton plays an altar boy accused of murdering a priest, and the other was from the classic horror film Hellraiser. When Bower eventually met with the Duffer Brothers, they gave him a peek at what Vecna would look like—a former human (with extraordinary abilities) turned into a living skeleton, only with terrible powers and one awfully lethal claw-like left hand. Oh, and also telepathic control of those tentacles!
Bower's transformation was led by makeup effects department heads Barrie Gower and Duncan Jarman. It began with them taking a life cast of Bower's entire body, because instead of designing Vecna as a large rubber monster suit that Bower would wear, Gower says it was designed like a jigsaw puzzle, which allowed Bower much more fluid movements and a skin-tight look that resembled horribly burnt but nonetheless real skin.
"The first thing I started to think about was the physicality of this person," Bower says, which meant special attention to his giant claw of a left hand, which was built practically and controlled mechanically by Bower himself.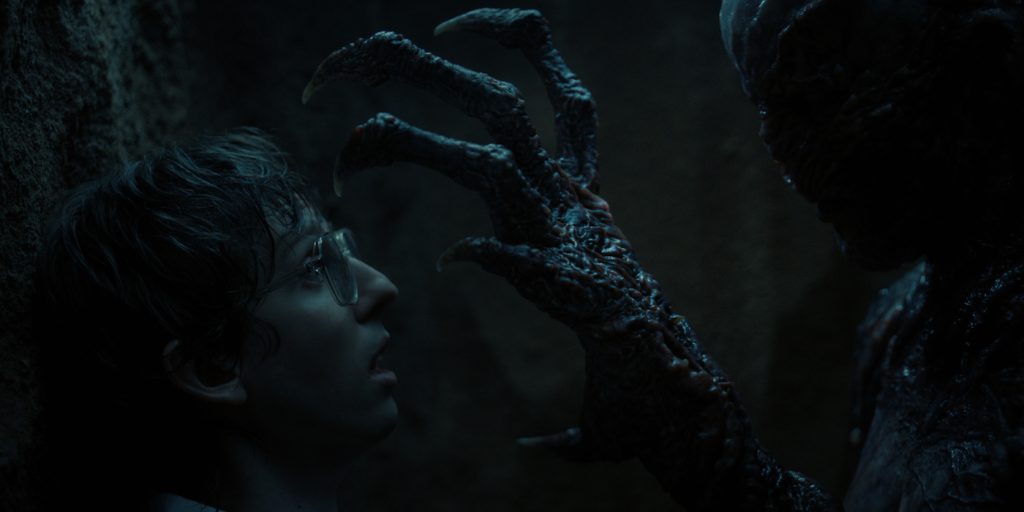 Unlike the previous inhuman monsters on Stranger Things like the Demigorgon, what makes Vecna so disturbing is that he is still human (sort of), and the way he targets his victims is by getting inside their heads and exploiting their darkest thoughts. The end result of the collaboration between Bower, Gower, Duncan, and the rest of the Stranger Things team is a monster worthy of Stranger Things' ambitions.
Check out the video here:
For more on Stranger Things 4, check out these stories:
"Tentacles Squelching Wetly": Meet the "Stranger Things 4" Subtitle Writers
"Stranger Things 4" Music Editor Lena Glikson on Cutting Kate Bush's "Running Up That Hill"
"Stranger Things 4" Makes History & Crosses Billion-Hour Viewing Mark
"Stranger Things" Casting Director Carmen Cuba on Finding Season 4's New Faces
Featured image: STRANGER THINGS. Jamie Campbell Bower as Vecna in STRANGER THINGS. Cr. Steve Dietl/Netflix © 2022