"Tentacles Squelching Wetly": Meet the "Stranger Things 4" Subtitle Writers
Stranger Things season 4 is on track to maybe, just maybe, catch Squid Game and become the most-watched season of TV in Netflix history. Even if it doesn't quite catch the South Korean juggernaut series, it goes without saying that Stranger Things 4 has been a massive phenomenon. From the resurrection of Kate Bush's iconic song "Running Up That Hill" into the song of the summer thanks to its season-long importance to the series to the wild, satisfying reveal of who the Stranger Things Big Bad really is (at least, we think he's the Big Bad), season 4 has hit all its marks.
One of the marks you might have missed, however, if you don't watch the show with the subtitles on, is the brilliant work of the two people behind them. Take the unimprovable subtitle "tentacles squelching wetly," which was used to describe this season's villain Vecna as he hung in his grotesque tentacled web. Or what about "Nancy bandaging wetly" to describe Nancy Wheeler (Natalia Dyer) taking care of a wound? That wound was wet, thank you very much. The subtitles are sublimely descriptive and spot-on, and also a little gross. Now, Netflix's online magazine Tudum has published an interview with this season's subtitle artists, English SDH (subtitles for the Deaf and hard of hearing) author Jeff T. and English SDH Qcer (quality checker) Karli Webster.
"While Jeff T. is responsible for bringing '[eldritch thrumming]' into the world, Webster provides a second perspective to make sure the descriptors are clear, accurate, and relatable for audiences," Tudum's Tara Bitran writes. "Jeff T. previously served in Webster's role for Stranger Things Season 3 (we have him to thank for all the 'chittering'), while Webster first descended upon Hawkins for Season 4."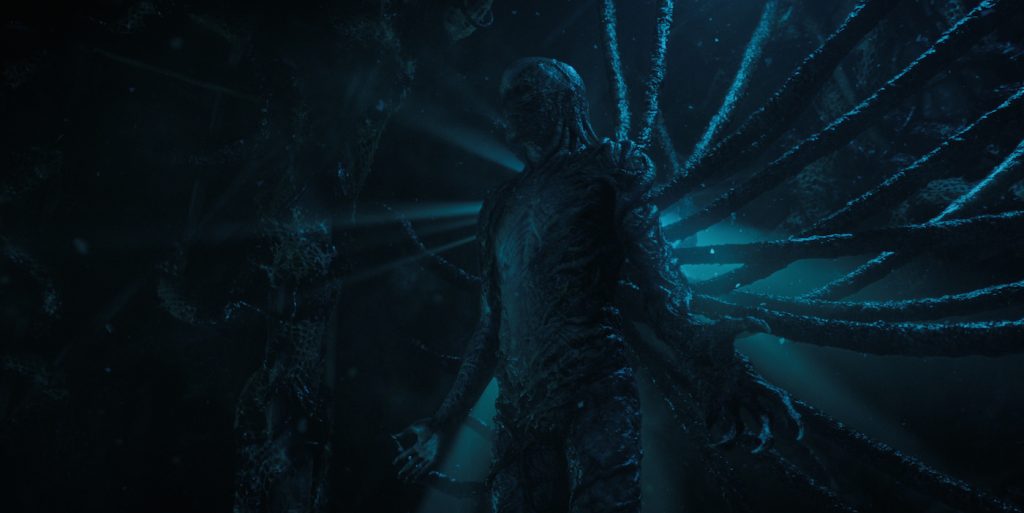 Subtitling is an art form, and a crucial one at that—millions of people rely on them to enjoy films and television series—so to be able to accurately capture things that are very hard to describe, like a tentacled monster dream-murdering teenagers while suspended six feet off the ground by his own grossness, is impressive. (Translating is also an art form, as we learned from Taco Chronicles producer Hallie Davison.) In the Tudum interview, which we recommend you read in full, writer Tara Bitran calls out some of season 4's bravura subtitles, many of them unsurprisingly dealing with the monster Vecna. "Tentacles undulating moistly" is particularly wonderful, utilizing the dreaded "moist," often described as the most hated word in the English language. Jeff T. was well aware of that fact:
"The auditory component is so crucial to the effect of this season. [Series co-creators] the Duffers know exactly what they're playing with," he told Tudum. "They know the genre they're in, they know their historical antecedents, they know the history of horror movies and creature features. And in all those movies, sound design is so crucial. We wanted to try to accurately reflect that in our subtitles for the Deaf and hard of hearing because this is their primary avenue for access to those sensory inputs. There's just something 'classic monster movie horror' about something slimy and wet. They gave us a lot of fun things to play with here. I'm extremely online, and I saw people were like, 'Why is everything wetly?' And then, I saw a comment that was like, 'God, if they put moistly in…' And I was like, 'Well, bad news for you.'
Karli Webster concurred and is clearly enjoying herself in her role as well: "It's hilarious the response that those types of words have received. You see people who have this weird, uncomfortable feeling towards the word moistly, but that's the feeling that we want people to feel in that moment. It is an uncomfortable sound."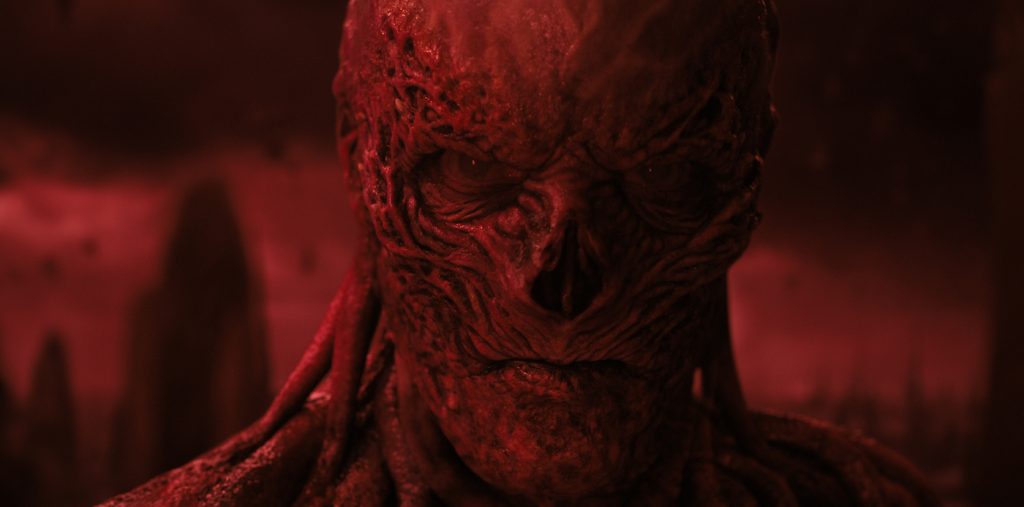 It's a very uncomfortable sound, but then again, Vecna is supposed to make you uncomfortable, so, bravo to Jeff T. and Karli Webster for making sure nobody misses just how gnarly of a monster he is. And lest you think that Jeff T. and Karli are choosing the most disgusting possible way to describe what's going on in a given scene, you should know that before Jeff settled on "tentacles squelching wetly" he'd considered "pustulant oozing." "I discarded that," he told Tudum, "because I said, 'No, I don't want an angry mob outside my house.'"
For more on Stranger Things, check out these stories:
"Stranger Things 4" Music Editor Lena Glikson on Cutting Kate Bush's "Running Up That Hill"
"Stranger Things 4" Makes History & Crosses Billion-Hour Viewing Mark
"Stranger Things" Season 4 Volume 2 Trailer Teases Feature-Length Final Episodes
"Stranger Things" Casting Director Carmen Cuba on Finding Season 4's New Faces
Featured image: STRANGER THINGS. (L to R) Millie Bobby Brown as Eleven and Jamie Campbell Bower as Vecna in STRANGER THINGS. Cr. Courtesy of Netflix © 2022