The Future of Immersive VFX Arrives With Dark Bay at Studio Babelsberg
The future of visual effects may be moving from post-production and right onto the set. At Studio Babelsberg in Potsdam, Germany, a new stage recently started helping filmmakers make the switch. The 109-year-old studio complex's new Dark Bay Visual Production Studio is an LED-enabled stage that allows VFX to become part of production while shooting is still underway. And details are mostly under wraps at this point, but the first production to make its home in the new studio is Netflix's 1899, a German period mystery series from the creators behind Dark.
Okay, so moving visual effects onto the set sounds like a big deal, but what does it even look like? First, the tech: this is a digital background that physically comprises a curving wall, 180 feet long by 23 feet high, made up of 1,470 LED panels plus a modular LED ceiling, ready to display whatever a filmmaker can dream up. With actors and crew thus immersed in computer-generated effects while they're actually shooting, the space replaces traditional green screen and post-production effects. There are current series and films deploying similar technology, including Disney+'s The Mandalorian. Dark Bay will step further into the future with its technology.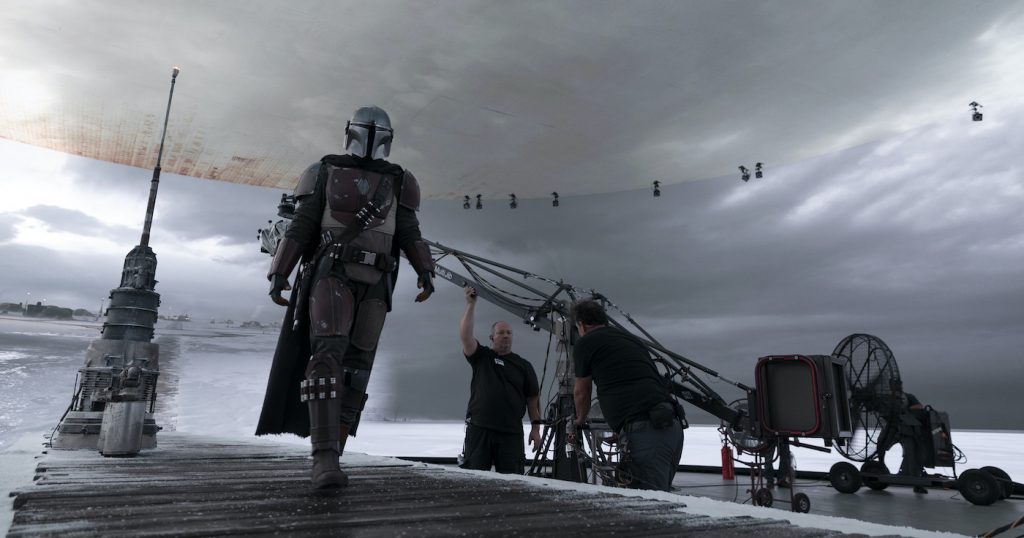 If a high-tech version of the painted sets employed in early 20th-century filmmaking comes to mind, you're not off base. "We see virtual production with LED walls as an evolution to the old production technique of rear-projection and/or classic painted backdrops," said Philipp Klausing, one of Dark Bay's managing directors. The obvious difference, of course, is that "the in-camera result gives you an authentic look in every layer," which, rather unlike the retro charm of painted scenery, appears totally realistic.
Of course, between the days of the early Hollywood machine and 2021, traditional VFX evolved considerably. What an LED studio like Dark Bay improves on is artistic freedom and control, allowing the merging and definition of every aspect of a production, all at the same time. Beyond that, "seeing actors being able to perform in a true environment is a really satisfying experience," Klausing said. There are also practical advantages invisible to audiences that matter a lot to the principal photography crew. "Shooting a rain scene in front of a green screen is not possible and requires shooting multiple plates and composing them later in post," the managing director pointed out, but Dark Bay comes ready to go with a rain rig.
Supported by Unreal Engine technology, any three-dimensional virtual environment can be interactively played on the studio's LED wall in real-time. It sounds like the future, along with one big disruption. "Creative decisions have to be made earlier than they would in a classic workflow," said Klausing. These immersive visuals have to be created before principal photography begins, upending traditional visual effects processes in favor of a virtual production workflow that's overall still pretty new to the industry. But shifting the workload from post to pre-production comes with other advantages. The first is the obvious reduction in time spent in post-production, while the second, said Klausing, is that "being able to finish a day of shooting and having an almost finalized shot has a big impact on the precision of the edit."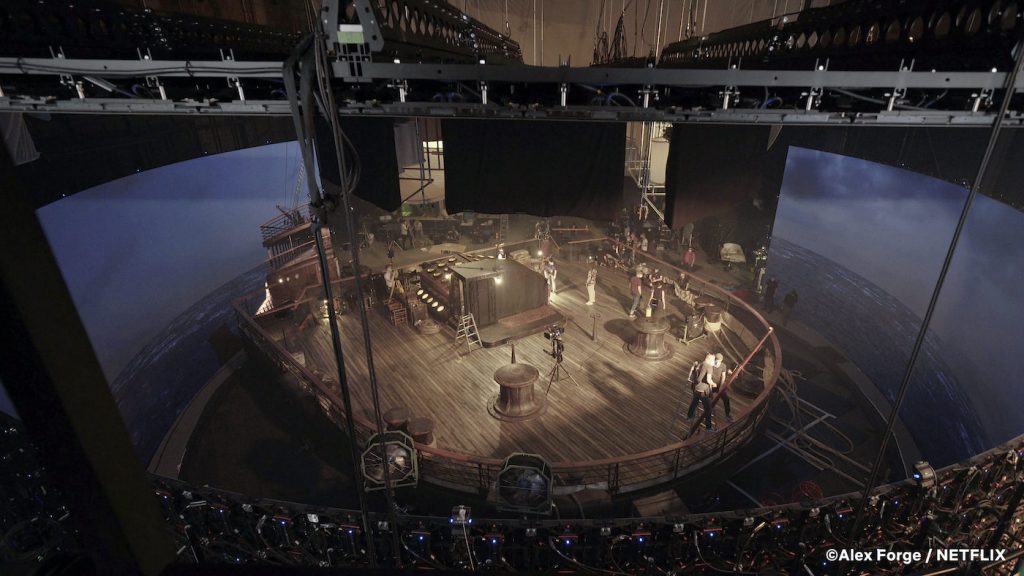 Dark Bay, and in particular, its enormous revolving stage which allows the virtual environment to be filmed from every angle, with reverse shots set up in all of three minutes, is an industry first. Like any new technology, its ability to expand is impacted by the fact that it is currently expensive. But once the technology becomes more affordable, Dark Bay's clear advantages should mean this type of studio, and the new ways of working that go with it, become more commonplace. "In general, the great advantage virtual production offers is that any exterior or interior environment and any surreal world can be created and shot on the day, completely independent from the weather outside," Klausing said. "We are convinced that virtual production makes the process of filming more efficient and faster and that we will see more studios of this kind everywhere around the world."
For more on big titles on Netflix, check these out:
Emmys 2021: "The Crown," "Ted Lasso" & More Make History
Mahershala Ali Joining Julia Roberts in Netflix's "Leave The World Behind"
Rian Johnson Reveals "Knives Out 2" Wraps Filming
Writer/Producer Max Borenstein Delves Into the Human Cost of 9/11 in "Worth"
Featured image: Dark, episode 3. Courtesy of Netflix.