Writer/Producer Max Borenstein Delves Into the Human Cost of 9/11 in "Worth"
This September marks the 20th anniversary of 9/11. While many of the events that transpired that day have been captured on film, one lesser-known account of the tragedy just made its cinematic bow on Netflix. Worth chronicles the story of Kenneth Feinberg, the attorney charged with overseeing the September 11th Victim Compensation Fund and, in so doing, putting a monetary value on the lives that were lost or suffered serious health issues as a result of the attack. The film explores Feinberg's bitter battles with government and the political machine at the time, as well as the emotional, gut-wrenching toll the task took on him, his legal team, and the victims.
Max Borenstein not only wrote the screenplay for Worth, based on Feinberg's 2005 memoir "What Is Life Worth?", but also persisted in bringing it to the screen as a producer. More than a decade after his script made the Black List, it was turned into a film that premiered at Sundance 2020 and was acquired by the Obamas' Higher Ground production company and Netflix. Worth's compelling narrative is thoughtfully performed by an A-list cast that includes Michael Keaton as Feinberg, Amy Ryan as Feinberg's associate Camille Biros, and Stanley Tucci as Charles Wolf, whose wife's death on 9/11 led him to become a grassroots leader for families pushing to change the fund.
An award-winner early in his career for his feature debut Swordswallowers and Thin Men, which he wrote, edited, and directed while in college, Borenstein has gone on to earn screenwriting accolades for the Godzilla franchise and is creator and showrunner of HBO's upcoming project on the Los Angeles Lakers. The Credits caught up with him to discuss Worth and its journey from page to production. Edited interview excerpts follow.
Worth is your first feature as both a writer and a producer. What impact did your writer's hat have on your producer's hat and vice versa?
I wrote the first draft of it in 2007, 2008, right around the turn of the year. The producer hat is then what took over to push and slog and scrape and claw to eventually, 14 years later, get it to the screen. And as we got into prep and into production, then it was a nice balance of being able to think creatively again and improve the script and work with our director, Sara Colangelo, and get it into producible shape. But writing that script became a calling card for me. It was always something that I was really passionate about eventually bringing to the screen. Having had some other success as a writer, I was able to get some other wonderful producers on board and piece by piece started to push it over the hump and get it made.
How did you learn about Ken Feinberg?
Well, Sean Sorenson, who's still a producer on the film, had a shopping agreement with Ken when his book was published, and he shared that book with me during the writers' strike of 2007-2008. I was a working screenwriter, but I was looking for something that I could do that was on spec, so I could keep writing while the strike was happening and do something on my own. And that's when I read the book and then flew out and met with Ken and fell in love with the project. And once the strike was over I gave it to my agent.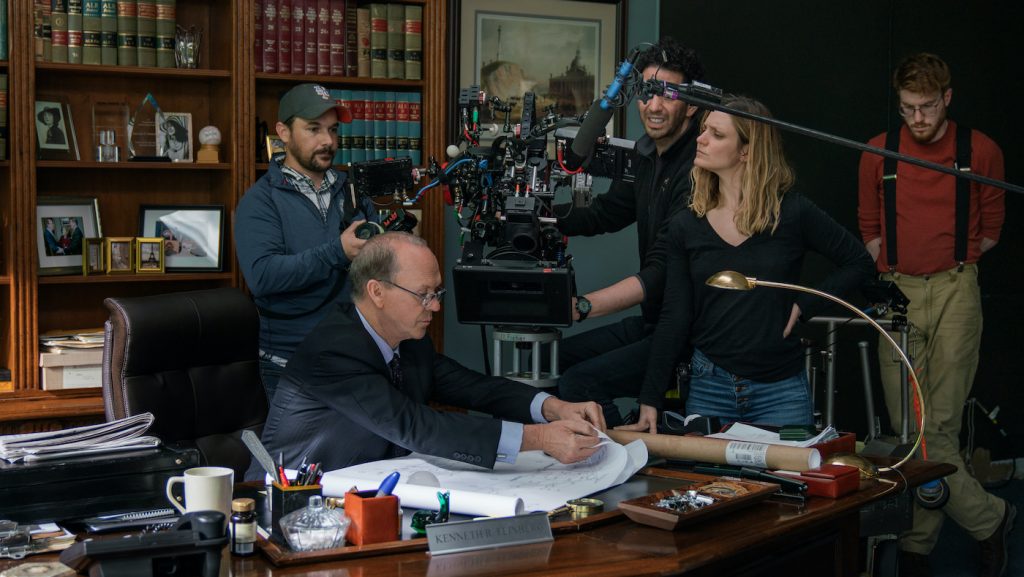 Did you meet with Feinberg or any of the other real characters while writing it?
I did, yeah. I flew out and met Ken and Camille, who's his kind of right hand, still and was at the time, and Ken's brother and his wife. And then a little later I met Charles Wolf and he really became a key centerpiece, a kind of foil for Ken and a catalyst for his own evolution and more importantly for the evolution of the fund. Meeting them and really getting to talk to them was hugely important. The sad part of the job for Ken and his associates was taking people's lives and churning out a number that would "compensate" them. But underneath that, and I gleaned a lot more in talking to him face to face, was the emotional side of that, which is that there is no equation that will really satisfy the human cost of this event. And obviously, we know that intellectually to be true, but the complexities and the humanity into which Ken and his team were thrust in trying to do their job was, I thought, a story worth telling. It spoke to the tragedy of 9/11, but also, now more than ever, to the best way that a government in contemporary society can involve itself in civilian lives.
Feinberg and his staff were charged with a huge and very difficult responsibility, and the cast was really wonderful in their portrayal of the weight of it all. What was the critical story point you wanted to convey with regard to this arc?
Well, to me there are two levels to it. The main thing is this human level, which I think Ken, even though he's in this very specialized role that he's uniquely qualified for as a result of being the high-powered lawyer with experience in these kinds of matters, is just an ordinary American, a citizen who felt traumatized by the tragedy of 9/11 and had the desire to help in some way. In trying to prioritize empathy, he ultimately grows and he finds a way to engage with people in a manner that's healing and redemptive. And on the larger level, I think it speaks to a hopeful, optimistic, and uncynical, but at the same time realistic, way in which our society and government can have a positive impact on people's lives.
Many of the characters, apart from the main slate, were composites or fictional. What was the process like to develop these characters and make them authentic, particularly as it relates to their interactions with the real ones?
So composite and fictional means taking true stories in our case and changing names, changing some details so that it's not so recognizable as to be exploitive of real people. But the actual events of that and the facts undergirding it are all real. I think it's always a fine line — as it is, to be honest, in any film that purports to be a true story, always has fictionalized elements and dramatic license taken to put dialogue in people's mouths. That's just a natural part of dramatization. In our case, we took the stories of a number of people and in some cases used their actual words, in other cases used their stories and told their stories with small changes. And in some cases, by the way, a few of the faces of the people that we see, we hear speaking who are the victims, there are a few who were real people who wanted to take the opportunity and speak.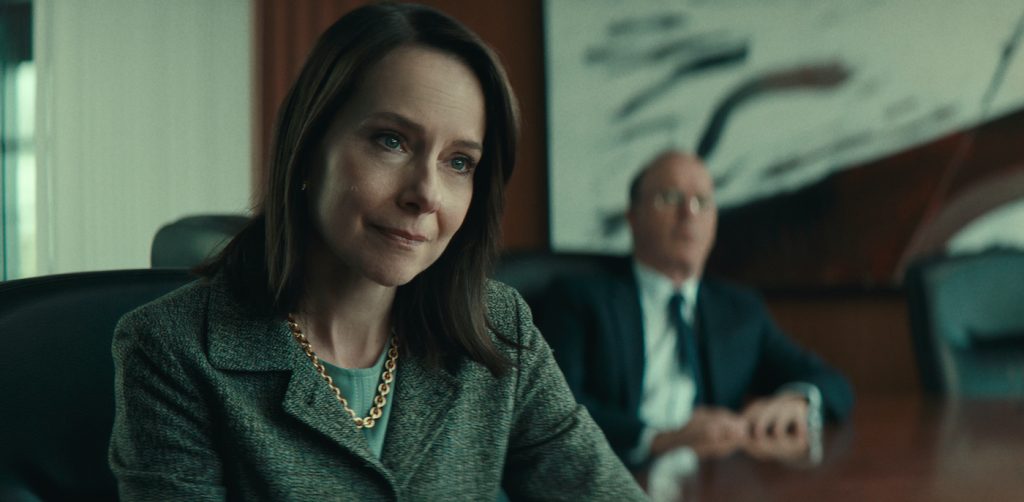 The Obamas' Higher Ground Productions and Netflix acquired distribution rights, which must have been very exciting.
Yeah, that was extraordinary. I was over the moon, especially because the Obamas' response to the film was so positive. I was told that they watched it with the whole family and they felt like it was a film that captured, more than any they'd ever seen, the reality of what it's like to work in government and the positives and negatives of that. And then the fact that they'd come aboard to present the film is the high point for me and a big vote of confidence for the film, too.
For more on big titles on Netflix, check these out:
"The Crown" Season 5 Images Reveal Elizabeth Debicki as Princess Diana & Dominic West as Prince Charles
Zack Snyder's "Star Wars" Inspired Sci-Fi Epic "Rebel Moon" Headed to Netflix
Michelle Yeoh Cast in Netflix's "The Witcher" Prequel Series
Charlize Theron Says "The Old Guard" Sequel Will Film Next Year
Featured image: WORTH (2021), Michael Keaton as Kenneth Feinberg and Stanley Tucci as Charles Wolf. Cr Monika Lek / Netflix