"The Suicide Squad" Features Real Stakes For Its Maladjusted Misfits
It's officially The Suicide Squad day, with writer/director James Gunn's long-awaited film finally in theaters and streaming on HBO Max. Gunn has promised that there will be real stakes for his misfits, and it's the unpredictability of who will live and who will die that earns The Suicide Squad its title. As the reviews have noted, however, what elevates the film from gleeful nihilism is the fact that Gunn's created characters who will, eventually, grow to care about each other. At least some of them, that is.
In a recent featurette released by Warner Bros., the stakes are made plain. "Amanda Waller is willing to sacrifice all of these lives for the betterment of mankind," Gunn says at the opening. Amanda Waller is the government operative played by Viola Davis, one of the few returning characters from David Ayer's 2016 Suicide Squad. Waller has once again assembled a crack team of anti-heroes, lunatics, one talking shark and some straight-up villains to help save humanity. In this case, it's to destroy all traces of "Project Starfish," which has something to do with Starro the Conquerer, a massive alien starfish as big as a building.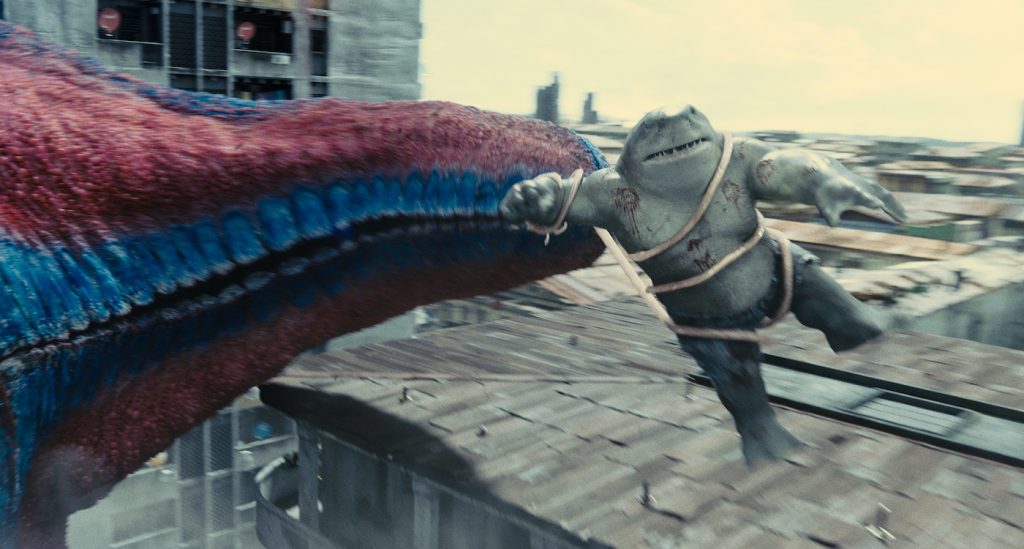 "They did say, 'You can kill whoever you want,'" Gunn says of Warner Bros., the studio behind the film. The writer/director has made it clear he took them up on that offer. At long last, we can finally find out just who survives this suicide mission, and we know the characters whose lives are at stake are a pretty awesome of oddballs.
Returning from Ayer's film along with Davis are Margot Robbie's Harley Quinn, Jai Courtney's Captain Boomerang, and Joel Kinnaman's Rick Flag. The new characters include Idris Elba as Bloodsport, Sylvester Stallone as the voice of King Shark, John Cena as Peacemaker, Peter Capaldi as the Thinker, David Dastmalchian as Polka-Dot Man, Daniela Melchior as Ratcatcher 2, Michael Rooker as Savant, Alice Braga as Sol Soria, Pete Davidson as Richard "Dick" Hertz/Blackguard, Nathan Fillion as T.D.K., Sean Gunn as Weasel, Flula Borg as Javelin, and Mayling Ng as Mongal.
Check out the new featurette below. The Suicide Squad is in theaters and on HBO Max now.
For more on The Suicide Squad, check out these stories:
For more on Warner Bros., HBO, and HBO Max, check out these stories:
Meet The Misfits in Revealing "The Suicide Squad" Featurette
"The Suicide Squad" Gets an Epic RED Camera Video Boasting New Footage
James Gunn Reveals His "The Suicide Squad" Spinoff "Peacemaker" has Wrapped
New Images For "The Suicide Squad" Further Reveal the Misfit Mayhem
A New "The Suicide Squad" Trailer Reveals Who Sent Superman to the Hospital
James Gunn Confirms "The Suicide Squad" Runtime & Post-Credits Scene
Featured image: Caption: Caption: (L-r) IDRIS ELBA as Bloodsport, JOEL KINNAMAN as Colonel Rich Flag, DAVID DASTMALCHIAN as Polka-Dot Man and PETER CAPALDI as Thinker in Warner Bros. Pictures' superhero action adventure "THE SUICIDE SQUAD," a Warner Bros. Pictures release. Photo Credit: Courtesy of Warner Bros. Pictures/™ & © DC Comics