The First "Eternals" Poster Teases a Very Different Kind of Marvel Movie
A new entrant into the Marvel Cinematic Universe is always exciting, but Oscar-winning director Chloé Zhao's Eternals seems to deserve even more than the usual interest. This morning we got our first good glimpse at the film, and the first thing you notice is wow, this movie looks gorgeous. Of course, gorgeous moviemaking is Zhao's stock-and-trade, and Eternals, at least at first blush, looks like a Chloé Zhao movie first, a Marvel movie second. That's a very exciting prospect.
Marvel has also released the first poster, and it further impresses upon the faithful MCU fan that this will be a very different kind of Marvel movie. The central figures in Eternals are a very different bunch than we've encountered before. They're immortal beings who have guided humans towards the good things in life—peace, progress, unity—over thousands of years. The question, of course, is where they were, and what were they doing, during all of that decidedly unpeaceful business, from world wars to, you know, everything involving the Avengers.
We also now have a big plot point to digest—the inciting incident in Eternals, it appears, is when mankind's oldest enemy, The Deviants, appears. Their arrival will force the Eternals to do more than just guide and nurture humanity's best instincts.
Marvel has done a great job of tailoring each of their films to the personalities of their stars and the given genre of that particular title. Taika Waititi's Thor: Ragnarok was a cosmic buddy comedy that made great use of Chris Hemsworth's comedic chops and Thor's cosmos-rambling ways. The Russo Brothers' Captain America: The Winter Soldier was an edgy political thriller with an eye towards government surveillance and overreach that spoke to the internal struggles Captain America has long battled. Eternals will be entirely its own thing, considering its central characters are immortal and the time period captured is in millennia, not mere days, weeks, and years. Plus, all indications are that Marvel Studios president Kevin Feige was interested in letting Chloé Zhao be Chloé Zhao, not asking her to make Marvel's version of a Chloé Zhao movie. The result could be something that's even more singular than anything we've seen from the MCU in the past.
Here's the poster for your viewing pleasure. Eternals arrive on November 5, 2021.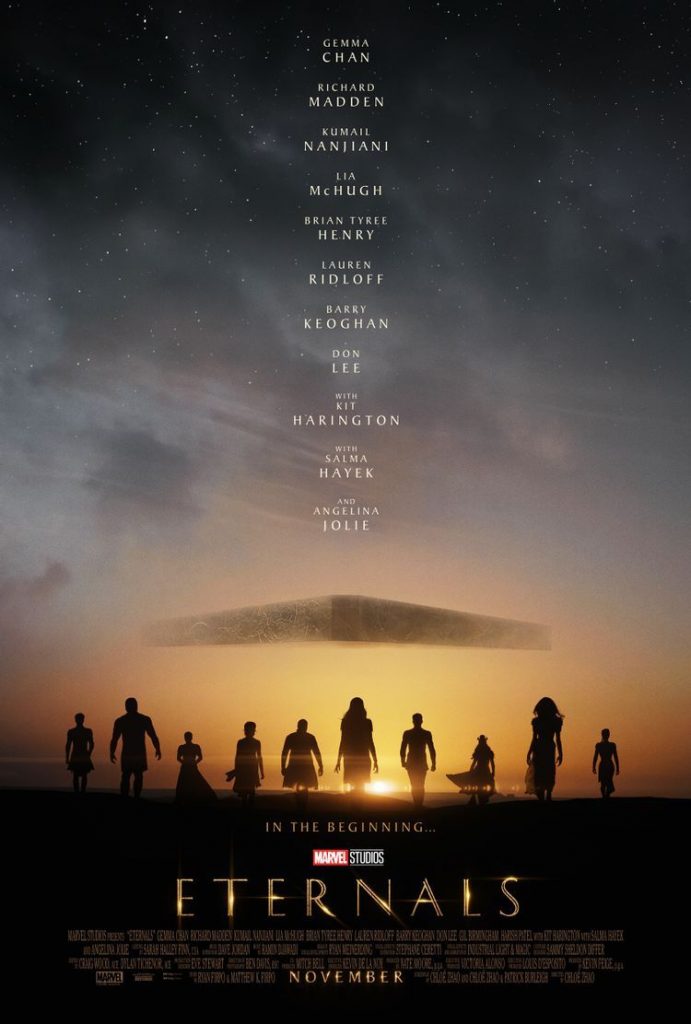 Here's the official synopsis from Marvel:
"Marvel Studios' "Eternals" welcomes an exciting new team of Super-Heroes to the Marvel Cinematic Universe. The epic story, spanning thousands of years, features a group of immortal heroes forced out of the shadows to reunite against mankind's oldest enemy, The Deviants.
The outstanding ensemble cast includes Richard Madden as the all-powerful Ikaris, Gemma Chan as humankind-loving Sersi, Kumail Nanjiani as cosmic-powered Kingo, Lauren Ridloff as the super-fast Makkari, Brian Tyree Henry as the intelligent inventor Phastos, Salma Hayek as the wise and spiritual leader Ajak, Lia McHugh as the eternally young, old-soul Sprite, Don Lee as the powerful Gilgamesh, Barry Keoghan as aloof loner Druig, and Angelina Jolie as the fierce warrior Thena. Kit Harington plays Dane Whitman."
For more stories on what's streaming or coming to Disney+, check these out:
The First "Eternals" Teaser Has Arrived
A New "Cruella" Featurette Riffs on the Rocking Soundtrack
Meet Miss Minutes in Delightfully Weird New "Loki" Teaser
Taking Flight With "The Falcon and The Winter Soldier" Creator Malcolm Spellman
"Ant-Man and the Wasp: Quantumania" Director Peyton Reed Shares Set Photo
Featured image: "Eternals" poster. Courtesy Marvel Studios.