Taking Flight with "The Falcon and the Winter Soldier" Creator Malcolm Spellman
The success or failure of The Falcon and the Winter Soldier laid heavily upon many folks, but perhaps none as specifically as creator and showrunner Malcolm Spellman. Spellman succeeded in delivering not only a thrilling, six-episode season with cinematic-level action but also a character study of one would-be Captain America in Anthony Mackie's Sam Wilson. The Falcon and the Winter Soldier absorbed the narrative traumas Sam had already endured as well as the real-world traumas that Black Americans have been dealing with forever.
Since the last moments of Avengers: Endgame, when Steve Rogers (Chris Evans) bequeathed his shield to Sam Wilson, Marvel Cinematic Universe fans have been waiting to see Sam Wilson become the new Captain America. When the series was announced, many people figured it would begin with Sam taking on the shield, and the symbolic weight, of becoming the new Cap. This was something of a head-fake. The Falcon and the Winter Soldier opens in the aftermath of the events in Avengers: Endgame, but we learn more or less immediately that Sam had turned down Steve Rogers' offer, to the confused anger of the Winter Soldier himself, Bucky Barnes (Sebastian Stan).
Spellman and his writers' room crafted a portrait of a new kind of hero with Sam, one who was all too familiar with the symbols America covets (Cap's shield, the flag, heroism in general) and the reality of living in America as a Black man. Yet Sam wasn't the only character whose journey is explored—the new Captain America, John Walker (Wyatt Russell), the presumed villains the Flag Smashers, led by Karli Morgenthau (Erin Kellyman), and Bucky himself were all treated as complex human beings living in a chaotic, often punishingly unfair world.
We talked to Spellman about Sam's journey, why a diverse writers' room allowed the series to look squarely at real-world events, and why Carl Lumbly's character Isaiah Bradley was the soul of the season.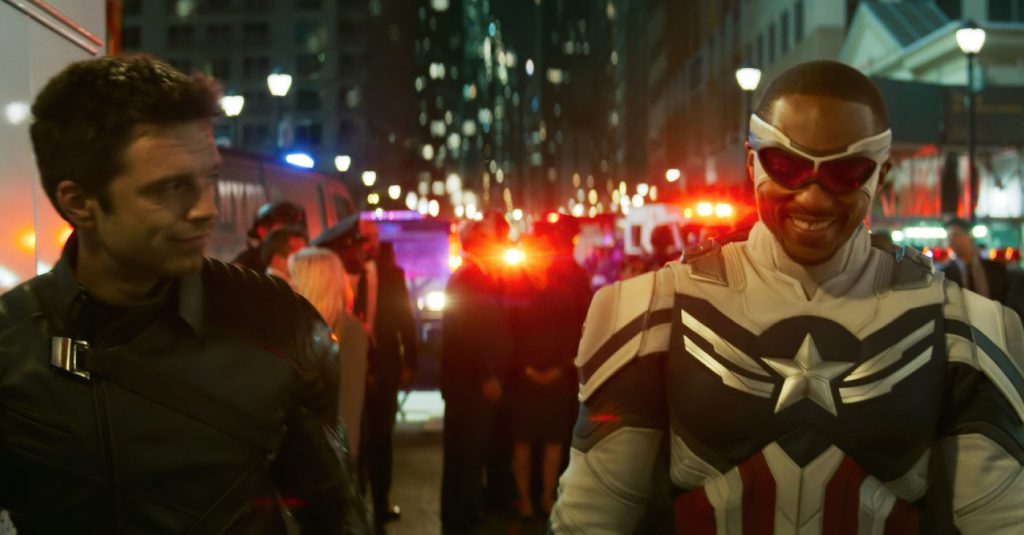 When you were plotting all this out, how many moments are lifted from the comics, and how many are coming from you and your writers?
The comics are the foundation for everything. You end up veering way off of them, but they're there—not only did Isaiah Bradley's character come from the comics, but that concept was born in a comic book limited series called "Truth: Red, White, and Black." So even if our thing at first look seems totally different, it's not. Even if we did a lot of stuff different from them, their DNA lives in everything we do, and the [comic] books are discussed in the writers' room.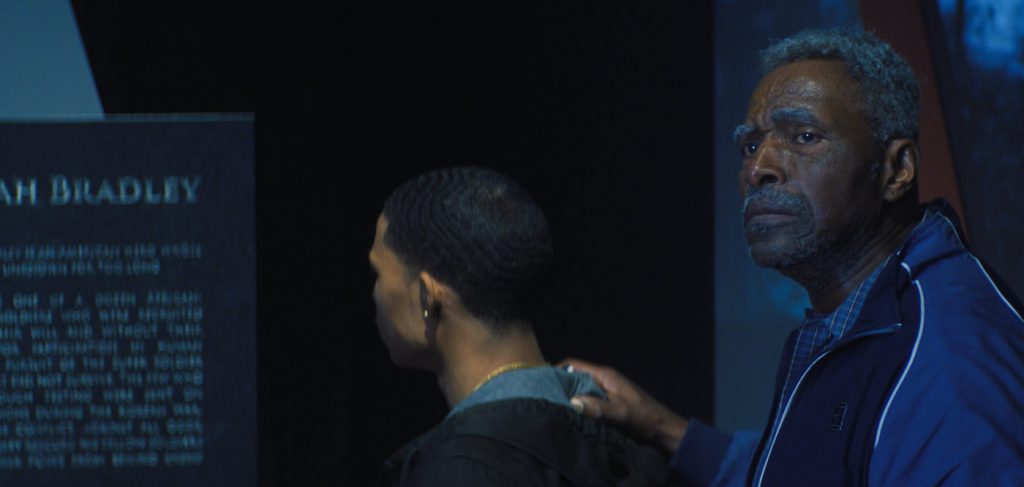 Obviously, 2020 was a historically awful year—how much were you and your writers responding to real-world events, from the pandemic to George Floyd's murder?
I'm going to tell you, this is one thing that I've bragged about with this writers' room from the beginning—we were dialed in from the beginning before any of that sh*t happened. That to me is the importance of having diversity in writers' rooms. People of color process things differently, we have a completely different point of view into the country. So in all these interviews, people are like, 'Wow, you could have never predicted that,' and it's like every writer and person in that room could have predicted it because our relationship to this country is different. We felt what was brewing, you know what I'm saying?
The series begins with the reveal that Sam Wilson turned down taking on the mantle of Captain America. How did you tease that out in the writers' room?
The way Marvel figures out what's next is still very intuitive to them. It's not overly plotted out, it's an organic process of which projects and which heroes are born. At the end of Endgame, Marvel gave me a preview of that moment when Sam is handed that shield, and it immediately leaped out at me. I knew I didn't want him to just be Cap. When I saw that moment when Sam said of the shield, 'It feels like it belongs to someone else,' I'm like oh my god, this is perfect. The ambivalence is right there. That defined the whole series.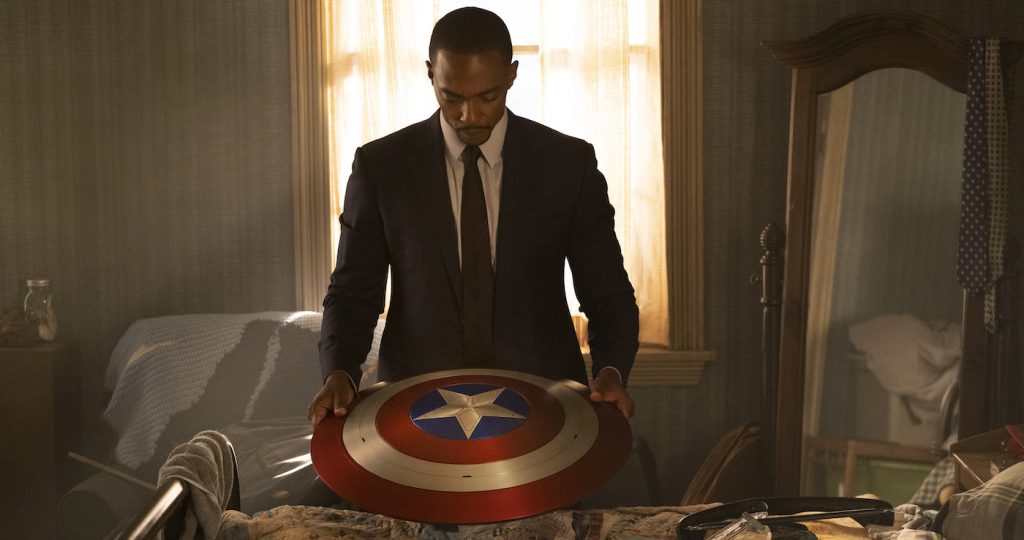 Let's talk about John Walker, who is far more nuanced than the "Fascist Captain America" headlines I've seen in stories.
We didn't want to demonize him at all. The truth is he's probably a bit toned down from the [comic] books because, for all these characters, we really set out to make them identifiable with people and make their journey rooted in the discussions that are at your dinner table. We didn't judge him, we didn't say, Oh he's a bad guy, he's a fascist. We were like, his iconography and some of his behavior would trigger conversations on that topic, but he's also just lost his best friend, he's dedicated his life to fighting for this country—we were aware of all of that. And Wyatt [Russell], of course, took that to next level. He's just able to add humanity. So it was very deliberate to not just make him one thing.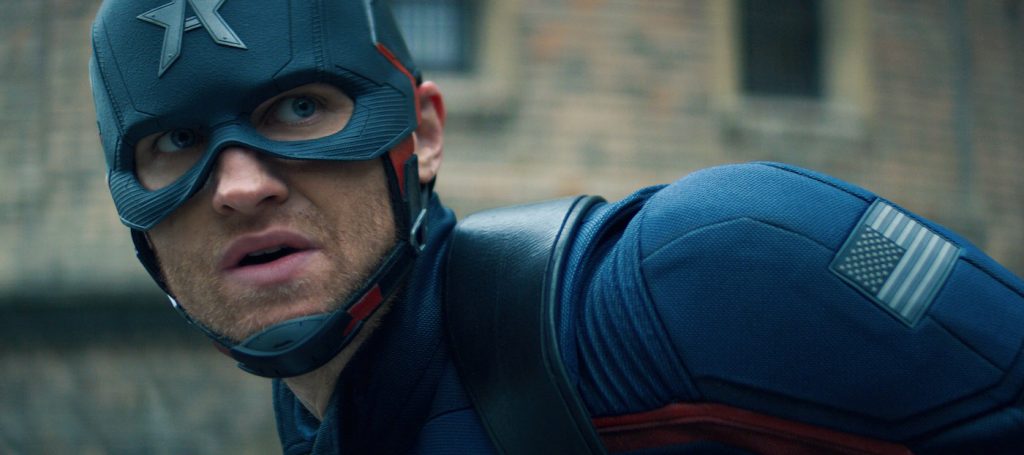 You did the same for the other ostensible villains, the Flag Smashers. There is no Thanos in this series, there's no supervillain who's easy to root against.
The goal was to say, not only do all these villains think they're heroes—because even Thanos probably thinks he's a hero—but to give them goals and wants and philosophies that make the audience feel, man, they're damn near heroes. No one can get behind Thanos's goal of exterminating half of all life in the universe—that's not a worthwhile goal. But wanting to make things better for oppressed people, wanting to fight for your country, wanting to stop supremacy? Even Sharon Carter (Emily VanCamp), everyone's saying she's a bad guy, but it's like, what about the fact that she was left out in the wild and all she wanted to do was survive? We definitely made it a point that there were no villains here. There are antagonists, but you see in that scene with Karli and Sam when they're talking, there's a real connection there. Sam being Black and being from the south and from a certain kind of struggle completely understands where she's coming from. Maybe not the methods, but definitely what the fight is about.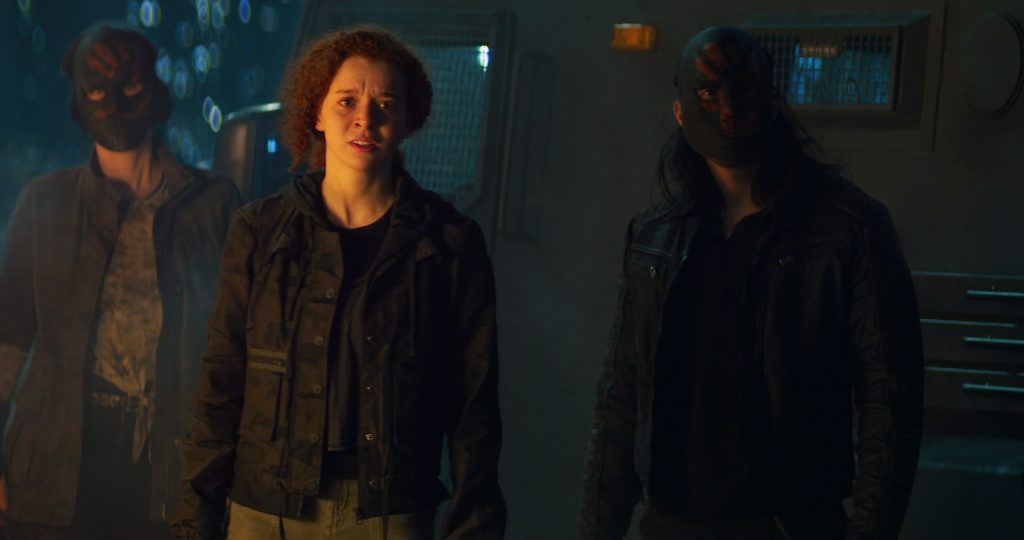 The first character you mentioned to me was Isaiah Bradley—a Black soldier who was used as a test subject for the Super-Soldier serum that eventually created Captain America. For those of us not steeped in the comics, his appearance was really surprising and moving.
I appreciate that, man. Everyone, from Marvel to all the people in the writers' room, including the writers' assistants, embraced that. We knew Isaiah was the soul of this series, and that what he embodied and represented, and his moments with Sam, were going to define Anthony's run as Captain America. A huge part of that will be defined by his experience with Isaiah.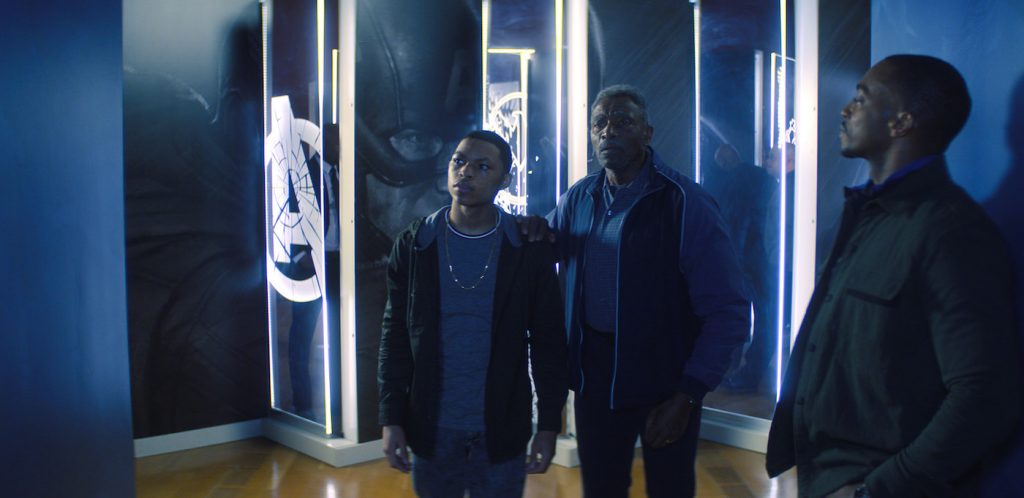 Director Kari Skogland likened Sam Wilson to more of a first responder, rather than the warrior-soldier hero of the past. I was curious what you thought about that framing?
Absolutely. To me, a lot of how Sam behaves really comes from a point of view. I think we asked ourselves, what makes this Cap different than Steve Rogers? We felt like in the new era in the real world today, people really feel powerless and like they're struggling. The climate is changing, there are global pandemics, the stairs to economic stability are crumbling, almost everyone feels this common struggle, and this Captain America, being Black, being where he comes from, has a shorthand with struggle. This means wherever he shows up, he truly has a connection. Who better to show up with wings than a Black dude? I think one of the reasons African Americans have been so dominant in pop culture, music, film, sports, is that we're the concentrated embodiment of human struggle. It doesn't mean other people aren't struggling, too, but our identity in this country, which is a big, loud, country, is struggle. So we felt like with this Captain America, as soon as he shows up, anybody of any race knows, that guy gets me.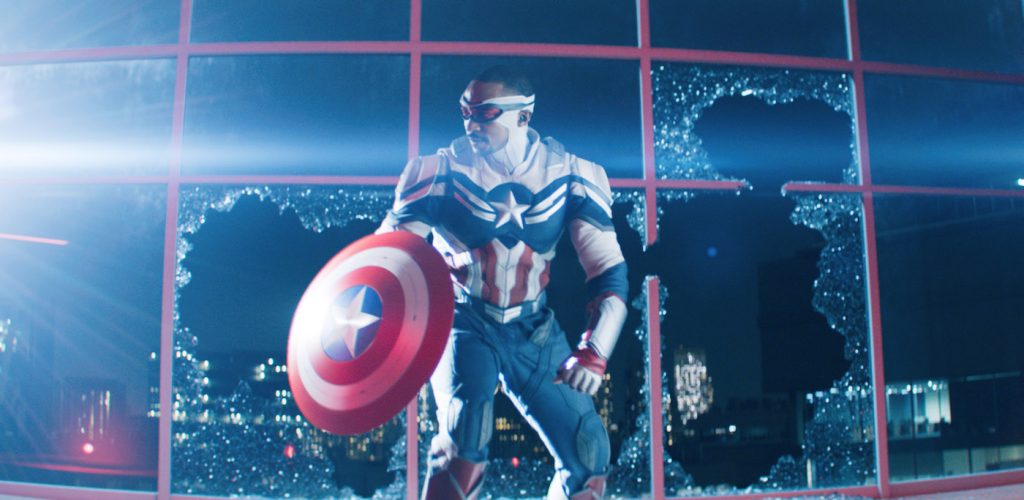 Bucky also has a nice arc here, with him initially giving Sam grief for not taking up the role of Captain America…
Yeah, Bucky acknowledges at the end, I had no idea that donning this symbol for a Black person would be that big of a deal. And one of the things we wanted to do with Bucky was he's able to have those moments with Sam, and they almost don't feel loaded, because not only has Bucky struggled his whole life, he's never really been present in any era, so he doesn't have that inherent guilt. He can talk matter-of-factly to Sam because he's never been mentally present in an era long enough to feel like he might be complicit in some of what Sam's struggled against.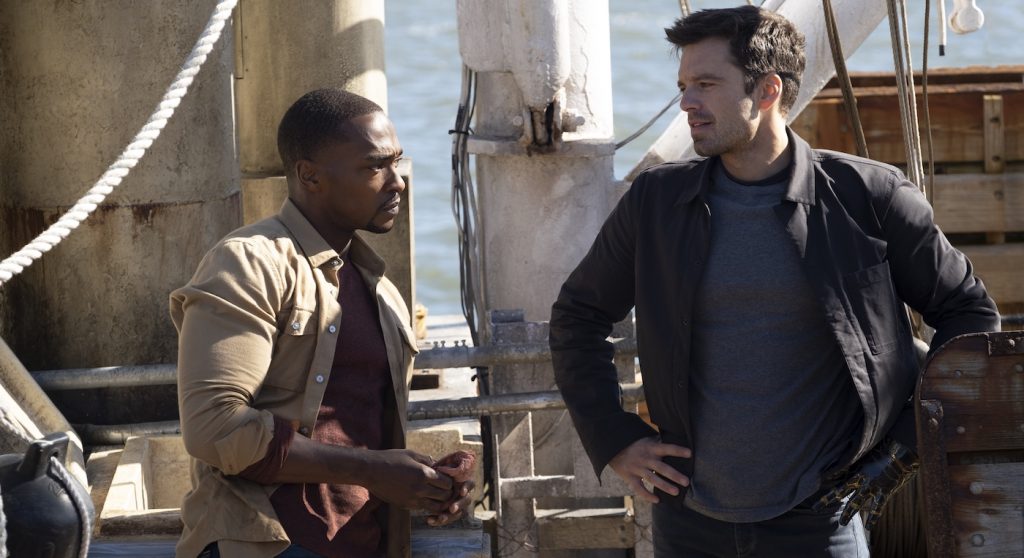 There are several scenes where people in positions of authority—loan officers, cops—don't realize who Sam is, and this gives us some insight into what it's like to be Sam on a day-to-day level.
In the bank and when he gets pulled over by the cops, what you realize is that Sam's Black first and a hero second. And that's the same for athletes and Black senators when they ride around this country. You don't show up with an agenda to have those moments in the series. That's the thing about having Black characters—if you're really servicing them in the right way, there's no way to avoid those moments. You've gotta have them because that's what we go through every day. It becomes a broader conversation because it hasn't been depicted enough. For Marvel to do it on a platform this powerful, it's a unique way to approach the conversation.
There's also a great moment early on between Sam and Don Cheadle's character James Rhodes.
That moment with Don Cheadle, because you have Black writers, a small gesture like having Sam and Rhodey just have a moment alone and talk, everybody in the writers' room was like, 'Oh sh*t! These guys probably always had to call each other!' And fans saw Marvel's two Black heroes just having a moment together, and so much is said in silence and glances between them. It's been a trip watching the response, which has been overwhelmingly positive. Some people think we were being overly political, but the truth is, we're just being honest and we're just telling organic stories. Can you imagine how destroyed we'd be if we didn't have these conversations? In the moments we're talking about, you'd have to actively omit story beats that would be naturally happening to this Black hero if you didn't put them in there.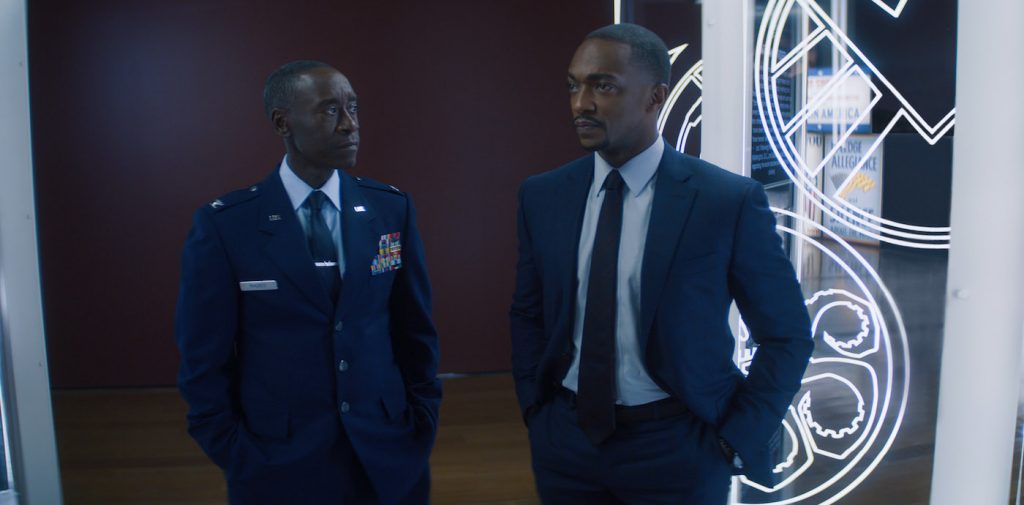 For more on The Falcon and the Winter Soldier, check out these interviews:
"The Falcon and the Winter Soldier" Director Kari Skogland on the Evolution of the Hero
"The Falcon and the Winter Soldier" Costume Designer Michael Crow on the New Captain America
Featured image: Falcon/Sam Wilson (Anthony Mackie) in Marvel Studios' THE FALCON AND THE WINTER SOLDIER exclusively on Disney+. Photo courtesy of Marvel Studios. ©Marvel Studios 2021. All Rights Reserved.