Scoring a Serial Killer's Many Transformations in "The Serpent"
In the 1970s, young travelers flocked to Asia for exotic adventures and a liberating nomadic lifestyle, but an evil force slithered beneath the surface to prey on them. Netflix's The Serpent dives into the underbelly world of real-life serial killer, Charles Sobhraj. Tahar Rahim stars as the convicted murderer who targeted westerners and hippies traveling through Bangkok to steal their identities and funds. Composer Dominik Scherrer scored the hypnotic soundtrack that draws from the era and geographic setting, but mostly captures the depths of Sobhraj's depravity.
The show's theme song 'State of Flux' feels like a doomed pursuit in a never-ending maze. It tumbles deeper into the chaos and chases the characters throughout the snake-and-mouse game. "That piece is a little bit about the central character, Charles Sobhraj," Scherrer explained. "His snake-iness that always slithers away, and you can't quite grasp. But it's kind of charming, or snake charmer-ish, at the same time. That's how he operated because, I guess, he was charming to some people and kind of a cool-looking guy."
Even so, Scherrer doesn't seem likely to fall victim to Sobrahj's mind games. He laughed adding, "At the same time, even if he wasn't killing people, he'd be quite a weird person, still."
Once you hear the title track, it will haunt your dreams and prickle the hair on your arms. Listen for it in the show, and you'll know something pivotal is coming, "Once we established that [song] as the title music, you know that this tune becomes more important and has a sort of weight each time you bring it back," Scherrer revealed. "Then you want to reserve that for the bigger moments, for the bigger junctures in the story. So, when that title comes back, you know this is a bigger moment. It's a nice thing to play with."
Sobhraj earned his reputation as a "serpent" for his deadly deception and remarkable ability to evade capture. His smooth and slippery attacks unfold in each episode with the maddening anxiety of watching a catastrophe you can't control. The plot jumps in chronology leaving the fate of the victims dangling, but Scherrer is careful not to give anything away. "The music doesn't necessarily always have to score the subtext," Scherrer said. "It's interesting. It's often good to let it happen in the action and then the music can score the aftermath. Then you do tricks like where you seemingly relax a situation and just as it relaxes, you can come with a bigger surprise, which then will be more shocking."
The music will quicken your pulse and can mislead viewers on a path that ends in danger. The score can provide a false sense of security or emphasize a brutal and shocking scene. "It's a little bit like a game sometimes, putting these sequences together. You can't keep ramping it up all the time. You have to let go in order that you can ramp up again."
As the show progresses, the body count begins to pile up, but not without raising suspicions. An official in the Dutch Embassy, Herman Knippenberg (Billy Howle), begins a dangerous and secretive operation to bring Sobhraj to justice. The series leaps in time to track both the crimes and the investigation, which can create a winding trail. "It starts with putting together some themes so the whole story feels like a coherent strand or plot," Scherrer explained on finding anchors to tie the scenes together. "First, it's more a matter of doing a layout and to know what you are working toward. Take one episode at a time and see what the main driving strand or plot is and always hang everything on that."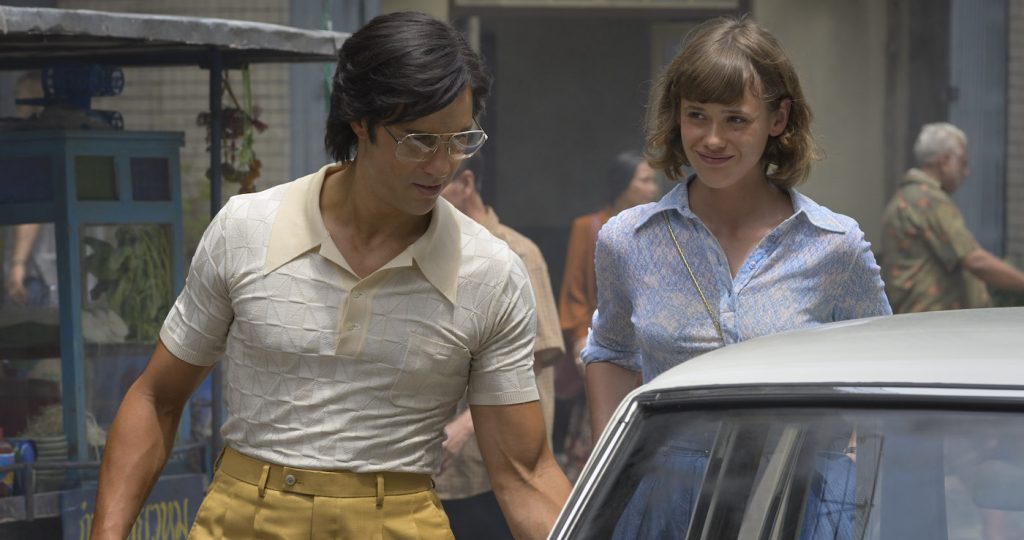 The swinging 70s provides a gritty backdrop, but Scherrer was careful to avoid exaggerated and cliched sounds of the era. Instead, he gravitated toward minimalist and polyrhythmic melodies. "It's set in quite a groovy environment. It's young people and hippies and cool parties and cocktails and swimming pools and tropical beaches. The temptation could be to do a 70s funky classic soundtrack. I think this would have been a bit too cozy and too predictable for this kind of evil storyline."
Scherrer spent time on set in Bangkok as he composed the show. It is an unusual practice for a television composer but has become his preferred approach. This impulse began when a scheduling conflict forced him onto the set of The Missing, and the workflow proved to be beneficial to the creative process. "It was really good to have some themes that are based on the script rather than just mimicking what's on the screen," Scherrer explained. "It feels more integral to the story. Ever since then, I work like this. What happened as a kind of accident, has now become the default mode."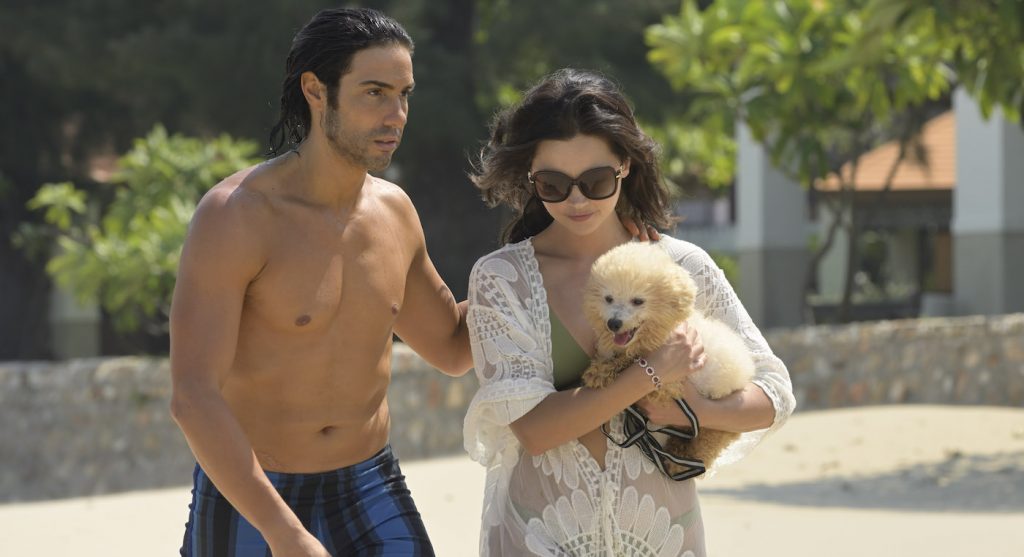 Much of the music written for film and television is added in post-production. The Serpent's score benefitted from Scherrer's direct involvement in the evolving story as two screenwriters continued updating the script on set. He explained that the soundtrack wasn't tied to the geography of the story, but it was still an advantage to be on set in Bangkok for the first phase of composing. "It was nice to be really immersed in it and not be someone who just comes onto this when everything is done, when the whole episode is cut. Then you just sort of add some music to it. It felt like I was writing it there."
The score was recorded over several phases, complicated further by the COVID-19 pandemic. While in Bangkok, however, Scherrer began laying down percussion, mallets, drums, bass guitar, and even vocals. He then began collaborating with local Thai musicians. "I was writing down the music, but a lot of the Thai players who play their own instruments don't really work with western notation for those kinds of instruments. I was in the room and I had a grand piano and I played the musicians the lines and then they copied me. In the end, it's sort of like a foreign culture and foreign music, but when you have a group of musicians in the same room, you just share a common language, somehow, because you all know when something sounds right and when it doesn't. It's exciting. I love that."
The Serpent is available for streaming on Netflix now.
For more on big titles on Netflix, check these out:
Director Chiaki Kon on Her Netflix Anime Feature "The Way Of The Househusband"
Makeup Department Head Matiki Anoff on Capturing the 1920s Aesthetic in "Ma Rainey's Black Bottom"
"Concrete Cowboy" Director Ricky Staub Saddles Up in Feature Debut
Oscar-Nominated Cinematographer Erik Messerschmidt on "Mank" – Part II
Oscar-Nominated Cinematographer Erik Messerschmidt on "Mank" – Part I
Costume Designer Deborah Newhall on Dressing the Dastardly in "I Care A Lot"
Featured image: Charles Sobhraj (TAHAR RAHIM) – (C) Mammoth Screen Ltd – Photographer: Roland Neveu