Costume Designer Deborah Newhall on Dressing the Dastardly in "I Care A Lot"
Writer/director J. Blakeson's I Care A Lot is a gleefully cynical uppercut against late-stage capitalism that is also, incredibly, a blast to watch. The con artist at its center, Rosamund Pike's Marla Grayson, would be hard to root for if both her performance and the film itself weren't so infectiously committed to its amorality. One of I Care A Lot's central themes is that the heart of capitalism isn't healthy competition or ingenuity or hard work—it's exploitation. That's why Marla's sadism—she's a legal guardian who bilks her elderly wards of their life's savings—feels like more than just an empty attempt to center an "edgy" protagonist. Marla's a reflection, as is Peter Dinklage's con artist Roman Lunyov, of what capitalism actually is as practiced.
When it came to giving Pike the couture to match her character's energetic vampirism, it took a minute for costume designer Deborah Newhall to find the fun in Marla. "My first take was it was a very dark story, and I thought, I don't like these people," Newhall says. "I really don't like her. It's going to be a challenge to make it interesting." Yet make it interesting Newhall did, thanks to the realization that Blakeson's film wasn't meant to be some dark, brooding trip into the heart of a monster, but rather a comedy.
Newhall showed Blakeson some initial images she'd pulled after she read the script. "I told him Marla's a really dark and aggressive person," Newhall says. "I reflected that in a sharp silhouette, sleek lines, everything really cold and metallic. He looked at my boards and said, well they're great, but it's a different movie. Where's the color? This is a comedy and it's going to be fun."
Blakeson told Newhall he wanted pops of color everywhere. After she chatted with production designer Michael Grasley and got a feel for the house that Marla's next victim Jennifer [Dianne Weist] lives in, she began to see Pike's Marla in a whole new light—and shade.
"She's not a girly, feminine dress kind of person," Newhall says, "and then I found the yellow suit. That was my trigger. I'd been building a sizable closet for her, it went from navy blue, gray and black, to yellow, red, and green. It was a big switch, but a fun way to go. Once I got it we were off to the races and it was great fun."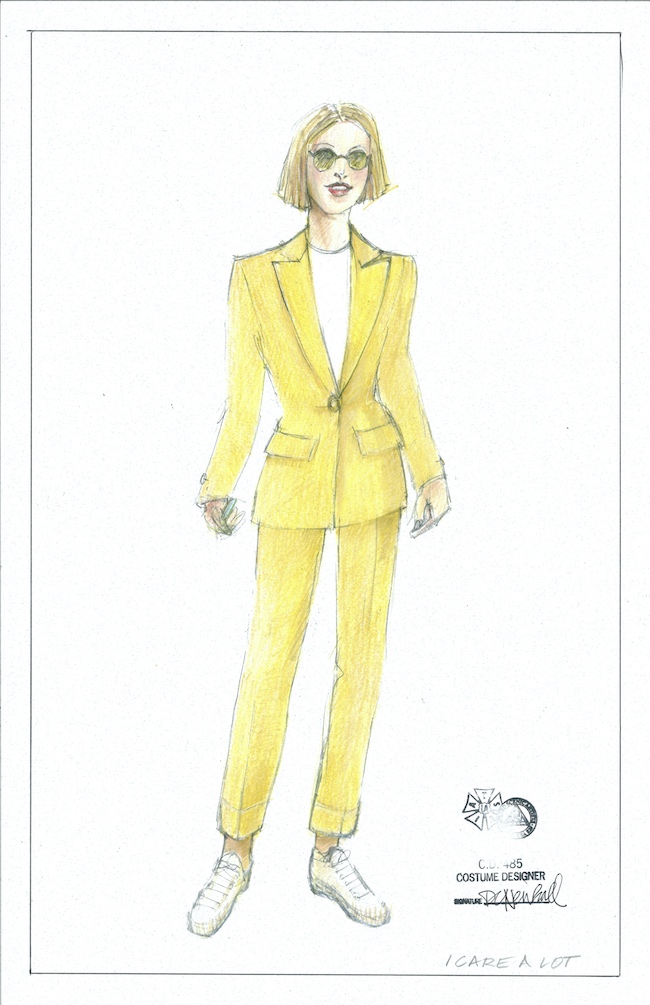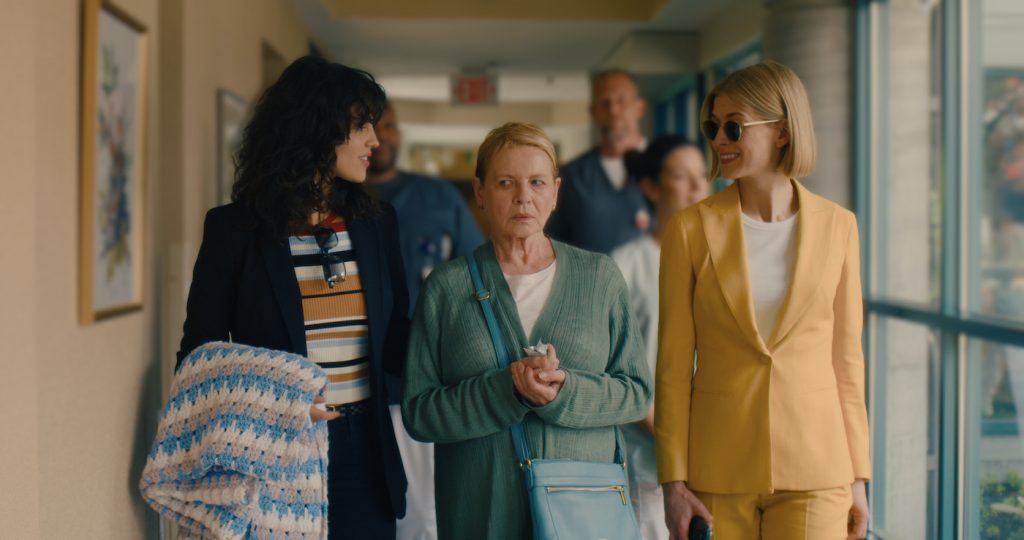 Newhall has a theater background, and the way she approaches her work is imagining, at all times, what else will be in the frame with her clothes. "I'm looking at what color can do, how to work with the background and have things either come forward and pop, or recede and mix into the background," she says. "Color is huge in how an audience responds to a character. Like that lilac jumpsuit, that's the thing that kept sticking my head. This look seemed to be oddly humorous in this terrible situation, yet it also had to be real. You had to believe her, the clothing couldn't be so out there that it wasn't realistic."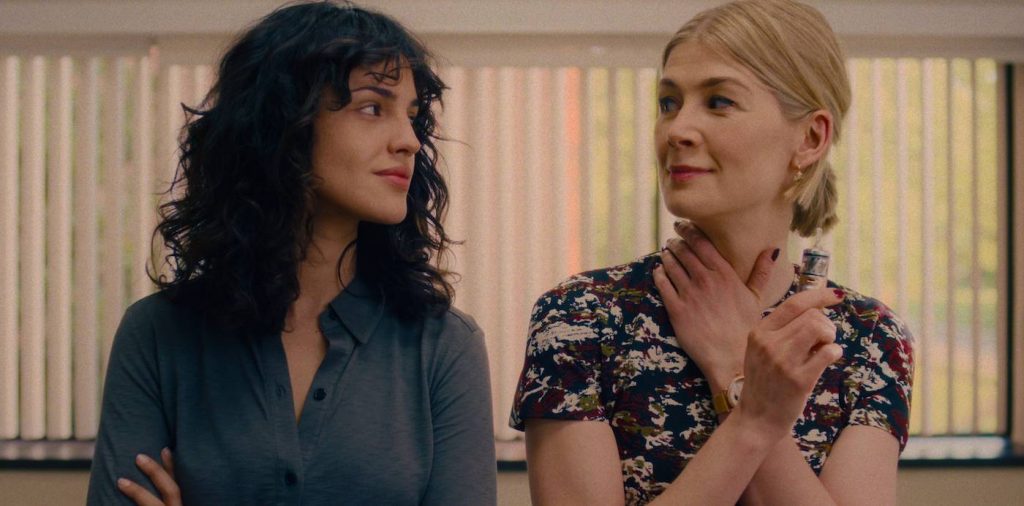 Marla's machinations to drain Jennifer of her money and steal her house ultimately lead her into contact, and conflict, with other sleazeballs. There's mafia lawyer Dean Ericson (Chris Messina) who threatens Marla over Jennifer's assets. There's Dinklage's fellow con artist, too. Marla's practically always going toe-to-toe with someone in the film, and those battles offered Newhall more opportunities to play with color.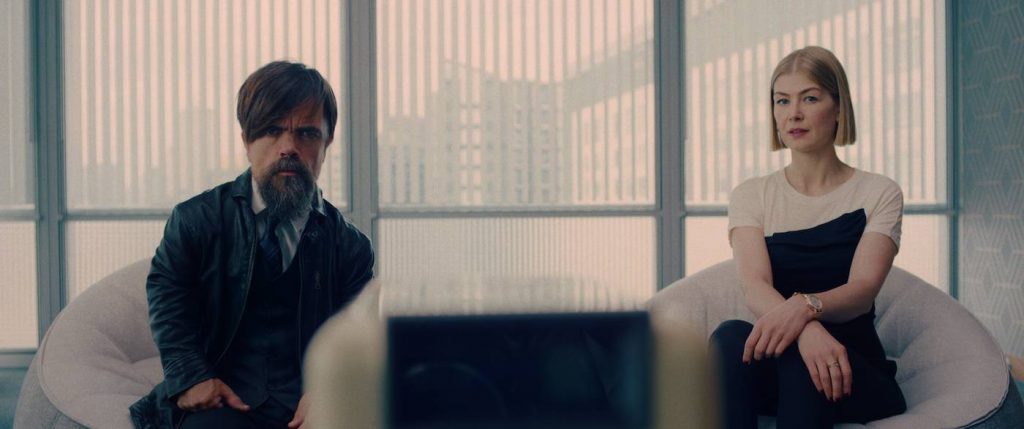 "I think of it as composing a painting. I need to know the light, time of day, and what else is around them," Newhall says. "It's really composing a frame and how things move through the frame. Like the trenchcoat she wears. J. Blakeson wanted something that moves, a signature piece of outerwear that she can wear going to the bank, going to court, etcetera. I loved that and wanted to find a piece that would be significant and take on its thing as it glides through a scene. I found one coat and it was the right one."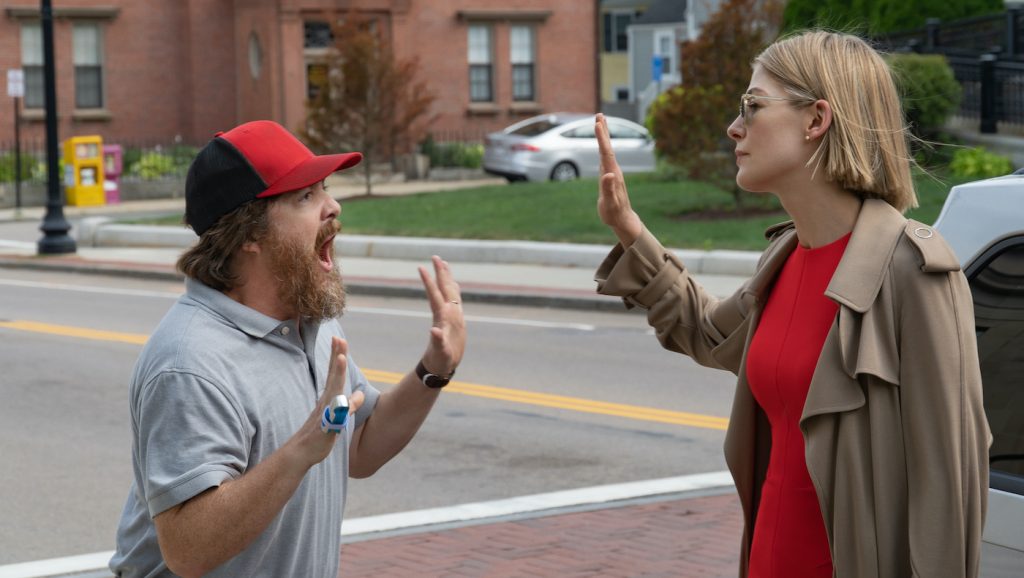 Towards the end of the film, there's a big shift in Marla's color palette—she starts wearing white. [Spoiler alert.]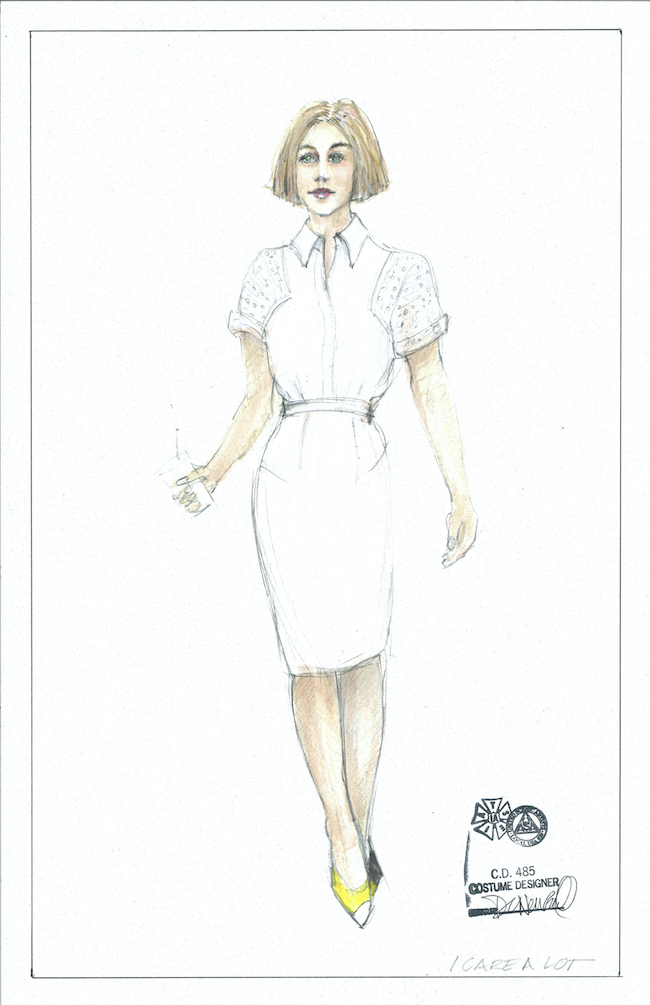 "It's a lot of color in the beginning, and then gets quieter in the last act," Newhall says. "Her look in the hospital is a white dress and those wicked shoes. White is its own color, and it's her biggest power moment at the very end. She's above it all now, pure, a billionaire, away from all the riff-raff and not having to touch anything that's unseemly or dirty."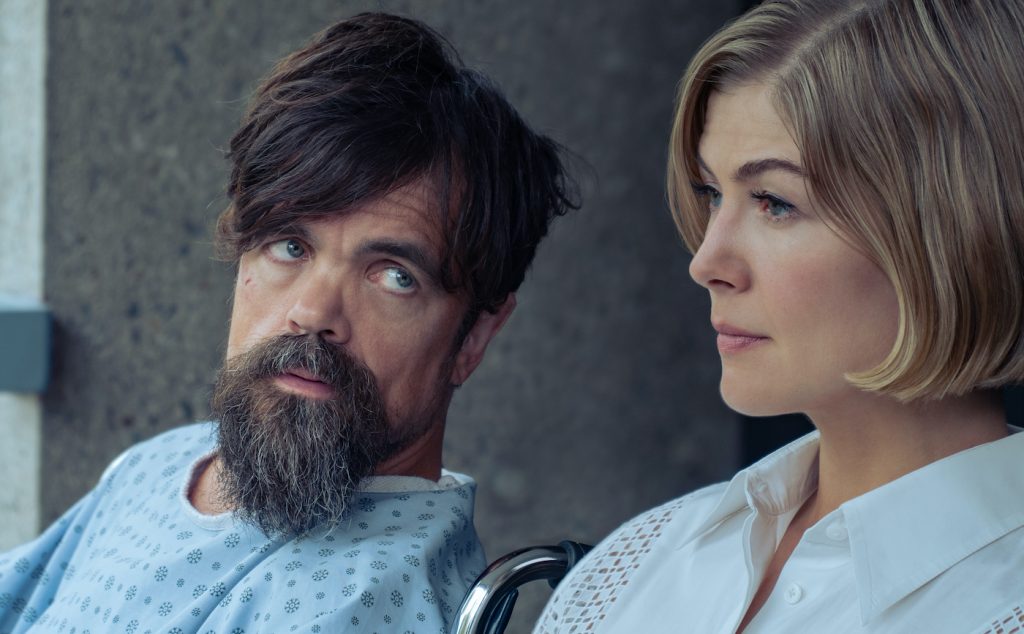 While the looks Marla rocks in I Care A Lot are modern and suave, Newhall says that designing for contemporary films is much harder than it looks. "I will say there's a lot more to designing contemporary films that have modern clothes in them," she says. "People assume they know how that works, they think, 'I get dressed every day, how hard could it be?' No one talks the same way about a period film, and sometimes it's easier to work on a period film. When you're putting something on someone and the film's set in 1880, they can't complain and ask to wear something else—what else have you got? That's the period we're in and we can't go to the Gap or Macy's to change your look to make it more comfortable."
I Care A Lot is now streaming on Netflix.
For more on big titles on Netflix, check these out:
Oscar-Nominated Makeup Department Head Gigi Williams on "Mank"
DP Marcell Rév on Going Black and White in "Malcolm & Marie"
"To All the Boys" Producer Says Goodbye with "Always and Forever"
Featured image: I Care A Lot: Rosamund Pike as "Martha". Photo Cr. Seacia Pavao / Netflix