Oscar-Nominated Makeup Department Head Gigi Williams on "Mank"
David Fincher's Mank is the most Oscar-nominated film of the year, amassing ten, thanks to the beauty and brilliance of its black-and-white execution. One of those nominations belongs to makeup department head Gigi Williams, a veteran who picks her work based on her belief in the director. In Fincher, she was collaborating with one of the most precise filmmakers in the business, and in Mank, working off a script from his father Jack Fincher, Williams had caught the director on what was likely his most personal project to date.
"If your makeup is too loud, you take away from the performance and you don't belong in this artist's picture, because Mank is a piece of art that everyone has dabbled in," Williams says. "Everyone has put their piece into it, and everyone flows together so that nobody stands out. My whole career, I don't like makeup that's too big, that makes a statement, if you see my makeup, I've failed. I want to see the actor, I want to see the essence of the actor. I love the process of acting. I'm there to facilitate that."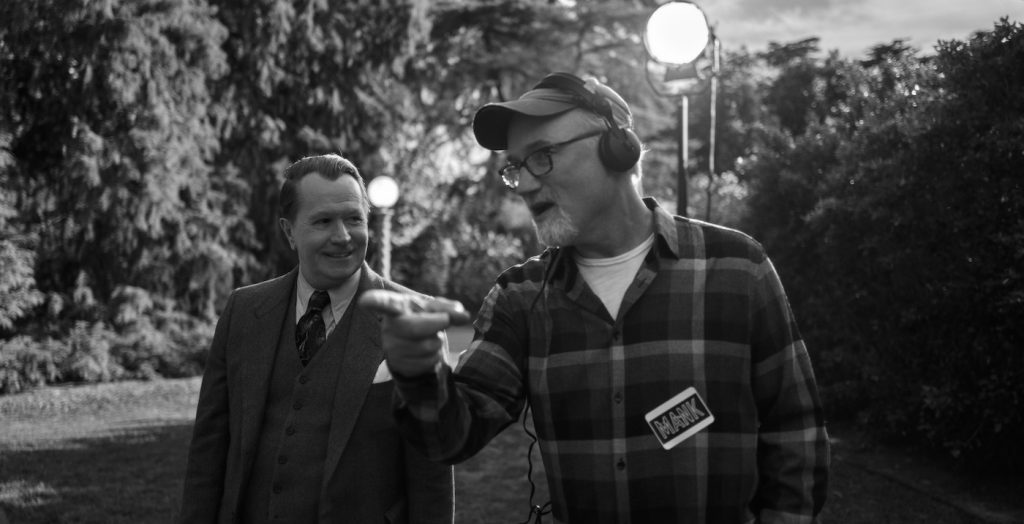 Mank revolves around the titular Herman Mankiewicz (Gary Oldman) and his efforts to write the script for what would become one of the most influential films of all time, Orson Welles' Citizen Kane. Mank's task is to scribble while quarantined in the desert while he recuperates from a lifelong battle with alcoholism and a bum leg from a car accident. His efforts are simultaneously fueled and thwarted by his wunderkind director and supposed co-writer Welles (Tom Burke) and a rogue's gallery of big-name, real-life heavies of the era, from William Hearst (Charles Dance) to Louis B. Mayer (Arliss Howard). Kinder souls grace Mank's glitzy cosmos, too, including figures like Marion Davies (Amanda Seyfried) and his typist, Rita Alexander (Lily Collins).
Williams spoke to me via Zoom (of course), and I was briefly caught short by a piece of art on her wall behind her. It was an original Warhol, gifted to her by the man himself. "I was a Factory Girl," Williams says. "It's signed to me and my husband [Ronnie Cutrone], he's dead now, he was Andy's art assistant, so literally, for fifteen years, I was at the Factory every day. I'm still connected to all those people. The ones who are alive."
We had to table this discussion—clearly worthy of its own story—to maintain our focus on her work in Mank. This meant setting aside her babysitting for Frank Zappa, her hanging out with Jimi Hendrix, her working with Diane Von Furstenberg. We shifted to discuss the first and most obvious question one would have for a makeup artist with an impeccable eye for color working on a black-and-white film—how does that work?
"First of all, thinking of it as a black and white movie is the wrong way to look at it," Williams says. "It's really a grey movie. It's shades and tones of grey. Black is at one end, white is at the other, in the middle are just thousands of tones and values of grey. That's really where you're working."
When Williams started, she and her team used the Noir filter on their iPhones to take photos of everything on set. "You get to a point where you know that Fuschia and lime green really photograph the best in Noir, but you can't put that on somebody's face, and you can't put that on the set because it would be, like, what the f? I literally walked around with one of those grey charts."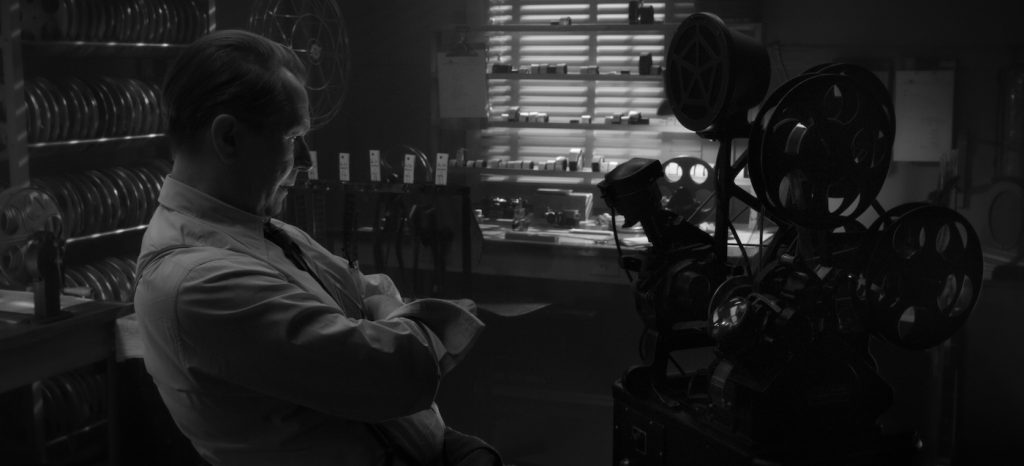 In order to figure out what would play well, Williams tested around 300 lipsticks, smearing them on an arm and filming them with the Noir filter. Through this method, she was able to get a sense of how each shade would translate, which would shine too much or not enough, what the values of each color and their luminescence were. After this massive trial and error effort, she narrowed her 300 lipsticks down to around eight.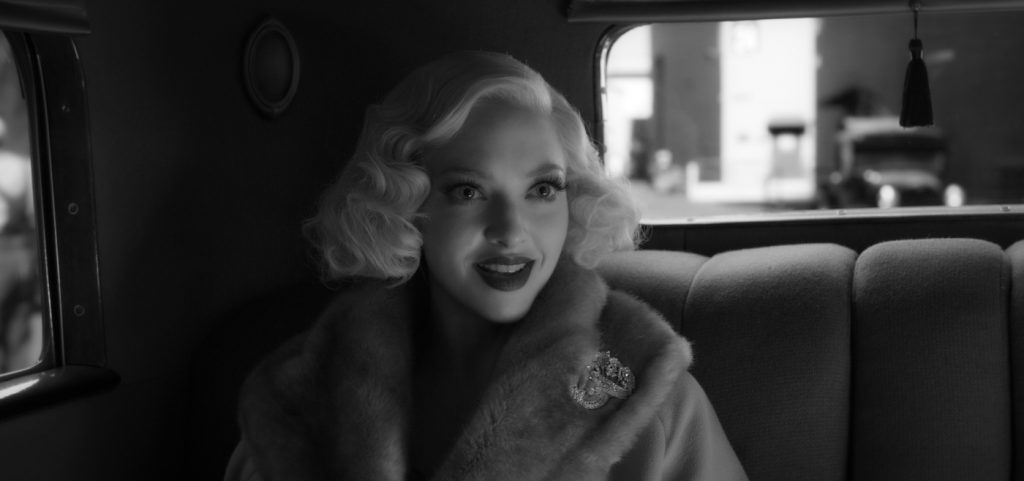 "It seemed like we all went towards the middle, because the really dark reds start to look, in your muscle memory, like goth," Williams says. "Then you go out on the set, you think, that's got to be even darker and we need to go further. With Lily [Collins]'s character, David didn't want any makeup on her at all. 'She doesn't wear makeup,' he said. So he and I went back and forth for a long time, I kept saying, 'This is 1940, she's in the steno pool, my mother didn't get out of bed without putting her eyebrows and lips on.' He relented."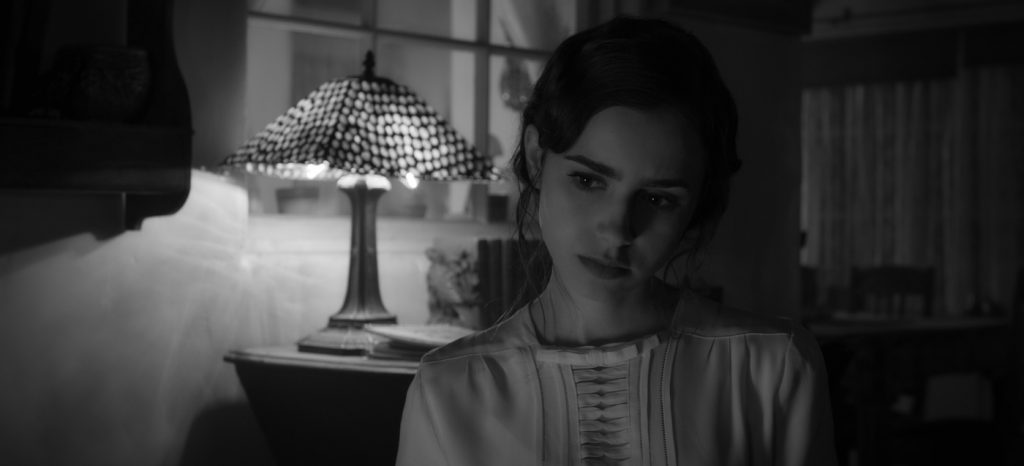 As for one of Williams' main jobs, Oldman's brilliant but fragile Mank, she had her work cut out for her. The desert is a rough spot to detox—temperatures soar well past 100 degrees, dampening Mank's already flop-sweat-covered ruin of a body.
"It was difficult because David loves his flop sweat, so I start with a moisturizer that gives you shine when we're out in the desert," Williams says. "Then I do eight-hour cream, which is almost like vaseline, but it's really a beauty product in a tube, and I put that on because it just sits on top. Then I add some glycerin that I tap on his forehead that makes little beads. Then I spritz him with Evian—under the arms, on the neck, on the hairline—so that he's glistening. It's supposed to be 108 degrees on top of the fact that he's got the DTs. So when I achieve that really good DTs sweat, I'm jumping for joy."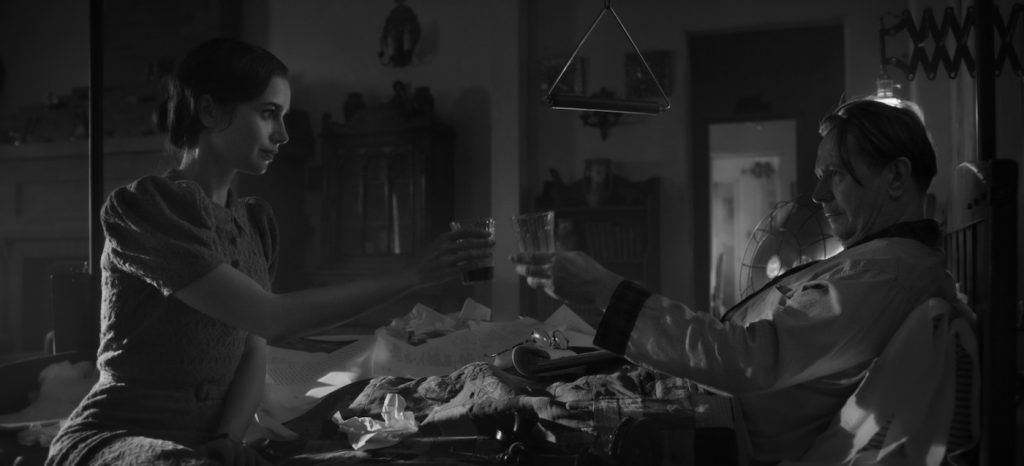 Then there are the big set pieces in which nearly all of the main players in Mank's world converge at a party at Hearst's mansion. The scene had a whopping 27 speaking parts, and it required Williams and her number two, Michelle Audrina Kim, to create a kind of makeup field hospital. Williams and Kim split up the main actors, and then they set up makeup trailers for the day players and another room for makeup artists to handle the background actors. "It was huge," Williams says.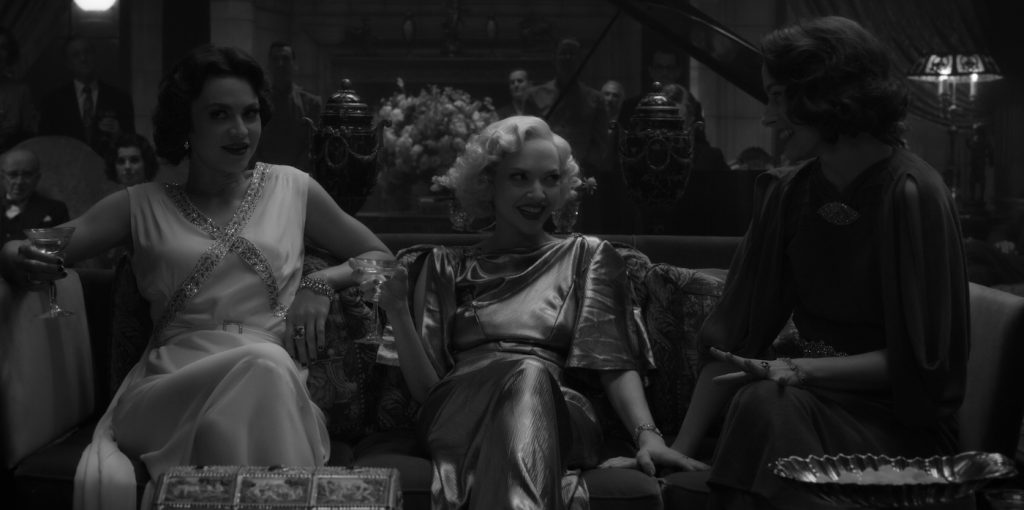 Williams appreciated Fincher's method of keeping his department heads huddled around him during filming. "He likes that so he can just look at you, and you already know what he's going to say because you're looking at the same thing," she says. "Once we have everyone on set, I usually do everything by text. I have all my background makeup artists over here, I know where the camera's facing, I know who's on camera, so I'm alerting those people that these actors are going to be in the next scene. I'm busy all day. Then of course I've got Gary [Oldman], who I'm spritzing down between every single take, and Amanda [Seyfried] has to be touched up head-to-toe before every take. It's a ballet, and you go home after 16 or 18 hours of that you get a little sleep and start tomorrow."
One of Williams' favorite characters to work on was Charles Dance's William Hearst, the inspiration for Citizen Kane's central character, Charles Foster Kane. Hearst was one of the richest, most powerful men at the time, and he was, understandably, not a fan of what Mank and Orson Welles ultimately created. He was a formidable opponent and played by the silkily imposing Dance, one of the film's most engaging characters.  "I looked at a black and white photograph of these people in our research, and every photograph of Hearst had these big dark eyes, so I just made two cadaver eyes on Charles from the very first day," Williams says. "And he was like, 'Whoa, Gigi, don't you think that's a bit much?' Charles is a very good-looking guy and that's his image. I was like 'No, that's what we want.' So we went into a camera test and it looks great. In fact, I know I can go darker, and Charles is beside himself. He still talks about it in interviews, like, 'I don't look at all like Hearst, but by the time Gigi finished doing all that makeup, I felt like him.'"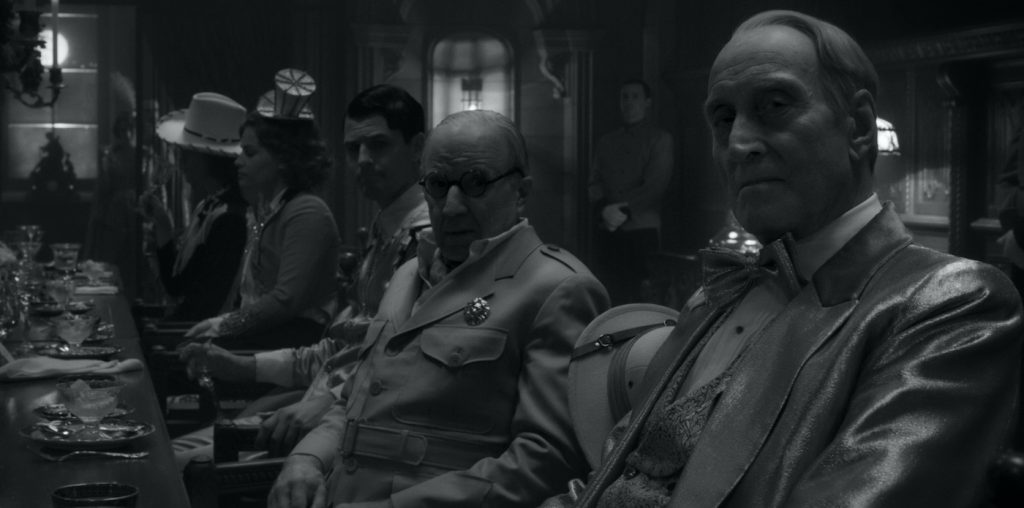 As for working on Oldman's Mank, Williams is filled with fond memories. One, in particular, stands out. "One day I was deepening the dark circles under his eyes, and he's got no foundation, and I'm painting his capillaries in, and Gary says, 'I don't look bad enough,'" Williams recalls.  "And his wife and I took a picture of him in black and white and showed it to him, and he goes, 'Oh. I look bad.'"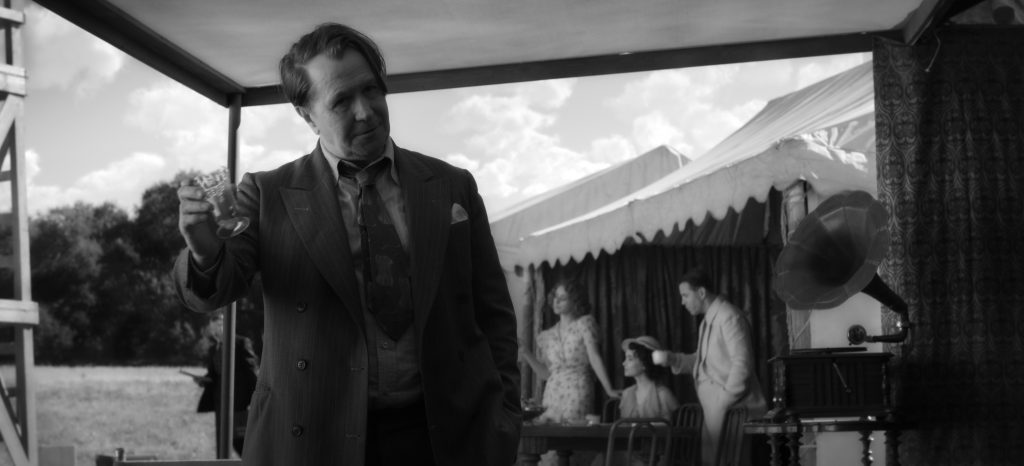 For more on Mank, check out our interview with Oscar-nominated costume designer Trish Summerville.
Featured image: MANK (2020) Gary Oldman as Herman Mankiewicz and Amanda Seyfried as Marion Davies. Cr: NETFLIX