DP Marcell Rév on Going Black and White in "Malcolm & Marie"
From the moment Marie (Zendaya) strides into view, entering the borrowed Los Angeles digs she's sharing with her director boyfriend Malcolm (John David Washington), you sense trouble. The couple's home, where they will spend the rest of the night wide awake and arguing, is spacious and stunning, and Malcolm's movie premiere earlier that evening was an unqualified success. Too bad the auteur forgot to thank Marie in his speech, a particularly egregious omission given that his film was based on her life. As the two pace after one another through their luxurious yet eerily isolated home, it emerges that Marie was in the throes of addiction back when she and Malcolm first got together. In her view, that chapter of her life should now either be closed or hers to work with as she sees fit, but instead, it is neither, her boyfriend having taken it, without asking, into his own creative possession. Marie's understandably foul mood simmers behind her otherwise impassive face, as she quietly observes Malcolm while he preens with joy at his triumph and rails against his reviewers, who, by bringing politics into their criticism, unforgivably fail to correctly interpret his genius.
Writer and director Sam Levinson and a limited crew shot Malcolm & Marie entirely during Covid-19, with Washington and Zendaya as the film's sole cast members. The director teamed up with his cinematographer Marcell Rév (the pair previously shot Assassination Nation and the series Euphoria together) to film this tense romance in high-contrast black-and-white Kodak Double-X film stock. Even though the fractious couple never leave their home, both their pasts and their future as a couple are eventually laid bare. We had the opportunity to speak with Rév about shooting under such unusual circumstances, lighting a feature set entirely at night, and the precision of blocking to make the most of the film's single location.
Can you tell us about the process that brought you to such a distinct black and white aesthetic?
When we were figuring out how this movie should look, we didn't have a lot of time. What usually would happen is that we'd watch a lot of movies, talk about references. As opposed to that, we had to get into production really quickly with this one. I think we had a pretty clear idea that this had to be black and white—this wasn't something where we came to a logical conclusion, it was more like a feeling or something instinctive. We shot this movie while production of Euphoria went down. On that show, we were already experimenting with certain kinds of film stocks. There's one sequence in Euphoria that's black and white. We came across the obvious choice of Double-X. They don't really use it that much, especially in feature films, nowadays. What they do usually is shoot in color, even if they shoot on film, and then turn it into black and white. We tested this stock and absolutely loved the look of it, that it has strong blacks and has a very high contrast in terms of halo-y whites. It's not an easy stock to shoot on because it doesn't have a lot of latitude. It's a special look. We thought we should go for it, especially because we wanted to pay homage to 50s, 60s Hollywood movies. This stock was used from the 70s or so, so it was pretty close to what they were dealing with—I think they were dealing with an even less sensitive negative at the time.
In terms of vintage films, were there particular titles you had in mind?
I think Who's Afraid of Virginia Woolf is something you can't avoid thinking about when you're shooting a movie like this. But we embraced that, we didn't want to act like it doesn't exist. I think I came up with the reference La Notte, just the way that modern architecture works in a black and white movie. And just the general mood of that movie, I can relate to. Sam really loves the movie The Servant. I think in terms of camera moves we were talking about Bunny Lake is Missing, the Otto Preminger movie, which is the 60s or maybe early 70s. It's about a couple who move to a new place, to a new town, and they take their daughter to preschool and when they go to pick her up in the afternoon, she's not there anymore. It's a very haunting movie, in my opinion. It's nothing to do with the themes of our movie, but just technically speaking we were talking about dolly shots that were similar.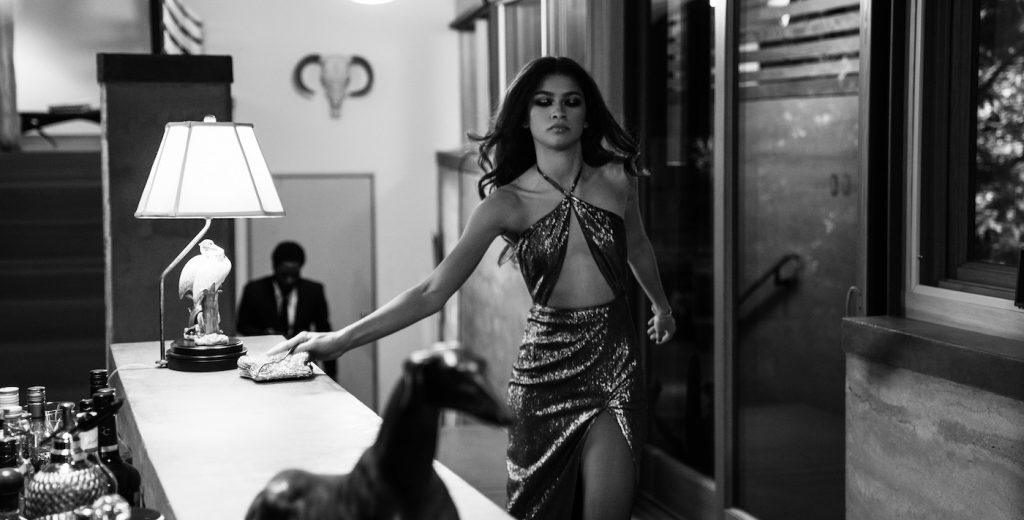 How was shooting entirely in one house? Do you find the limitations of shooting in one location creatively freeing?
I think almost every limitation is a little bit freeing because you don't have to deal with a lot of other stuff. Obviously, it's the middle of a pandemic, so we tried to come up with an idea we could shoot in a pandemic. This was a restriction that was given. But every restriction frees your mind a little bit from a lot of things—but I wouldn't say it's not a challenge. It's definitely a challenge to shoot in one location for an hour and 45-minute movie. But it was a gorgeous house and it had a lot of opportunities. We went through a lot of houses before we picked this one. We had a really clear idea that we wanted open structure architecture, meaning that you can see everything around. [But] this house [also] has a back part, which includes the bedrooms and bathrooms, that's a maze-like structure that can give you a little more of a claustrophobic feeling than the main living room area.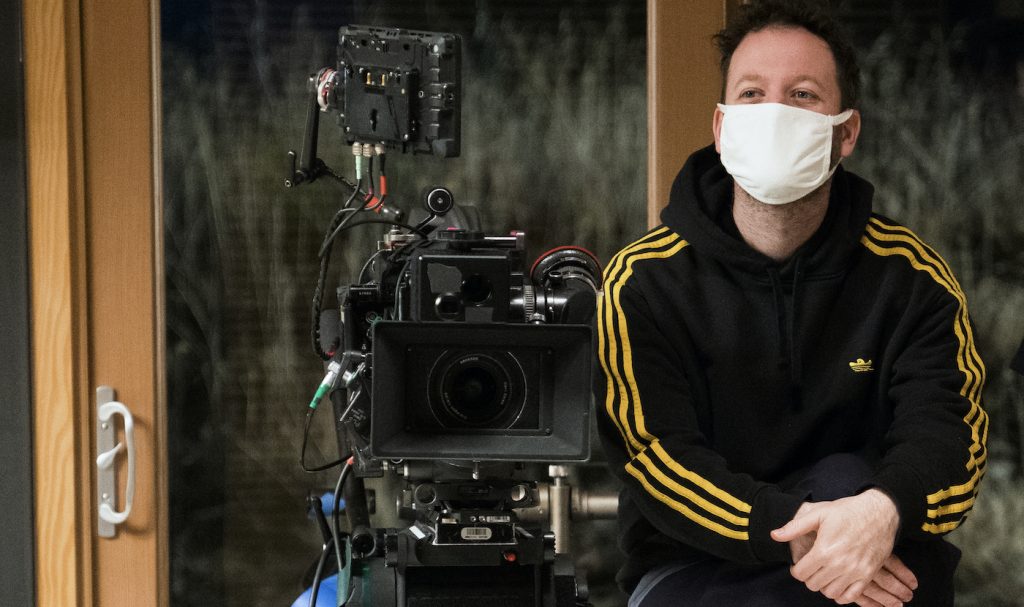 How was dealing with the nighttime factor?
Shooting night for a DP is of course a huge challenge. It's where you get the craft of your work. But it's also rewarding because you get to light everything, it's not just whatever the available light is and then extending that a little bit. Every light and shadow you're creating yourself. It's a huge opportunity. It was definitely a challenge on this very insensitive stock, but at the same time, it forced us to shoot in a certain kind of way that I think isn't really shot anymore, that gave a special look to this movie, I hope. It's a very insensitive stock, as opposed to what's in fashion today for digital cinema, where you're lighting a space, creating a mood, and just tweaking things when you're moving to another shot. As opposed to that, we were really lighting every shot. It was a totally different approach to what we usually do.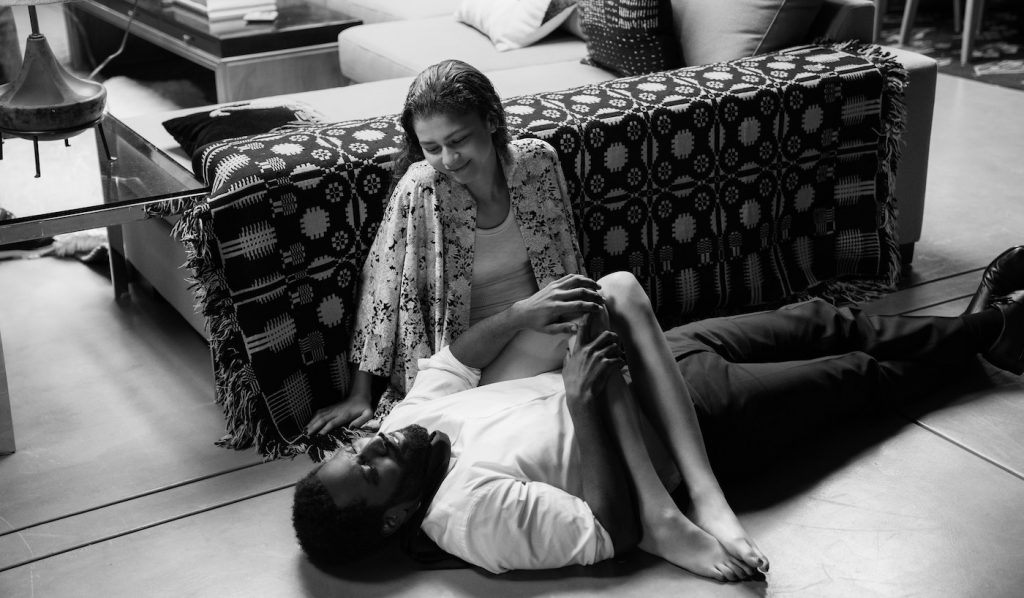 And outdoors, the lights are placed in a way where you get the sense the yard just drops off a cliff. Was that intentional?
Yes. We knew that we wanted to have this interior-exterior location, not just having plain walls behind actors while they're talking for one and a half hours, but having a landscape behind them. Obviously, at night you have to light that to have it be visible.
We occasionally view Malcolm or Marie inside, from outside the house. How did you decide when you wanted to pull back and frame them like that?
The fact that we were quarantined for two weeks prior to shooting gave us the opportunity to go through a lot of blocking and rehearsing with the actors. That's a huge advantage of this project, I think, that we got to wrap our heads around a lot of things that we normally don't get to. In a normal prep situation in a non-pandemic world, you try to steal those hours, when you can sit down and talk about the real important things. Most of the time it's without the actors, it's just the director and yourself. In this case, it was the four of us sitting and talking through, line by line, everything. That's a huge advantage for me.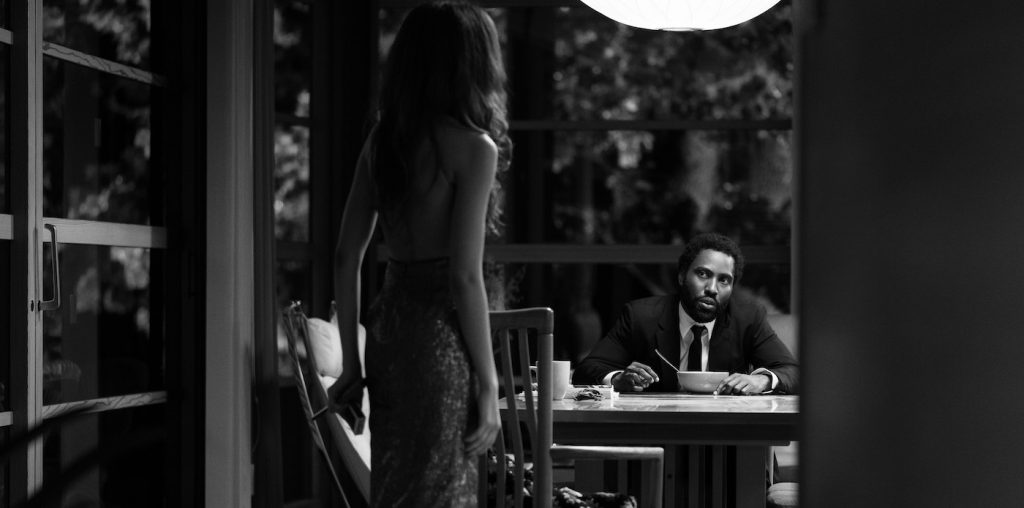 Was the crew also exceptionally small due to Covid restrictions?
Yes. It was a tiny, tiny crew. I think the last time I shot like this was in film school. There were twenty-something of us, so it was really a small, family kind of vibe. That was great, but at the same time, when you have four electricians in total for a lot of hills around the house, that slows things down a little bit. But we had an amazing crew and we knew these people from Euphoria, they're our friends. It was a pleasure to be there with them.
There was also the intention to avoid a sense of realism, right? Though in a way, these two people, having this argument, confronting the broader issues at hand, seems very realistic.
The director would put it that it's like watching two snakes in a jar. I wouldn't say it's a realistic or realist movie. I think it's in the way of Who's Afraid of Virginia Woolf—it's an experiment. It's watching two people and their relationship in a laboratory kind of environment. They're very isolated from the world. And I think the black and white gave it a certain kind of abstraction. When you see two people talking, you're obviously expecting something realistic. Realistic phrases or forms of speech—which I think this script includes, but at the same time, we wanted to make it more abstract than just picking up dialogue from the street.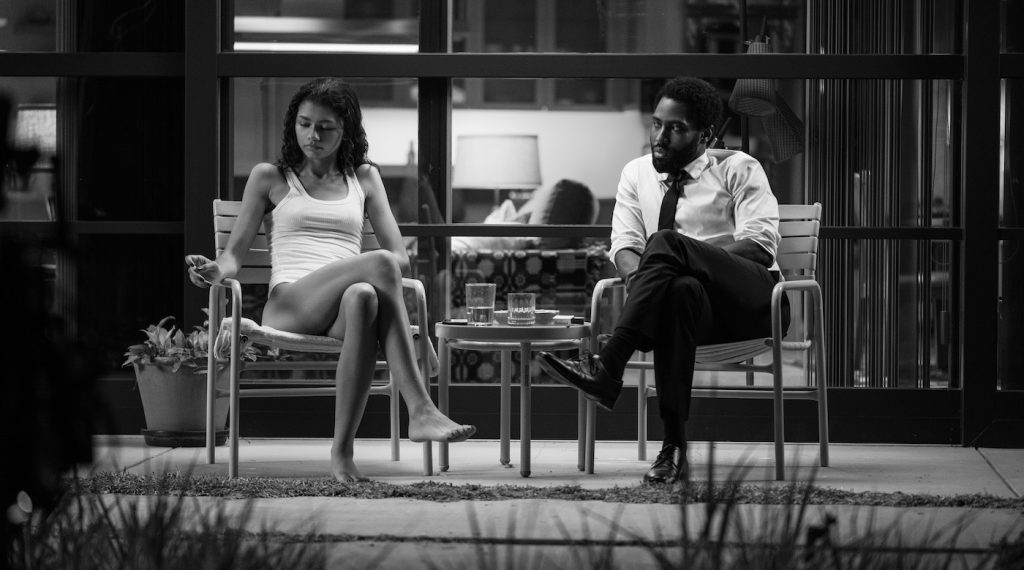 I think part of why a  sense of realism comes across are the moods Zendaya projects—they're extremely believable.
I think it's real on an emotional level. It's just not on a detailed, fact-check level, you know?
There's also a pervasive sense of threat. How did you evoke that?
I think that sense creates itself when people are in a remote location by themselves. You just have to put the camera a little farther away. or sit on an image for a little bit, or move on something slowly, and it creates itself. We're not trying to use horror movie kind of tricks to scare people. It was something that was sneaking into the movie a little bit, and we let it sneak.
Do you feel hope for Malcolm and Marie at the end?
It was always a question, where do we end this movie? I was always on the side to end it here. You could end it when they go to bed, or maybe even earlier. But I think in these times, in this world, after this huge fight, it's important to give people a little bit of hope, at least. Even if it's not a happy ending, it still gives you a tiny bit of hope that these people still love each other. I like the ending a lot, but you can argue about it, whether it's necessary or not.
Featured image: MALCOLM & MARIE (L-R): JOHN DAVID WASHINGTON as MALCOLM, ZENDAYA as MARIE. DOMINIC MILLER/NETFLIX © 2021