The Many Lives of Indonesian Director Kamila Andini
Talking with multi-award-winning Indonesian filmmaker Kamila Andini might lead one to believe that she either possesses the power of time travel or that she's in some way leading parallel lives, such is her unbelievably heavy workload.
When Indonesia imposed stay at home restrictions, Andini had just arrived back from Melbourne, Australia, where she had staged a theatrical performance, rich in local Indonesian traditional dance, of her 2017 film The Seen and Unseen (Sekala Niskala).
She's now mid-edit on her latest feature film Yuni, speaking regularly with her Thailand-based editor, Lee Chatametikool. "We do Zoom meetings. Right now, it's his to edit. We're taking it slow, given the situation, but we'll have to figure out how and when we'll be able to sit in the same room together."
Contemporaneously, she's writing a new script, Nana (working title), and inviting investors to get on board the project. "In the beginning, I thought this (the lockdown) was going to be easy and that this would be a good time to write at home, but I have little kids (6 and 3) at home, and it's all on me!"
Like nearly every other industry, filmmakers and TV creators have undergone an unprecedented global shutdown due to the coronavirus pandemic. We've been talking to creatives all over the world to find out how they've been handling the stoppage in work, making the most of their quarantine, and their hopes for the future. Those interviews have included chats with Korean film critic Youn Sung-un, Indian filmmakers Tannishtha Chatterjee and Priyanka Singh, Filipino filmmaker Keith Sicat, and Thai filmmaker Nirattisai Ratphithak.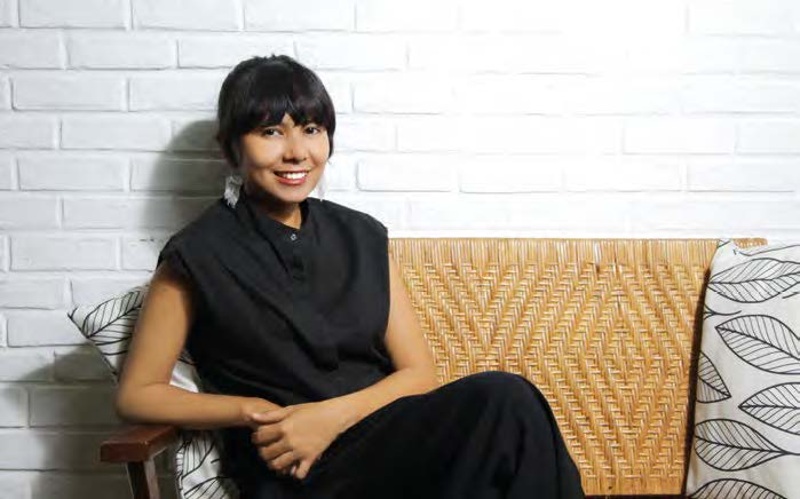 For Andini, writing screenplays while home-schooling two young ones may not reflect an advisable recipe for work/home life balance, but it doesn't stop there. She must also find time in the daily schedule to run a media production company, Fourcolours Films, which she runs with husband and sometimes co-creator Ifa Isfansyah. "We are using this time to reflect and try things we've not tried before. We're developing a lot of story ideas, exploring genres, though we don't know if we'll ever get to produce them or not."
Changed conditions have motivated Andini, and fellow filmmakers, to think differently about their approach to production. "How do we create with limited resources? What can we do within a studio, with minimal crew, with intimate kind of stories?" Once production is allowed, "No one will have access to a big budget."
While Jakarta and Yogyakarta host much of the filmmaking in Indonesia, Andini has a passion for telling stories set in East Indonesia and further afield. Her 35-minute short film Memoria (2016) told the story of survivors of sexual abuse in Timor Leste. She joins regular Zoom meetings with the communities in the Eastern parts of Indonesia. She believes it is important to capture authenticity in her work and uses her craft as a voice for the people whose stories are rarely told. She's excited by the idea that she can achieve that with a small crew in a way that meets the new requirements of shooting during the time of the Covid-19.
As if her plate was not yet full enough, Andini and Isfansyah administrate a film school – Jogja Film Academy. Founded six years ago, the school now has the necessary government approvals to operate as a fully-fledged business. "We started with 30 students, and now have 120 students. It runs quite well, even in these conditions. Ifa is still teaching classes (online)".
The venture, like others pursued by Andini and Isfansyah, has the under-privileged in mind. "In Jogja, the cost of living is not as expensive as Jakarta, so we've tried to build a film school that is accessible to students from less-comfortable backgrounds." The school caters to students 18 and up, with a focus on the art in preference to the more technical aspects of filmmaking, which can be cost-prohibitive. Many come to study from remote areas across Indonesia.
We wrap up our conversation with the happy recollection that Andini's films have achieved much success at the Asia Pacific Screen Awards. Her latest film Yuni is a recipient of the 2018 MPA APSA Academy Film Fund. Her feature films The Mirror Never Lies (2012), won the Best Children's Feature Film in 2012 and Seen and Unseen (2017), won the APSA for Best Youth Feature.
Similarly, Ifa Isfansya's feature Abracadabra (2019), won a feature film pitch-dating competition run by the MPA, Asia Pacific Screen Awards, and Busan International Film Festival in 2015. His feature Memories of My Body (2018), was also a recipient of an MPA APSA Academy Film Fund development grant in 2013 and was directed by Kamila's father, Garin Nugroho. It went on to win the Cultural Diversity Award under the patronage of UNESCO at the Asia Pacific Screen Awards in 2018.
Whatever the future holds, you can be sure that Andini will be ready—and very, very busy.
Featured image: DUBAI, UNITED ARAB EMIRATES – DECEMBER 11: Kamila Andini poses during a portrait session at the 14th annual Dubai International Film Festival held at the Madinat Jumeriah Complex on December 11, 2017 in Dubai, United Arab Emirates. (Photo by Neilson Barnard/Getty Images for DIFF)