Ron Howard & Cast Speak Out About Solo: A Star Wars Story
How did Harrison Ford's Han Solo become such an irresistible rogue? To answer that question, Solo: A Star Wars Story presents a portrait of the wise-cracking outlaw pilot as a brash young man. Directed by Ron Howard and co-written by Lawrence Kasdan, who scripted The Empire Strikes Back, this rip-roaring origins story casts Alden Ehrenreich in the title role alongside Donald Glover as the young Lando Calrissian, Game of Thrones star Emilia Clarke as Qi'ra, Woody Harrelson and Thandie Newton as veteran criminals Beckett and Val, respectively, Paul Bettany as Dryden Vos and Phoebe Waller-Bridge as the droid L7-37. Solo talent gathered earlier this month at the Pasadena Convention Center to share stories about Wookiees, droids and life in the cockpit of the Millennium Falcon.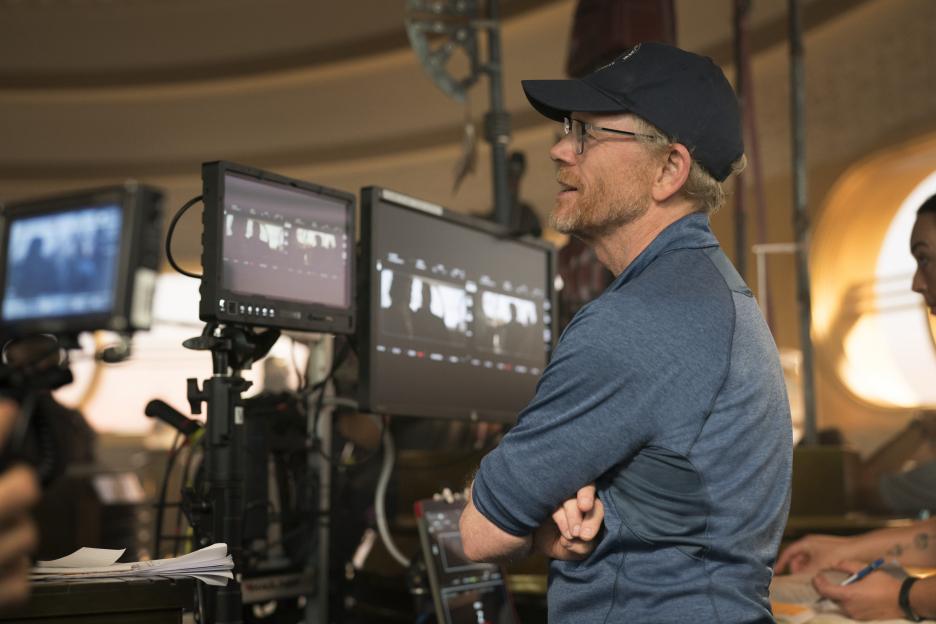 Best known for fact-based epics like Apollo 12 and Oscar-winner A Beautiful Mind, Ron Howard replaced original Solo co-directors Phil Lord and Chris Miller to direct Solo: A Star Wars Story.
Great expectations
"I'm at a point in my life where I like to take some chances. Jumping into a Star Wars movie. [It's like when I made] the Beatles documentary, from the moment it was announced: 'Ron, don't f*** this up.' I felt the same thing [with] Solo. Of course the fans care. And they should care."
A Hero's Journey
"I've done a lot of true stories. I always go for the heart. I go for the drama, the excitement of the narrative and then I let the technical advisors tell me where else it could go or what I might be overlooking. That's the way I approached Solo, operating off my own imagination and my sense of what I'd like to see. It's really one guy's adventure story, similar in some ways to Raiders of the Lost Ark, which Larry [Kasdan] also wrote. There's a lot of twists and turns, but all the different relationships were very important to me because it's all about the impact these characters have on young Han Solo."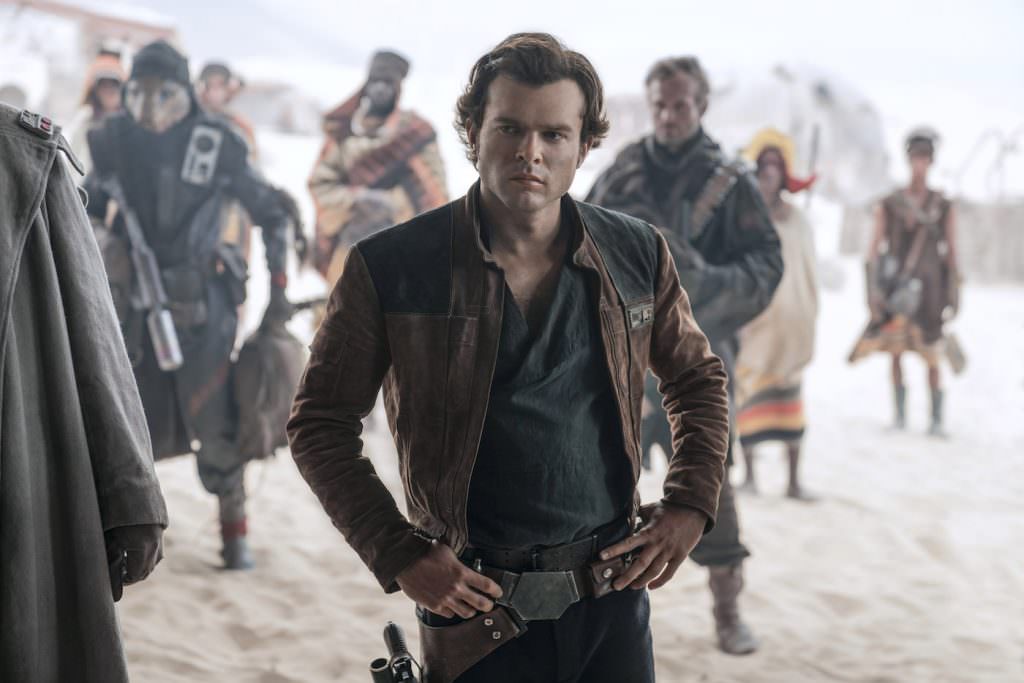 Steven Spielberg discovered a 14-year-old Alden Ehrenreich in a bat mitzvah home movie. Since then, the 28-year old actor has starred in the Coen Brothers' Hail Caesar and Warren Beatty's Howard Hughes biopic Rules Don't Apply. Ehrenreich spent two years preparing to play Han Solo.
Piloting the Millennium Falcon
"Being in the Millennium Falcon is very, very cool. You get into the cockpit and can't believe you're in it. It's so surreal. Then, a couple months into shooting you're inside of it, you know where the buttons are, you know how the chair feels, you know the yoke and you feel like: 'Okay, this is kind of like my ship now.' That is deeply gratifying."
Soaking up the Harrison Ford persona
"I watched the original movies early on and absorbed as much as I could about Harrison and the character and the whole Star Wars universe. I tried to take in as much of that as I could, because I had the role for quite a long time before we actually shot. Then I put all that aside and forgot about it and played this guy where he is now in his life. It's most important that Han Solo feels like a real person."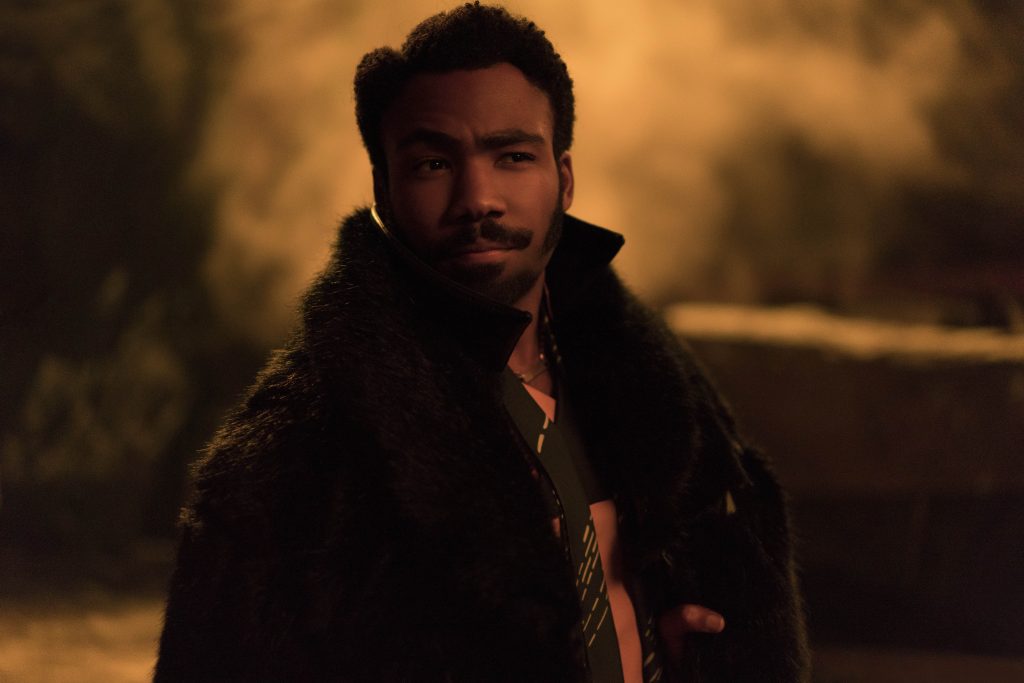 Writer-actor-musician Donald Glover, star of TV series Atlanta, created a viral sensation with his incendiary music video This is America. In Solo: A Star Wars Story, he takes on the role of suave Lando Calrissian, originated by Billy Dee Williams in The Empire Strikes Back and Return of the Jedi.
Loving Star Wars as a Child
"I had a light saber and I bit it off. And then my mom wouldn't let me have the light saber anymore because she thought I'd choke on it. My dad imprinted me with this kind of Star Wars longing. It does feel like the Bible to me in a lot of ways."
Auditioning for Lando
"When I heard they were making this movie I told my agent, 'I have to be Lando.' And he was like, 'I hear you. I don't like your odds.' That was exactly what I needed to hear because I auditioned like it was like the only role I wanted in the world."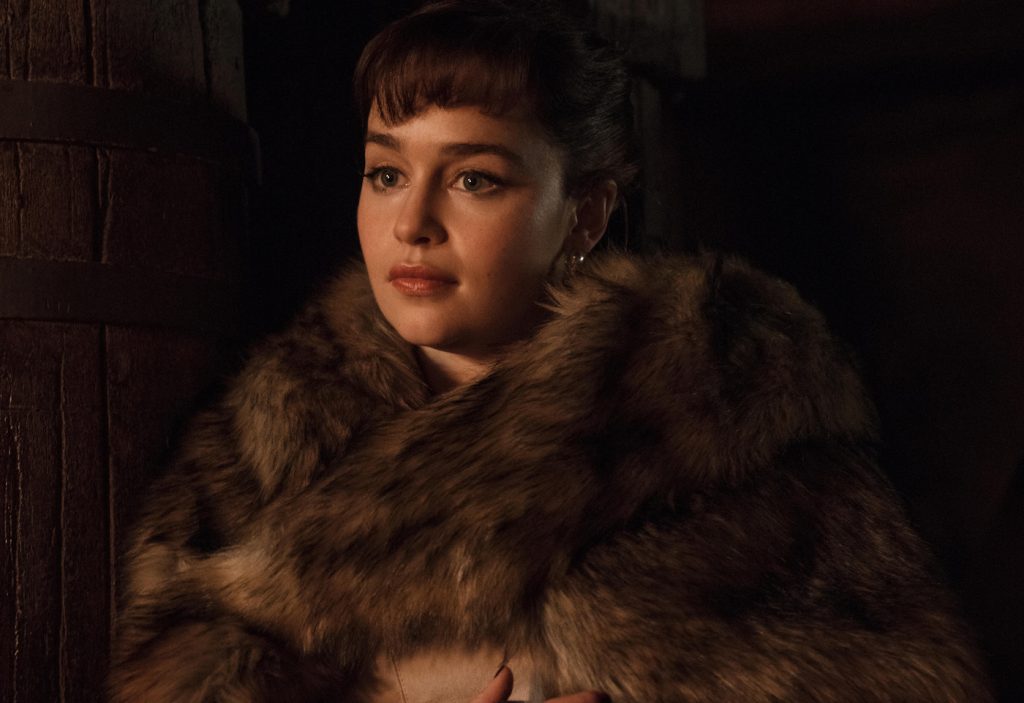 World famous as Game of Thrones' dragon queen Daenerys Targaryen, Emilia Clarke goes brunette to play Qi'ra, the love of Han' Solo's life who evolves into a major player in her own right.
Qi'ra as Question Mark
"Playing mysterious is quite difficult, I've got to be honest. We meet Qi'ra early on with Han and then they're separated. When we find her again, she seems to have lived a pretty dark life. You can't quite figure out what happened to Qi'ra. I think that's a question that keeps coming up throughout the movie."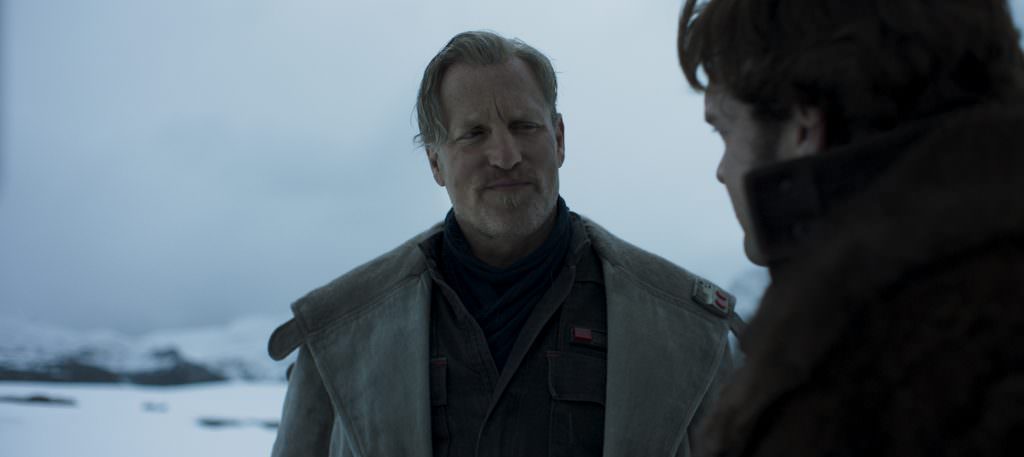 Versatile Oscar nominee Woody Harrelson played a small town sheriff in Three Billboards Outside Ebbing, Missouri before appearing as untrustworthy outlaw Tobias Becket in Solo.
A Scoundrel Among Scoundrels
"Tobias was a really easy character for me to play because he's a scoundrel and a thief. For a lot of people who are Star Wars fanatics, this is their favorite character, which is really cool. Larry and Jonathan wrote an extraordinary script and then Ron came in and did his magic."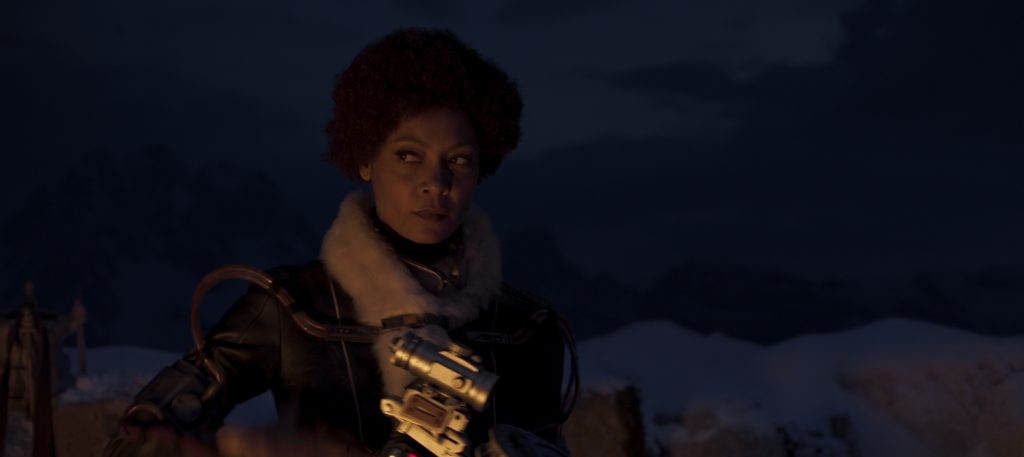 Besides her starring role as a human replicant in HBO's Westworld, Thandie Newton in Solo takes part in a daring train heist as Beckett's gutsy lieutenant Val.
Going Into Battle
"The production design in these cavernous spaces was so amazing it felt like we were in real battle scenarios with explosions going off and debris and mud landing in places you didn't even know you had places. Really, it's like a nightmare. We'd been shooting for a long time so there was a lot of camaraderie and taking the piss out of each other. There were a lot of situations where helmets would come off or got smeared and things would go wrong. We had fun in these extreme situations."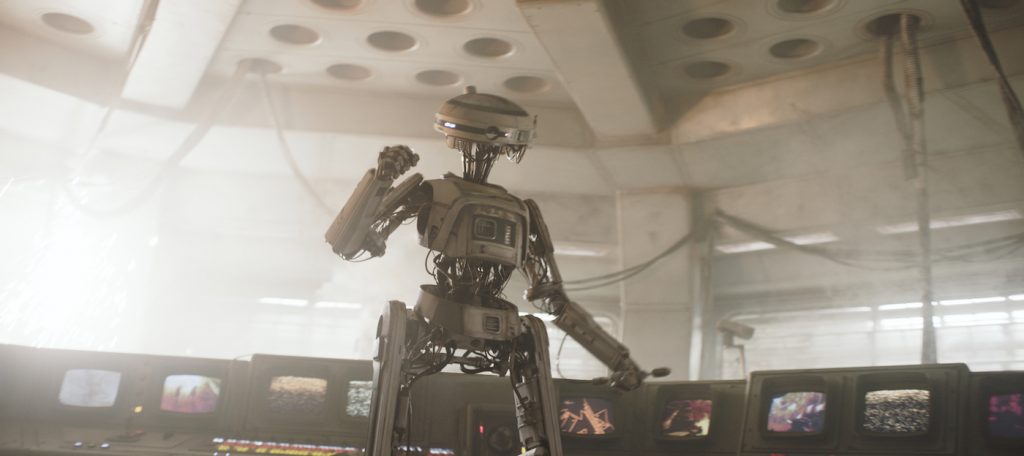 British writer-actress-producer Phoebe Waller-Bridge, who won a BAFTA Award for her star turn in Netflix dark comedy Fleabag, gives voice to CGI character L3-37, Lando's android navigator.
Sassy Robot Built From Scraps
"L3 is a real inspiration to me. She created herself out of parts of other droids. She turns herself into this unique creature that's taller, stronger and more independent than she originally was. L3 is fearless, she's uncensored, she's funny and she's a revolutionary with an agenda. It's great to play a droid with a message."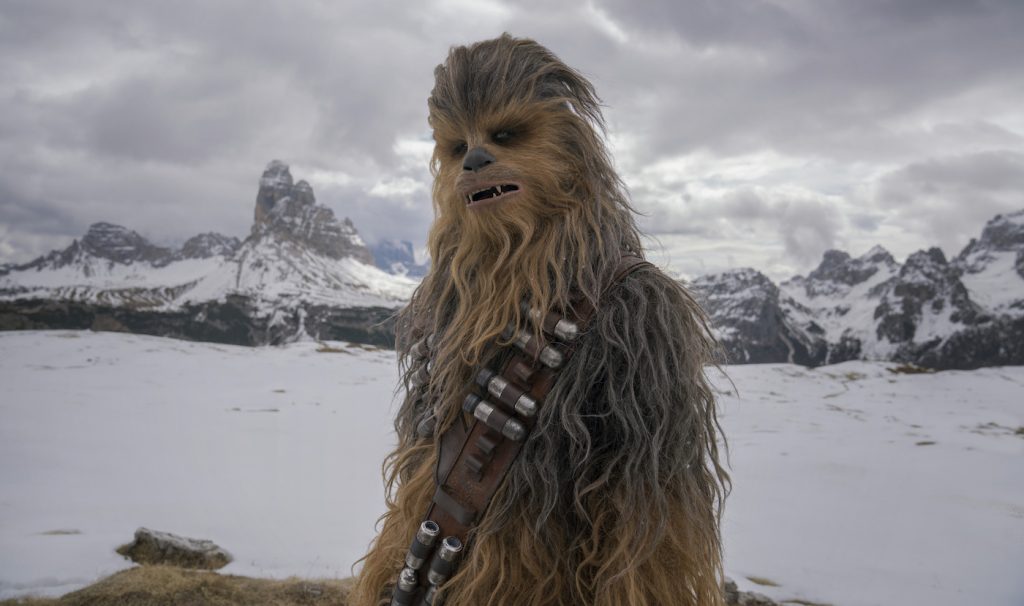 Finnish actor Joonas Suotamo reprises his role as the lovable Wookiee warrior Chewbacca, whom he portrayed earlier in Star Wars The Force Awakens and Star Wars: The Last Jedi.
The Big Break
"When I found out I was going to play Chewbacca, it was a life-changer for me because I was borderline jobless when I got this role. I couldn't sleep at night I was so excited."
Wookiee Boot Camp
"Peter Mayhew, who created this character along with George Lucas, gave me some tips in our week-long session together. I never could have understood what went on underneath his mask. And now that I know, it was easy going into this film, which is so much about Han and Chewie and everyone."
Solo: A Star Wars Story hits theaters this Friday, May 25.
Featured image: Alden Ehrenreich is Han and Joonas Suotamo is Chewbacca in SOLO: A STAR WARS STORY. Courtesy Lucasfilm/Walt Disney Studios.