"Freelance" Writer Jacob Lentz on Going From "Jimmy Kimmel Live" to Penning his Feature Debut
It sounds like the setup to a sketch: a washed-up journalist, a peacocking dictator, and a bored ex-Special Forces guy walk into a coup… That may be the premise of the action-comedy Freelance (in theaters now), the first feature film from long-time Jimmy Kimmel Live writer Jacob Lentz, but the punchline isn't what you'd expect. Mason Pettits (John Cena) is a frustrated lawyer who gets a call from an old military buddy turned private military contractor, Sebastian Earle (Christian Slater), to provide security to a journalist, Claire Wellington (Alison Brie), trying to get a derailed career back on track. Her lifeline is an exclusive interview with the supposedly ruthless dictator Juan Venegas (Juan Pablo Raba) of a fictional country called Paldonia. Venegas turns out to be pretty fun—for a dictator. Mason and Claire are like oil and water. The three of them are stuck together in an SUV when masked shooters block them in on a bridge in the middle of the jungle. The shooter's target is Venegas, but everyone in this ill-matched group has to work together to make it out alive.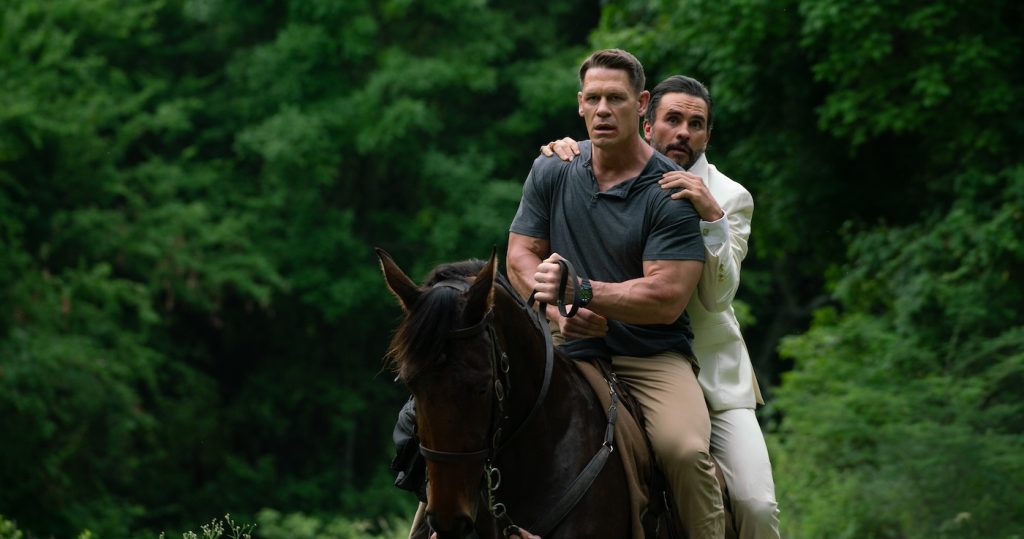 When Lentz started writing, he began with Mason, a character inspired by a friend and an unrelated, serendipitous kick reading about PMCs. The idea for Venegas came out of the same set of books, "and the more I thought about him, the more I thought, this is a person who's alternately funny and horrible, but maybe not as horrible as we want him to be," said Lentz. Venegas's character is an unexpected source of comic relief, but it's even more of a surprise when (spoiler alert) Claire and Mason do not get together. "It came up a few times, and I was just like, that's what always happens," the writer said. "What if it's not about the action hero getting the girl?" Instead, Mason earnestly hopes to repair his relationship with his wife (Alice Eve), while Claire is focused, to the point of risk of life and limb, on getting her scoop. The pair just have to make it through the coup.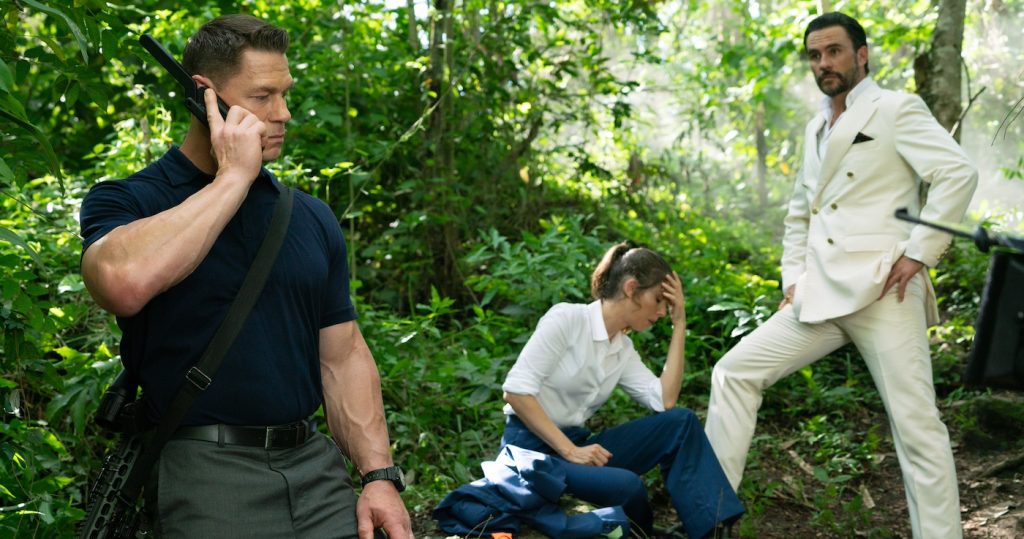 To do that, there's hand-to-hand combat, a helicopter that has to be taken down, and horses on which to flee. Director Pierre Morel (Taken, Peppermint) favored practical stunts over visual effects, an outcome Lentz was aiming for while he was still in the writing process. "I think anyone paying attention would have to admit that every movie has some preposterous part to it," he said, but with so much of the action in Freelance performed practically, "I got really lucky. I think the film is better for it, and I'd give a lot of that credit to Pierre and his team."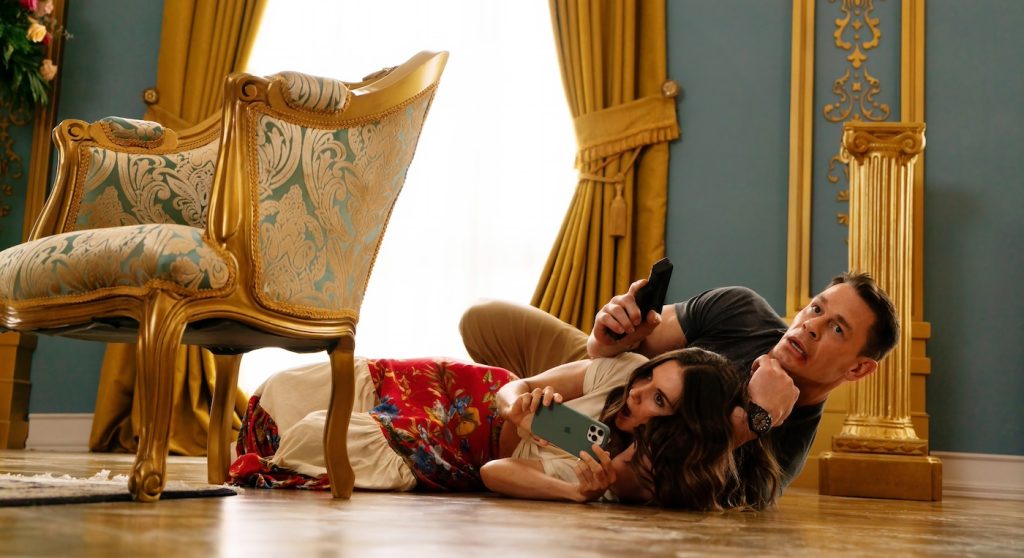 Fully invented is the nation of Paldonia, the name of which was workshopped by Lentz and the film's producers. A fake country is reminiscent of 2022's Top Gun: Maverick, in which an enemy nation-state that's never named has to be defeated at all costs. "I don't know if it's a trend," said Lentz, of relying on fictional or anonymous realms. He avoided setting Freelance in a real country to avoid casting aspersions on a real place. Filming in Colombia with a sizable local team, he asked some of the crew if they would have minded if Paldonia was instead called Colombia. "They generally said no, we wouldn't have really cared, but we like that it's a pretend country," he said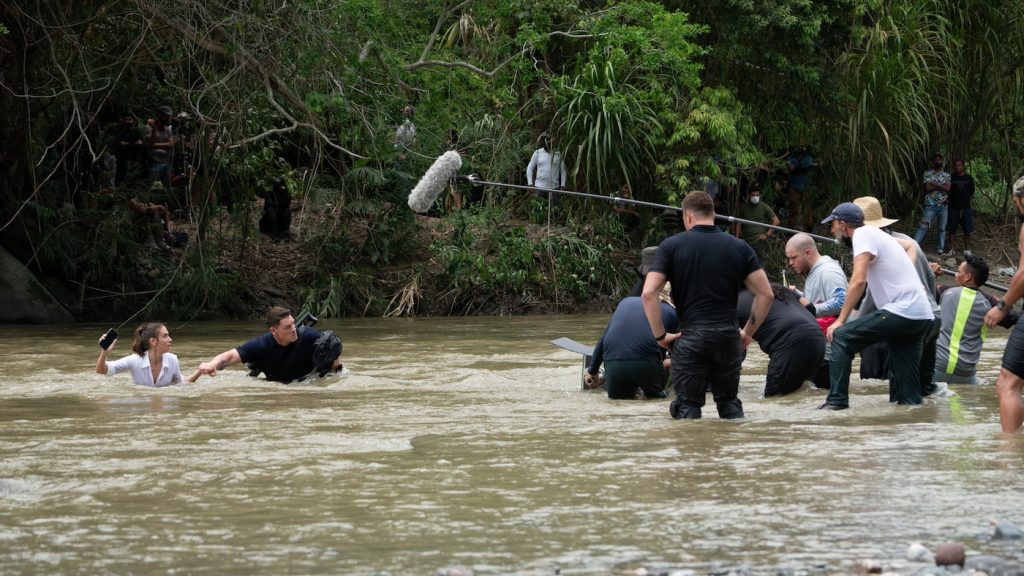 Before writing his first feature, Lentz was a writer for late-night television. "The big things I credit Jimmy Kimmel Live with for ultimately getting this movie made was that you just have to do the work and be nice about it," he said. And, of course, humor is humor, and Mason, Claire, and Venegas's fight to make it out alive is not without laughs, whether absurd (Venegas's entire partnership with Paldonia's political left) or slapstick (an awkward shower scene). Writing for late-night comedy encouraged Freelance's funny side. "The show helped me become much more at ease at putting a joke somewhere," Lentz said.    
For more stories on new films and series, check these out:
How "Saltburn" Production Designer Suzie Davies Outfitted the Vast Estate in Emerald Fennell's Thriller
Marvel's "Daredevil: Born Again" Series Get New Showrunner & Directors
"Lessons in Chemistry" Makeup Department Head Miho Suzuki Captures the Pressure Cooker of Being a 1950s Woman
"Killers of the Flower Moon" Casting Directors Ellen Lewis and Rene Haynes on Their Historic Oklahoma Casting Call
Featured image: L-r: John Cena, Juan Pablo Raba, and Alison Brie. Courtesy Relativity Media.