"Lessons in Chemistry" Makeup Department Head Miho Suzuki Captures the Pressure Cooker of Being a 1950s Woman
Chemical reactions can be calculated and quantified, but matters of the heart are far less predictable. When scientist Elizabeth Zott (Brie Larson) finds herself pressed toward domesticity from all sides, she realizes that the way to pursue her passions, empower women, and advocate for equality may be through the kitchen after all. Lessons in Chemistry – based on the hit novel by Bonnie Garmus – follows Zott's evolution from student to TV star.
Makeup was a mark of femininity in the 1950s, but Zott rejects conventional women's roles. Makeup department head Miho Suzuki designed a path for Larson's character to evolve from a university student through motherhood into a very public career.
"She can't afford all the makeup like other ladies," Suzuki said of Zott's time as a lab tech. "Also, she wasn't self-absorbed about how she looked. Her importance wasn't in that. Just so simple, a beautiful, glowing woman. She doesn't care about how she looks. Not trying to impress the guys or anything like that. I really enjoyed the contrast between those times and then she became more womanly and a mother, and she became this TV show host. Of course, she's getting makeup or hair done, but also really showcases her growth as a woman. I was able to tell her story through the makeup, so that was really good fun." 
As a student and chemist, Zott is barefaced and practical. She declares that her routine involves avoiding beauty products to avoid hazards and contaminants in the lab.
"I used her own sheen, her own flush for the blush," Suzuki revealed. "I focused on the skincare. Very, very minimal foundation and concealer. Just really enhance what she has. Just brush up the eyebrows, not really drawing anything, lip balm, things like that. I just really made an effort not to hide what she has."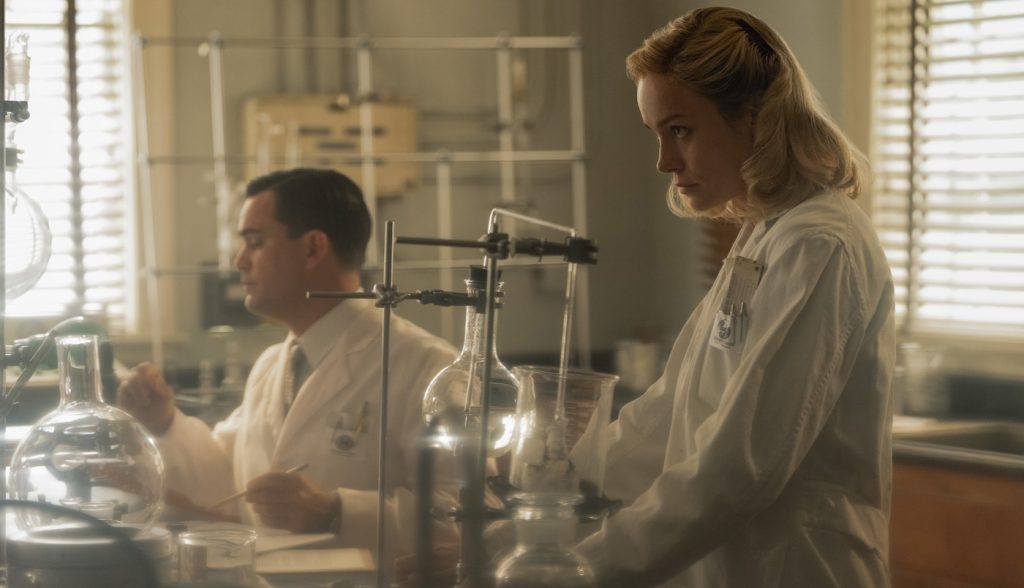 Many of Zott's female coworkers indulge in all the latest makeup styles, but she remains resistant until a forward-facing opportunity calls. Combining her two passions of chemistry and cooking, she becomes the host of a hit show, "Supper at Six." Zott is still focused on breaking through with substance, but she begins to discover her personal style. At first, the change doesn't flatter her.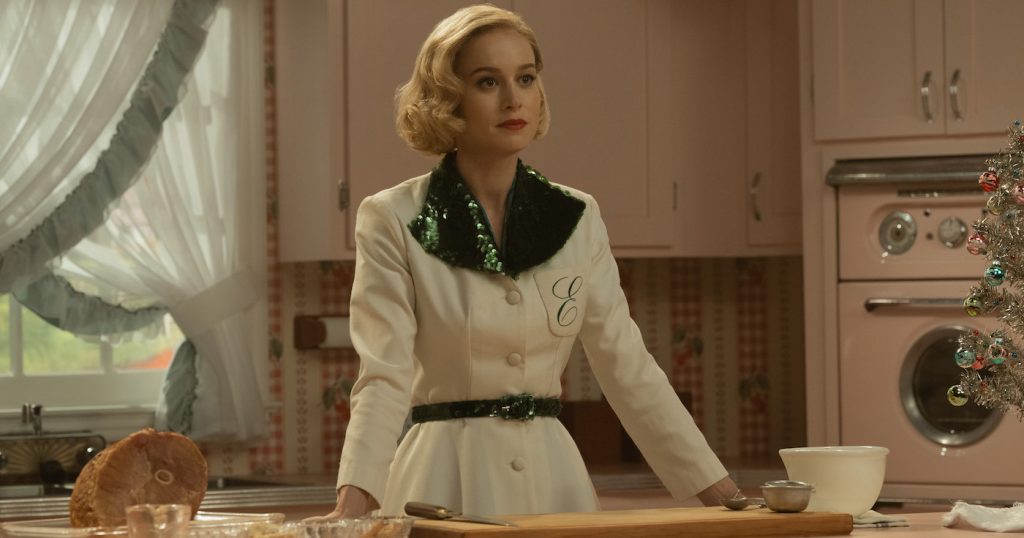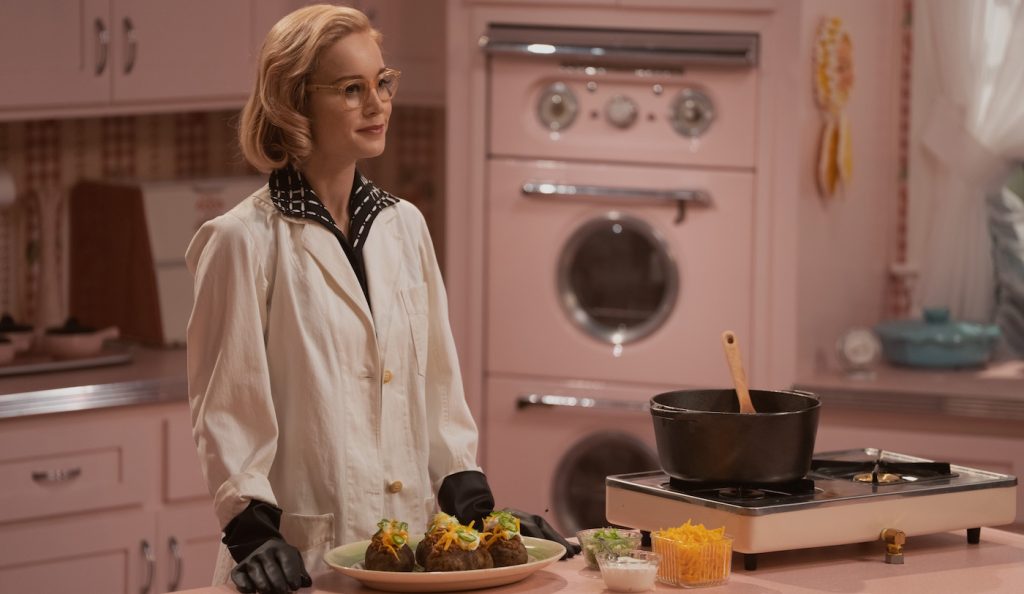 "It's almost like they created this dream woman for this TV host position, but then she's like, 'Oh my god, I can't move. The dress doesn't move. I feel very uncomfortable,'" Suzuki observed. "She's wearing pink lipstick and blue eyeshadow and big eyelashes. She finds it very odd and awkward, so she decides, 'OK, I'm going to do this.' From that point on, she really carries that personality."
Eventually, Zott settles into her newfound fame and grows into a comfortable makeup routine. Suzuki was inspired by the elegance of Grace Kelly in designing Zott's TV host phase.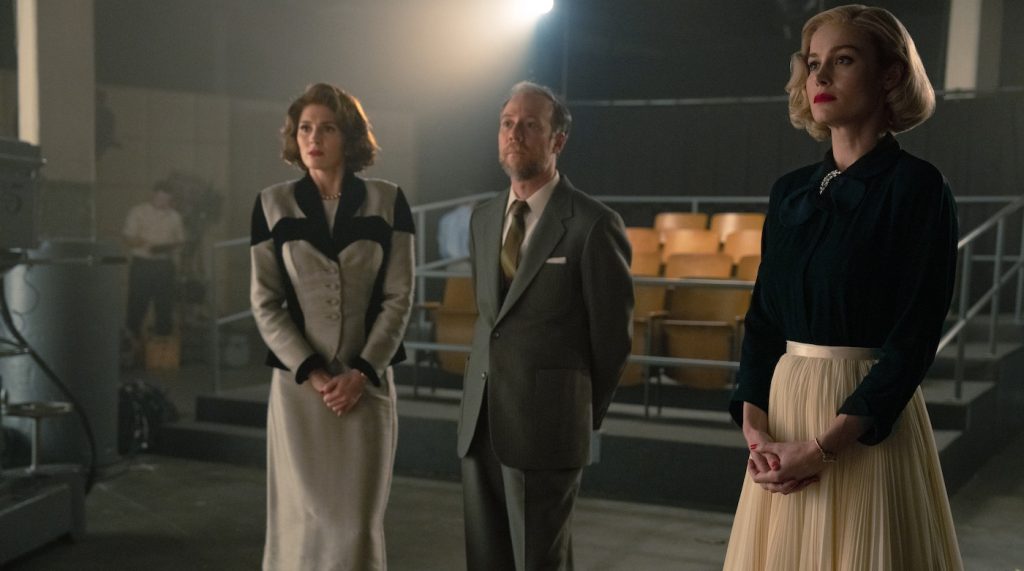 "Just a simple eye, simple, beautiful red lip, and then her presence is there more than the makeup," she explained. "That's what I wanted to do for her. You really connect with the character when she feels like who she is. She is more receptive to the makeup and hair, but she still loves how she looks. She's in control, and she is still who she is. You can see those phases." 
In preparing her designs for Lessons in Chemistry, Suzuki studied mid-century makeup trends. To add another layer of authenticity to the characters, she even narrowed her reference materials geographically.
"I researched about the 50s, but I specifically focused on being regional," Suzuki said. "The story happened in Los Angeles, and Brie's character, Elizabeth Zott, went to UCLA. So, I started studying yearbooks from UCLA. Just getting a feel of what students looked like at the time, teachers looked like at the time, things like that."
Long before HD resolution and YouTube makeup tutorials, technologies for both television and makeup were more limited than today. To capture the essence of the golden glamour of Hollywood, Suzuki turned to products of the era.
"Obviously, at that time, it was very velvety skin. Not so shiny or glowy. I think that was probably the quality of the makeup at the time. Very limited. I really focused on the skin texture to be as similar as possible, but also trying to find the Revlon lipstick from that decade," Suzuki laughed. "Of course, I didn't use the lipstick that was made in the 50s, but they have recreations of those colors, and you are still able to buy those these days. We got so excited, so we got those and used those authentic colors."
Of course, what's seen on camera is typically much more polished than behind the scenes. Elizabeth is endearingly transparent in her failures with her audience, but she endures even greater struggles off-screen. Through some of the most emotional scenes in the series, Suzuki's goal was to support the actors and give their performances room to shine. There are artistic and practical considerations to those dramatic moments.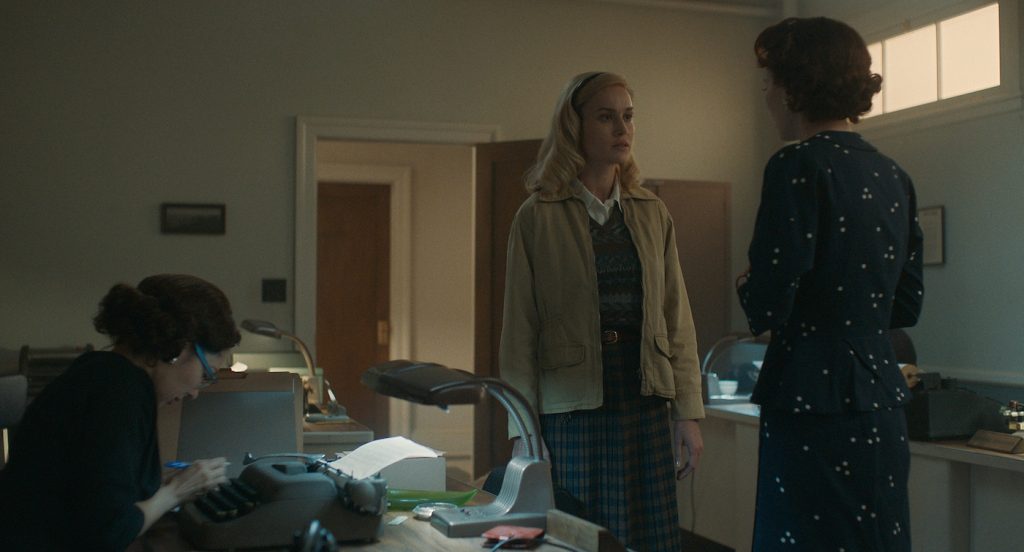 "Mascara should be waterproof and things like that, so it doesn't get messy. If it's purposely messy, that's fine, too. It has to be suitable for the scene," Suzuki explained. "I think those things that she goes through where the emotions are very heavy, like the giving birth scene is not so much crying, more like a lot of sweat. I think it really helped that she really didn't have much [makeup] on, so she's able to really put the emotion out."
On set in the makeup trailer where they began each day together, Suzuki had a charming method to set the tone. She created a space to help Larson fully envision Elizabeth Zott as an entertainment icon of the era.
"I decorated that room with 50s inspiration photos. I had pictures of Grace Kelly, Audrey Hepburn, younger days of Brigitte Bardot, and black and white photos of scientists," Suzuki revealed. "This whole area is inspiration pictures. Then, each day, I took continuity shots and printed them out, and kept sneaking Brie's photos into it. So, every day she came in, she turned into a character in that chair. She comes in the early morning, sleepy, then looks at the picture and sees herself where I snuck in pictures of her among Grace Kelly and all those ladies. I think that was very helpful to her. I just felt like a transformation moment emotionally. That was really fun."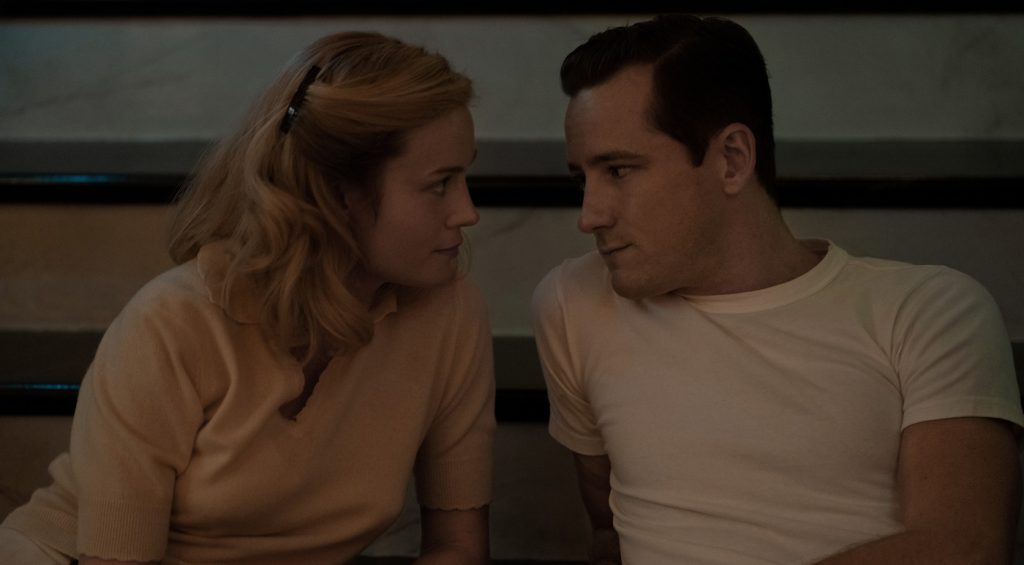 Known for portraying powerful women, Larson had just finished filming The Marvels when Lessons in Chemistry began. Suzuki was Larson's personal makeup artist for the film.
"Creating two completely different characters on her, I just had a lot of fun. Brie is just so beautiful, so it's like a dream canvas to paint on," Suzuki shared. "One is a superhero who doesn't age, and the other is a woman who struggles through so much. She fights through the 50s, a difficult time for women. A pioneer, really. Women today are able to do what they love to do, right? I'm choking up just thinking about it. It's very emotional."
Lessons in Chemistry is now available to stream on Apple+.
For more stories on Apple TV+ series and films, check these out:
"Killers of the Flower Moon" Casting Directors Ellen Lewis and Rene Haynes on Their Historic Oklahoma Casting Call
Martin Scorsese on Finding Truth in Tragedy in "Killers of the Flower Moon"
"Killers of the Flower Moon" Cinematographer Rodrigo Prieto Illuminates Martin Scorsese's Twisted Tale
Featured image: Episode 8. Brie Larson in "Lessons in Chemistry," premiering October 13, 2023 on Apple TV+.