Best of Summer 2023: "Barbie" Hair & Makeup Artist Ivana Primorac Conjures Personality From Plastic
*It's our annual "Best of Summer" look back at some (not all) of our favorite interviews from the past few months. This non-comprehensive look back includes the Barbenheimer phenomenon and the wonderful interviews that followed those two history-making films, chats with the talented folks behind Mission: Impossible, Spider-Man: Across the Spider-Verse, our profile of MPA Creator Award Recipient and filmmaker extraordinaire Gina Prince-Bythewood and more.
How do you turn a human into a doll? Or, let's reverse that—how do you turn the most iconic doll ever made into a human? These were the intermingled questions makeup and hair designer Ivana Primorac had to answer for co-writer and director Greta Gerwig's history-making new film Barbie. Reader? She succeeded.
Primorac has worked on a slew of excellent, disparate projects, from the Winston Churchill biopic The Darkest Hour to HBO's brilliantly executed crime series Mare of Easttown to Netflix's magisterial The Crown. She first worked with Gerwig on Little Women, her critically acclaimed adaptation of Louisa May Alcott's novel, and now adds Gerwig's critically acclaimed imagining of the near-perfect world of Mattel's iconic doll falling apart to her CV. Her job required working with countless wigs, custom eyebrows, body paint, hordes of lipstick, and body waxing—we're looking at you, Kens.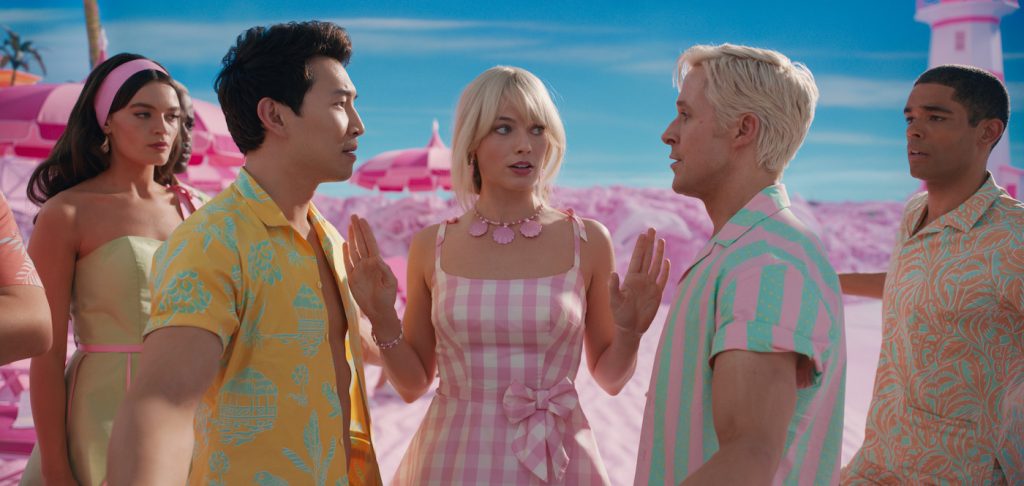 "I think in any creative process, you go through every possibility, [which was the case] when we were trying to figure out what defines a doll versus a human," Primorac says. "We discovered that the scale and proportion of the Barbie world is slightly out of whack. The ceiling of the Dreamhouse is just above her head, and her lipstick and toys are slightly too large. But in a kid's imagination, it's incredibly perfect and beautiful. So we started working on the fun proportions and scale and very quickly realized there is no plastic hair, and the skin doesn't have to look plastic."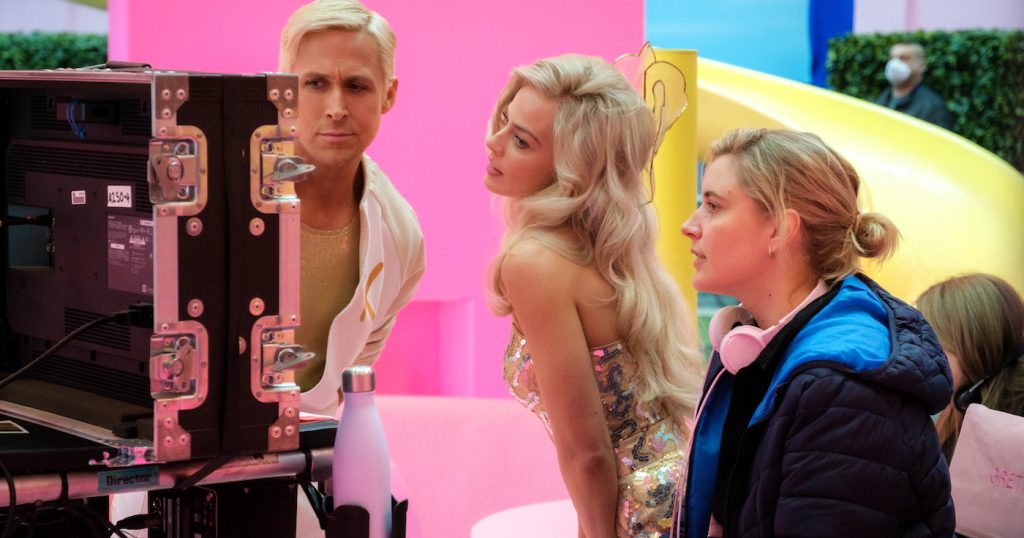 The plan shifted towards defining what looks beautiful for each Barbie and Ken individually. "Instead of uniformity, we came to the individuality of every doll. So every single doll, every character, had to be designed individually. Each Barbie represents the best version of herself. So every actor had to be turned into the best version of themselves, and that would turn them into a doll," says Primorac.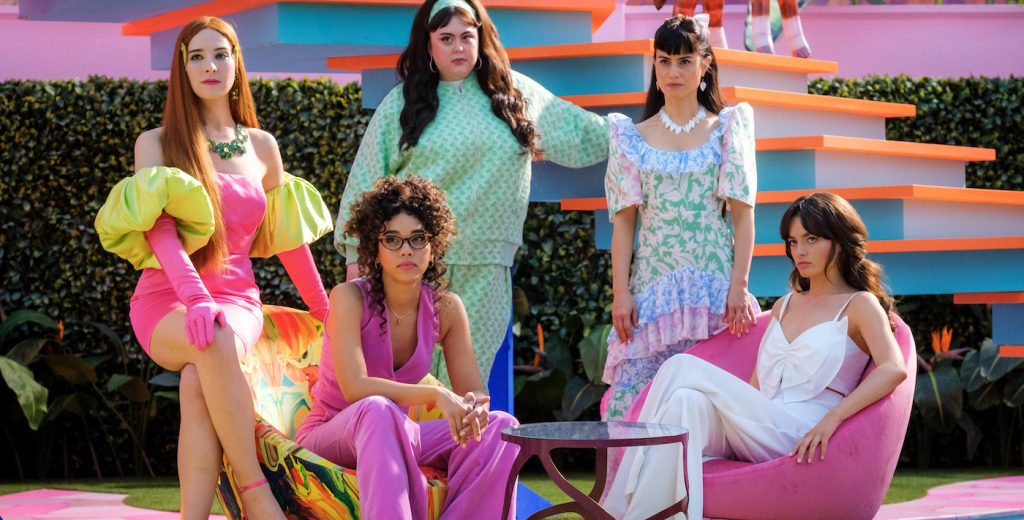 Prep began a year before filming began with close collaboration among Gerwig, production designer Sarah Greenwood, and costume designer Jacqueline Durran. Toy maker Mattel provided the team with the entire Barbie archive, and Primorac also bought a number of vintage Barbie books for reference. Of crucial import to Primorac's styling was the discussions she had with cinematographer Rodrigo Prieto. "Without Rodrigo, I don't think I could have done this film," she admits. "We tested a lot of different finishes and different makeup. For example, we had to find the kind of body makeup that wouldn't come off on clothes. Every time I had any problems, he was the first person I could consult."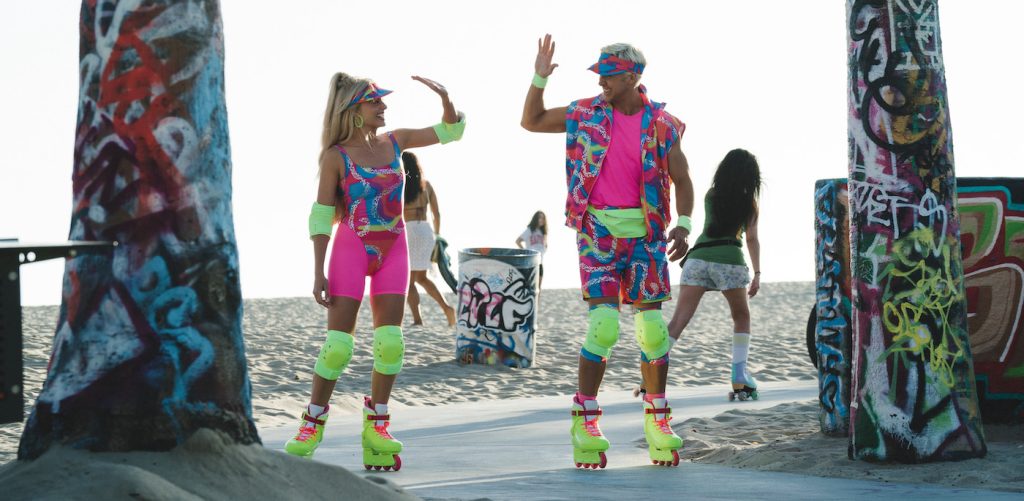 Prieto's biggest hurdle was neutralizing the colorful world of Barbie Land so that the actors' skin or hair didn't look pink and that the surroundings wouldn't transfer onto their wardrobes or bodies. Once the cinematographer chose the lenses and filters (Barbie was shot on the ARRI Alexa 65 with Panavision System 65 lenses), Primorac could then establish the hair and makeup techniques for each Barbie and Ken. Oh, and Ken's friend Allan (Michael Cera) – one of several discontinued dolls that appear in the movie.
Margot Robbie, of course, plays Barbie, referred to as "Stereotypical Barbie" in the movie. She's the O.G. Barbie, the one that debuted in 1959 with a striped black and white swimsuit, blonde hair, hooped earrings, blue eyeshadow, and red lipstick – a look that was recreated for the opening sequence (one that ingeniously riffed on the iconic prehistoric "Dawn of Man" sequence in Stanley Kubrick's 2001: A Space Odyssey). Primorac rekindled the magic using standard yellow hair dye straight from the box. "We created it identically to the color of the doll with the blue eyeshadow and lipstick. It makes the image exact and slightly retro," she says.
When the story shifts into Barbie Land and Barbie is in her Dreamhouse living her best life, her hair was altered to compliment Ken (played by Ryan Gosling). "We had to match the blonde of Margot and Ryan, so they looked nice together," notes Primorac. The costumes Robbie wore also shifted the hair color, which was maintained using different wigs. The wardrobe changes included a cute pink gingham dress, a hip-hugging gold disco jumpsuit, a matching plaid tulle-like skirt and top, and a head-turning pink western outfit complete with a denim vest, flare jeans and cowboy hat. "We had to adjust her hair according to the lighting setups and costumes. So I was dipping the wigs in different toners at night to suit what was going to happen the next day," says Primorac. "It was a laborious process keeping the hair the nicest kind of Nordic blonde that would suit Margot's makeup and costumes."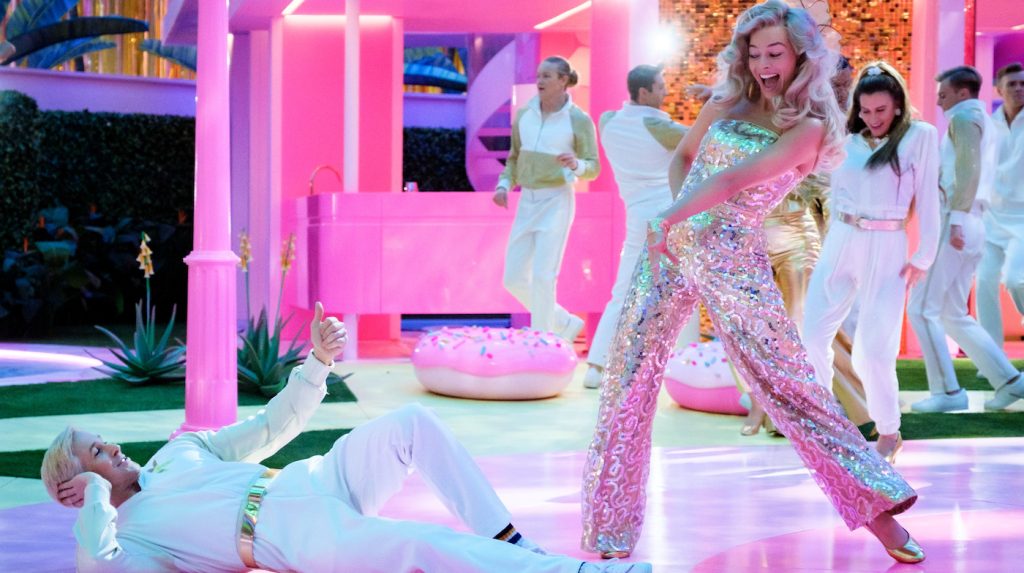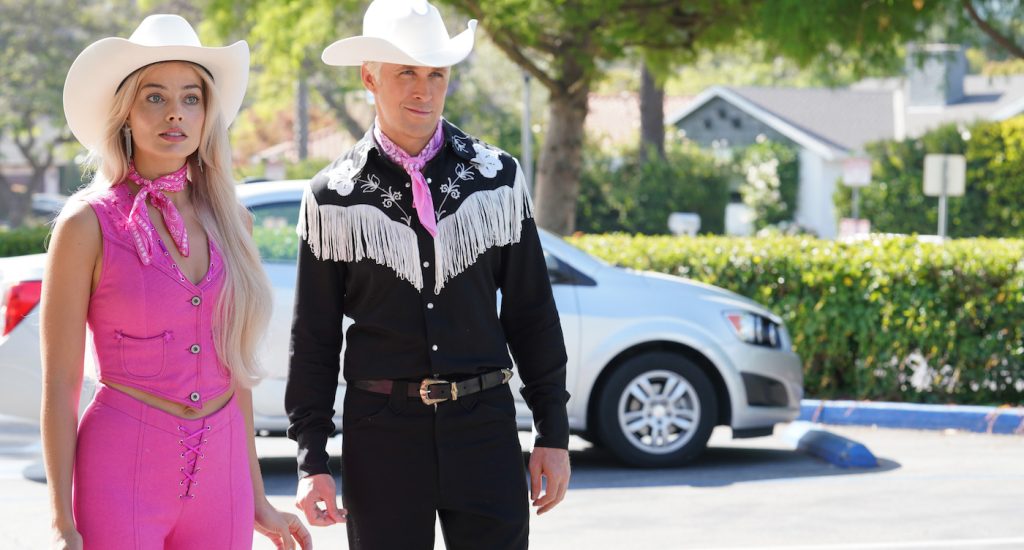 Seventeen different Barbie and Ken characters make up the main cast, including Barbies played by Issa Rae, Alexandra Shipp, and Emma Mackey, and Kens played by Simu Liu, Kinglesy Ben-Adir, and Scott Evans. For each, body makeup avoided the plastic look you'd find on dolls and instead focused on "evening out the tones" around the knees, elbows, behind the ear, and heels. A look that Primorac suggests is unnatural to humans. For the majority of recreations, Primorac stylized individual looks that represented each actor. For smaller roles or the discontinued dolls, Primorac created exact replicas. The likes of Midge "Pregnant Barbie" (Emerald Fennell), Mermaid Barbie (Dua Lipa), Merman Ken (John Cena), and Sugar Daddy Ken (Rob Brydon) were drawn up to match the original dolls.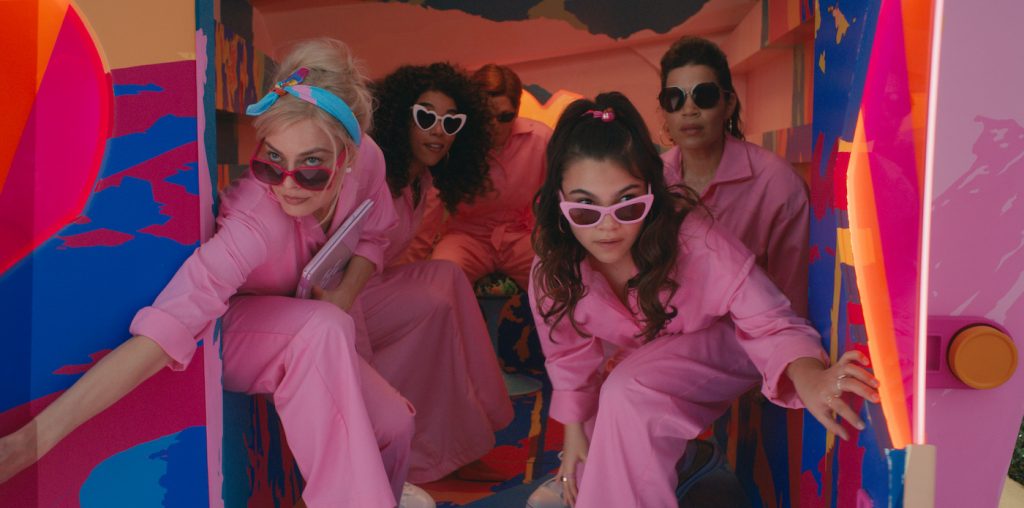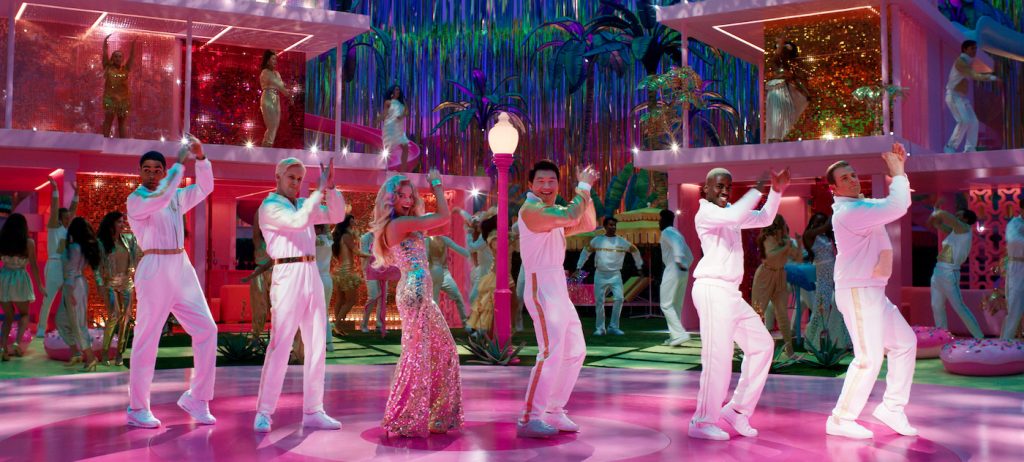 One particular challenge for Primorac was the Barbie played by Kate McKinnon, dubbed "Weird Barbie," a doll that was played with too much. "It was the hardest character to pinpoint because every time it became too punk or too fashionable," she says. McKinnon's Barbie has wildly chopped hair, drawings on her face, and is seemingly always in splits – a reference to Barbie dolls that would get thrown into a toy box and land with their legs splayed. "Her hair was made three times from scratch until we found what you see in the film. Conceptually, we thought of Totally Hair Barbie. Then we thought that kids would start chopping at her hair, so it has short bits and long bits. Then she had makeup underneath, and then the Sharpie marks came on top. It took a while to layer that look, so it looked like the kids took it too far and tossed her aside."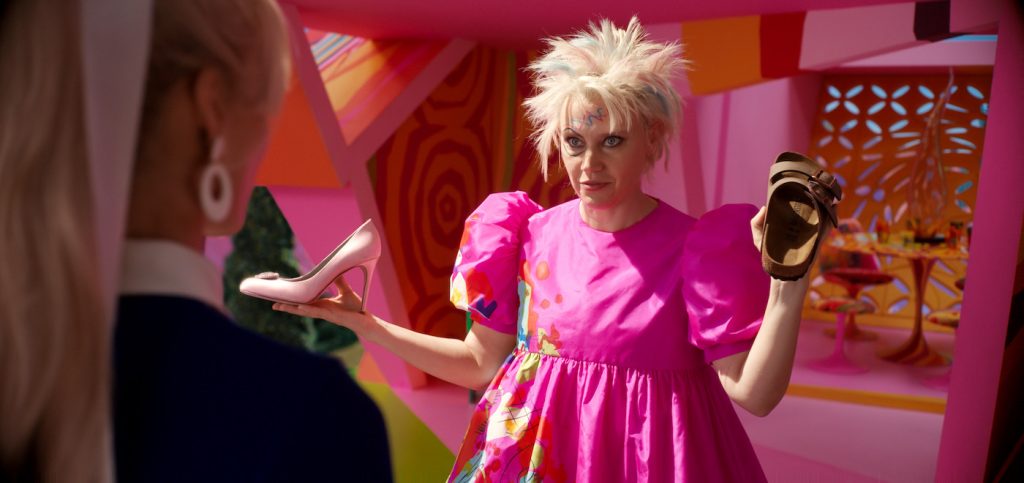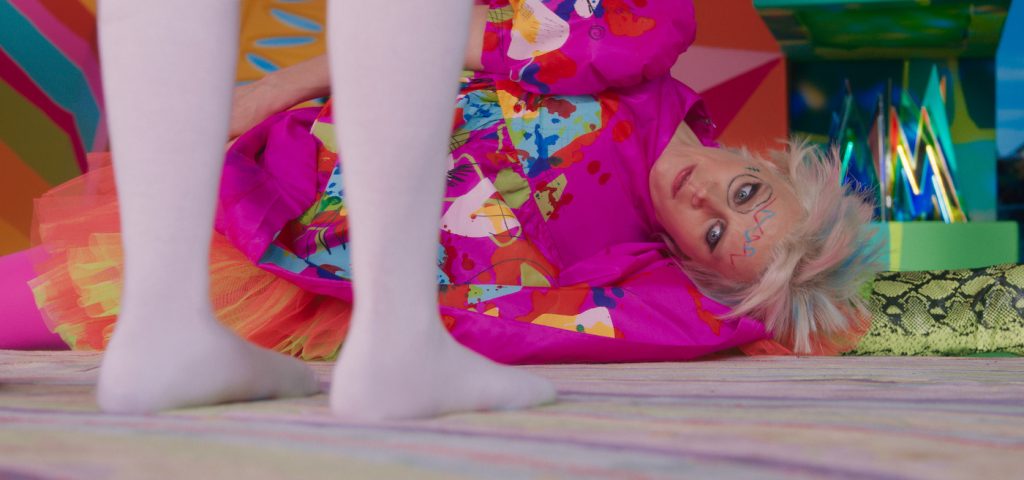 Throughout the process, Primorac says she never felt like she was on a big-budget movie. "Greta is immersed with everyone, and you get to discuss everything together. She is so smart in what she wants to achieve. Story, to her, is the most important thing, no matter the size of the movie. She is a master at that and makes herself always available."
And now, Gerwig has made history, thanks in no small part to the time and attention she gave to her talented collaborators like Primorac.
Barbie is in theaters now.
For more on Barbie, check out these stories:
Greta Gerwig Makes History as "Barbie" Becomes Biggest Opening Weekend Ever For Female Director
The Barbenheimer Phenomenon Was Real, and Historic
Pretty in Pink With "Barbie" Production Designer Sarah Greenwood & Set Decorator Katie Spencer
Featured image: Caption: (L-r) ANA CRUZ KAYNE as Barbie, SHARON ROONEY as Barbie, ALEXANDRA SHIPP as Barbie, MARGOT ROBBIE as Barbie, HARI NEF as Barbie and EMMA MACKEY as Barbie in Warner Bros. Pictures' "BARBIE," a Warner Bros. Pictures release. Photo Credit: Courtesy of Warner Bros. Pictures