Costume Designer Meghan Kasperlik on Capturing the Gritty Essence of "Mare of Easttown"
Costume designer Meghan Kasperlik did some serious fieldwork when she was preparing for HBO's critical hit Mare of Easttown. One of her first research trips? To a Wawa in Coastville near where the series is set. The iconic chain is well known to residents of the greater Philadelphia area and southern New Jersey, and it proved an invaluable point of entry for Kasperlik to get a better sense of how the characters in Easttown would dress.
The gritty crime drama, created by Brad Ingelsby and starring Kate Winslet in a mesmerizing performance as Mare, looks and sounds just right. Winslet's Mare is a dogged detective with a bevy of personal problems trying to solve one grisly murder while shouldering the psychic and emotional weight of a missing girl, never found, from a year earlier. The series is not only a taut murder mystery, but it's also a tour de force of location-specific detail. Winslet's go-for-broke performance was probably most instantly iconic because she had the courage (and the chops) to capture the difficult DelCo drawl, an accent so notoriously difficult to manage most actors don't even attempt it. When they do try, they often end up sounding a lot like Kate McKinnon and the gang in this outrageously funny SNL sketch.
Yet it wasn't just Winslet's shockingly good Philly accent that helped her—and us—momentarily ignore the fact she's actually a famous British actress who speaks the Queen's English. It was also her entire look and the way she carried herself. From the messy, unwashed hair to her gait to her perfectly unkempt, unfashionable clothes, Winslet inhabited Mare from the elongated syllables to the elongated T-shirts that don't really fit. And it was Kasperlik's job to make sure those ill-fitting clothes fit the character perfectly. Her Emmy nomination speaks to how well she managed that, and not just for Winslet, but for the entire cast.
We spoke to Kasperlik while she was in Budapest (she's currently working on Marvel's Moon Knight, an upcoming Disney+ series) about how she found the appropriate attire for the residents of Easttown. This interview has been edited for length and clarity.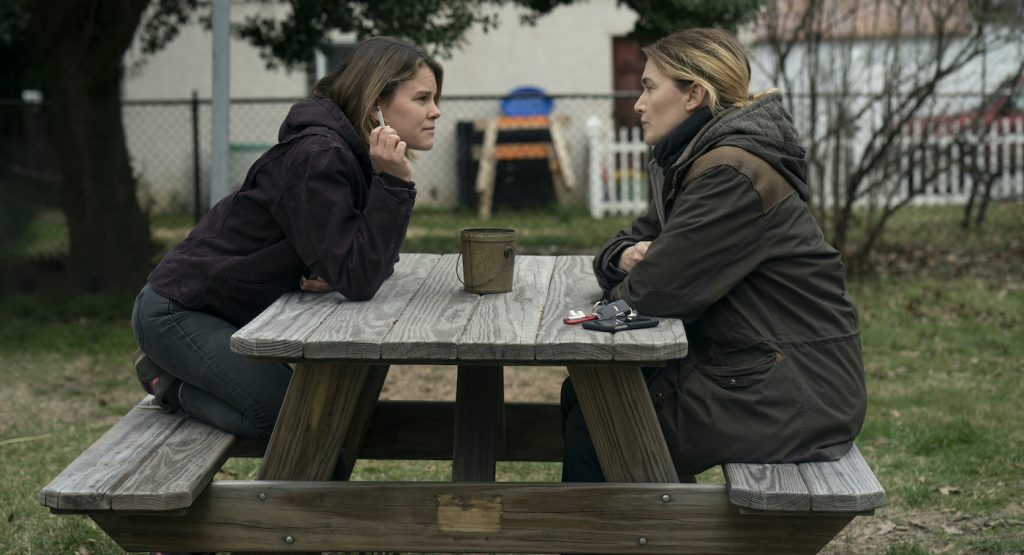 Let's start with your initial conversations with creator Brad Ingelsby. How did you prepare for the series, which was clearly going to be very location-specific?
I knew it would be very important to make it as authentic as possible. I have a good friend from Philadelphia, and she was like, 'You need to get this right.' The first thing I asked Brad was, 'If you could go to any bar or restaurant, where would it be?' He said, 'Go to Coastville, Delaware County, and go to a Wawa. Just sit at a Wawa.' I did that and instantly I was like, okay, I get it.
As a native of Bryn Mawr, in Delaware County, and a longtime Wawa patron, I appreciate this sage advice. Was it just the Wawa in Coatsville?
I sat at one in Coatstville, and our studio was in Aston, where Brad is from, so I sat at a Wawa really close to the studio, too. Then a strip mall nearby had an Italian restaurant, so I sat in there and checked things out. We did the show pre-Covid, so I stayed downtown at first, but when I came back I had a house in Ardmore, and that kind of helped me see these other areas. I did the Philly tour.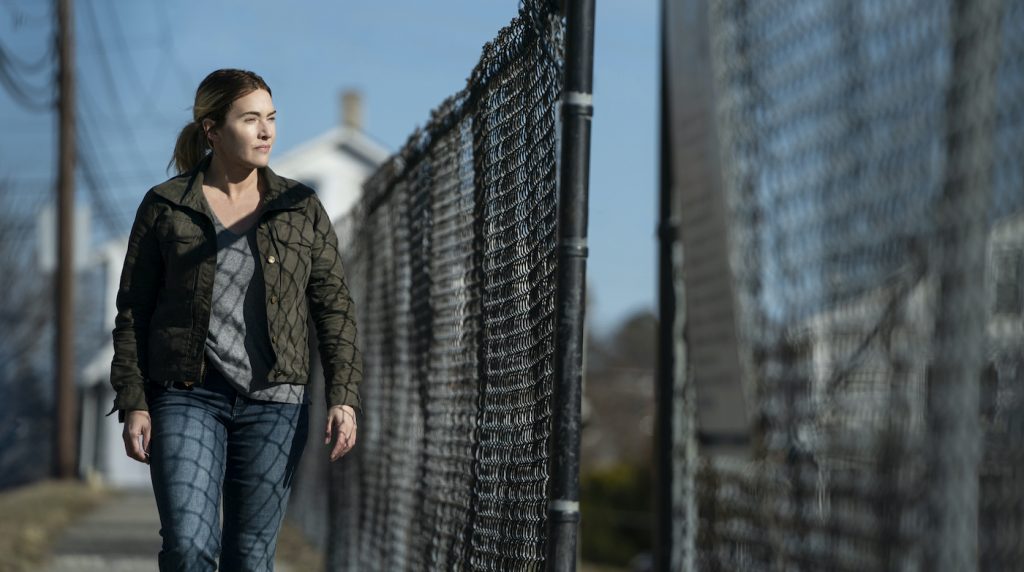 The series' tone is set by Kate Winslet's phenomenal performance in which she looked and sounded like an actual person from the greater Philadelphia area. What kind of conversations did you have with her about Mare's look?
I had some early conversations with Kate before she got to Philadelphia. I sent her some mood boards and asked her how far she was willing to go with this. She is so stunning in person, she has this glowing, luminous skin, so I was wondering how I was going to make her look damaged, because Mare's damaged, without it being just a costume. She said she'd totally go as far as necessary, and that she was going to have dark roots and was going to put some texture into her skin. Her hair and makeup artist, Ivana Primorac, is amazing. I couldn't believe her transformation when she came into the fitting. It was unbelievable, she could instantly sell wearing those clothes.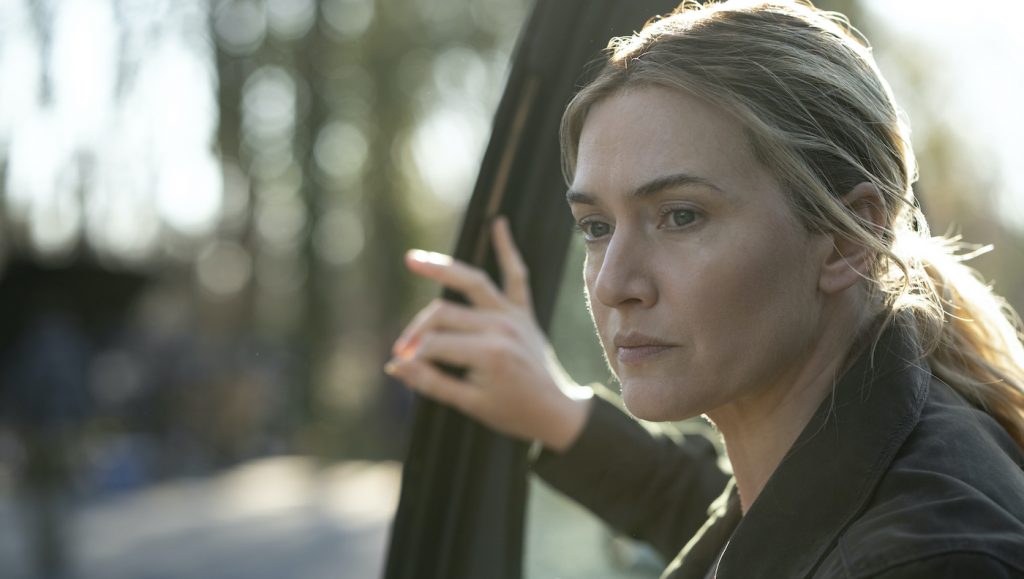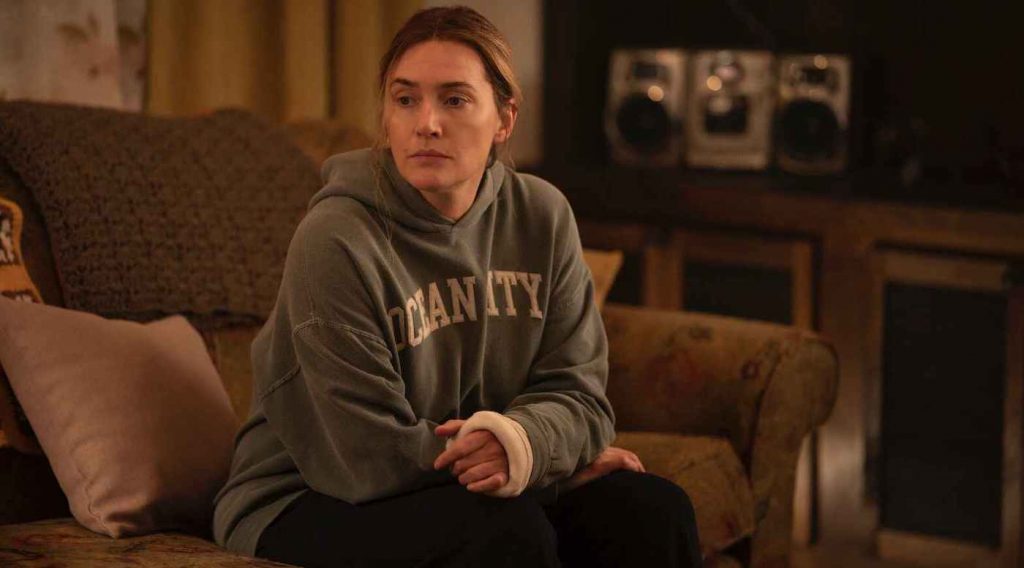 And those clothes were decidedly functional and rarely flattering?
In the film business, we alter all of the clothing to make it as flattering as possible to the actor's body. For Mare, I purposely made the t-shirts hit unflattering lengths on the hip. On the jeans, Kate asked if she should gain some weight, but she didn't have to, we just had to make things look unflattering, like she just picks these clothes up off the floor or off the bed. We made it look like what a real person's clothes would be, picking them up, smelling them, and saying, 'Yeah, this is clean enough to wear to work.'
How did you approach the other women in the cast, like Mare's best friend Lori, played by Julianne Nicholson?
I wanted to give her a lot of local t-shirts, all the characters have them, but maybe she was a teacher at the local high school. Both my parents are retired teachers so I know who these people are. This person wears the nicest sweater and trousers to work, but when she comes home, she's a mom, so you don't leave those clothes on, you put on the comfy sweatshirt or the t-shirt with the comfy hoodie. With Julianne, I wanted to put as much texture on the sweaters as possible. Nothing could be new, she had to have had these clothes for a while. Julianne came up with an amazing idea, she said she should wear a sports bra, which is so unflattering, but it so works because it's about the functionality of her day-to-day. In this type of show, the costumes had to tell the story of who they were without being distracting at all.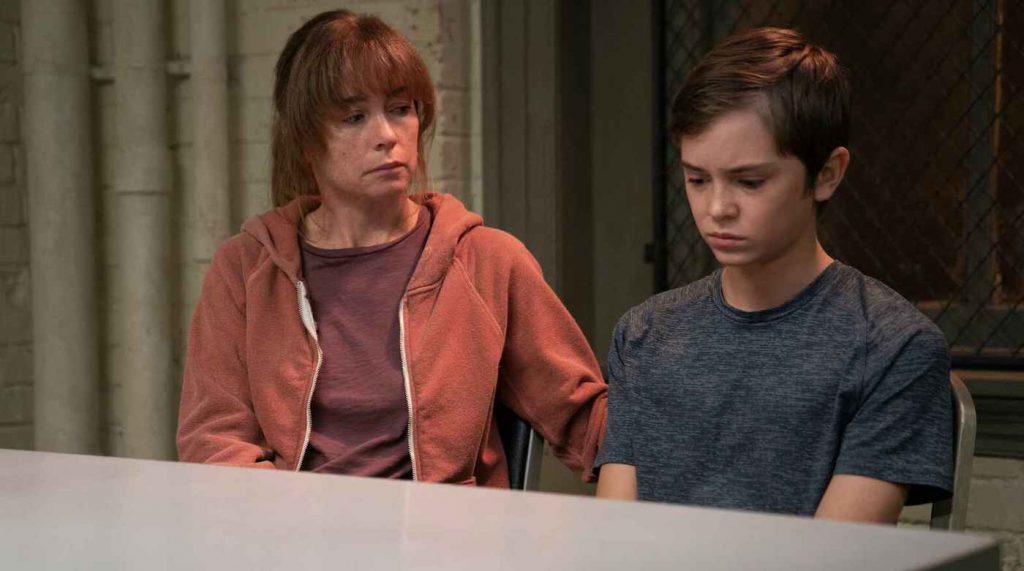 How about for Mare's mom, Helen, played by Jean Smart?
I worked with Jean on Watchmen, where she was much sleeker. She was really excited about Helen's look because I was like, 'Jean, these clothes are not going to be flashy, it's all about comfort.' When she came in for the fitting, I wanted it to be comfortable but have more color. She should have more life in her than Mare has. As we were getting through the fitting, she felt something was missing, and I agreed. She's so long and lean, a real glamazon, and she said, 'I think I need a butt.' So we gave her a fake butt and fake hips so it would give her a pear shape, and it totally transformed her into this character who was much more homely, a housewife—but—she still cares about her hair. She was also given rosacea. These people are using the drug store face wash. Having the hair set at the beauty parlor, but then having rosacea with the butt and the hip transformed her into Helen.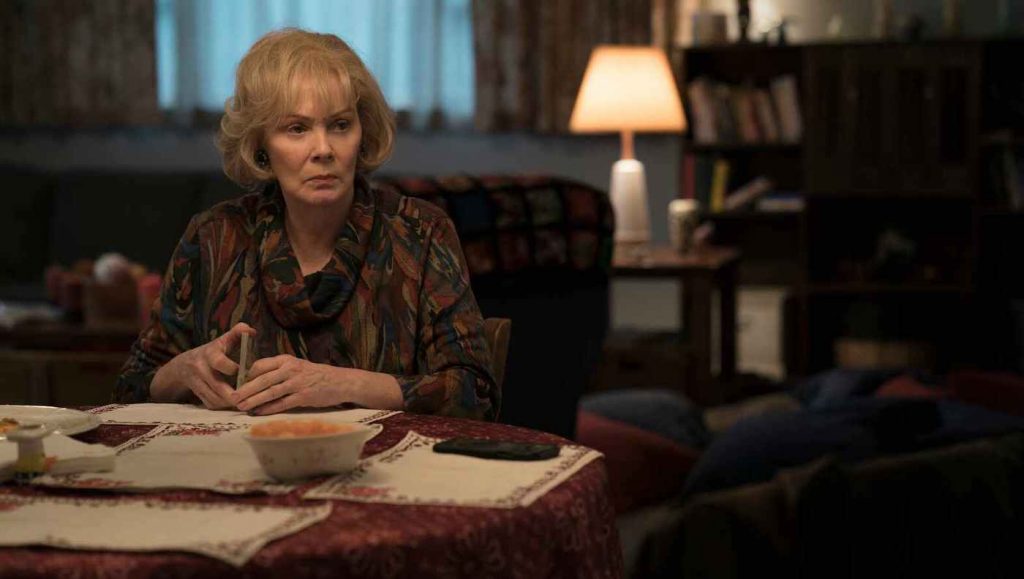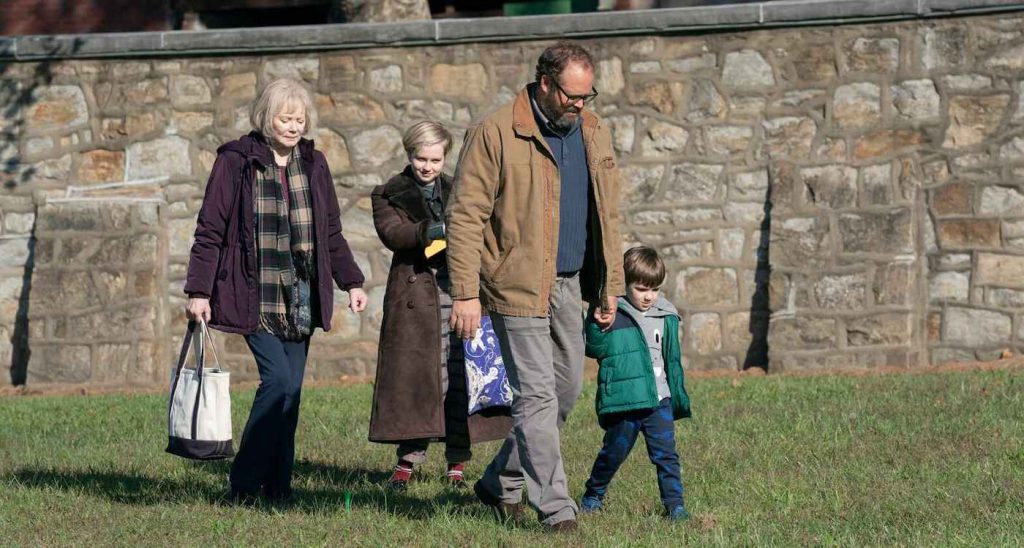 Then in an entirely different direction, we have Kate's daughter, Siobhan, played by Angourie Rice, who's young and much more fashion-forward. 
I wanted to make sure her character wasn't an Instagram influencer stereotype. I wanted her look to have some grounding in that, but still have a layer of not knowing who she is. In the flashback, she has long hair, and when Angourie came to us she had hair down the middle of her back, so I wondered if she'd ever allow us to shave the side of her head. We did a fitting with the costumes, and I showed the photos to Brad, and he didn't know yet, but as soon as [hair department head] Shunika Terry cut her hair, Siobhan was born. We went back and tried the exact same clothes on and she was instantly that character now with that hair. And Angourie is really very girly, so it was very phenomenal.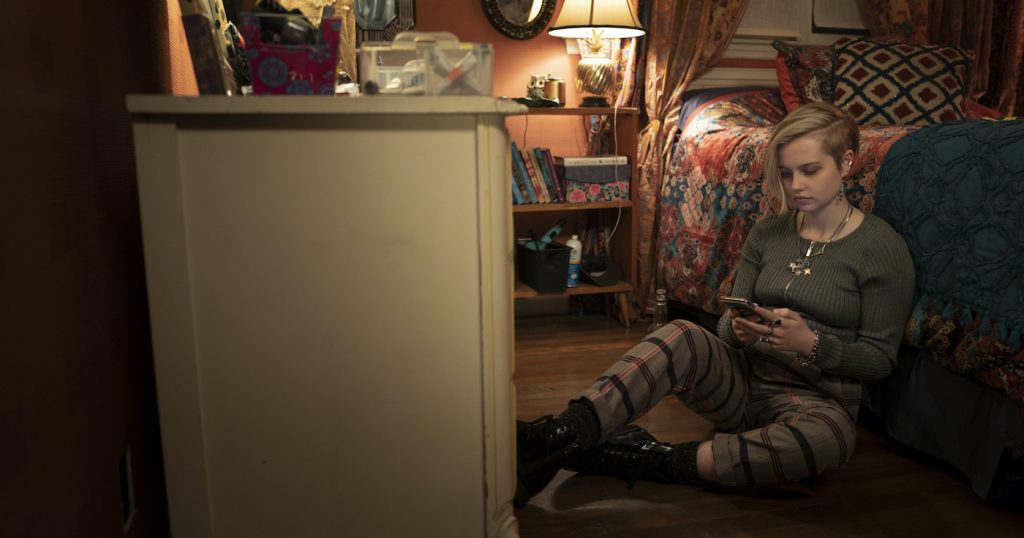 You said the men were more difficult to dress because they had less distinct jobs, but one man whose job was both distinct and crucial to the series was Detective Zabel, played by Evan Peters.
Zabel was a little bit of a hard one in the beginning. Evan Peters and I had a very different idea of this character. At first, I was going more browns and taupes in his palette, and it was kind of a cool look, kind of odd, nothing you've seen in many years. We talked to Brad, who's a super positive person, and I could tell he wasn't really feeling it. So I started looking around again at the men. I needed to go look at guys in suits or sport coats, not getting dressed up for a wedding but their day-to-day. I thought that these are guys are getting their suits at Macy's or Men's Warehouse. Because Zabel was putting on a persona that he was a bigger star than he really is, he needed to have one step up for a suit from a Macy's. He would buy two or three and those are the suits he'd always wear, and he wouldn't wear a tie because he was putting on this persona. As soon as I put him in blues and grays and Evan cut his hair, it made more sense. It's not that his clothes were expensive, but it was just one step better than everyone else's.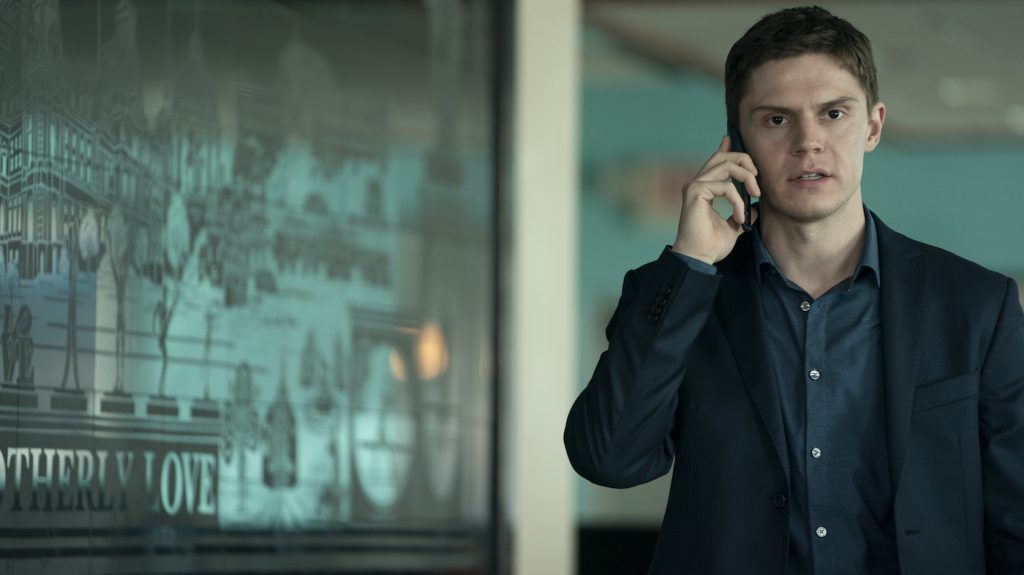 For more on Warner Bros., HBO, and HBO Max, check out these stories:
New "Dune" Images Reveal One of the Year's Most Anticipated Films
The Matrix 4 Gets Official Title As Warner Bros. Teases Trailer at CinemaCon
"Succession" Season 3 Premieres This October
Denis Villeneuve Writing Script For "Dune 2" & Zendaya Will Star
Featured image: John Douglas Thompson and Kate Winslet. Photograph by Sarah Shatz/HBO