Pretty in Pink With "Barbie" Production Designer Sarah Greenwood & Set Decorator Katie Spencer
"It was trying to find a solution to what makes a toy," says production designer Sarah Greenwood about creating the charmed sets of Barbie alongside set decorator Katie Spencer. The two have been near inseparable, having worked on over thirty projects together. Darkest Hour, Beauty and the Beast, and Anna Karenina are among their six Academy Award nominations. "It became this huge journey of discovery, and it started with us buying a Barbie Dreamhouse and playing with it."
Like Margot Robbie, who stars in the title role (and also serves as co-producer), Greenwood and Spencer didn't own the iconic doll growing up. The first thing they noticed was the irregular proportions between Barbie and her accessories. "If you put the doll in the Dreamhouse and she puts her hands in the air, she can touch the ceiling. She is strikingly out of scale," says Greenwood. "It's the same with the car. Barbie never quite fits because her legs don't bend. We worked it out to be 23% smaller than human size for the sets. What this did is when you built it for real, you made the actors seem bigger in the house. That gives it a toy quality or what we found out Mattel calls "toyetic." Finding what it is that makes it a toy."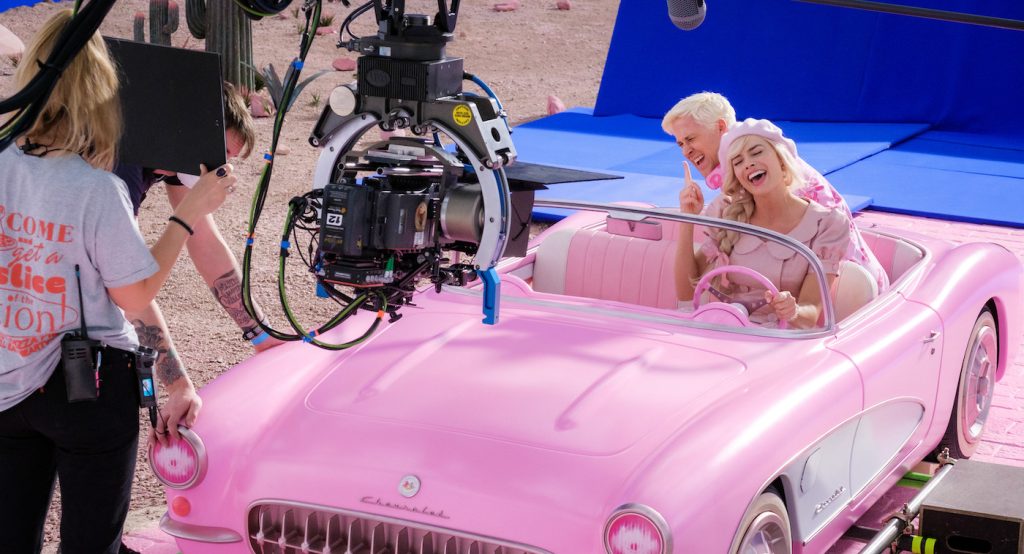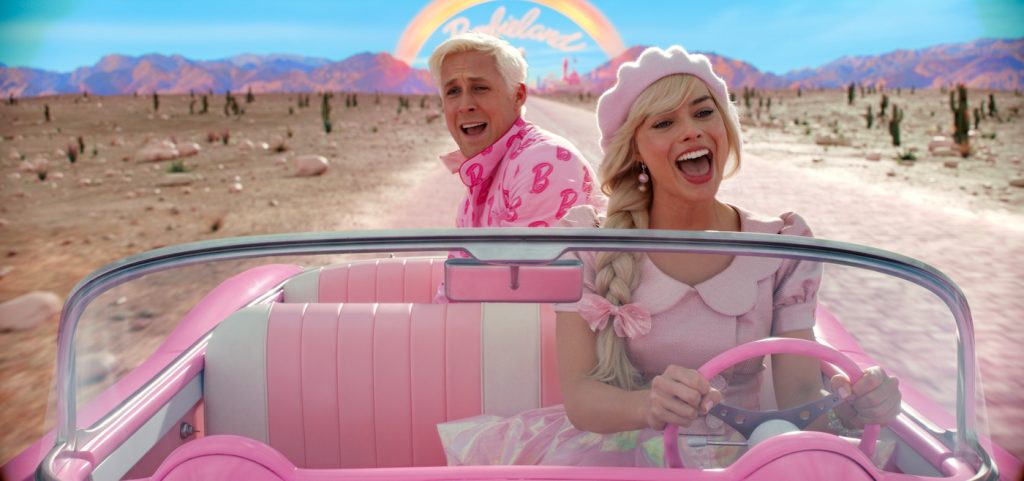 Co-written and directed by Greta Gerwig (Noah Baumbach is the other co-writer), Barbie's carefree, perfect life is turned upside down when she starts having dark thoughts about death, and more distressing, her perfectly arched feet fall flat. To find out what's happening to her, she travels outside Barbie Land and into the real world for answers. With Ken (Ryan Gosling) in tow, she begins to discover more about herself than she could ever imagine.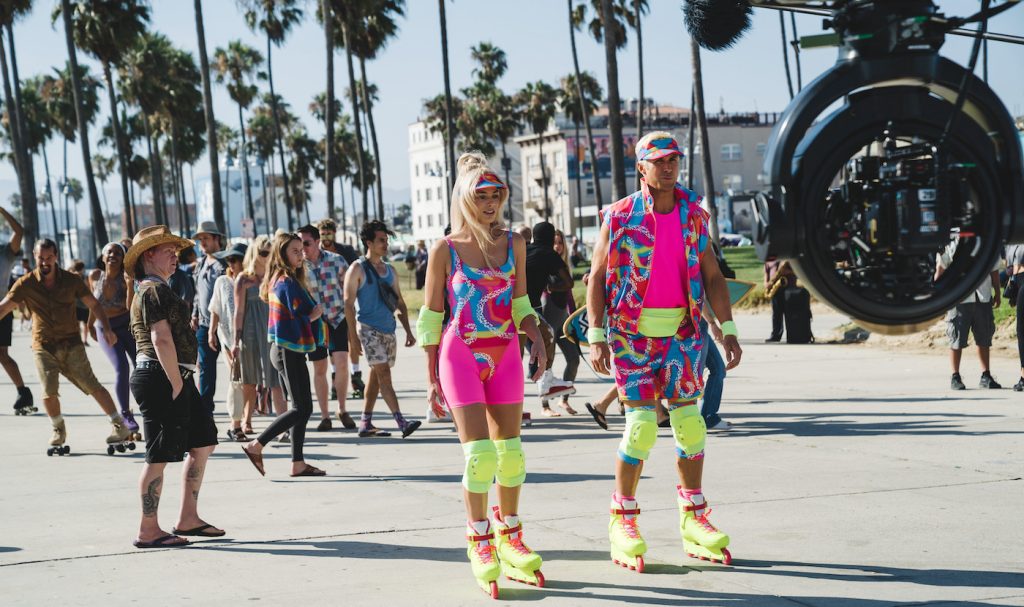 Barbie Land is a potpourri of pink, posh, and chic. The plastic town was constructed at Warner Bros Studios in Hertfordshire, England. The Dreamhouse, a focal point for Greenwood and Spencer, insisted on creating "their own version" of Barbie's home.  The work was done with minimal CGI, which meant building everything with detail from scratch. Inspiration was taken from the midcentury modernism of Palm Springs, including Richard Neutra's Kaufmann house, famously photographed by Slim Aarons.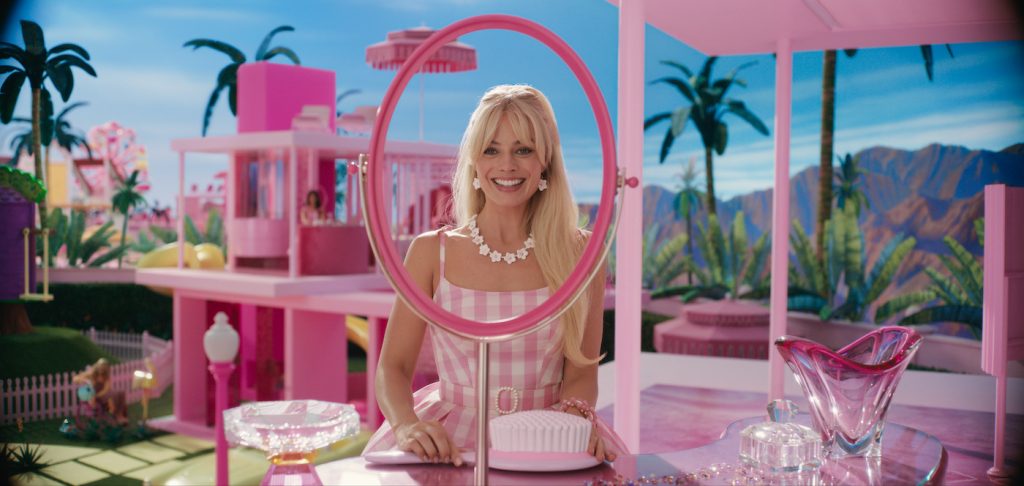 The Dreamhouse and her neighbors' homes like Midge, the discontinued "Pregnant Barbie" (Emerald Fennell), "President Barbie" (Issa Rae), and the played with too much "Weird Barbie" (Kate McKinnon) were fabricated from metal and finished with an open front in typical Barbie house fashion. The color palette of Barbie Land was stripped of black, white, and chrome. And playing with the toy box idea, atmosphere, fire, water, electricity, and physics were removed. If Barbie needed to get to her car, she could simply "jump" down from her second story without consequence – which she absolutely does in the movie.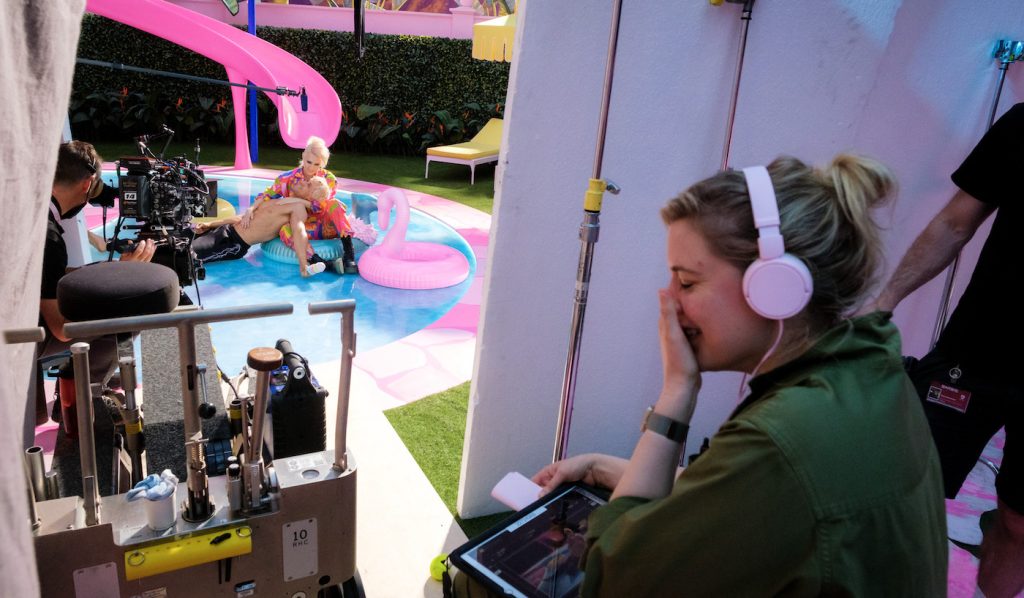 Another point of intention was the blend of 3D and 2D elements. "We didn't want you to look at the Dreamhouse and be disappointed, so it was important everything was made tangible and tactile," says Spencer. "What's not there speaks volumes to what is there." Many of the objects in and around Barbie's home were flat hand-painted decals or images like the lettering on the milk carton or the teardrop-shaped pool that's connected to Barbie's twirling slide. The pool was painted and then covered with multiple coats of a clear resin. "People still wouldn't walk on it besides Margot," Spencer points out. Bookending the Barbie Land fantasy is 250 foot long bubblegum blue skyline of the San Jacinto Mountains. The painted backdrop perfectly adds to the wonderlicous world.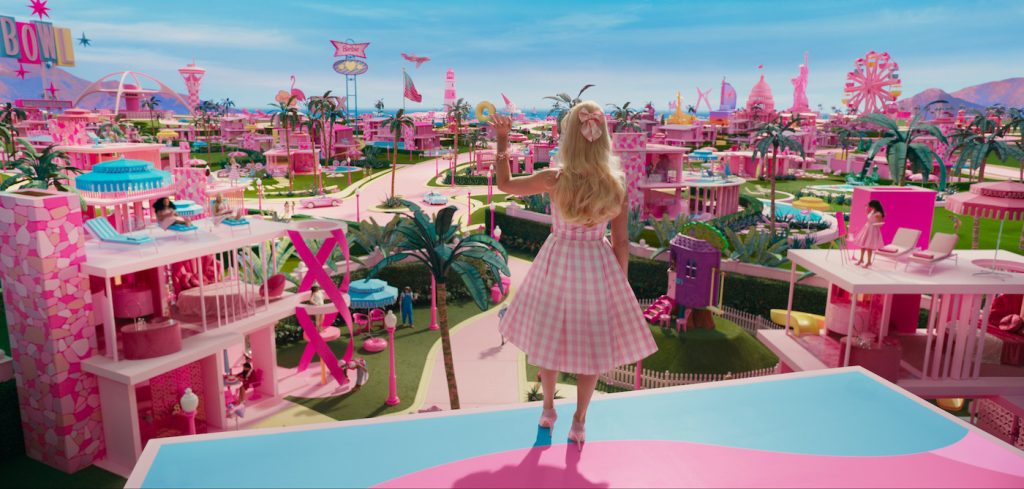 When Barbie enters the real world, the Mattel corporation becomes an unexpected stop. It's here Barbie meets a cheery Mattel CEO (Will Ferrell) and other executives in a boardroom. To bring it to life, the design is "one stop in Barbie Land and one stop in the real world." Greenwood says, "We created a massive heart-shaped table and heart-shaped light above. And we wanted everything about Mattel until you walked into that room to be monochromatic. Everything is black and white leading up to that point." The boardroom had its own scenic painted backdrop. "It's everything you love about Los Angeles. The Hollywood sign, the mountains, we put the Warner Bros Tower center frame and included downtown Los Angeles, but it's painted like the Emerald City in The Wizard of Oz. You're creating this other-worldly idea about it," adds Greenwood.
Another Wizard of Oz reference was placed on the road in and out of Barbie Land. "The little bricks are in the same style as the movie, and so is the rainbow," says Spencer. "No one stopped us. It was so much fun."  Greenwood adds, "This was an absolute dream. Greta is a poet in the way she approaches and describes things."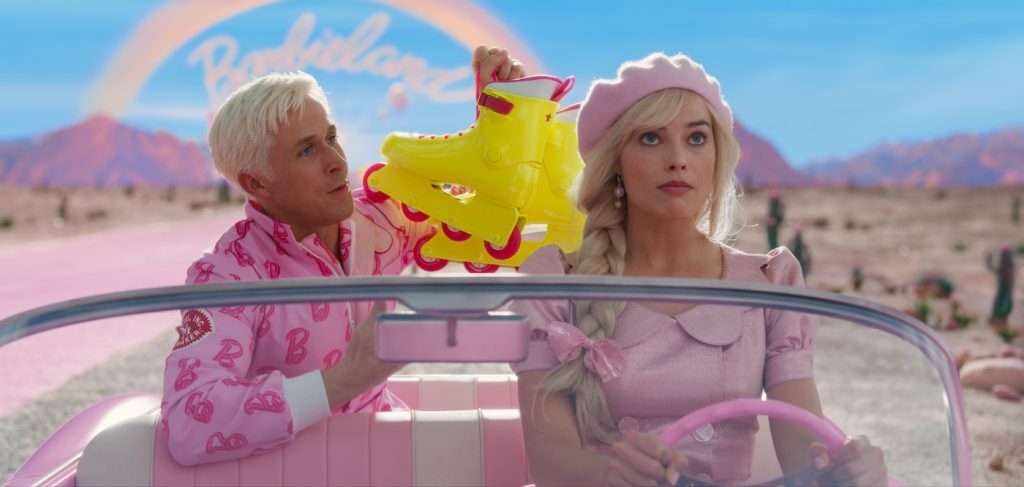 Barbie is in theaters now.  
For more on Barbie, check out these stories:
New "Barbie" Album Trailer Unveils Nicki Minaj & Ice Spice's "Barbie World" Track & Many More
Greta Gerwig Makes History as "Barbie" Becomes Biggest Opening Weekend Ever For Female Director
The Barbenheimer Phenomenon Was Real, and Historic
Featured image: (L-r) RYAN GOSLING as Ken and MARGOT ROBBIE as Barbie in Warner Bros. Pictures' "BARBIE," a Warner Bros. Pictures release. Photo Credit: Jaap Buitendijk