Zack Snyder's Sci-Fi Epic "Rebel Moon" Will Release as Two Movies & Have Director's Cut
Prepare yourself for Zack Snyder's Rebel Moon—which won't be a single film but possibly the start to a Rebel Moon universe.
Snyder revealed to Vanity Fair that his plans for his long-simmering sci-fi project have been expanding, and the Rebel Moon that premiers on Netflix on December 22 will be but part one of Snyder's larger narrative.
The universe of Rebel Moon is something Snyder has been thinking about since he was in college. The film follows Kora (Sofia Boutella), a woman with a shadowy past who is sent as an emissary from a peaceful colony on the distant edge of the galaxy to recruit warriors to help them fight a murdering tyrant and his armies. After discussions with Netflix, it was decided that Snyder's initial film, which would run for nearly three hours, could actually be two movies.
"[Netflix film boss Scott] Stuber was like, 'On the service, under-two-hour movies really do better for some reason,' even though you'll binge-watch a series of eight episodes," Deborah Snyder, Snyder's producing partner and wife, told Vanity Fair. "Zack said, 'If you ask me to make this less than two hours, I'm going to lose all the character. You won't care about these people. It's a character story about how people can change, and redemption and what are you willing to fight for…' So he said, 'What if I give you two movies?'"
Yet the wait for part two won't require a year or more. Snyder told VF he was looking to release part two right on the heels of part one. "Netflix can do things that a traditional studio can't as far a show close together the movies are released," he said.
Rebel Moon will now not only be a two-part epic, but Snyder will also release a longer director's cut. That director's cut will be more for Snyder's hardcore fans, the ones who successfully lobbied to get his version of Justice League re-released over at Warner Bros. "I think for fans of mine and people who are ready to take a deeper, harder dive, that'll be fun for them," he told VF.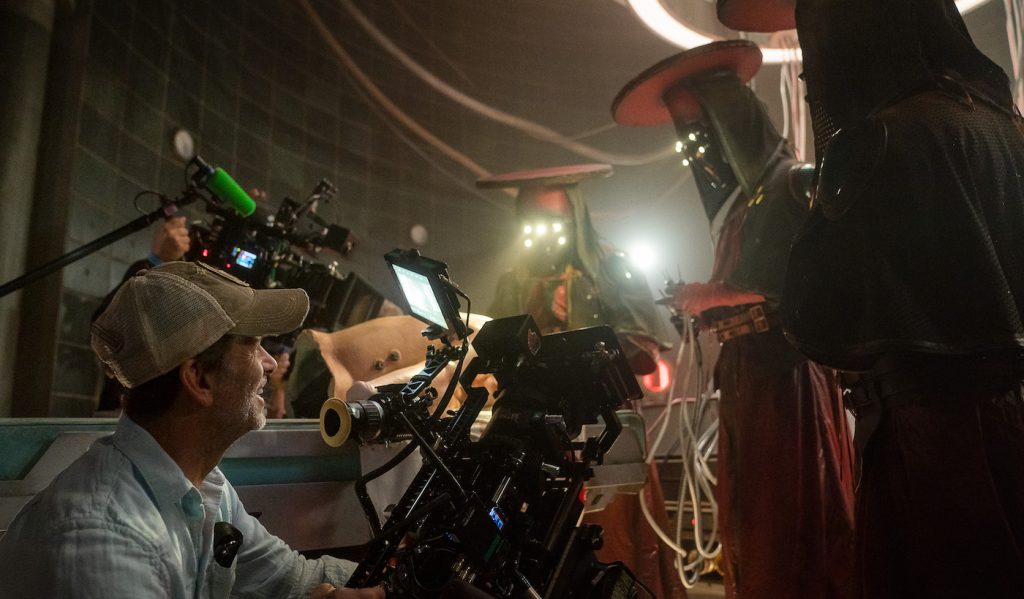 Snyder also revealed to VF that while Rebel Moon will boast plenty of visual effects, he and his team built an actual village in the Santa Clarita canyon outside of Los Angeles, which includes "abandoned starfighter decoys" near a Scandinavian-style village that boasts homes, barns, shops, and a stone bridge vaulting over a river, all set against wheat fields in the desert.
Rebel Moon orbits onto Netflix on December 22.
For more on Zack Snyder's Rebel Moon, check out these stories:
First Teaser for Zack Snyder's "Rebel Moon" Gives a Glimpse of his Sci-Fi Epic
Zack Snyder Reveals Filming has Begun on His Sci-Fi Epic "Rebel Moon"
Zack Snyder's "Star Wars" Inspired Sci-Fi Epic "Rebel Moon" Headed to Netflix
For more on big titles on Netflix, check these out:
Music Supervisor Alex Patsavas Gives "Queen Charlotte" a Majestic Soundscape
"Extraction 2" Trailer Finds Chris Hemsworth's Tyler Rake Back From the Dead
Featured image: REBEL MOON: Sofia Boutella as Kora in Rebel Moon. Cr. Clay Enos/Netflix © 2023