Music Supervisor Alex Patsavas Gives "Queen Charlotte" a Majestic Soundscape
While gossip is the prevailing currency on Bridgerton, the emotional depth of Queen Charlotte is Her Majesty's greatest asset. For a woman who can seem quite cold in the original series, a peek into her own lonely bedchamber is, at times, searing.
The intertwining pasts of the Queen (Golda Rosheuvel), Lady Danbury (Adjoa Andoh), and Violet Bridgerton (Ruth Gemmell) reveal the women as tender, formidable, and most passionate in their own ways. Their journeys are accompanied by a grandiose score and string versions of hit songs from both then and now stewarded by Music Supervisor Alex Patsavas.
"For Queen Charlotte, understanding the story was really going to focus on a character we already knew and loved and was going to delve into Charlotte's backstory and so many characters' backstories," says Patsavas. "How could we access that DNA of Bridgerton but define it as Queen Charlotte music? Definitely dug into some of the most famous composers of the era. Mozart and Haydn, but also quite a lot of source is from the Chevalier de Saint-Georges catalog. Lastly, of course, covers of songs written, performed or made famous by women of color. It seemed like what better way to tell Queen Charlotte's story?"
Although betrothed as strangers, Charlotte (India Amarteifio) and King George (Corey Mylchreest) instantly feel a spark and become true partners. As they break through societal barriers and make a statement at Lady Danbury's (Arsema Thomas) ball, their intimate bond and influence as a couple grows.
Another heart-catching romance sees its first glimmer in this scene, and all that emotion calls for a major musical moment. Dancers swirl to a string version of Alicia Keys' "If I Ain't Got You," which also received a 20th-anniversary bonus version featuring more than 70 women musicians of color as a treat for fans. That blend of classical style with modern pop has become synonymous with the Bridgerton universe. 
"First of all, [we were] so lucky to be able to have the opportunity to sync three Beyoncé songs in one show, and Alicia, and SZA, and 'I Will Always Love You.' Those artists made sense," Patsavas said. "It was seamless with the storytelling."
Of course, Queen Charlotte is inimitable, and her wedding called for custom composition. Composer Kris Bowers collaborated with songwriter Tayla Parx to craft "A Feeling I've Never Been." It is a majestic and mesmerizing song that fills the stately hall and seems to bubble out of the dazzling couple themselves. "That was created specifically for that moment. I think you can feel that it was written for that precise moment as all of Kris' score is," Patsavas reflected.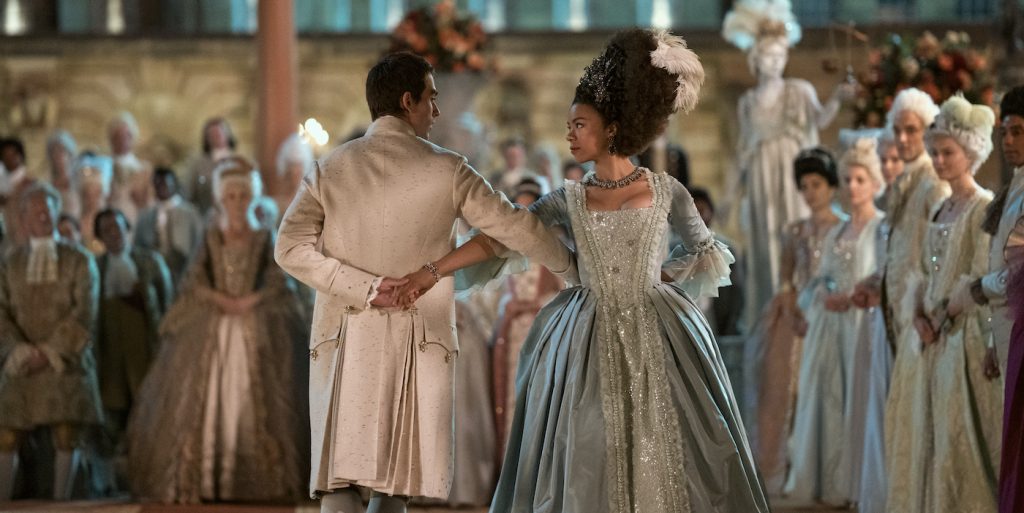 In the afterglow of their nuptials, Beyonce's "Halo" carries the young Charlotte to her new home. However, she is gutted to find that just as bliss was setting in, George does not intend to stay.
"Both of the tracks in the first episode were perfect for this. It's like picking your favorite children," Patsavas said. "It's tough to pick. I'm pretty thrilled about how the Kris Bowers and Tayla Parx original song came together and being able to hear iterations, and early demo versions, to be able to hear that process and understand where the song is going and how it ultimately worked in the scene. Then, of course, the Caleb Chan and Brian Chan instrumental version of 'Halo.'"
Misunderstanding and misdirection eventually put Charlotte and George's marriage in jeopardy. The plot finally spins back to George's perspective and begins to justify all the reprehensible acts he's appeared to have committed set to a cover of Beyoncé's "Déjà vu." In the season finale, one storyline reveals that some love is only meant to last in memory, which is heartbreakingly played out to a gorgeous rendition of Whitney Houston's "I Will Always Love You." "Run the World (Girls)" by Beyoncé and "Nobody Gets Me" by SZA each drop in on some of the show's most potent moments.
"We very much were looking for quartets, small ensembles," Patsavas explained. "We knew there was that through line that was essential to include in Queen Charlotte, but there are multiple instrumental versions available. These were the versions that we ultimately were able to license and sync in the show that were the most emotional and the best at telling the story."
The impact of a music supervisor can be felt throughout the entire creative process. From planning budgets to song clearance negotiations, Patsavas calls the job "nuanced." Eventually, though, every project reaches the stage where the musical landscape begins to form.
"One of my favorite parts of the job is attending something called the spotting session," Patsavas described. "A spotting session is all the creatives – post producer, editor, music teams, music editor, music supervisors, and of course, composer. We used to do this in person in an editing bay, and during the pandemic, we moved to a virtual spotting session. We watch the episode from beginning to end. Everybody watching it. A lot of stops and starts, and really acknowledging this is how the score should sound. These are the important moments. And not telling Kris how it should sound, but what are we emphasizing in these scenes? An hour-long show can easily be a two-hour or two-and-a-half-hour spotting session. There are conversations and stopping and starting, but it's a pretty cool part of the process."
Patsavas has worked on Shonda Rhimes' biggest titles. Shondaland has always leaned into statement-making songs, even launching the careers of up-and-coming musicians.
"I've had the unbelievable luck to work with Shonda Rhimes and Betsy Beers since the Grey's [Anatomy] pilot. So, it's been a long, wonderful ride," Patsavas reflected. "I've worked on Scandal and Private Practice. I think every project you really approach with a creative conversation, looking at outlines and early scripts, and of course, the first season of a show like Bridgerton is really a lot of experimenting and conversation. It felt like the scripts were so delicious; it was so fun. But then to see it come to life on screen with those early dailies and early cuts, understanding the way the time period was honored, but also the way that it was so Shondaland, so modern."
Queen Charlotte takes the regal approach of invoking big-name artists and bringing back Bridgerton composer Kris Bowers for a magnificent score. The woman who changed the face of the monarchy deserves nothing less.
"It's really about enhancing the drama rather than getting in the way of the drama," Patsavas said. "We define this world with the composer. Obviously, Queen Charlotte was a patron of musicians and a lover of art. I think all of those cues run through the six episodes."
Queen Charlotte is now streaming on Netflix.
For more on Queen Charlotte, check out these stories:
"Queen Charlotte" Stars Golda Rosheuvel, Corey Mylchreest, & Arsema Thomas Spill the Tea
"Queen Charlotte" Hair and Makeup Head Nic Collins Styles Two Decadent Timelines
Featured image: Queen Charlotte: A Bridgerton Story. (L to R) India Amarteifio as Young Queen Charlotte, Corey Mylchreest as Young King George in episode 106 of Queen Charlotte: A Bridgerton Story. Cr. Nick Wall/Netflix © 2023