"Queen Charlotte" Hair and Makeup Head Nic Collins Styles Two Decadent Timelines
Everything is in bloom for spring, including the high society style on Netflix's Queen Charlotte. The Bridgerton spinoff, with a sly eye on the groundbreaking, no-nonsense monarch, features towering wigs and a glance back at some of the series' strongest characters in their younger years.  
Hair and makeup head Nic Collins spared no indulgence for Her Royal Highness and her court. "We had numerous wigs ongoing all at the same time," Collins revealed. "It may take two weeks just to make the elements. For instance, you may be making rolls, and it would take at least 500 rolls. You would have like five members working on them all in different areas at the same time. It was such a collaboration." 
Queen Charlotte (Golda Rosheuvel) is renowned for her towering tresses. No one in the 'ton' can rival her grandeur, although many try. Each look is an elaborate creation carefully crafted for each actor. "It's so creative so when you see all the different elements and then put them together separately. They just look like a box of rolls, but when you start applying them to the cage and the shape and the design starts coming together," Collins noted. "I'm so proud of them."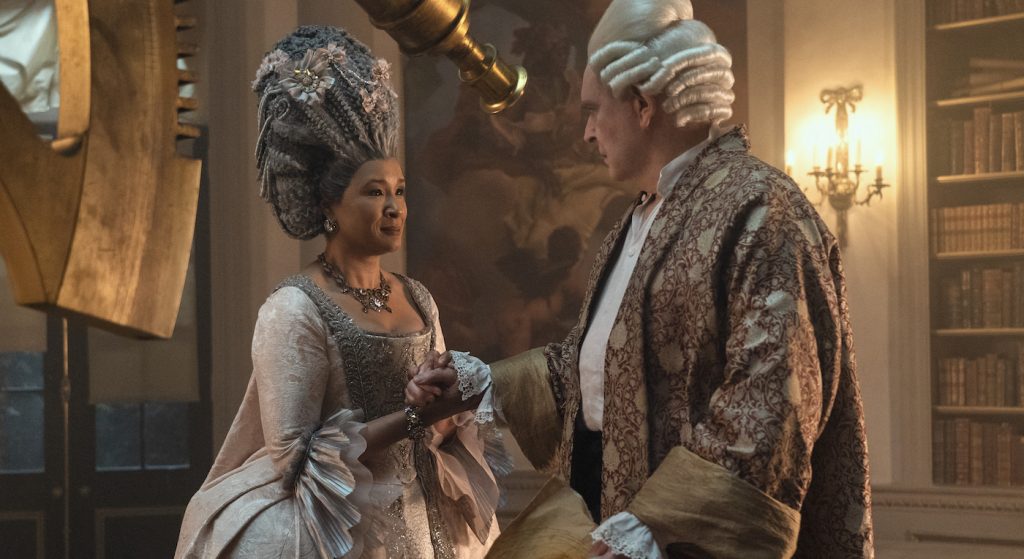 Those pieces piled high with curls required thoughtful engineering. They couldn't be as heavy as they looked for the sake of the actors, so Collins and her team developed the lightest possible structures. "We created a new system for [the wigs] to hold from the front down to the back," she explained. "So, the wig's not pulling back because that's the worst thing. The cage itself is really lightweight, and then we cover the cage in a mesh fabric so that we can then stitch into there. We know exactly where the boning is on the cage, so we don't necessarily need to put loads of hair onto the cage because we've got the boning in there."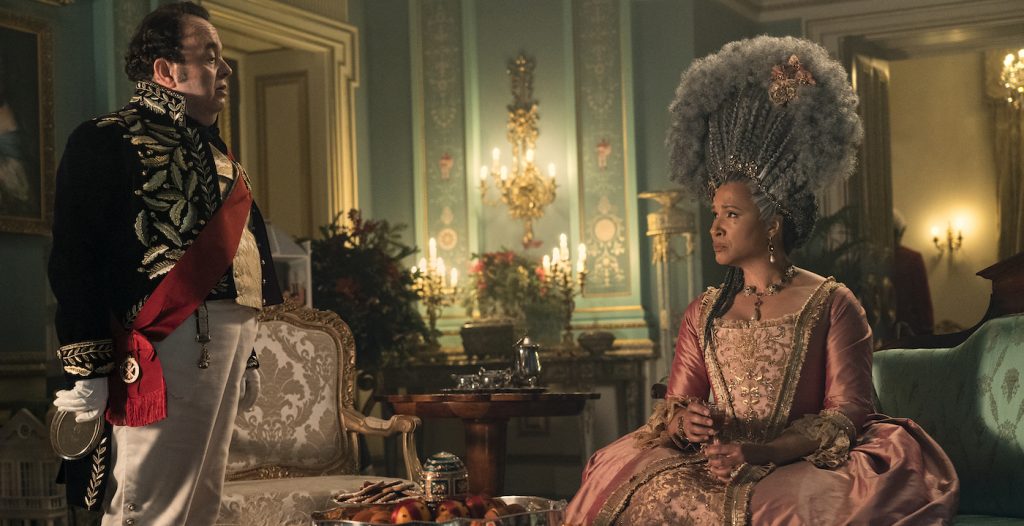 Planning for hair and makeup began as early as the scripts were delivered. Collins' team would begin to map out the needs of each character and playfully tie the plot into the designs. "You're always collaborating," Collins said. "Before we're even on the drawing board, the scripts are coming in, and we're reading the storylines and going, okay, we've got this and this, and we've got five wigs to make for one character for this episode, and the wigs in this really reflect the character's journey. I really wanted to put what's happening in the storylines in the scenes and incorporate those into the wigs."
Every design the Queen wears is destined to make a statement, and the intent can be rather direct. After a lifetime dedicated to her husband's legacy, she persistently urges her children to produce an heir to continue the bloodline. One of the most intricate wigs in the series strongly broadcasts a message of fertility.  
"Queen Charlotte is very much wanting her family, her sons, to provide an heir for her. We filled the wig, so you've got this beautiful braid work," Collins described. "It's almost like the fringe in the quilting of the fabrics in the day. It's beautiful, and it represents so many styles of hair. And it's all braided, and it's a beautiful panel that comes back, and then at the back, it's empty, it's hollow. It's filled with flowers and orchids."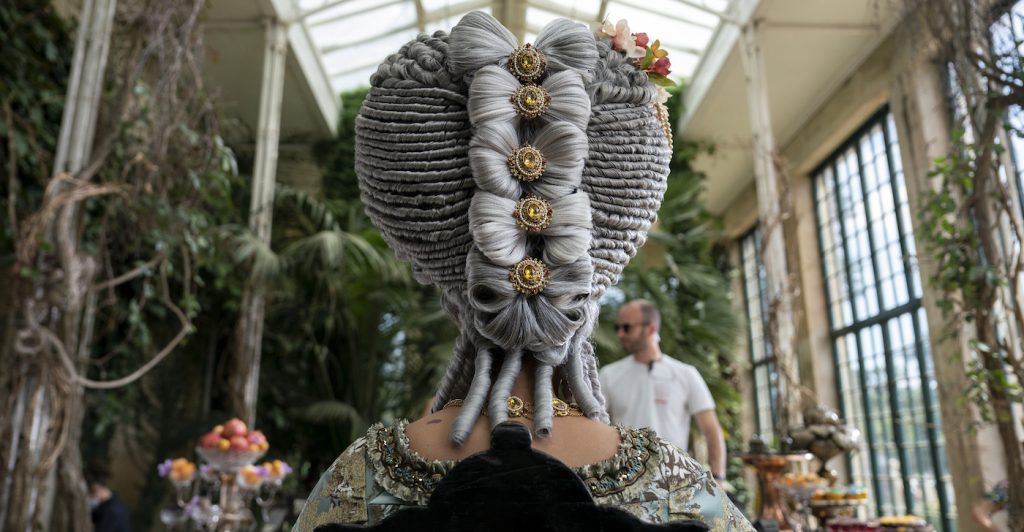 Queen Charlotte is a historical fantasy touching on notes of the time but is far enough removed to be free of constraints. True examples of natural hair in Regency-era Europe are rare but abundant in the series. Collins has extensive experience with period pieces from Brittania to Downton Abbey. Her designs creatively blend a more diverse range of styles within the period.
"You've got your period box; say it's a box of chocolates. You take out the flavors that you want. That's it," she said. "We're not a documentary. It's not about that, and Bridgerton is not about that. You look at the shape. You're creating shapes. It was really important to have a natural texture of all hair textures. We as a team already know how to create that texture."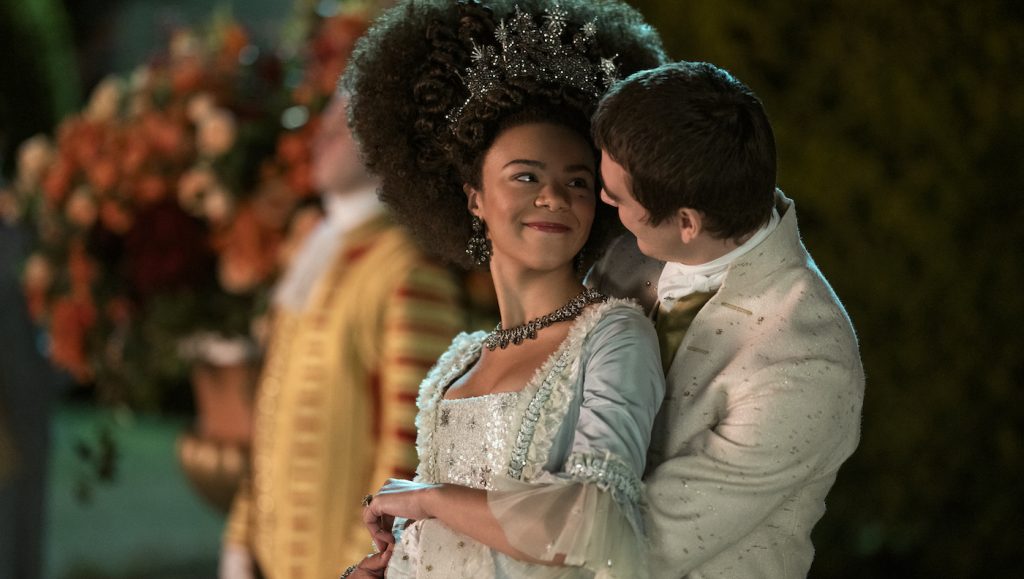 Crafting such a varied palette of styles and curls called for a wide range of techniques. Collins' team used methods both traditional and modern, challenging themselves to always be creating a more exceptional product.
"We're always thinking of new ways. We always want it to be better," she revealed. "You use new technology to create what they would have created in the day. Or sometimes you don't. Sometimes we use the same technology that you would have used in the day. It just depends on what we want to achieve."
Producing a really tight coil requires setting hair pieces on tiny skewers – even cocktail sticks, Collins described. One of her favorite styles to create is a wave using a tried-and-true technique. "It's an old method," Collins explained. "They were doing this back in the day. You take a U pin, and you basically rick rack the hair across the pin. So, when the wig is on a block, it's just got like 500 little pins all over it with the hair tightly rick racked. Then when it's set and dried, you take out the U, and it just goes 'Bing!' You just ripple through your fingers and oil."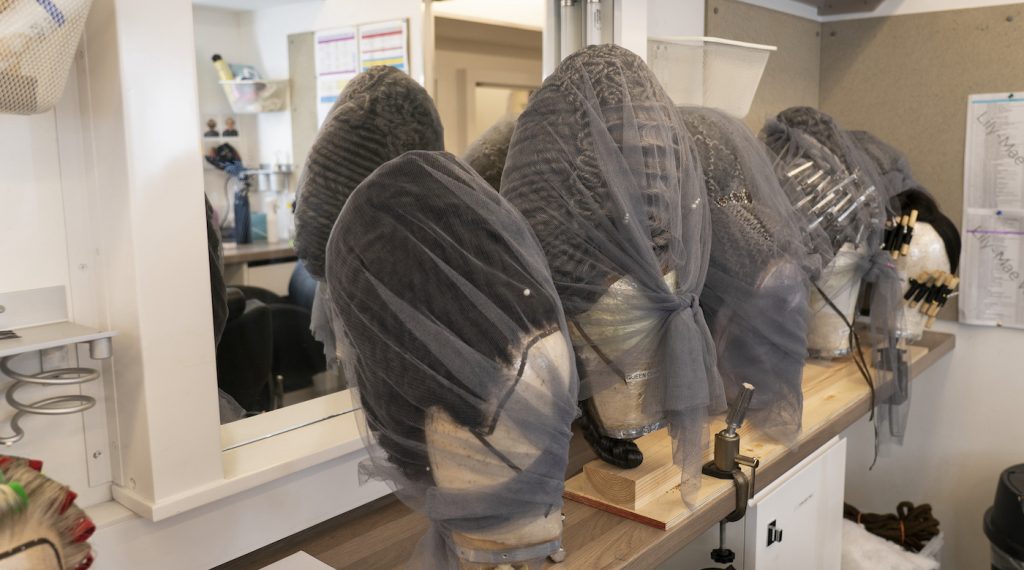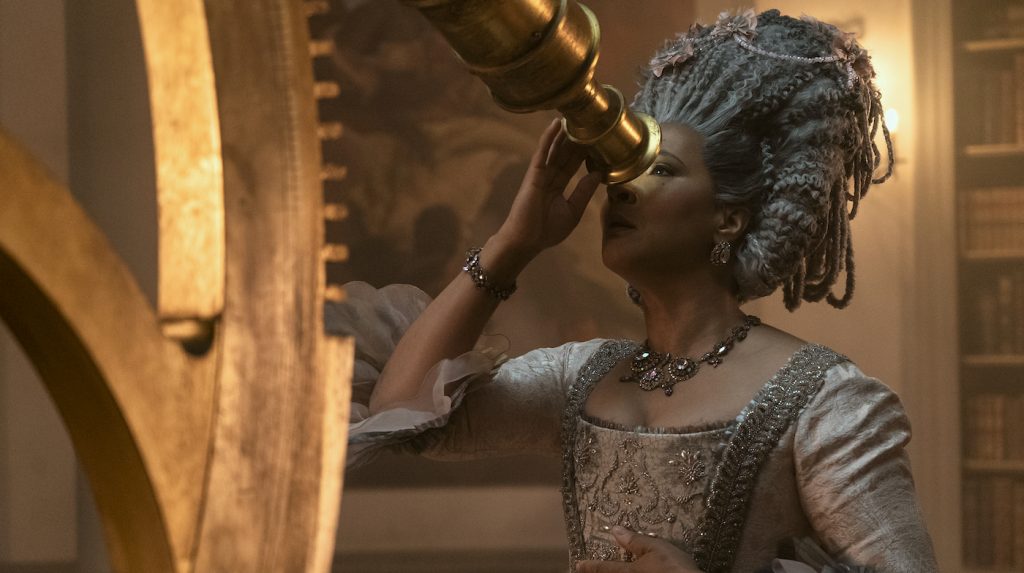 The great delight of Queen Charlotte is taking a glimpse into her past that formed her approach to reigning and the people who guided her on that journey. The new actors portraying previous versions of characters we love are brilliantly cast. Arsema Thomas is vibrant as young Lady Danbury, and Sam Clemmett is a delight as young Brimsley. India Amarteifio as Young Charlotte is bursting with the makings of a monarch, but Collins made certain there was no mistaking her role.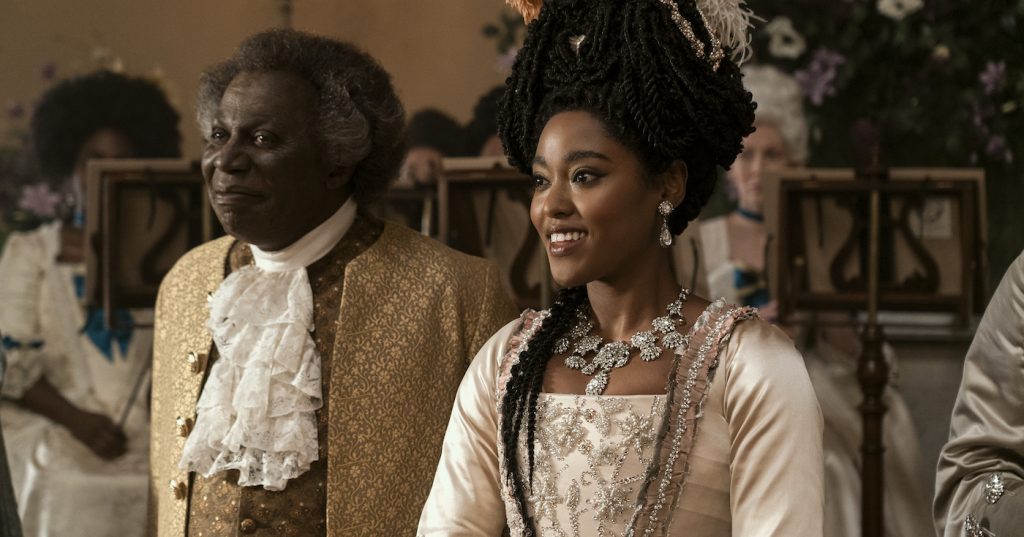 "With India, we actually took a prosthetic cast of Golda's molds and made them for real," Collins revealed. "So, we had a little prosthetic that Golda had on both her moles, so they are identical. They're actually little identical silicone moles to Golda. It was those little details that you delve into and go ok, the hair coloring, the style, the texture. You kind of look at everything and go, ok, let's see this journey unfold. And then obviously the actors bring their acting. They're amazing. They're so good."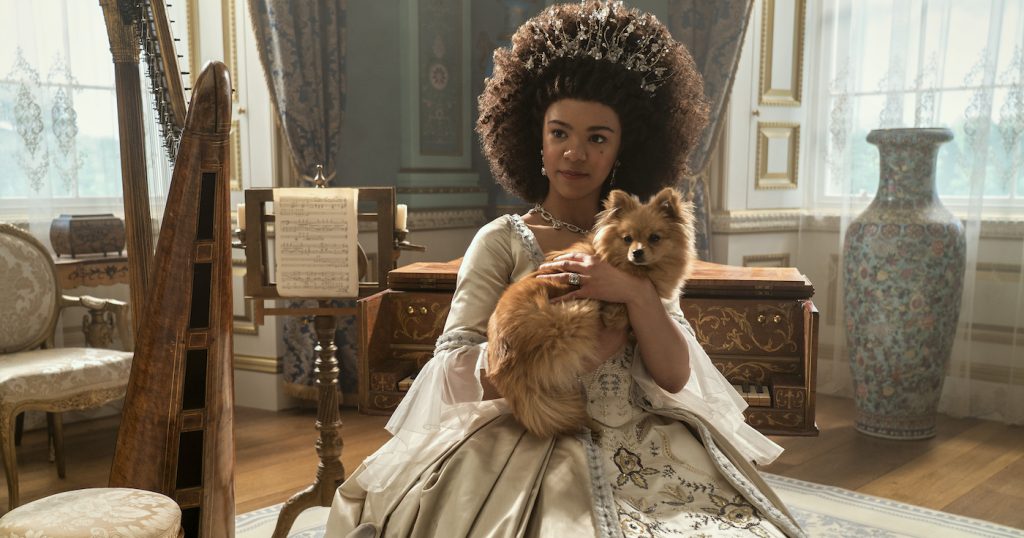 As the timelines alternate, there's an opportunity to observe Young Charlotte's evolution and how she is growing into the grandiose style she is destined to adopt. Both actresses can be spotted wearing the same hair jewelry at times, and the shapes of their wigs are often a reflection of one another. "The big important part was the journey of the 1760 Queen Charlotte with the Bridgerton Queen Charlotte and crossing those two and making sure there were enough areas that we covered to make you feel at times that the wig, although it was different coloring, was the same style and had the same elements to the wig," Collins said.
In all, the team made over 1,000 wigs for the series. Beautiful, meaningful, and often unprecedented, the entire library of wigs is a triumph. "Everybody that was wearing the wigs, they just felt fabulous," Collins gushed. "They're wearing something that's never been seen or created, and for us as a team, we were just in our element. We were celebrating."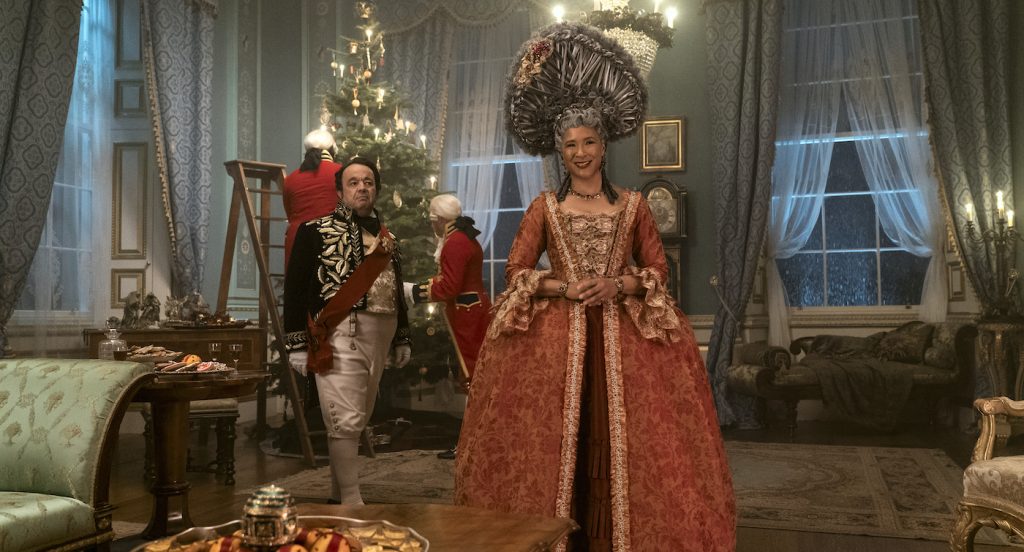 Queen Charlotte: A Bridgerton Story is now streaming on Netflix.
For more on Bridgerton, check out these stories:
"Bridgerton" Emmy-Nominated Costume & Hairstyling Team on Season Two's Sumptuous Styles
"Bridgerton: Season 2" Trailer Teases the Steamy Conflict Coming to Court
The Limitless World of Fashion Created by the "Bridgerton" Costume Designers
Featured image: Queen Charlotte: A Bridgerton Story. (L to R) Hugh Sachs as Brimsley, Golda Rosheuvel as Queen Charlotte in episode 102 of Queen Charlotte: A Bridgerton Story. Cr. Liam Daniel/Netflix © 2023