"Bridgerton" Emmy-Nominated Costume & Hairstyling Team on Season Two's Sumptuous Styles
Netflix's Regency-era romance Bridgerton became one of its most-streamed series thanks to creator Chris Van Dusen's modern, Skittles-hued take on historic upper-crust British mores. His ethos going in — that this London Ton would be a "bonnet-free world" — held up for Season 2, in which the eldest Bridgerton heir, Anthony (Jonathan Bailey), finds true love, not with the season's social diamond, Edwina (Charithra Chandran), but her romance-averse older sister, Kate (Simone Ashley). 
While each of the primary families of the Ton — the Bridgertons, the Featheringtons, and the newcomer Sharmas — is defined by a particular palette, this season saw Emmy-nominated costume designer Sophie Canale infuse each family's look with new colors and, among the younger characters who've grown up a bit since Season 1, more sophisticated silhouettes. Hair and makeup designer Erika Ökvist, who joined the crew this season and is likewise up for an Emmy, gave already over-the-top Queen Charlotte (Golda Rosheuvel) ever-higher wigs while more subtly reflecting the opposite journeys of sisters Kate and Edwina via their personal styling. 
For both Canale and Ökvist, Bridgerton is a massive undertaking, with, for example, 160 costumes made every six weeks just for the principal characters alone. The show's costume warehouse, the size of a commercial rental depot, became a source of inspiration in itself. "Every time you felt a little bit tired or down, you had to go look at costumes, and all of a sudden you were back on track, like yes, I want to do this, I want to do more," Ökvist said. We spoke with both designers about working in this period-specific yet bonnet-free world, creating collaborative, holistic looks, and setting the season's newcomers apart from the show's original fan favorites.
How does the overall Bridgerton ethos influence your process, making the show feel aesthetically fresh yet still like the period series it is?
Ökvist: You take in all of the Regency things that would work in fashion today and make them bigger or more extreme. Our maids have bigger hairstyles than most of the Regency dramas that are on TV. We just took a concept and then really twisted it and made it as wacky while still as glamorous as we could. 
How much do the sets influence costume design? The clothes really have a symbiotic aesthetic relationship with their surroundings.
Canale: Will Hughes-Jones, the production designer, and I would communicate every time he was designing a new set or going on location, and I would get all the color palettes. How I would then start is I would drape fabrics on a stand for each character, take photographs of those, and then put them on a board next to one another, so I could make sure the color palettes worked for all the families and everyone in the scene before we even started cutting the fabric. I'd then check with Will, go to the sets if possible, look at his wallpapers and paints, and then be able to put the colors next to them. It's an incredibly collaborative process we go through.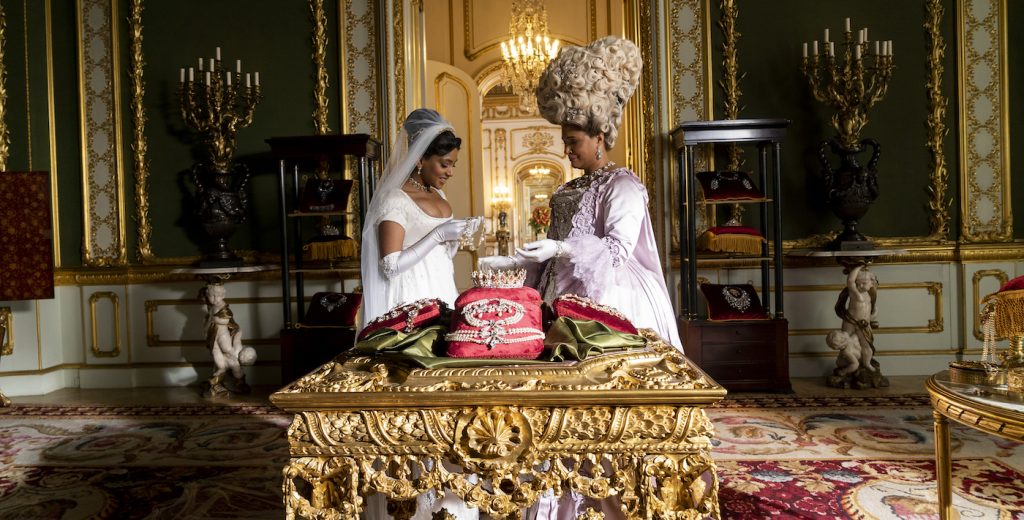 And how much of the final looks do you develop together across costumes, hair, and makeup?
Canale: We all work together, from costume and makeup to set design and lighting. But with Erika and I, there's very much collaboration from the early starting points of color palettes and the fabrics I'm choosing for each character. It's this really nice journey, starting from the feet up to the hair and accessories.
Ökvist: You give me the samples of all the fabrics, but also the shape. You're looking at the décolletage — is it square? Is it round? V-neck shape? Then the sleeves, as well, and then trying to create a hairstyle that works within this shape, so that there is no like, this is the head, and this is the body. I think that's where we work really well together, making sure it's a style of a whole. And for me, because I didn't do Season 1, Sophie really saved me there and would give me very quickly pointers on how to think with a Bridgerton head.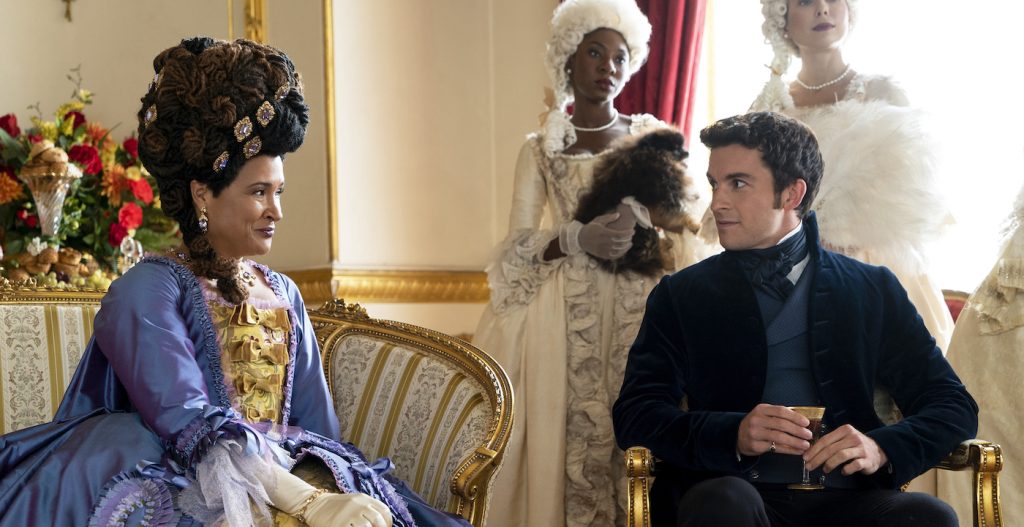 I think to a layperson, the clearest example of this stylistic unity would be the bejeweled hairstyles that came out in force this season. 
Canale: I think Erika and I are very fortunate to work with one another because we've got a very similar eye and a similar way of working, so that collaboration came really quickly and easily for both of us. We had an incredible jewelry team. They made a set of hair decorations, and you can see that very much in the Sharmas this season. That was really a collaboration of how Erika wanted the hairstyles and what we could make to enhance them.
Ökvist: Certain things don't work with curly hair, and certain things don't work with smooth hair. I think it was really important we had that sorted out, first of all, but also that it really worked with the general jewelry and costumes as a whole. I remember the first time we did Queen Charlotte, it was the Diamond Ball, and it was a massive wig. Because we were in Covid, you weren't allowed to come visit me, so when we did the test, you were like, oh, it's that big, is it? We had to take the tiara back and make it bigger because of the scale. You can't grasp it when you look at pictures.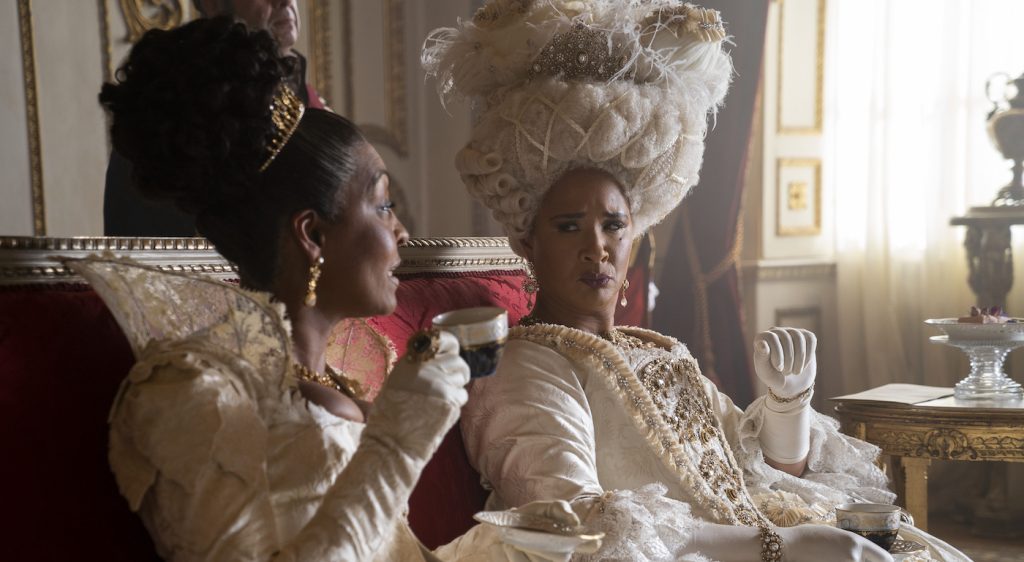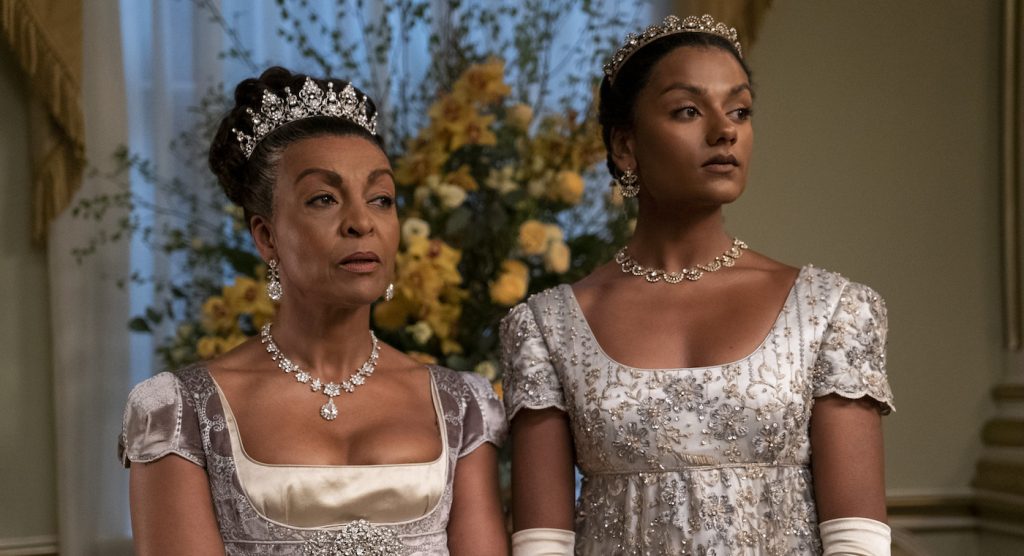 Can you tell us more about the Queen's over-the-top styling?
Ökvist: I had to look at Season 2 the way we do with fashion nowadays, where all of these influencers go away to all the Fashion Weeks, get new influences, and would never be caught dead with an old look. I think that's how we look at the Ton and quite certainly with Queen Charlotte. She'd never, ever be caught looking the same. I had to go and dig deep into loads of different inspiration — African heritage, we've got a lot of high fashion, and then obviously the Regency and Georgian eras as well — and then try and create looks we haven't seen before.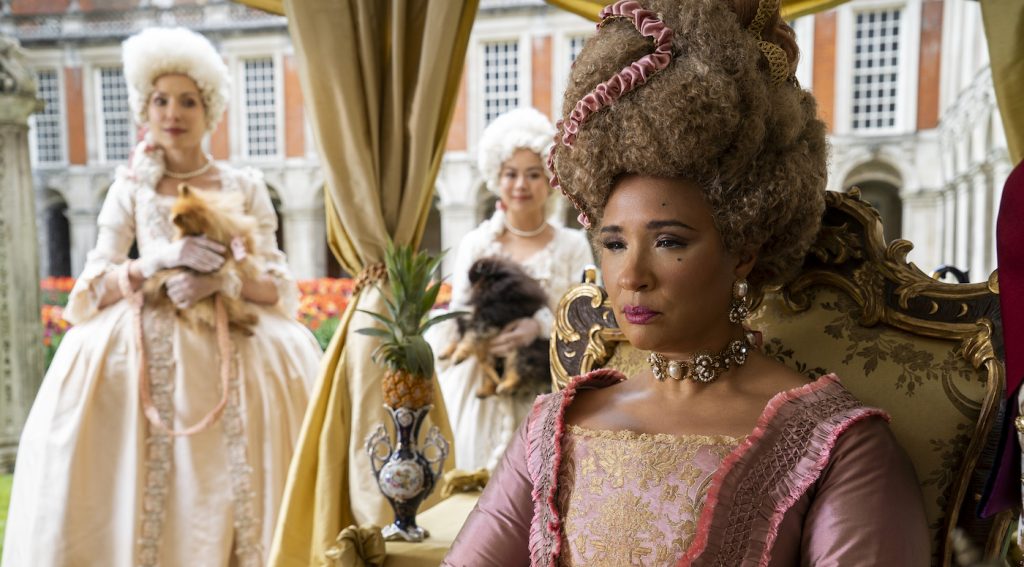 How about newcomers Kate and Edwina? How do you set them apart from characters who we already knew?
Canale: The main conversation when first reading the script and discussing it with Chris was how much Indian influence we were going to bring into the Sharmas and how much they brought that with them from their origins. It was very much keeping them part of the Ton and keeping the Regency period cut dress, the empire line, but having Indian fabrics and textiles, embroideries, and also bringing that into a mix with their jewelry. Having all the families with their color palettes, I wanted to bring in stronger colors. You can see with Kate, I used all the emeralds and beautiful Indian color palettes. She's such a strong character, you can see that within her journey. In episodes 1 and 2 there are taffetas and heavier-weight fabrics, and as we travel through the season, she becomes softer in both colors and fabric choices. With Edwina, still keeping her in stronger pinks, but she's a softer character, so I used softer colors to portray her.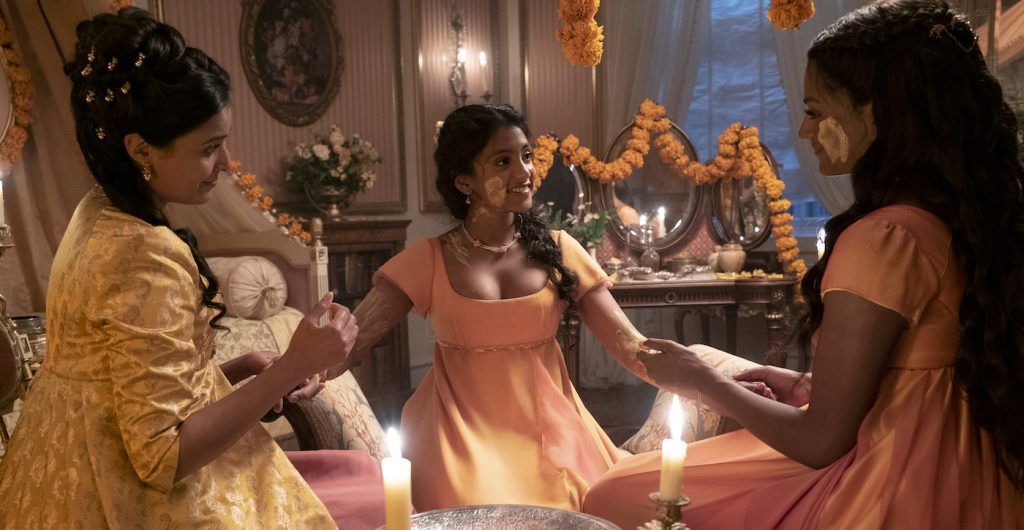 Erika, how did you develop Kate and Edwina's hair and makeup looks over the season to reflect their developing character arcs?
Ökvist: Absolutely. And going exactly with what Sophie said, Kate is starting off as a no-nonsense character. She doesn't even have time to sit still for the maid to do her hair, so she braids her own hair before she goes riding in the morning, and then to quickly sort it out, she pulls the braid up, puts in her own hair sticks, and then gets going, still looking Regency and polished enough, but very simple. Then as we all do when we fall in love, you might sit twiddling your hair in front of the mirror; you might try a little bit of rouge even though you don't normally do that. You might forget if all your hair has been tucked away because you've been distracted by somebody that's just fallen into the water and has a wet shirt on.
Now that we know Penelope's (Nicola Coughlan) secret, we also see her grow up a bit in terms of her look. 
Ökvist: She's a lady who's just starting to come into her own. She's got her own means, her own money. And she's got a reputation and a career which is unheard of for any Regency woman. I think she feels she's now strong enough to elaborate her own look. She's definitely a lady coming of age, as well, and maybe daring even to say no to mummy, to say I'm not wearing anymore yellow.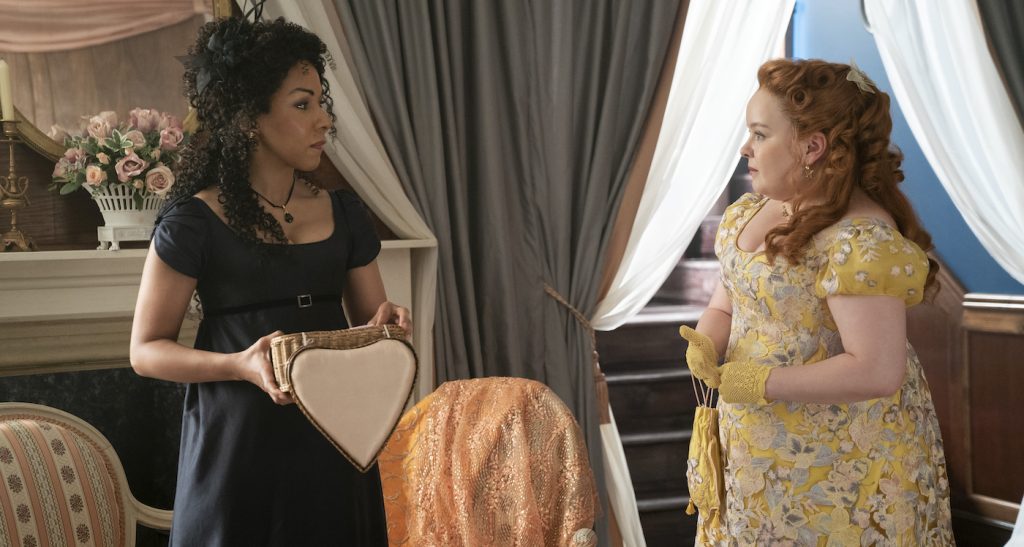 And Eloise is so delightfully off. What do you do in your departments to enhance her fish-out-of-water look?
Canale: I think Claudia [Jessie] plays her extremely well. As much as she has this masculine element about her, her mom is still dressing her. So I made her a little bit softer in the choices of fabrics; that was also because I wanted to be able to use embroidery and fabric manipulation techniques that I wouldn't have been able to do with the fabrics we used on Season 1. It was all about being able to create these lovely pleats and collars. With Penelope, you've got the floral fabrics, and with Eloise, I was using Regency stripes and checks, which are a lot more masculine and wouldn't have necessarily been worn by the rest of the women. I think in comparison with the Ton, putting her in stripes and checks does set her apart and give her that awkwardness compared to everyone else. 
Ökvist: And also, she's a new thinker. She feels the value of a woman other than just being a wife. She's got dreams, and she's aspiring to do something. She might not necessarily know what yet, but it's not being like everybody else. So even though she's still got her fringe, we made her hair a little more grown up this season and a little bit more modern. She is the female maverick of this world. And so it should be something you'd feel could be at a ball in Regency times but also on the streets at Oxford Circus.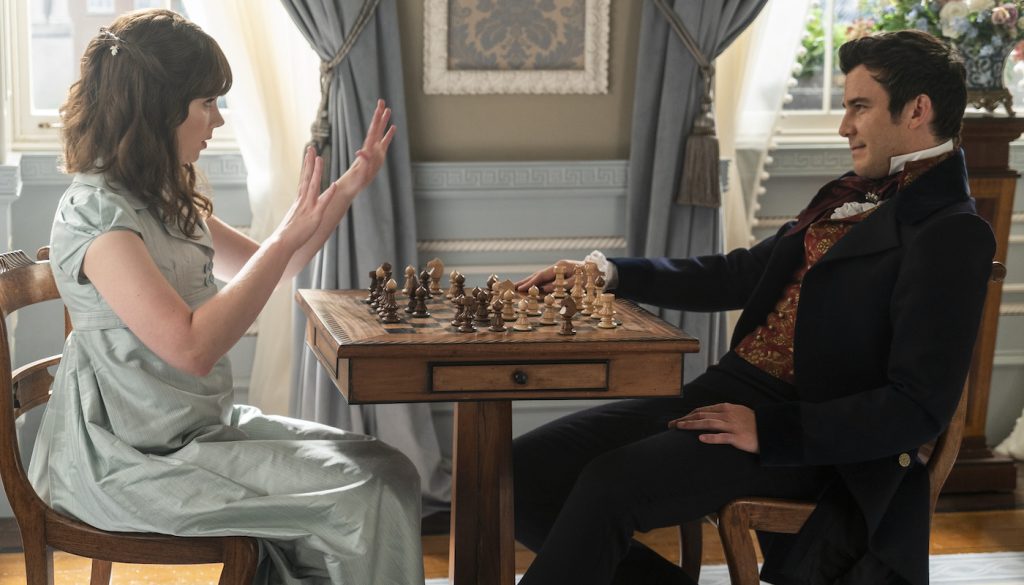 Featured image: Bridgerton. (L to R) Simone Ashley as Kate Sharma, Jonathan Bailey as Anthony Bridgerton in episode 206 of Bridgerton. Cr. Liam Daniel/Netflix © 2022