The Limitless World of Fashion Created by the "Bridgerton" Costume Designers
As we were all distancing ourselves from one another over the past year, Bridgerton burst into our homes with a voyeuristic view of steamy couples getting very, very close. The most indulgent fantasy of the series, however, was imagining the pleasure of putting on a magnificent Regency ensemble and actually having somewhere to go.
We have costume designers Ellen Mirojnick and John Glaser to thank for those scrumptious fashion treats. The lavish dressings of the 'ton' were truly unbridled, thanks to five months of pre-production that allowed the design team to call upon any fabrics, ribbons, and bows they could dream up.
No detail was spared by the team that employed experts in every imaginable accessory and facet of construction. "We had in our shop a full embellishing team, we had milliners, we had jewelers, we had aging and dying, tailors. We had Mr. Pearl, the corsetier of anybody's dreams. We had costumer's assistants, and about four cutters," Mirojnick recalled. "We had what was necessary to create this world that was filled with principal characters – two families, relatives, etc. – a massive amount of background players."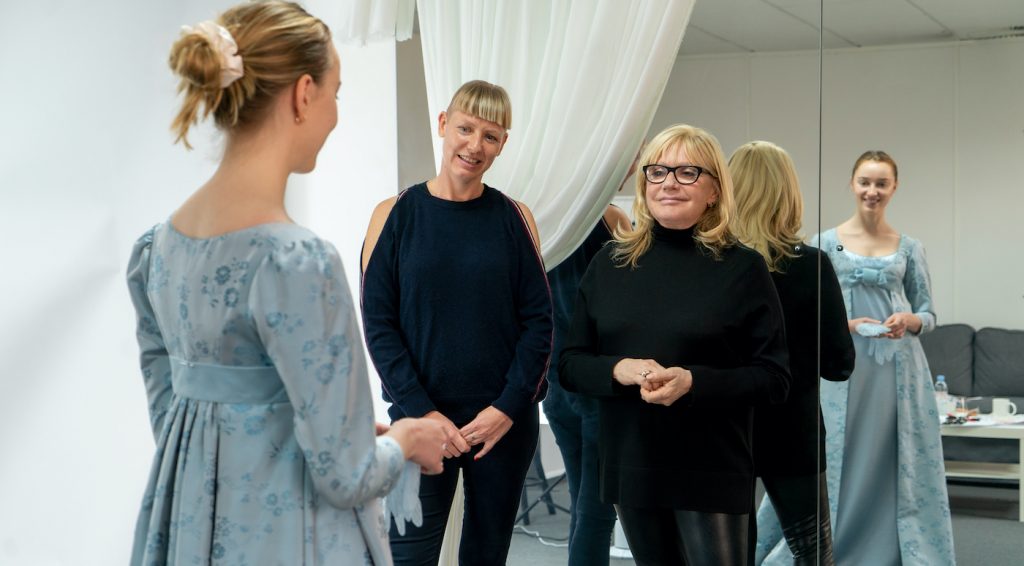 Glaser even ran an entire team dedicated to fittings. "The size of the show demanded – and the challenge of the show demanded – that we create our own costume house. So, what that means is we started from scratch with everything," Mirojnick revealed. The base design and stock pieces of certain outfits may have started with a pattern, but they were then transformed into stunningly unique pieces created to perfectly suit each character.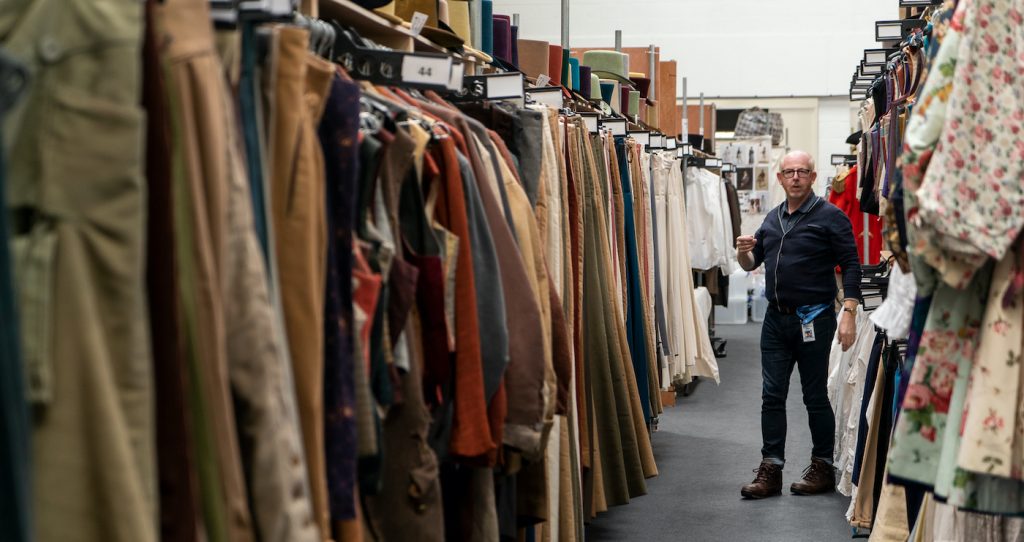 The incredible scale of the season called for an immense number of resources to develop an entire town's worth of wardrobes. "With that came sourcing as much fabric as we could put our hands on, because of the amount we had to make, which was enormous," Mirojnick said. "Resourcing came from Italian mills, French mills, English mills, shops in London, a number of shops in Italy, shops in New York. We never had enough fabric. When we thought we had enough, we had to go back out and get more."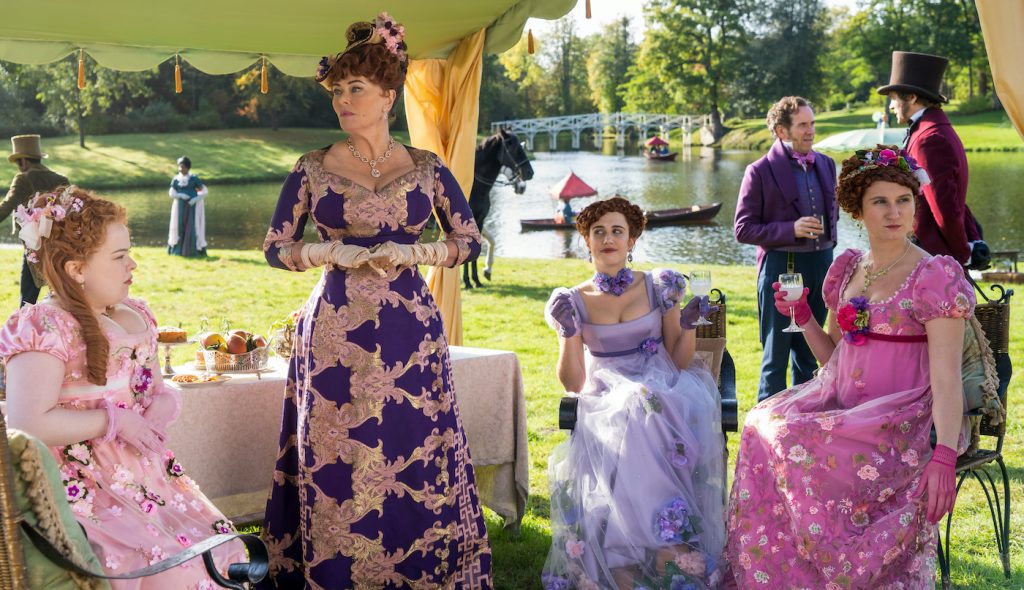 In the end, there was practically not enough material in the world to outfit the Bridgerton cast. Mirojnick had the idea to create sheer overlays and other layers to fill out the designs. "We went about creating our own fabric, frankly," Mirojnick explained. "What that meant was layering fabrics together, laser cutting, laser printing, embellishing everything. We had full departments that could actually execute all that we dreamt of."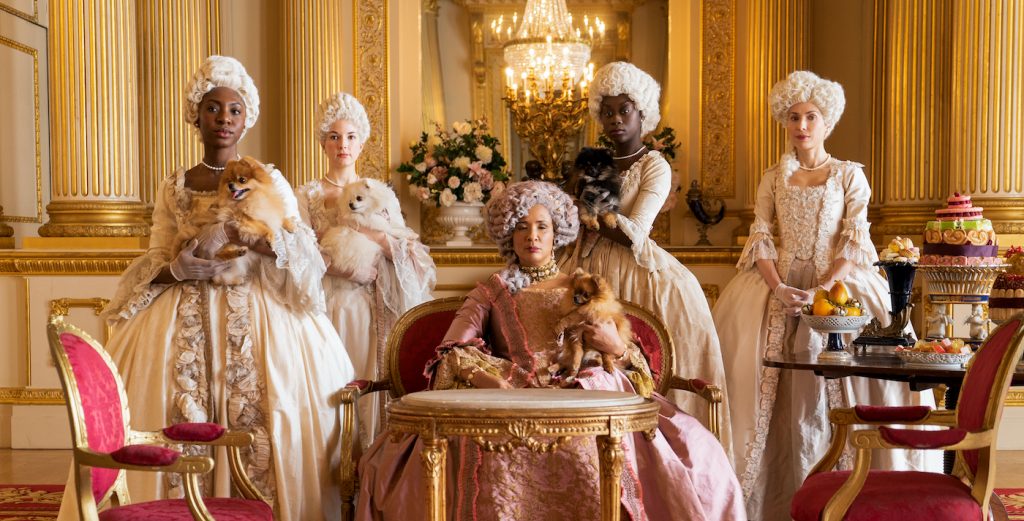 Being draped in fine fabrics by some of the most talented creatives in the business sounds like a glamorous fairytale dream. Even the private dressing gowns that characters wore in their homes spectacularly outdid the sweatpants we were donning in our houses every day. Bridgerton costumes can be measured in degrees of fancy, fancier, and fanciest. "Everything was there for the imagination to be able to soar. If it said 'fancy,' and then it was fancier, we had to be restrained, to be honest with you," Mirojnick said. "It was to what degree? There were some characters that could hold that amount of embellishment, and there were some that couldn't."
Not every family approached the high season with a gaudy "more is more" mentality. Some of the debutantes were more modest or possessed a dignified, understated style. "I think that all of our actors, whether it was Daphne (Phoebe Dynevor), for example, who needed to be simple. She would not be able to hold over–embellishment," Mirojnick noted. "It was clear when we would put a piece of jewelry on her. The best example is when she gets the Prince's necklace, which is so big, it looks like 'this is a gift.' She didn't choose this. Because of what her scale and proportion could hold, we just kept it as simple and as elegant."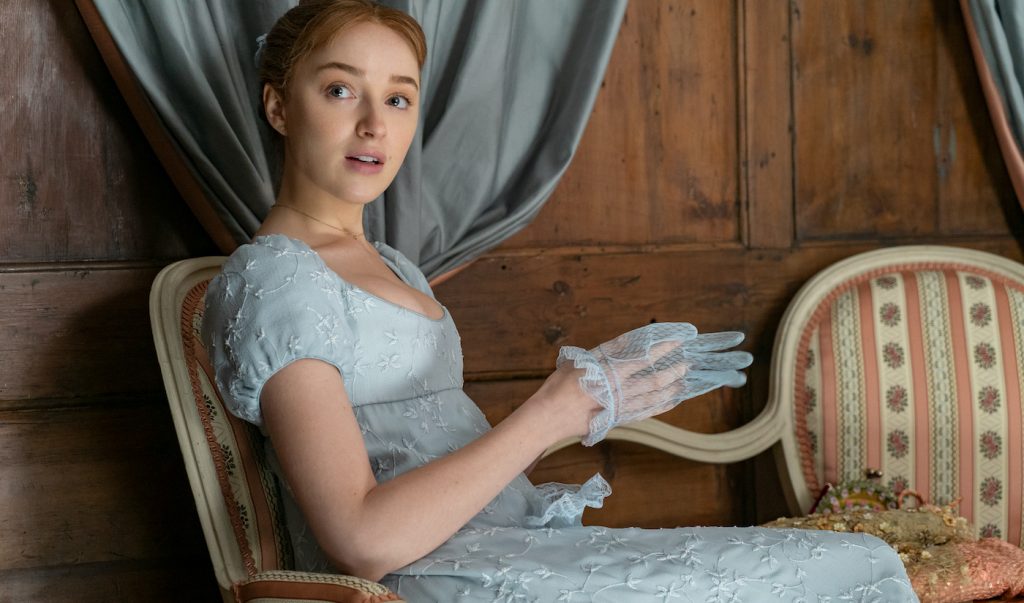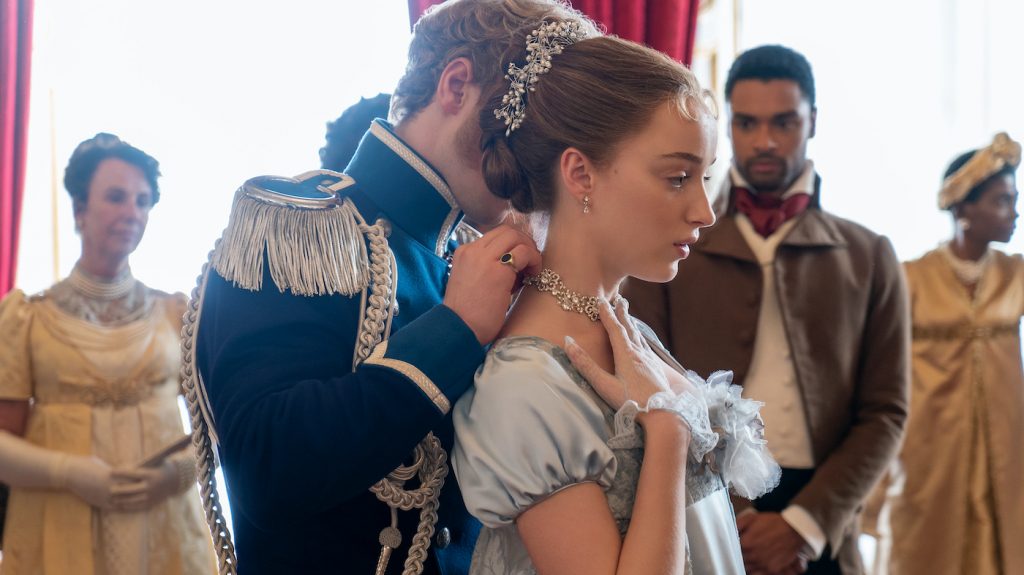 The Duke of Hastings (Regé-Jean Page) had a more worldly style than the other men on the show. "He had been traveling, so we just decided that he was probably in Asia, Turkey, somewhere like that," Glaser explained. "It was the vest. The fabric is from his travels. It's a little aged. His colors are darker. He's a little dustier than everybody else. Very subtly, but the fact that he's not part of the town, that's why he can wear his shirts open. He is a rugged guy. He's independent. He arrives on a horse."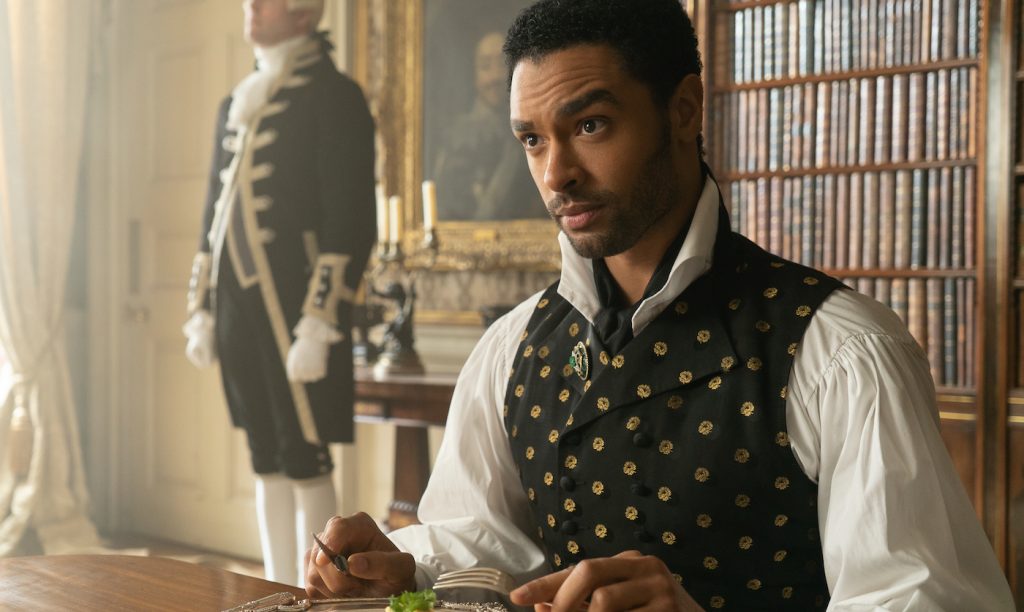 The most eligible bachelor of the season was dark, brooding, and dared to sport a more open collar than the rest of the buttoned-up town. "He really needed to be a man unto himself and have his own spirit, his own style so that you could feel a rebelliousness as he rode into town and as we first see him at the ball," Mirojnick said. "He is one of the only characters that does wear black."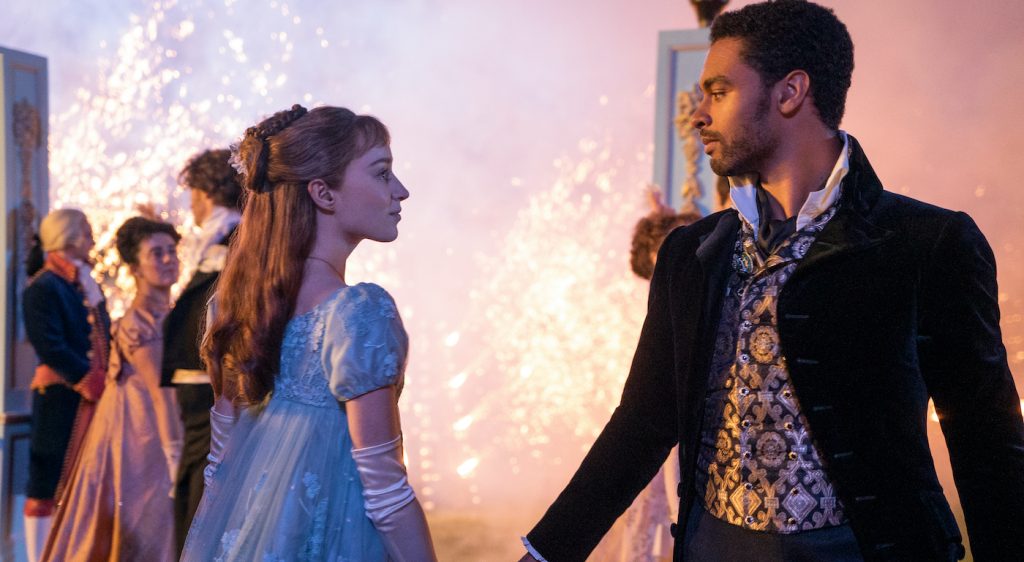 That darkness in his aura is revealed to be influenced by a tragic past. The somber scenes of the Duke's childhood shed the whimsy of the rest of the show and introduce a bleaker palette. "There, we actually followed the period because it was a flashback," Glaser explained. "The colors were a more smoky color to help let you know that you were no longer in Bridgerton and the cut was more historically accurate because that was a history lesson."
"The rest of the show wasn't," Mirojnick emphasized.
In fact, with some modifications, the 19th-century designs could be easily fitted for a 21st-century closet. Each costume captured the essence of the period but also hinted at a more modern time. Mirojnick and Glaser always kept this balance in mind. "For me, it was as long as you saw a character, basically the women, and you knew that it was Regency, but you also knew that it wasn't Regency and that it was modern," Glaser said. "That is how you had to visualize it. If it looked really Regency, then it was wrong. It didn't have enough fantasy to it."
"Basically, we took the cut and the silhouette of the Regency period, and that was always at the foundation," Mirojnick added. "What we did to make you want to wear it is that we changed the line slightly of the under-bust and the back. We made the dresses, in general, more fluid in the layering and how the dresses were cut than strict Regency. We changed the color palette, and we changed the fabrication."
The cast worked their way through a luxurious amount of costume changes, but they each maintained their signature style. "In the main part of the story, where you see lots of different people and so on, you know, for example, the silhouette of Eloise (Claudia Jessie) and that she's usually buttoned up. And that there's little male/female idea going on," Mirojnick noted. "Daphne is just that simple elegance. The Featheringtons, of course, are in acid and severe colors. Absolutely more than anybody else in their decoration. Cowper (Joanna Bobin) is overly decorated in the 'ton' way. Her hair is complex."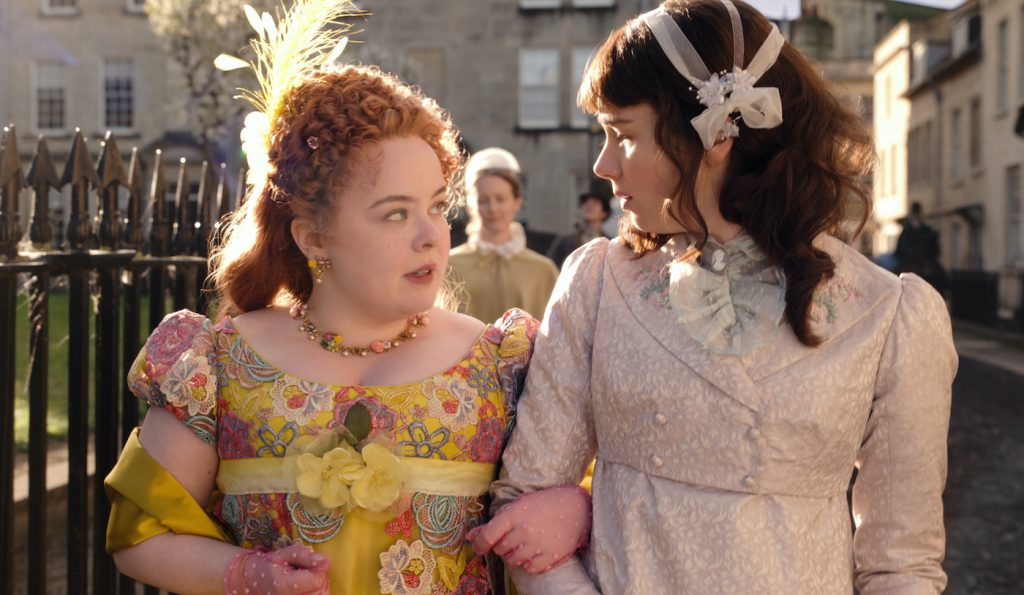 Series creator Chris Van Dusen dictated early on that there would be one major divergence from the historic fashion of the era. "Everything, if you notice, in the show in terms of a bonnet-less universe is that our hair designer (Marc Pilcher) was so genius," Mirojnick said. "We took the bonnets off, but he sculpturally did things with the hair that are extraordinary. They're some of the best work I've ever seen, actually. It identifies the character so specifically and so interestingly."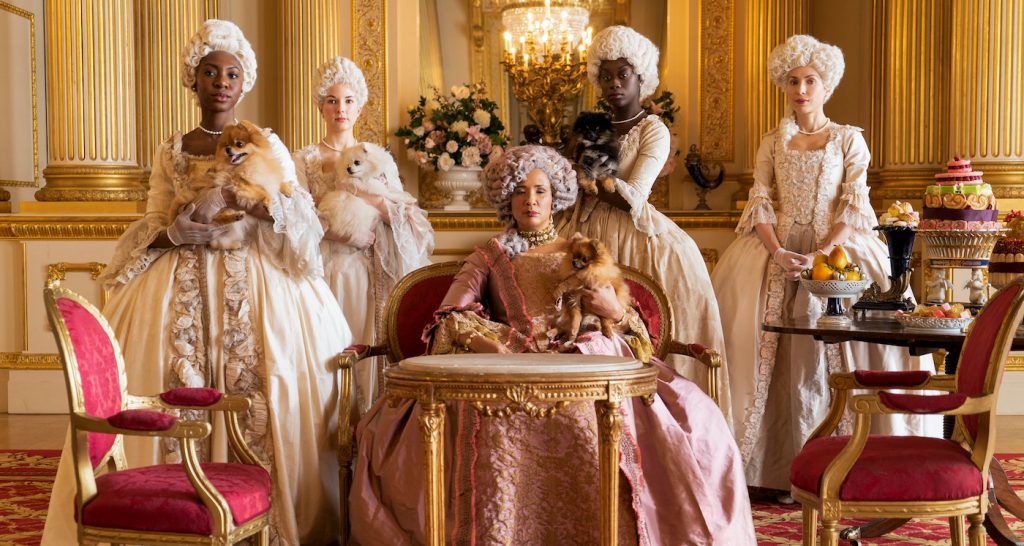 Look closely and you'll find one exception to the rule. Glaser recalled one minor character who made a lasting impression. "The only one that I always mention is an obscure little person at the footbridge. He's a guy and he's dressed like a little milkmaid. He's wearing a corset made by Mr. Pearl. He's the only person in the show that is wearing a bonnet and it's on a man."
The show featured large crowd scenes and actors in smaller roles who are often as dazzling as the main characters. The costume team had to be mindful of many elements to be certain that focus never shifted away from the action. "The people that take care of the background make sure that no background person is in the same color or the same look as the principal character," Glaser explained. "It's playing chess moving people around to the right spots to always pull focus on the principle. We also looked at the scenery. The houses we were in and the colors to make sure that they never faded away."
Despite the massive undertaking, Mirojnick said they delighted in the task. "This was a project that was like God's gift from the heavens for a designer. We loved it so very much. We were able to create a world that didn't exist before."
That world will continue—Netflix has renewed Bridgerton through its fourth season.
Featured image: BRIDGERTON PHOEBE DYNEVOR as DAPHNE BRIDGERTON in Costume Department of BRIDGERTON Cr. LIAM DANIEL/NETFLIX © 2020