"Flamin' Hot" Editor Kayla Emter Spices Up Eva Longoria's Tasty Biopic
If you're craving a feel-good underdog story with a kick, bite into Flamin' Hot. The spicy Cheetos flavoring that has become a pop culture icon started with the passion of Mexican-American Frito-Lay janitor Richard Montañez (Jesse Garcia). Told from his sizzling perspective, Eva Longoria's directorial debut is technically a biopic but has the DNA of a 90s snack commercial. It's colorful, bursting with energy, and instantly addictive.
"Something we always kept track of is Richard and his energy and his excitement and his passion," editor Kayla Emter explained. "That dictated what the pace wanted to be on its own. We always chased that with our cutting style."
Flamin' Hot grabs hold fast and tight. Montages from Montañez's life, his own narration, and even heroic fantasies make for a memorable telling of his climb to the top of the corporate food chain. The movie spans decades, and Emter wanted to be sure that the audience kept up. She employed a few tricks to help viewers take in every important moment.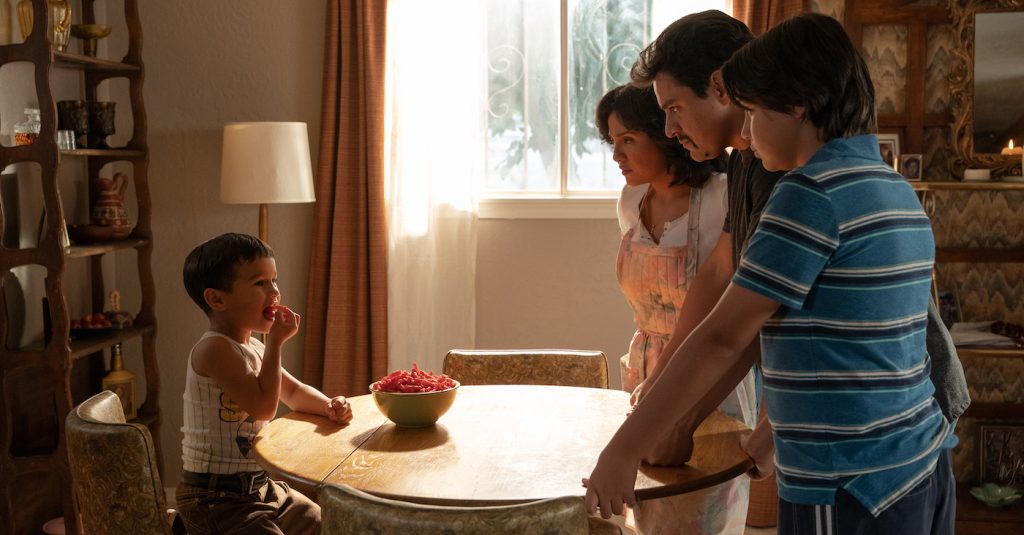 "I have to give a lot of credit to Federico [Cantini], our DP, who is so talented. He delivered amazing footage that had a lot of dynamic movement," she noted. "So that made it easy for me to keep things flowing, but at the same time, I try to complement that with a classic concept of film editing, which I think we forget about a lot – eye trace. From the montages, I would always pay attention to where the audience is looking and how I use that to span transitions to the next shot. I think when I did it well, it really helps the flow of where we're going, but not losing track of the info, because people are just following along exactly as I wanted them to." 
Emter never closed the door on a scene – literally. "Another thing I learned a few movies ago is I tried to either remove an entrance into a scene or omit the exit," she revealed. "I always want there to be some kind of flow or leaving things unresolved so it would add momentum into the next scene."
Much like Emter's work on Hustlers, Flamin' Hot is equally generous with both visuals and soundscape. The crunch of crispy chips, the life of a Latino neighborhood, and the hum of the Frito-Lay factory all give the story a savory rhythm.
"Katie Halliday, who is our sound supervisor, she was just a gem to work with," Emter said. "So talented, and we had a lot in common. We had the same sensibilities. We spent a lot of time geeking out about the different neighborhoods that Richard goes into over the course of decades. The sound is really important for each one that it feels like we're really there."
Once Montañez charms his way into a janitor position at the factory, he is eager to learn everything he can about production. The assembly line is filled with complicated equipment and a hierarchy that is arduous to climb. To truly understand the system, he must employ all his senses and a little help from a new ally.
"Something that we really dug into was the sound of the factory. The machines," Emter said. "There's that scene where Clarence (Dennis Haysbert) is like, 'Listen, I can hear everything. Belts, gear, movement.' So, there's this rhythm we created. When Richard is listening, it's white noise. Rhythmically it's one thing, but then the sound adding to that is a whole different layer. We were lucky to be able to come up with these concepts and designs, and I would work with them in Avid, so by the time it got to the mix stage, all that heavy lifting was done. We could just mix it because there were so many layers. That way, we could really elevate everything as we needed to when it's time to shine was there."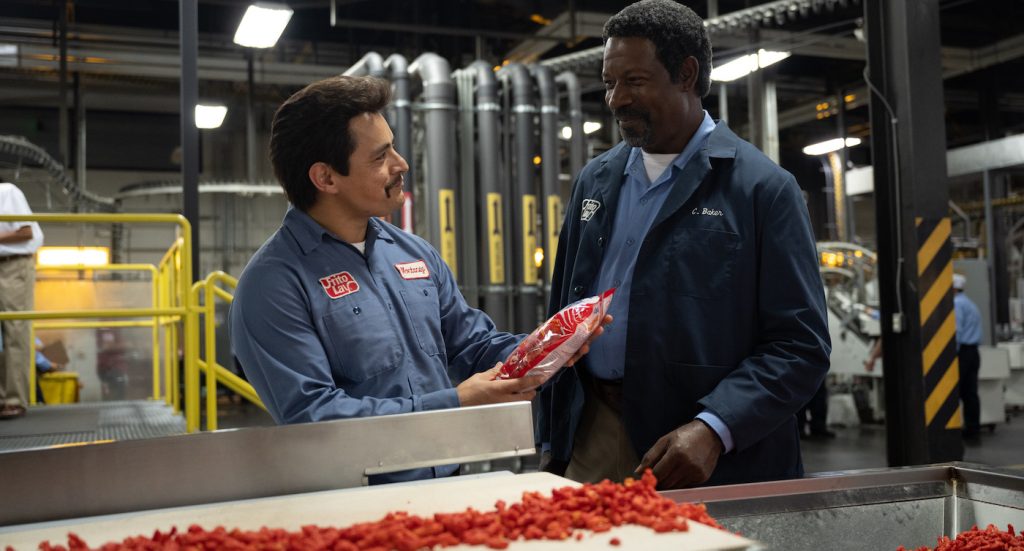 Montañez's path to a better life is part dream, part determination. Lacking the education that many of the executives enjoyed, he is sometimes left to simply imagine what happens in the boardrooms. The most fun moments in the movie are when he puts a personal spin on the corporate bureaucracy in fantasy sequences.
One enlightening moment comes when he hears CEO Roger Enrico (Tony Shalhoub) speaking to him via a taped pep talk. "When Enrico is talking to him through the TV, we switched up the soundscape dramatically," Emter revealed. "We were kind of clued into this isn't quite real. We leaned into the slow-motion footage when he meets Enrico. So, we always tried to find the balance, so everybody was following along."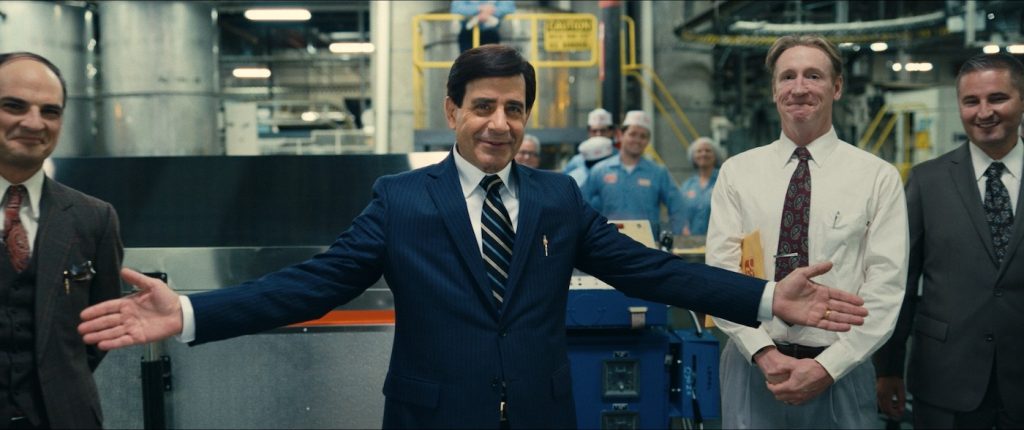 The road to bring Flamin' Hot Cheetos from the Montañez' kitchen to store shelves was rocky. Through the successes and setbacks, Emter shaped the pacing and even influenced the order in which the events unfold onscreen.
"Something we were always keeping an eye on is not staying in one spot too long because we didn't want the audience to think this is where we are landing if we actually had several more places to go," she explained. "We always tried not to exhaust them with any one thing, and that required movement and decision-making on what is the core information we need. The script was originally nonlinear. There were a few flashback scenes of Richard's childhood and his days with the gang that were interspersed throughout. While it had a purpose in those original spots, watching it back, we realized that Richard's arc and journey were more impactful and meaningful when you could actually see where he started from and the growth. So, we moved everything to a linear fashion."
Emter has a rule to live by that serves as good advice for all storytellers. "I'm always like, 'Not too many endings.' Some movies have five endings, and I hope we don't have that on this one."
Avoiding many of the pitfalls that threaten to lead film projects awry can be avoided by enlisting an editor as early as possible, Emter noted. Even before scripts are finalized.
"Transitions are really important to talk about in pre-production. Expectations as far as inserts and extra tricks to have up your sleeve if you get in a bind," she explained. "I think the editor is so important the full time. The editing is the editing, but after picture lock is where we become wildly important because we know the movie so well at that point, and we know the small nuances and why things were chosen. There's a rhythm and a beat."
Flamin' Hot debuts just in time to spice up the summer movie scene. "I am very much an uplifting movie-going kind of gal," Emter declared. "So, whenever I get a chance to work on a movie that I'm going to put on repeat throughout the rest of my life, I'm just so grateful."
Flamin' Hot hits Disney+ and Hulu Friday, June 9.
For more stories on Searchlight Pictures, Marvel Studios, and what's streaming or coming to Disney+, check these out:
New "Secret Invasion" Teaser Finds Nick Fury in a World of Trouble
"The Little Mermaid" Hair Designer Camille Friend on Creating Ariel's Locks From Halle Bailey's Natural Hair
"American Born Chinese" Production Design Team Cindy Chao & Michele Yu's Dazzling Details
Featured image: Jesse Garcia in FLAMIN' HOT. Photo by Emily Aragones. Courtesy of Searchlight Pictures. © 2023 20th Century Studios All Rights Reserved.