"American Born Chinese" Production Design Team Cindy Chao & Michele Yu's Dazzling Details
It's rare enough to see a production design team and rarer still to see a team of two female Asian American designers, but Cindy Chao and Michele Yu have been collaborating together successfully on both the large and small screens for over a decade. Recently they got a Primetime Emmy nomination for their work on A Black Lady Sketch Show, and now their new project, American Born Chinese, has arrived on Disney+ boasting rave reviews. 
American Born Chinese, which is based on the groundbreaking graphic novel by Gene Luen Yang, follows the struggles of everyday teen Jin Wang (Ben Wang) when he unknowingly befriends Wei-Chen (Jimmy Liu), the son of a mythical god, The Monkey King. The story takes place in Southern California but visits mythical realms, including heaven. Ke Huy Quan and Michelle Yeoh, fresh off their Oscar-winning performances in Everything Everywhere All at Once, co-star, and the show features lots of Kung fu, magic, and action but is firmly rooted in immigrant family life. 
The Credits sat down with Chao and Yu to discuss their high-profile new series, which has begun streaming just at the tail end of Asian American Pacific Islander Heritage Month. They talk about their collaboration, their cinematic inspirations for the look of the show, and the hundreds of family photos that went into authentically recreating the world of an Asian American teen in Southern California. 
You've worked as partners since college. In what ways do your aesthetics match and diverge, and how does that help bring together your united vision on the projects you choose?
Cindy: Michele and I are very similar, actually; that's why our partnership works so well. Oftentimes, we finish each other sentences. A lot of it has to do with starting as the art department, just the two of us. That collaboration and our similar tastes in design and artists that we like really brought us together.
Michele: That said, both of us grew up in Southern California, and both of us are daughters of immigrants, but I will say we do have different personal histories. Cindy grew up in Hollywood. I grew up in the suburbs, towards Orange County. We, aesthetically, are very similar, but our differences really come into play in a way that enriches what we do. We dovetail a lot in our decision-making and what we choose to put onscreen, but you're getting the benefit of two very different life experiences.  
How does that express itself in American Born Chinese?
Michele: It was such a benefit because we were telling the story of a Chinese American boy and his family. We had a lot of fun comparing how we grew up and our personal histories and experiences. The really interesting part was the points of difference that we discovered about those things because there's an assumption, and we went in with the same assumption, that there are more similarities than differences. It's true growing up as a Chinese American middle-class first-generation person in Southern California is very specific. But there are details that are different. Like Cindy would say, "This is what my kitchen looked like," and ninety percent of it would be the same as what I grew up with, but that ten percent difference was something that we encountered over and over again with the other Asian American crew members, above and below the line that we were working with. Everybody could walk into the same space that we had created, dressed and decorated with our wonderful set decorating team, and all be wowed by how much the same it is, then there'd be one or two little things that are different. It was always surprising what those differences were.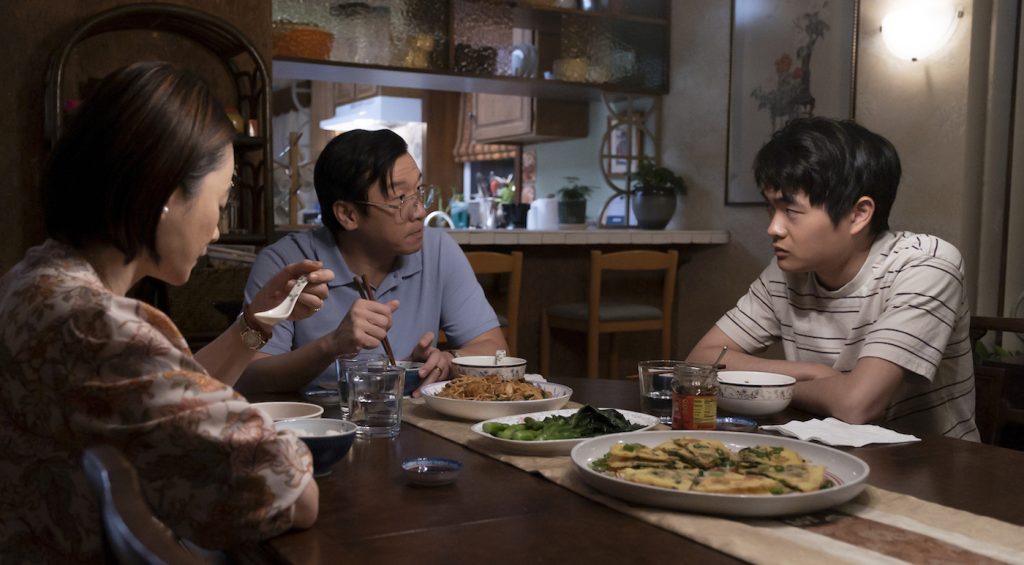 There are little touches in Jin's room, like including graphic novels by Asian Americans, that really speak to who the character is and what he loves. 
Michele: We worked with a really great team. Our set decorator Lizzie Boyle, and our prop master Todd Daniels, we've been working with for years at this point. They're great at having creative conversations and pitching their own ideas, as well. Cindy and I came to both of them and had a very general framework of what's important to us, that we feature Asian American artists, and that we understand, geographically, that he is in Southern California, and what that gives him access to in terms of San Diego Comic-Con, stores, and local artists. There were a couple of specific artists that we pointed Lizzie towards, for instance, like Brenda Chi, a local artist who does a lot of plein air paintings of Chinatown. She's so involved in the culture and Asian American art scene here. We also mentioned Jerome Lu, who has this whole line of toys and art around his character, "the hyperactive monkey." Then Lizzie and Todd ran with that, did the research, and reached out to a bunch of other artists.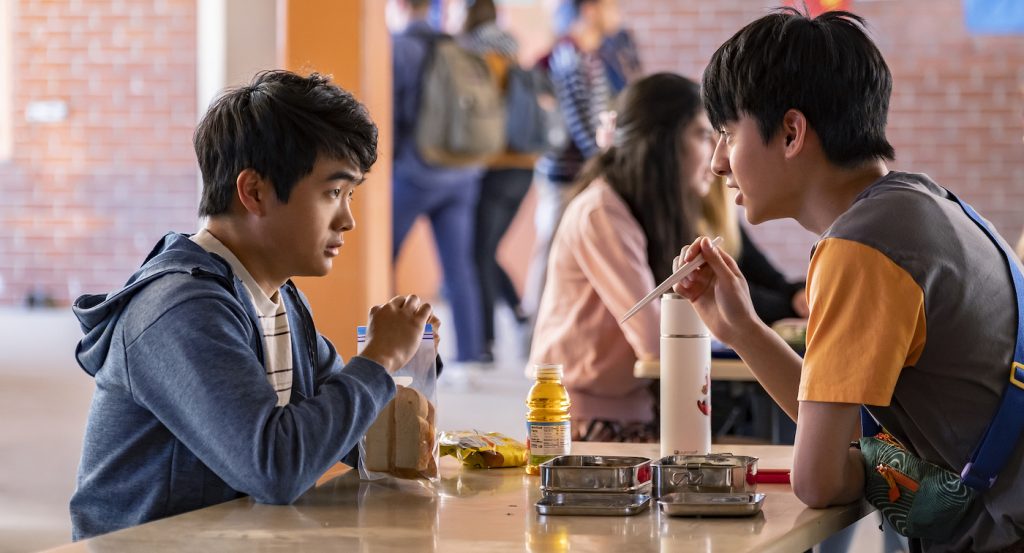 What are a few things fans of American Born Chinese would be surprised to see on your mood board for the show? 
Cindy: we referenced Zhang Yimou, the Chinese film director, when we were looking at concepts for heaven a lot. He really filmed artfully, and the way he used color in his films was beautiful in a way that was hyperrealistic. In our show, heaven had a very specific color to it, and that was influenced and inspired by a lot of his films, particularly House of Flying Daggers. 
Michele: The other thing that you would never know, unless you asked us, is for the Wang family house in particular. We incorporated so many details from our own lives and our upbringings. It really was a love letter to our families and our parents.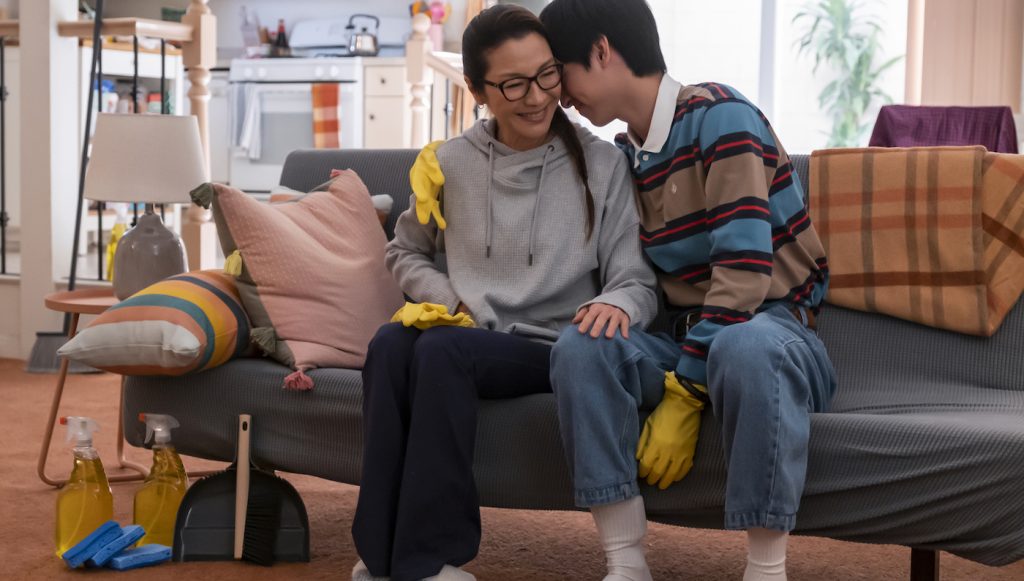 What are some examples of that? 
Michele: Our team was very diverse, but not everybody grew up as an Asian American kid in the 80s and 90s with the specific upbringing that Cindy and I had. So Cindy and I would add this or that little detail. Like in the kitchen, sometimes we'd have to explain, "No, the dishwasher is not used that way. It's used as a drying rack for dishes and storage. It's not actually a dishwasher." Or, "This is the kind of rice cooker you would use for this number of family members in the house." Or, "You've never seen this hot water dispenser? It's very common."  Those sorts of details, like what kinds of utensils are in the kitchen, we'd have to explain all of those things to our team decorating the house and getting the props. There are not a lot of resources that already exist for reference photos for things like that, so we actually created our own reference photo database internally for ourselves, with Cindy and I collecting literally hundreds of family photos between the two of us and our friends, scanning them all in, and putting them up online, so that our set decorator, our props person, construction, costumes if they needed it, and the producers and director if they were interested, everybody had the login and could look at this resource of just family photos that we had exhaustively tagged.
Cindy: About those little details, I remember someone was saying, "This is stuff that I was embarrassed to have when my friends came over." It's so cluttered. It's just covered in Saran Wrap and foil and plastic containers to collect food scraps. All this is stuff that I would normally never be proud of, but the fact that we were able to recreate that memory of most people's childhood homes on film was just a very gratifying experience for ourselves and to share with others, too.
American Born Chinese is streaming now on Disney+. 
For more stories on Century Studios, Searchlight Pictures, Marvel Studios and what's streaming or coming to
Disney+, check these out:
A New "Secret Invasion" Teaser Reveals Nick Fury's Fight to Ferret Out Infiltrating Aliens
New "Indiana Jones and the Dial of Destiny" Featurette Whips Up Excitement
"Guardians of the Galaxy Vol. 3" Production Designer Beth Mickle on Building Rocket's Epic Spaceship
Featured image: MICHELLE YEOH, JIM LIU. Courtesy: Disney/Carlos Lopez-Calleja.