Director Dime Davis on Making Emmy History With "A Black Lady Sketch Show"
Last year, director Dime Davis visited California desert retreat Joshua Tree to take a break from her burgeoning career as director of Showtime drama The Chi and BET rom-com Boomerang. "I'd been trying to get my head together so I wasn't getting back to people," Davis recalls. But Robin Thede kept calling. The comedian had created a new sketch series for HBO and wanted Davis to direct the whole thing. "When I finally called Robin back, I didn't even know if comedy was a place for me," says Davis. "But then Robin said four words. She said the show would be magical, it would be cinematic, it would be narrative and it would be grounded. That blew my mind because I didn't know those things could exist in a sketch show."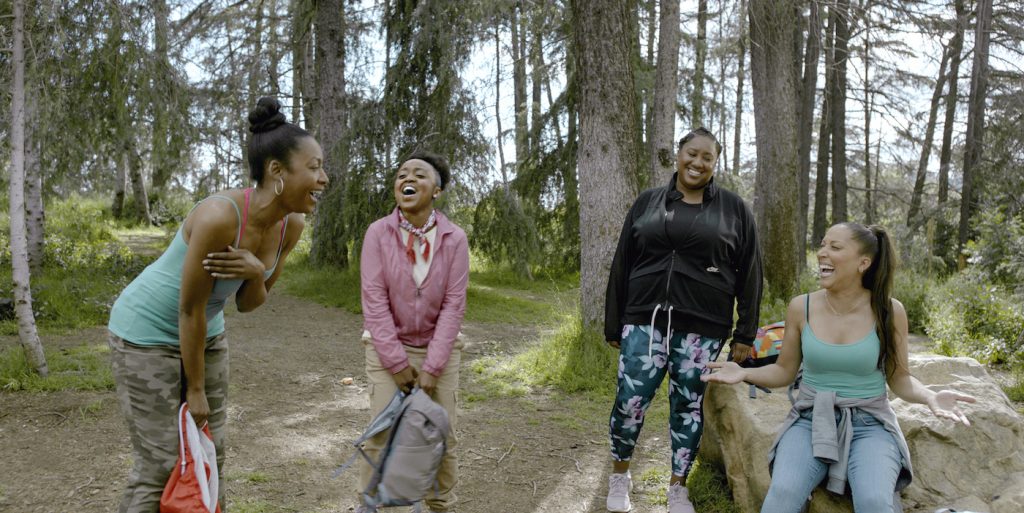 Davis signed on to helm A Black Lady Sketch Show and last month became the first Black woman to earn an Emmy nomination in the Variety Sketch Series directing category. The show itself, featuring Thede, Gabrielle Dennis, Quinta Brunson, and Ashley Nicole Black, also got nominated and snagged an Emmy nod for guest star Angela Bassett on the strength of her outrageously over-the-top star turn in the "Bad Bitch Support Group" sketch.
Davis, raised in Texas and now living in L.A.'s Los Feliz neighborhood, spoke with The Credits about how she steered A Black Lady Sketch Show and made the jokes pop.
You'd previously directed everything from relationship dramas to documentaries about the Flint, Michigan water crisis. A Black Lady Sketch Show, on the other hand, is straight-up comedy. Did you change your approach for this series?
There'd be times when my instinct might be to pull back and be more grounded, but I realized, that's not the world we're in with this show. As a filmmaker, my job is telling the story and if I commit to that, I feel like I can find my place in anything.
It had to help that you have such an experienced cast.
I was actually a little intimidated because I knew I'd be working with women who came up in this game. That's all they do. I wanted to make sure I did my job in telling the story but I also needed to support the funny. Like, if nobody laughs, then what am doing, right? So I pushed each sketch as far as I could go, even if it got weird, and that worked.
You shot more than 40 sketches plus interstitials in just four weeks. How is that even possible?
It's all kind of a blur, to be honest. We were doing two or three sketches a day and shot everything on location. Our design team was amazing in individualizing the location. But it was chaotic and exhausting. I did all my prep in advance and then over the weekends, I'd go back to my shot list and refresh myself. So yeah, the production was intense.
Did you want to create a different cinematic vibe for each bit?
Yeah. We used ARRI Alex cameras, which gave us a lot of latitude to create these different looks. And I realized the more I immersed myself into the genre of any given sketch, the better. If I pushed something to the point of becoming absurd, that's when it became really funny.
The show draws on specific experiences familiar to Black women. Even though mainstream audiences might not get all the references, the comedy still comes across. How did you make these stories so accessible?
I'm of the mind that the more specific you are, the more universal it can be. If I do my job right, the fact that our character is a Black lady won't make you feel isolated; it actually makes you feel more connected. With Black Lady Sketch Show, we're trying to change the narrative a little bit. People talk sometimes about the Angry Black Woman trope, but there's so much more variety when you step into these worlds we're creating.
You play around with a lot of different genres, from romantic comedies and horror films to 80's-era sitcoms with your homage to "227."
We shot three cameras and changed the aspect ratio for that sketch because we really committed to the sitcom format. I want to pull you into the journey right from the first frame. With "The Fog," which we shot in Griffith Park in L.A., it's horror. You hear the scary music and go "Oh I know what this is." It's our job to transport you into the world of each sketch so you feel like you're a part of it.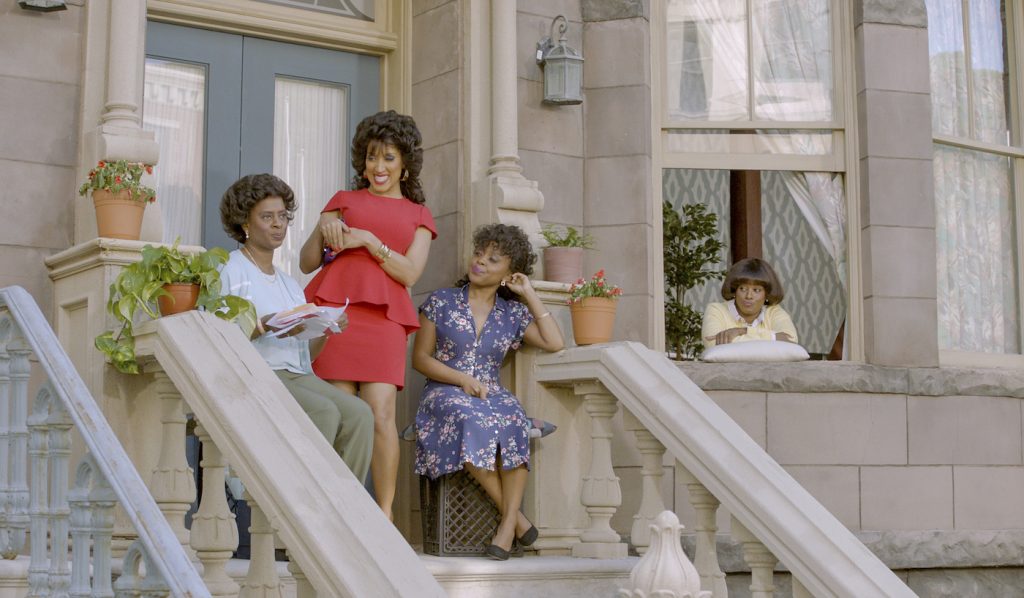 "The Invisible Spy," starring Ashley Nicole Black, looks like an action thriller while making an interesting point about people who get ignored because they don't seem glamorous.
Our Invisible Spy character is so regular looking that she's essentially invisible everywhere she goes, which makes her great at her job. Reading the script, it felt very much like James Bond, slick and cool, so it was super important to lean in all the way with the sweeping shots and the silhouettes and the fight scenes and all that. But the juxtaposition is, she's not only regular looking but also a plus-sized woman. We never see that in this [spy] genre. It's funny and absurd but then you walk away realizing it's a very strong commentary, about not only movies but women walking around in life who don't get as much attention because they're regular looking.
"Bad Bitch Support Group" is basically five women in a room talking in a hilariously vain way about the burden of having to wear high heels and fake eyelashes at all times. How did you steer the talent through those performances?
That's one of my favorite sketches because we all know these Kardashian-like women, the bad bitches of the world, but we never really see their point of view, their insecurities and anxieties and stuff. Performance-wise, we had five women sitting in a circle so the issue of eye-line became a huge thing, and also, how do you cover that? The reason we chose to [put the camera] in the center and have the characters talking to us directly was, A, to have that personal connection but also, it allowed us to say 'Okay let's do that again but try it this way.' This served the story but again, it also served the funny.
You're the first Black woman to be Emmy-nominated for directing a sketch or a variety show, but not that long ago, you worked in advertising and hated it. How did you forge a career path in an industry that has historically kept women and people of color on the sidelines?
It was a long grind. After I finished I spent five dreadful years in advertising working as a social media strategist, doing Facebook stuff. At one point I wrote in my work binder "Quit your day job." I saw that multiple times a day. And that's when I applied to AFI's Directing Workshop for Women and shot my short, Sugar. AFI opened so many doors, like doing shorts for Lifetime and then the LACMA [Los Angeles County Museum of Art] stuff.
You managed to stay focused on the work?
Yes. I've been incredibly lucky that people have recognized what's there within my work and I let that speak for itself. Also, one of my friends call me a skeptic, which I hate, but I guess it's true because I'm very careful to not put myself in situations where I'm not valued. If people aren't supporting me, I can't do my best work. And the one thing I've learned is, craft is craft. I'm obsessed with craft, and if you put that first, you can do a lot of different things.
Lena Waithe hired you to direct her Showtime series The Chi, your first commercial project. Insecure star-creator Issa Rae executive produces A Black Lady Sketch Show and of course, Robin Thede created the series. Do you think we're witnessing a sea change in Hollywood for women and people of color on TV?
For sure. Being nominated is incredible, especially in a category that has always been a white male-dominated space. But if we back it up a little bit and look at the fact that HBO decided to put this show on and allowed Robin to give all these opportunities to people, the work we've been able to do with that opportunity is evidence, I think, that slowly but surely, Hollywood is opening up.
What kind of role does A Black Lady Sketch Show play within the context of a nation that continues to struggle with racism?
I think the beauty of The Black Lady Sketch Show is in the joy and the fun of it. When audiences are allowed to see Black people as full human beings, that encourages the world to open up a little bit and say "What is happening in our country is not okay." Black Lady Sketch Show also empowers people on the front lines to see themselves in the show and say, "Yes I am valued, I am cool, I am funny I am all these things, and we're going to go demand justice and fight to be seen." So I think all of it works together.
Featured image: Dime Davis on the set of 'Black Lady Sketch Show.' Photo Credit: Anne Marie Fox/HBO