Ke Huy Quan & Harrison Ford's Oscars Hug, Ruth E. Carter's Historic Win & More
The vibes were very, very good at the 95th Academy Awards last night, and one of the moments that was most emblematic of the evening's warmth was the reunion between newly minted Oscar winner Ke Huy Quan and his Indiana Jones and the Temple of Doom co-star, a gentleman by the name of Harrison Ford.
The two performers embraced on the Dolby Theater Stage after Ford presented the Best Picture category, which Everything Everywhere All At Once won. It was a moment of pure joy and catharsis in a night filled with them, capping off an evening that saw EEAAO win seven awards (the most by a Best Picture winner since 2008's Slumdog Millionaire), including Michelle Yeoh's historic win for Best Actress and Jamie Lee Curtis's career-defining win for Best Supporting Actress. Both Yeoh and Curtis delivered moving speeches, as did Quan, whose heartfelt, emotional acceptance speech for his Best Supporting Actor win set the tone for the entire night. By the time Quan bounded on stage alongside the rest of the EEAAO cast, writer/directors Daniel Kwan and Daniel Scheinert, and producer Jonathan Wang for the night's final award, everything had gone right for him and the film, and the embrace with his former co-star seemed like the Hollywood-style ending the night deserved.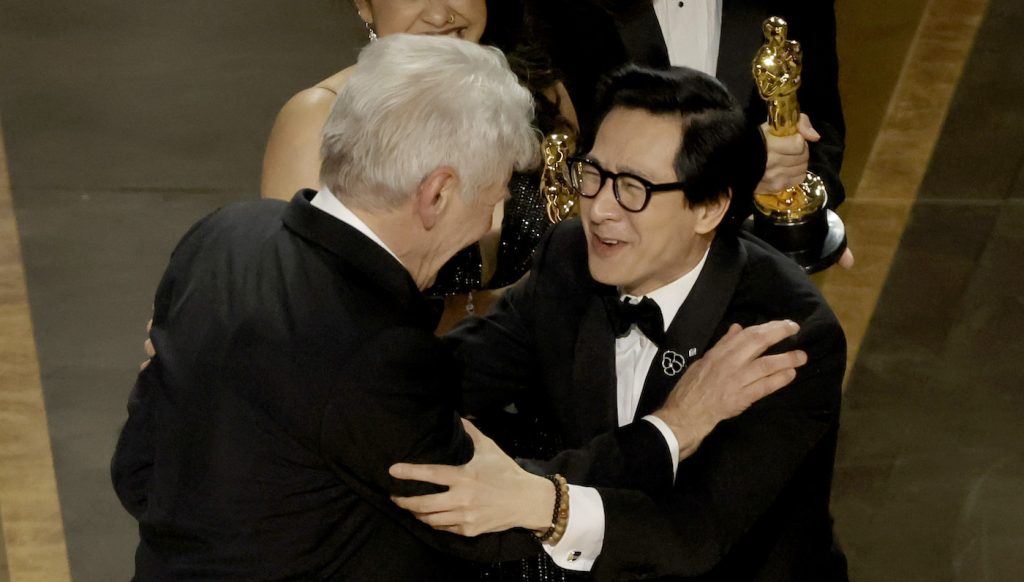 Forty years after starring together in Temple of Doom, Quan cheered as Ford took the stage to present the Best Picture category. Once Ford revealed that EEAAO had taken the night's final award, the duo was locked in a warm hug moments later. In Temple of Doom, Quan played Wan Li, a young pickpocket in Shanghai nicknamed Short Round, who settles on Indiana Jones as his next target. Although Quan would also co-star in another iconic film from the 1980s, The Goonies, his career didn't take off until decades later, when he was cast as Waymand Wang in the Daniels now historic sci-fi indie film. While every single person in the building and millions more at home were overjoyed for Quan, you have to imagine Ford was especially happy to be on hand to witness Quan's big night.
It was one glorious moment in a night that seemed lit from within by warmth. Another such moment was Ruth E. Carter's historic second Academy Award after winning Best Costume Design for her work in Black Panther: Wakanda Forever, four years after winning the same award for the first Black Panther film back in 2019. The second award made Carter the first Black woman to win multiple Oscars, and she dedicated the award to her mom, who recently passed away at the age of 101. "This past week, Mable Carter became an ancestor. This film prepared me for this moment. Chadwick, please take care of Mom," Carter said during her acceptance speech, referring, of course, to the late Chadwick Boseman, star of the first Black Panther, who tragically passed away in August of 2020 before he could get to work on the sequel.
It was, in sum, an uplifting, emotional evening, a far cry from last year's telecast. This year's Oscars will be remembered for moments as moving as Carter's speech and as joyous as Quan and Ford's reunion on stage. Love and acceptance, two of the foundational themes that powered Everything Everywhere All At Once to its historic night, also felt like the guiding principles of the entire evening.
For more on all things Oscars, check out these stories:
Michelle Yeoh Makes History & "Everything Everywhere All At Once" Wins Big
"Everything Everywhere All At Once" Hair & Makeup Team on Creating Looks For Every Dimension
"Everything Everywhere All At Once" Actress Stephanie Hsu on Landing the Role of a Lifetime
Oscar Nominee Brendan Fraser on his Deep Dive into "The Whale"
"The Whale" Oscar-Nominated Prosthetics Artist Adrien Morot Breaks the Mold
Featured image: HOLLYWOOD, CALIFORNIA – MARCH 12: Ke Huy Quan (R) accepts the award for Best Picture for "Everything Everywhere All at Once" from Harrison Ford onstage during the 95th Annual Academy Awards at Dolby Theatre on March 12, 2023 in Hollywood, California. (Photo by Kevin Winter/Getty Images)