"Everything Everywhere All At Once" Actress Stephanie Hsu on Landing the Role of a Lifetime
It's very difficult to describe Everything Everywhere All At Once, the new genre-busting indie from writer/directors Dan Kwan and Daniel Scheinert, collectively known as Daniels. It's a multiverse sci-fi brain twister, an action movie with Hong Kong-style fighting, and a moving family drama about a mother and daughter. It's about existential dread, love lost and found, and, of course, the importance of paying your taxes correctly and on time. Michelle Yeoh is at her career-best as matriarch Evelyn Wang, an Asian-American woman embroiled in an adventure across the multiverse trying to save humanity from supervillain Jobu Tupaki, who, it turns out, is an alternate version of her daughter Joy. 
Stephanie Hsu, known for her work on Broadway and as Mei in The Marvelous Mrs. Maisel, brings depth and flamboyance to Joy and Jobu Tupaki. Rounding out the cast are veteran performer James Hong as Evelyn's father, Ke Huy Quan, beloved for his roles as Data in The Goonies and Short Round in Indiana Jones and the Temple of Doom, as Evelyn's husband, and Jamie Lee Curtis as IRS agent Dierdre Beaubeirdra. 
It must have taken an incredible amount of focus, stamina, and collaboration for the cast and crew of Everything Everywhere All At Once to bring it to the screen. The Credits chatted with Stephanie Hsu about working with Daniels, and how the power of love and optimism plays an important part in this film destined to be a cult classic. 
The movie has both authenticity and craziness, and it couldn't exist without an incredible level of collaboration. You did daily warmups, and there were weekly awards for members of the crew. Can you talk a little bit more about how collaboration aided in the authenticity of this film? 
The communal experience is very important to the Daniels, and a non-hierarchical way of working is really important. That's why the PAs are listed in the credits first. It just makes everybody feel seen and cherished. Making films is crazy. It always gets stressful. Time is always running out, money is going out the window, but if you have a team or a film family that cares about one another and knows that they are valued, they will work harder. They will show up, and take care of one another when things get tough. It's so funny because this was my first feature, and I feel so lucky because that is so much of what I want for the world of filmmaking and art-making in general—this kindness and collaboration. That's just not how it is usually, it's really rarely like that, and people feel very bad about themselves, feel very stressed, feel very left behind. So I think that the reason why this movie is reaching audiences the way that it is, other than the fact that personally, I think it's brilliant, imaginative, and heartfelt, it's also because of the story and the value systems of the film—kindness, love, cherishing one another—are actually how we made the film. There's integrity there, and for some reason, that transference is happening, and audiences are feeling that. We all felt safe bringing anything and everything to the table, whatever our ideas were, and all of us wanted to give our all because we really believed in the project and in each other.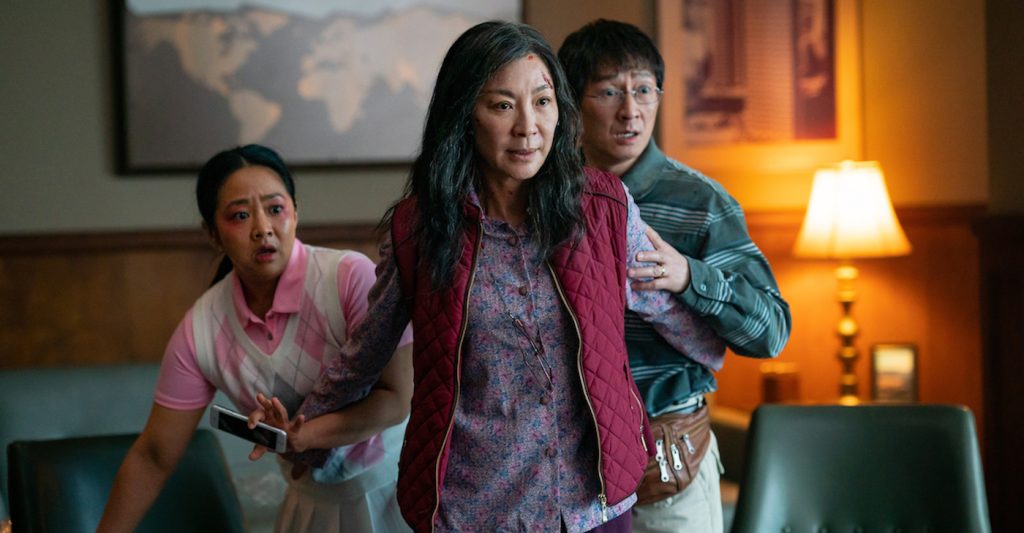 What kinds of warmups did you do? 
We did something called a hug tackle, and I remember I led an exercise called the mind meld, where you would say a word, any word, with a partner at the same time, and keep going, to try to get to the same word. That warmup is just fun because you have to surrender. You cannot possibly know what the other person is going to say, but you're listening and thinking at the same time. All the warmups were great, because it's a chance for all of us to cross departments, and have really focused time with each other. 
Everyone in the whole cast and crew took part? 
Oh yeah. All the cast, all of the crew, all of the camera crew, all the PAs, sometimes the chefs and folks at craft services would come, too.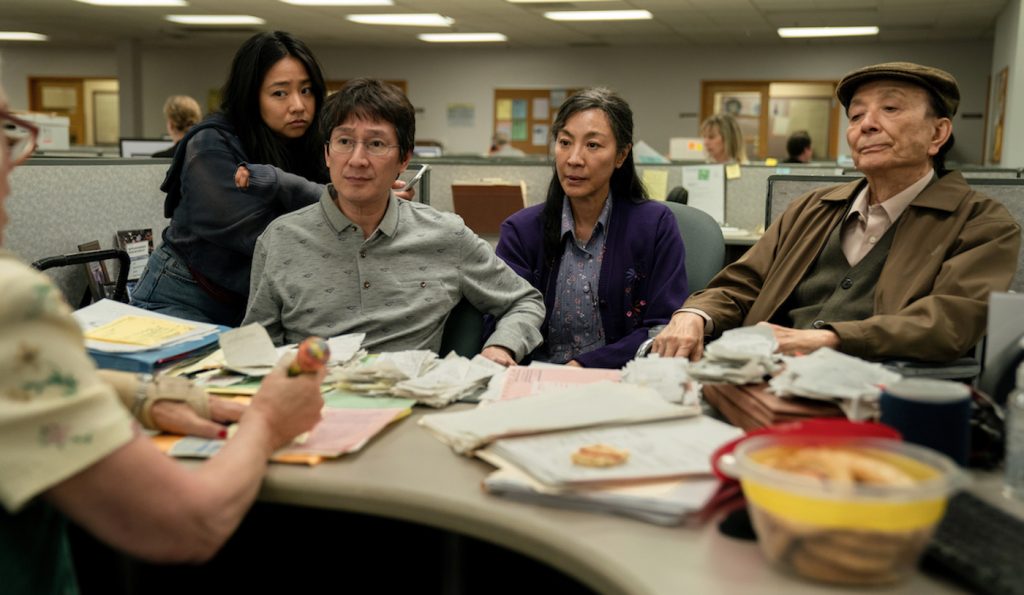 There are so many aspects of the mother/daughter relationship that are represented both literally and metaphorically in the film. How much did the cast and the Daniels talk about that? 
For me, the mother/daughter relationship, I knew it in my bones. I grew up with an immigrant mother. I was her only child, and it was mostly just me and her growing up. There's just a way that strong women can love you so much and truly fail at showing it every step of the way. It's not just Asian mothers, it's not just immigrant mothers, it's just mothers. And I think mother/daughter relationships are so much more heightened, because of beauty standards and because you want the best for your child, but you don't realize that that's actually not in your control whatsoever. But interestingly enough, I don't think we talked about it that much, because we all just knew it. It was kind of an unspoken starting point for all of us. 
Nihilism is based on the belief that nothing matters. This could easily be our approach to issues like global warming and war, but it gets, in one way, to showing that we're both the problem and the solution. How did that play into how you approached your role? 
I would say that what we talked about even more than the mother/daughter relationship was this concept of nihilism, and how an agent of chaos might make more chaos if nothing matters and nothing has any significance. I like to say that nihilism saved my life in some ways because it's a very heavy time. It was a heavy time two years ago, when we were filming, it is a heavier time now. And I feel that myself and so many people, so many of my peers, so desperately want to fix it all. We can just feel so helpless, while also trying to figure out ways to help. Nihilism suggests the possibility that nothing we do matters, and so all we can do is try our very best. There's no winning here. There's no finish line. It's just going to keep going like this, there are going to be more and more generations of suffering, but if we come here and know that we gave it our all, or gave it something, then we're just making it a little bit better as much as we are able. 
What part of making Everything Everywhere All At Once has been most integrated into you both personally and professionally?
I feel like I snuck in through the backdoor of Hollywood with this movie since this was my first feature. I could have never expected that this would be receiving the praise that it's receiving, and that beyond praise, that people really get it, and are really moved by it, and inspired by it. That is my dream, to put things out in the world that shift people and move people. I feel that this journey is such an affirmation that it is possible to work with people you love and admire, and who are kind and follow the art, not follow the power. I just feel excited to keep moving in that direction, because it hasn't proven me wrong at all, you know, and it has only brought me beautiful experiences. 
Everything Everywhere All At Once is in theaters now across the country.  
Featured image: tephanie Hsu. Photo Credit: Allyson Riggs