The Marvelous Mrs. Maisel's Emmy-Nominated Hair & Makeup Team on Reimagining the 1950s
Amy Sherman-Palladino's 1950s-era follow-up to Gilmore Girls, The Marvelous Mrs. Maisel, has been a hit for Amazon, beloved by viewers and a heavyweight at last year's Emmys. In its second season, the show further explores Midge's (Rachel Brosnahan) uptown-downtown life as a budding comedian, moderately dutiful daughter, and young single mother getting back into dating. Set in an era that just preceded Manhattan's most idolized decades, the show's style is crisply, consistently 1950s, all wasp waists, pastels, and precisely applied lipstick. The aesthetic is as ingenuously appealing as Midge's mile-a-minute antics, and it's no surprise that Jerry DeCarlo, the show's hair department head, and Patricia Regan, who leads makeup, are both nominated for Emmys this year, for the show's fourth episode, "We're Going to the Catskills!"
At home in her parents expansive, tasteful Upper West Side apartment, Midge is coiffed and chic, a youthful counterpart to her elegant mother, Rose (Marin Hinkle). On stages downtown, she shifts, taking the mic with looser hair and makeup that forgoes her daylight primness. When Midge heads to a Catskills retreat with her family — think Dirty Dancing, but a couple of decades more retro — we see new sides of the Weissman-Maisel clan. Or, one new side, as Rose is as rigidly done up as ever, spending as much time gossiping under the dryers in the on-site beauty parlor as she does doing anything in the great outdoors. However, making up for Rose's city-to-country consistency are a bevy of friends and frenemies sashaying through bathing suit contests, dances, and Simon Says. It's a swirl of waves and curls and lipstick, set atop Skittles-hued madras.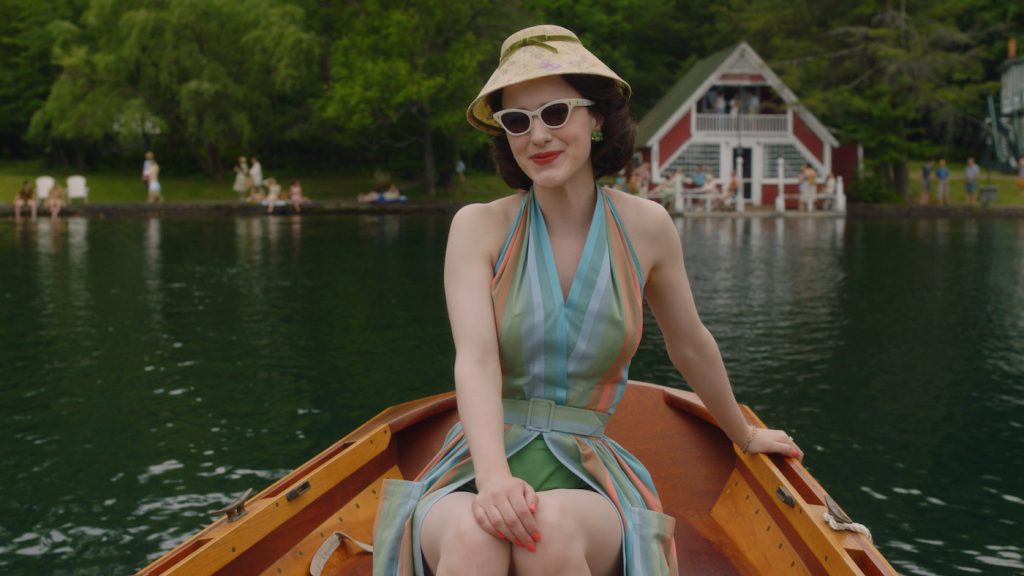 This season opened in Paris, where Regan did Midge up in YSL 201 and Givenchy, in a nod to the city, but "for our Catskills scenes, I decided to introduce brighter, more vibrant reds and corals, to celebrate summer," she says. DeCarlo, who had his work cut out for him given that what feels like the bulk of the family countryside holiday takes place in the hair salon, worked with the casting department to hire the episode's many extras with a suitable length of hair. "You can take longer hair and trick it to make it look shorter," he says, "but with the Catskills, because they're playing tennis and they're swimming, we're going to need them in a looser hairstyle and closer to the correct length, so it can blow around and have a little more movement."
When DeCarlo styles Brosnahan's wigs (there are three, so that one can be worn while the other is worked on, with the third in reserve in case of lace breakage emergency), he uses contemporary rollers and hot irons that can accurately replicate the period's locks for the correct sizes of curl. In the Catskills salon scenes, however, DeCarlo put the ladies together as if they were really in a beauty shop in 1959, sourcing historic hairpins and all. In a bit of life imitating art, these turned out to have a lifespan beyond their moments on camera. "Those vintage pins, I do have to order them from a company in California," DeCarlo says, "but a lot of our hairdressers are now using them because they are superior over the regular pins."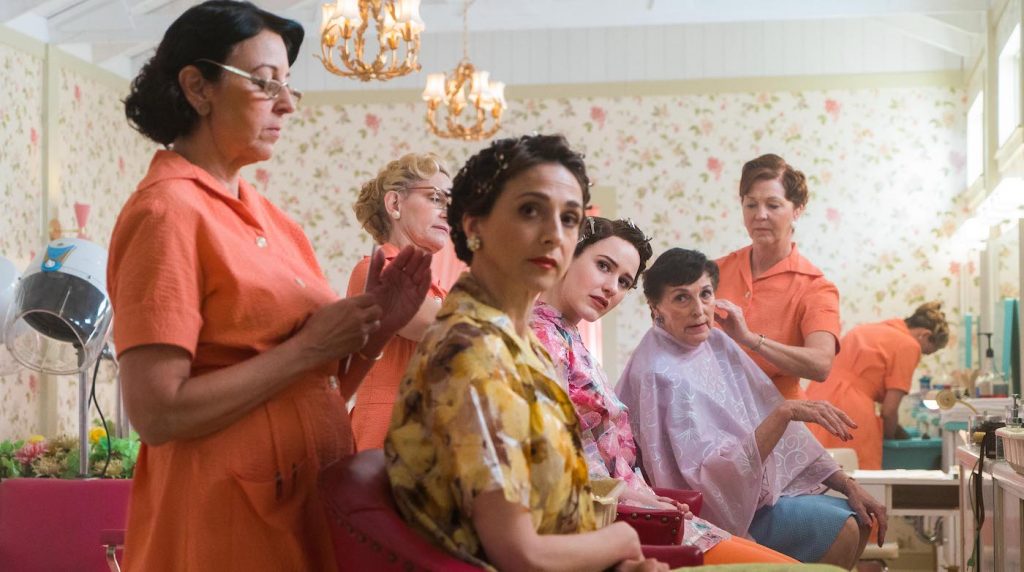 Whether in Manhattan or the mountains, the aesthetic generational symmetry between Midge and Rose never fails to charm. It's also deliberate, as Midge is "a daughter of a mother with profound similarities in their daily beauty regimen," Regan points out. She says she was able to develop the women's' looks organically.  But for DeCarlo, who has worked on six different projects set in this era, including Carol, creating counterpart hairstyles meant giving Midge a softer, late 1950s hairstyle that's ready to graduate into the next decade, while taking Rose's three-quarter wig (this is incorporated into the back, and the front of her hair seen in the show is Hinkle's own) from the elevated, 1940s-era look she sported in the early episodes of Mrs. Maisel into a style more firmly reminiscent of the next decade's early years.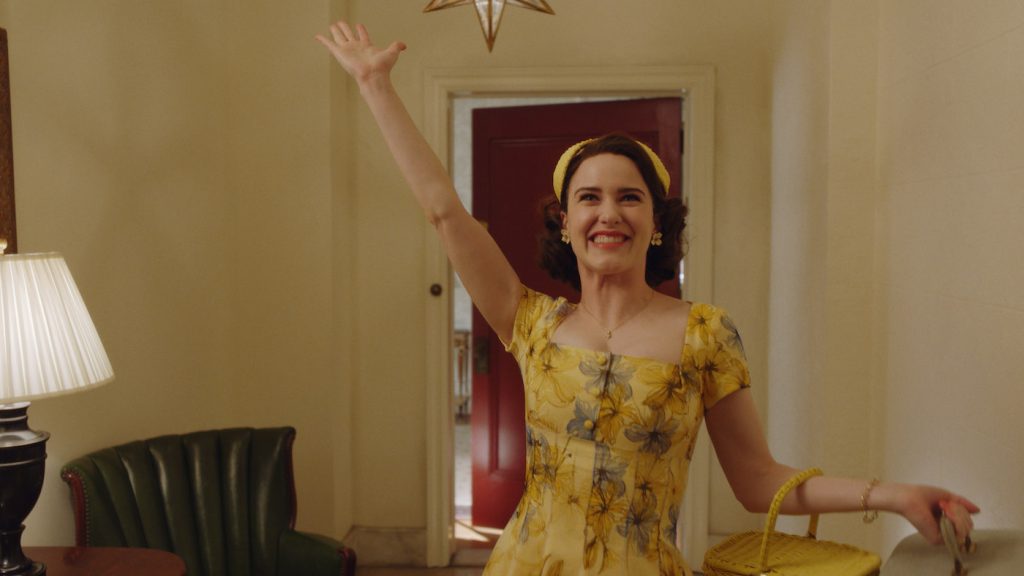 "I keep an entire morgue in my computer of real people's photographs, home photographs in America, as well as the beauty shop stuff," DeCarlo says. His years of research also include a trove of salon magazines that date back to 1919, along with hundreds of vintage family photo albums collected from kin, friends, and flea markets. Not everyone went to the beauty salon every week, and historic resources like these offer insight for "putting the correct hairstyle for a decade in the correct place," DeCarlo says. When Midge heads downtown to perform, her look loosens up, along with her audience's. "We wanted a simpler look as she would explore becoming a comedian in a new and bit more gritty — for lack of a better word — environment," says Regan. Whether in the club or the Catskills, this nuanced, setting-dependent approach to styling Midge and her retinue has earned its accolades, lending the reimagined era an aesthetic authenticity. "Mrs. Maisel is really heightened reality," DeCarlo points out. "Keep in mind that that's one look. The other look is reality, and that's America."
Featured image: Midge's (Rachel Brosnahan) appointment at the hair salon. Photo by Nicole Rivellie. Courtesy Amazon Studios.