"The Little Mermaid" Hair Designer Camille Friend on Creating Ariel's Locks From Halle Bailey's Natural Hair
When director Rob Marshall cast Halle Bailey to play Ariel in the new live-action film The Little Mermaid, he knew it was important to both bring mermaid energy and believability to everything about this updated version of the character, and that included Halle's hair. Of all the memorable aspects of Ariel from the 1989 animated feature, her redheaded, flowing locks became one of the most iconic.   
Marshall enlisted hair designer and educator Camille Friend to create an equally iconic design for Ariel's hair in the new film, which follows our mermaid princess as her curiosity about the world on land is amplified by her encounter with Eric (Jonah Hauer-King), the prince of a fictitious Caribbean island kingdom. She gives up her voice for a pair of legs in a deal with sea witch Ursula (Melissa McCarthy) but must share a kiss of "true love" within three days or lose her soul to Ursula forever. 
Friend was the perfect person to create looks for Halle's Ariel, both on land and sea. She had recently come off her Oscar-nominated work as hair department head for Black Panther: Wakanda Forever, much of which was filmed in and underwater. Also, as the founder of Hair Scholars, which offers master classes and mentorships to hairstylists wanting a career in entertainment, Friend was an expert in working with all textures of hair.  
The Credits caught up with Friend about how she collaborated with Bailey and the hair, makeup, and special effects teams to create an Ariel that audiences have embraced as the newest live-action Disney princess. 
Your credit on The Little Mermaid is as hair designer and personal stylist to Halle Bailey. How did you approach this role, and what was its scope?
They had already started a bit when I came on. Disney and Halle herself were looking for somebody who could design her look and just be there for her. I got the call in LA, and I started with a sketch artist, sending them my thoughts and ideas. We weren't sure if we were going to wig her or what. After that, I went to meet Halle and her family and really got a sense of who she is. She said, "Camille,  I really want to wear my natural hair. Can we figure this out?" And I said, "Yeah, we can figure it out." So then I went to London, and we just started really playing with color and texture. I want to give so much credit to Rob Marshall and Disney. They were so kind and patient. Rob said, "Camille, work the process. Just keep going." We started camera testing things, and some things worked, some didn't, but he'd ask, "What was successful from this test?" It was really beautiful to have that kind of time to figure it out and, in the end, to be able to use Halle's own hair and make the look really her own.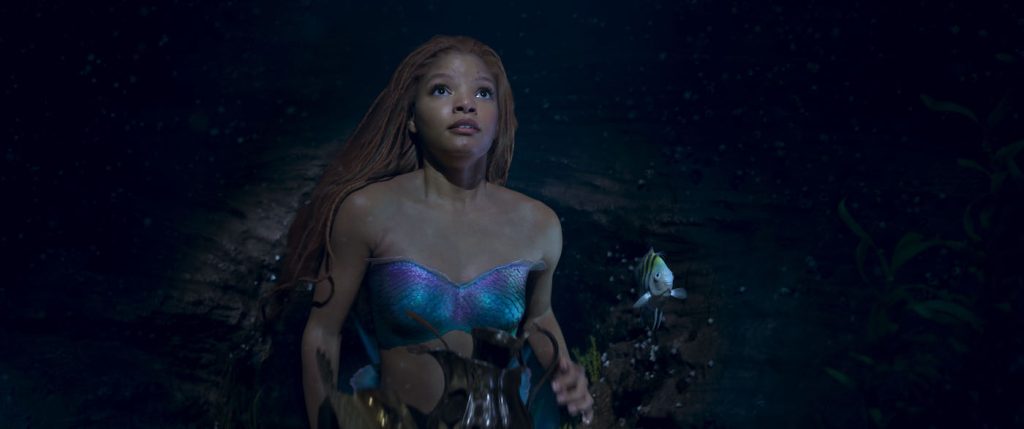 How did you collaborate with hair and makeup stylist Peter Swords King and costume designer Colleen Atwood to bring various aspects of Ariel's look together and be cohesive?
I worked really closely with Colleen and Peter. It's tough sometimes coming in on a movie, but Peter and his team welcomed me more than any team I've ever worked with, and it was a great collaboration from start to finish. Colleen laid out everything and discussed it all with me, "When she gets on land, is she going to wear a headband? What's that going to look like? What's going to work with her outfit? What's going to look pretty on her skin?" 
Speaking of looking best against her skin, how did you come up with that great color? 
Well, no matter what character I design, I start looking at a couple of things, including their facial shape, eye color, skin tone, and the undertone in their skin. What's going to look best on them? If you design a character and it doesn't look good on your actor, you've failed anyway. That's why we decided to do more of a mix of gold and ginger or an orange kind of red, which looked beautiful on Halle's skin. All of those things went into the design process and working with Peter and Colleen.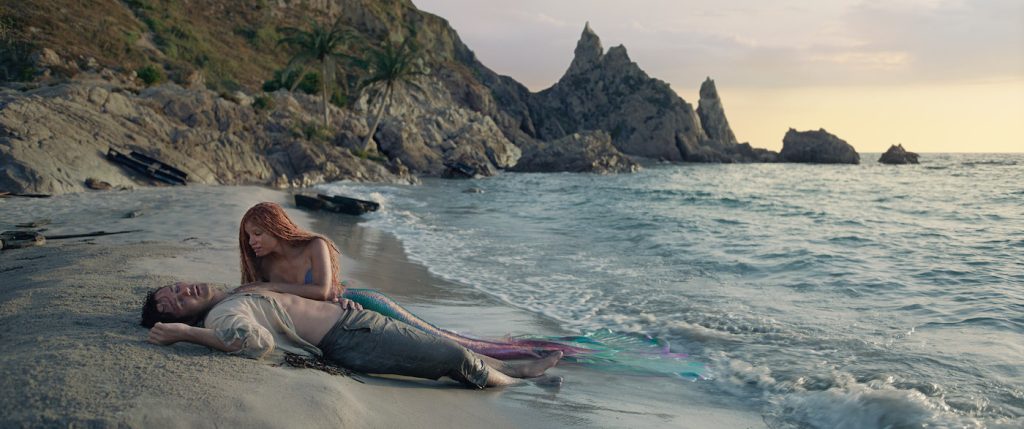 Ariel wears cowrie shells in her hair. Did the fictitious Caribbean location where The Little Mermaid is based influence your designs? 
Well, we did a lot of different research on the Caribbean and what's there. What we wanted to do is just play with little accouterments in her hair, and there are all kinds of different things in there. There are gold pieces and little jade pieces, and they're all sewn in her hair, as are the shells, and it's just reflective of who she is, but we didn't want them to be right in the front where every time you see her, it's there. It's all something just to give a little personality. So it peeks out here and there, kind of like how the water moves. We wanted to keep all those fun elements because she's a girl.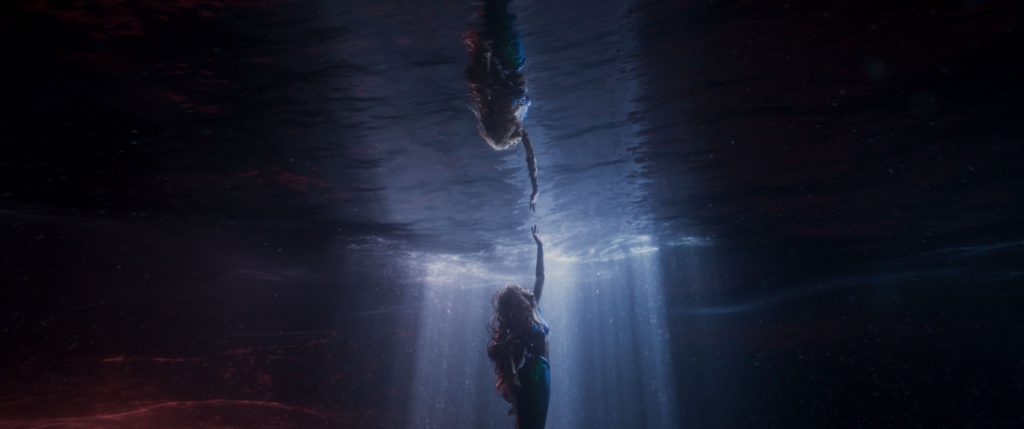 Ariel's hair is a sort of a spin on Goddess locs. Can you talk specifics about how you came to the look?
Originally, there was a lot of discussion about putting a wig on her, so we started out trying that, but I'm the professional, and I know Halle's hair is to her waist. It's 24 inches of locks. Where do you hide these locks under a wig? You can wrap it tight, but it still creates bulk in the hair. I told Rob, "If we do a wig every scene, you're going to have to go in and reduce the size of her head so it can look natural." He didn't want to do that, so we moved on. Then I chose shading instead of coloring her whole head and just went completely custom when adding hair extensions. It's 30-inch, custom-colored, and custom-permed hair, which was done by one of my secret weapons, Helene Stahl, who owns Extensions Plus. She does beautiful custom work. She and the girls in her place are artisans. We probably spent $100,000 or $150,000 on hair. We had to take the extensions out every 6 to 8 weeks and start again with all-new hair. I'm so grateful to the producers who understood the process and made it happen.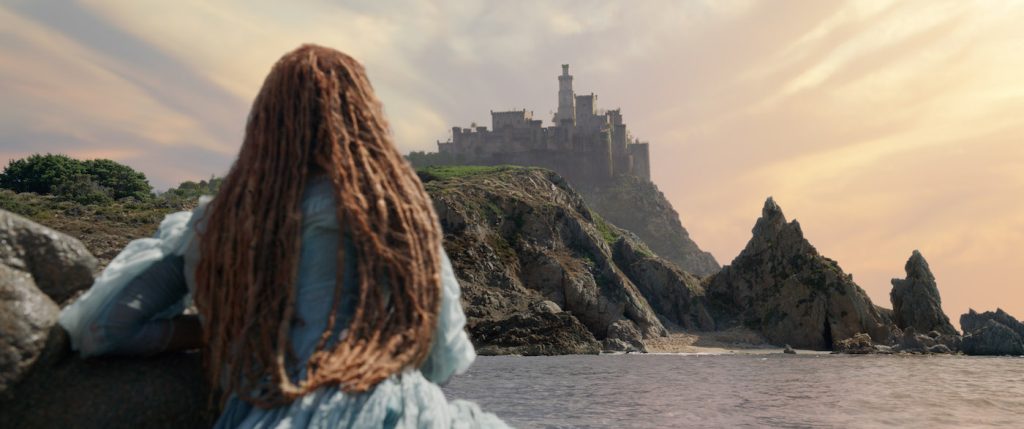 For this production, the underwater scenes were shot on land, wet-for-dry, as they call it. The performers used skullcap, and their hair was created inside the computer. Was that the case for Halle as well? 
Yes, but it goes in and out, so we'd have a scene where part of it was shot that way, and part was with Halle's hair, so I worked with the effects department before we even started shooting. I built the effects team a wig, a replica of her hair, so they had something tactile. That way, they could see the color, put it in water, or do whatever they needed with it. I'd never done that before. From there, it was very back and forth to really dial in the look. Something else that Rob Marshall did that was new for me was have his editor Wyatt Smith show me where the cuts would be. I got to see where the live-action would switch to visual effects, back and forth in the editing.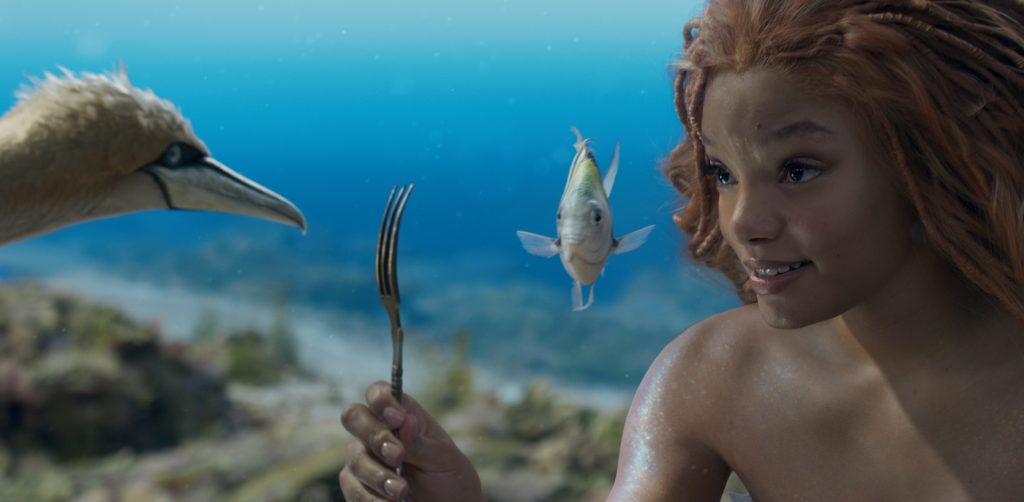 Now that the film is in theaters, have you seen a screening and gotten feedback on Halle's finished look from fans? 
I haven't seen the finished film yet, because I'm working all the time, but the day the first trailer came out was amazing. Instagram had so many posts of joyful little girls, even some talking about Halle's hair, and my friends sent me so many of those clips. I just laid in bed and cried. I do movies because I love making movies, but when you have the added bonus that you touch people's hearts? It's overwhelming. I really have a great job. 
The Little Mermaid is in theaters now. 
For more stories on Century Studios, Searchlight Pictures, Marvel Studios and what's streaming or coming to
Disney+, check these out:
"American Born Chinese" Production Design Team Cindy Chao & Michele Yu's Dazzling Details
A New "Secret Invasion" Teaser Reveals Nick Fury's Fight to Ferret Out Infiltrating Aliens
New "Indiana Jones and the Dial of Destiny" Featurette Whips Up Excitement
Featured image: Halle Bailey as Ariel in Disney's live-action THE LITTLE MERMAID. Photo by Giles Keyte. © 2023 Disney Enterprises, Inc. All Rights Reserved.