Enlightening Panels Highlight the Launch of The Latinx House at Sundance
One of the most successful, well-received experiences at the 2020 Sundance Film Festival was the official launch of The Latinx House. Their mission is to bring artists, organizers, thought leaders, and other supporters together to address issues that impact the Latinx community and create narratives that shift culture. A worthy aim, given the statistics. The Latinx population is the largest ethnic minority in the country, but erasure and misrepresentation onscreen continue to be a problem. Latinx audiences have the highest rate of moviegoing among ethnic groups in the US. Seeing themselves onscreen, and seeing themselves accurately, is something that would benefit everyone. MPA members Netflix, WarnerMedia and Disney were Latinx House sponsors.
The Latinx House at Sundance hosted a weekend of events from January 24th through the 26th, including parties and panels that celebrated filmmakers, content creators, and activists in the Latinx community. They gathered at a festive, welcoming spot in the heart of downtown Park City, filled with art, music, and books. Advocates and organizations that work toward better representation of Latinx culture in media, and more authentic portrayals of their community, gathered to discuss the way forward.
Co-founders Mónica Ramírez, Olga Segura, and Alex Kondracke were inspired to create a designated space for the Latinx community, and the result is the first Latinx initiative to become an official associate partner with the Sundance Institute. A great deal of planning, and connecting with like-minded creatives and executives in media, went into the assortment of events offered throughout the weekend. About the new space, Eva Longoria enthused, "This is my first time at Sundance in my 20+ career in the industry. I never felt welcome before, until now, with The Latinx House." Just a few of the celebrities who frequented the space, or took part in panels were: Lin-Manuel Miranda, Wilmer Valderrama, Daveed Diggs, Rosanna Arquette, America Ferrera, Gina Rodriguez, Eva Longoria, Patricia Cardoso, Angela Robinson, Heidi Ewing, and Patricia Riggen.
One highlight was the Latinx Unity panel, presented by Hispanics in Philanthropy and YouTube. It featured actor and entrepreneur Wilmer Valderrama, YouTuber Paula Galindo, Endeavor Content partner Alexis Garcia, filmmakers Friesly Soberanis and Alex Rivera, and The Latinx House co-founder Kondracke. They discussed new platforms and possibilities for content creation within the Latinx Community, highlighting how the use of non-traditional platforms can spark community-building. Special remarks were given by Congressional Hispanic Caucus Chairman Joaquin Castro. Representative Castro spoke about diversity and portrayal in the industry, referencing the fact that, in 1973, Marlon Brando rejected his Academy Award. He did it in solidarity with the Native Americans, who had been largely demonized on film. "I would say we have the same issue for Latinos in the media. We are taking on this issue headfirst in Washington. We want to change the numbers and diversity, but we also want to change the portrayal." Castro continued, "A politician says that Latinos are rapists or murderers, then people see that represented on TV and film. There is a cost for all of us when that happens. This is not to say that Hollywood is to blame, but they can help shift the way we are seen."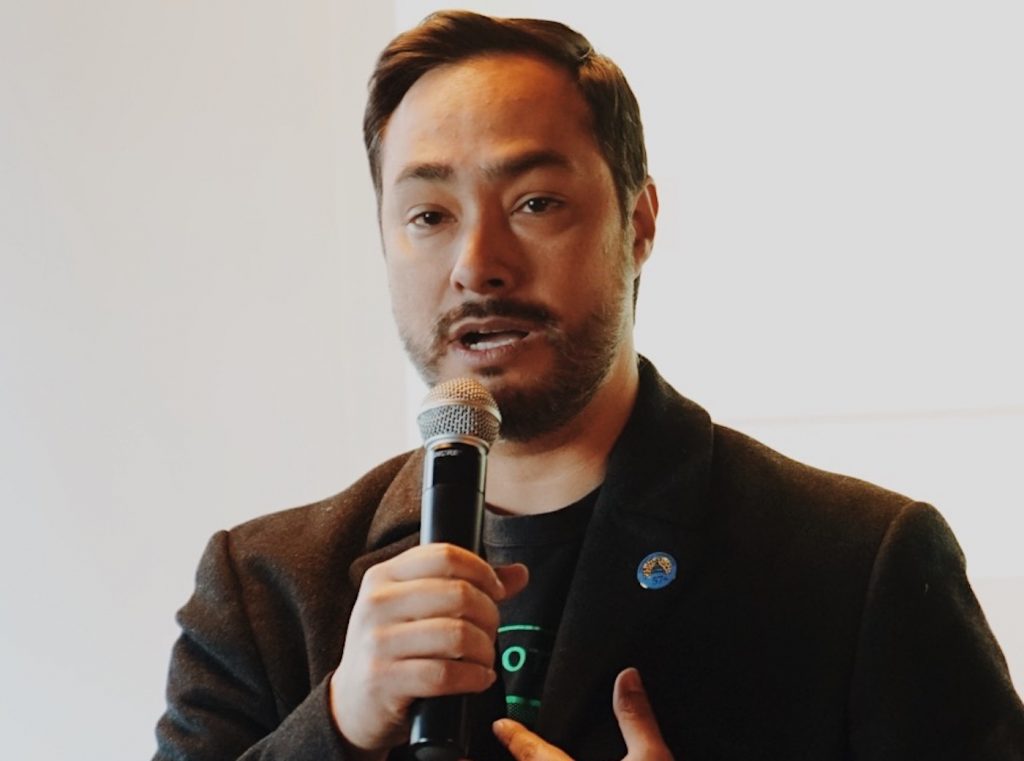 Eva Longoria echoed Castro's thoughts when she spoke at a panel called Inclusion in Film Festivals: A Call to Action to Change the Narrative (TIME'S UP and USC Annenberg Inclusion Initiative). Said Longoria, "We need our stories told. Especially now, with what's happening in our country. The Latino community is public enemy number one right now. If you think the media has nothing to do with children in cages right now, you are wrong. The imprint we have with narratives and movies is important." She also sent out a call to action for those women who get in change-making positions. "Once you are a woman in power, please tell our stories. Don't turn your back on your community. We have the power to tell this country who we are as Latinos, as women. That's our contribution to this world."
A number of charitable and activist organizations were in attendance. Benjamin Lopez, of the National Association of Latino Independent Producers, and Stacey Smith, of the Annenberg Inclusion Initiative, who partnered on a study about Latinos in Film, were present. Smith spoke on the Inclusion in Film Festivals panel, in which she discussed the new study. It examines the gender, race, and ethnicity of narrative film directors, festival programmers, and executives, from 2017 to 2019. Explained Smith, "We not only looked at female directors but also female executives. Inclusion amongst those who evaluate content is essential. When film festivals are inclusive of women of color as programmers, there is a clear impact on the directors who get to participate. This study drives home the need to expand opportunities for women festival programmers."
LA Collab's Ivette Rodriguez and Beatriz Aceveda spoke at a panel called LA Collab: Advancing Latinx Access and Representation in Entertainment Through Collective Impact. Joining them were Axel Caballero of WarnerMedia's 150, Sol Trujillo and Ana Valdez of Latino Donor Collaborative, and director of the Sundance Institute, Keri Putnam. They unveiled their plans to double Latinx representation in Hollywood by 2030. This session was hosted by Annenberg Foundation's PledgeLA, with LA Mayor Eric Garcetti offered opening remarks. He closed the panel citing the Latinx community's contributions to the culture and encouraged creators to continue to reach out to one another.
Castro joined Ramírez and Luis A. Miranda Jr. in Building Latinx Unity Through Film, in which they talked about the potential in films that offer true representations of the Latinx experience. Speaking about driving social change, Castro said, "There's a cost that all of us bear. There's a perception that Americans have of who we are, and it's not accurate, and it's not fair, and the way we change that is through entertainment." Added Miranda Jr., "On the one hand, it's a great way for corporate America to get involved and help us. The Latinx House provides the opportunity for us to gather, and for others to support us and our voices."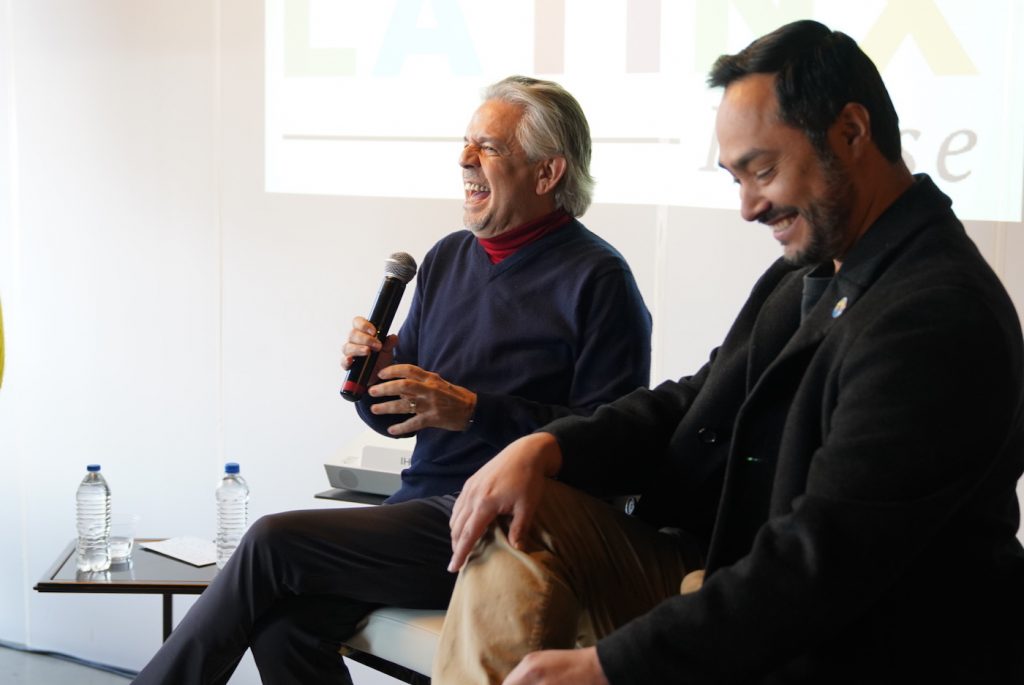 Planned Parenthood brought a discussion called Challenging Taboos Through Entertainment to The Latinx House. The Black List's Franklin Leonard joined Sundance Institute's Screenwriters Lab Fellow, Danya Jimenez, in speaking about The Latinx List, launched this summer, on the panel The Latinx List: Providing a Platform for Latinx Writers. Patricia Cardoso, Patricia Riggen, and Jacqueline Priego explored their experiences as filmmakers with moderator and Latinx House co-founder Olga Segura, in Latinas Leading in Cinema. Netflix sponsored a fireside chat with America Ferrera about her new show on the platform called Gentefied, which streams on February 21st.
It's not possible to do justice to all the spirited discussions, nor capture the enthusiasm experienced at The Latinx House during the fest. America Ferrera is just one of many Latinx people working in Hollywood who said the space made all the difference to their Sundance experience. Founders Ramírez, Segura, and Kondracke promise this is the first of many years bringing together the community to make film and TV better. They are off to a very good start. 
Featured image: PARK CITY, UTAH – JANUARY 24: America Ferrera and Eva Longoria attend The Latinx House And Netflix Host Their Joint Kick-off Party At The 2020 Sundance Film Festival on January 24, 2020 in Park City, Utah. (Photo by Owen Hoffmann/Getty Images for The Latinx House)