"Dungeons & Dragons: Honor Among Thieves" Sound Mixer Ronan Hill's Formula for Fantastic Sounding Fantasy
Ronan Hill has a way with dragons. The Belfast-based production sound mixer is best known for his tenure on HBO's Game of Thrones, where he and the sound teams tuned the rich, resonating sonic palettes across its eight epic seasons, winning five Emmys along the way. Hill returns to familiar territory with Dungeons & Dragons: Honor Among Thieves, from directors John Francis Daley and Jonathan Goldstein, a film that refreshingly spins the popular fantasy role-playing game with a cast of enjoyable characters led by Chris Pine as Edgin, a charming bard and master thief who teams up with Holga (Michelle Rodriquez), a Barbarian warrior, Simon (Justice Smith), a young sorcerer, and Doric (Sophia Lillis), a shape-shifting druid. They do battle with any number of beasts and baddies, including Sofina (Daisy Head), a Red Wizard with a serious mean streak.
The Credits caught up with Hill to discuss Dungeons & Dragons, reminisce about GoT, the art of mixing sound in big action set pieces, and more.
It's fitting you mixed Honor Among Thieves following your work on Game of Thrones. Seems you've become the go-to Northern Ireland production sound mixer for epic fantasy.
I have been fortunate to attract good work. Dungeons & Dragons is a good example. It had many similar elements to Game of Thrones, being shot at Titanic Studios in Belfast. We had a few tricky costumes and a fair amount of location work. Some avid viewers may notice a revamp of the King's Landing set used in Season 8 of Game of Thrones.
Oh wow, that must have brought back memories. Sticking with GoT for a moment, do you have a favorite experience? 
There are so many memories. The Red Wedding, Hardhome, and Battle of the Bastards, to name but a few. There were so many locations familiar to me growing up, but there were also the locations when we traveled, like standing on a glacier in Iceland while shooting Beyond the Wall. This is something I wouldn't expect to experience again.
Not sure how many people know this, but your brother Conleth was Lord Varys. Did you know what was going to happen to his character early on?
I knew everything that was going to happen in Season 8, having received all the scripts. I knew before my brother knew what Varys and all the characters' fates would be. This was a mixed blessing. Firstly, being able to read the scripts and having the knowledge but secondly, being sworn to secrecy by my NDA. You'd never want to be responsible for that secrecy breach!
Honor Among Thieves has a large ensemble as well. Did the directors suggest anything in terms of the overall sound approach?
For the most part, as a production sound mixer, you're there to record the dialogue and to ensure you tackle any issues which may cause problems. On a job of this scale, I would rarely engage with directors or producers unless I think their involvement can solve a problem I can't solve alone.
The period wardrobe was created by costume designer Amanda Monk. Did you two address anything earlier to make lavalier placement more manageable?
The film was shot during Covid, and as a consequence, prep was very limited. We were advised to work using our best practices and experience to achieve the best results. We always have good cooperation from the costume department, and they were very helpful in finding lavalier positions that worked for both them and us.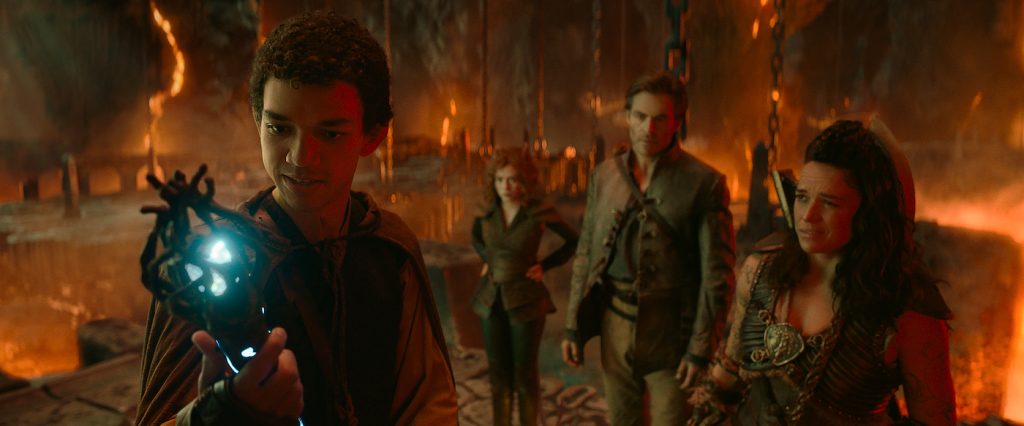 Honor Among Thieves has several thrilling action sequences. How did you approach the fighting sequences?
We are always looking for the best microphone positions, whether that is boom, plant, or lav. For action, this may mean asking the costume department to sow the lavs into clothes and ensure there is enough slack on the cable for the required action or stunts.
Speaking of "we," who was on the sound team?
I had an excellent team and was fortunate to have two first assistants, a second assistant, and a trainee. Daniel McCabe was the key boom operator, Guillaume Beauron was our second boom operator, Jonathan Riddell was our second assistant, and Oscar Pescott was our trainee. This allowed us to have two booms on the floor, and Jonathan could concentrate on fitting the radio mics off-set, and Oscar managed headsets and gained more experience on any third boom and with the stereo pair.
One of the more intense battle scenes is when the heroes go underground to find an enchanted helmet. How did your team cover the scene?
This was a large SFX and VFX set with a part-set build. There were a lot of elements. Again, we are using lavs in the best-tested positions and taking full advantage of the green screens to get the booms as close as possible. It was a joy to see the finished scene.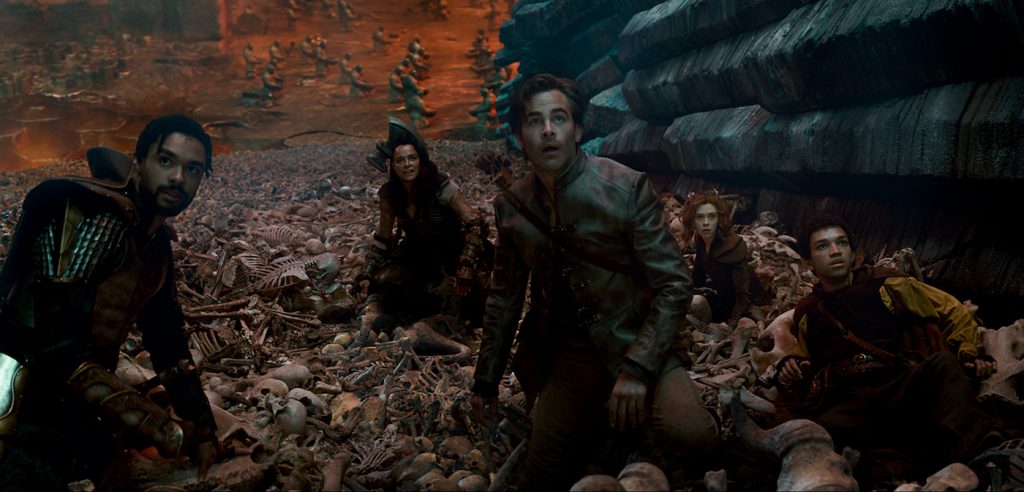 For exterior locations, were there any hurdles in recording the production sound?
One scene that sticks out for me here was with Edgan and Holga on horseback. This was shot from a tracking vehicle. I had spotted the tracking vehicle earlier in the day and raised my concerns with directors John and Jonathan that it was not an electric vehicle and would be problematic. Later when we were preparing to shoot the scene, this became quite apparent as the vehicle was traveling uphill. John was not happy as he didn't want to ADR the scene and, after a discussion, decided to flip the scene direction to descend the hill. The tracking vehicle driver also helped by freewheeling the vehicle down the hill so no engine was used, and we all went home happy!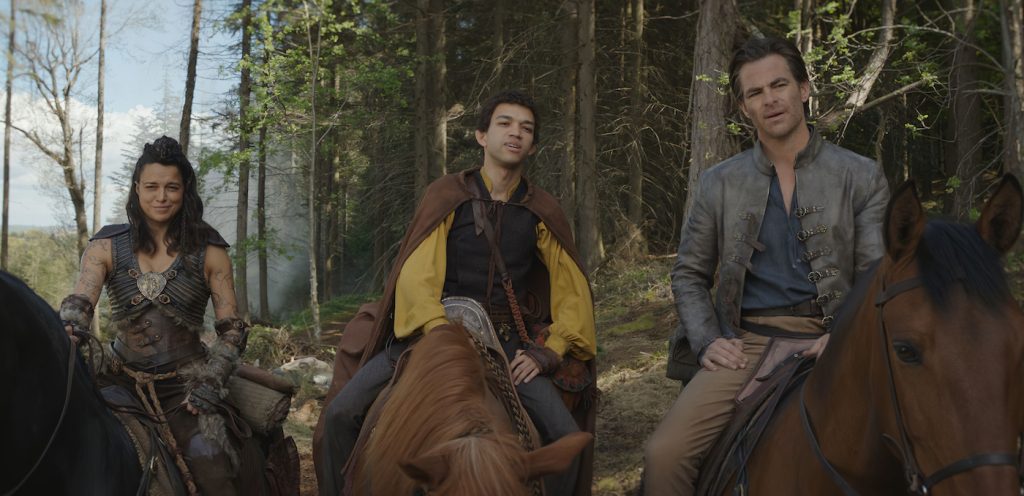 The film has plenty of funny moments as well. One, in particular, is a graveyard scene where the heroes dig up and speak to several corpses. How did that sequence take shape?
This may surprise you, but the corpses were real actors wearing radio mics and earpieces.
That's some fantastic special effects makeup and VFX work going on. Everyone nailed that scene. Another entertaining sequence is the climactic battle with the Red Wizard. When VFX comes into play, what's the best course for sound?
I'll always have a second boom if there is any benefit. I will also have a stereo pair recording stereo effects for on-camera action or off-camera clean of dialogue to use as effects tracks. For the scenes on Ballintoy Beach, I had a stereo pair recording effects at different proximity to the sea at different tide levels throughout the day.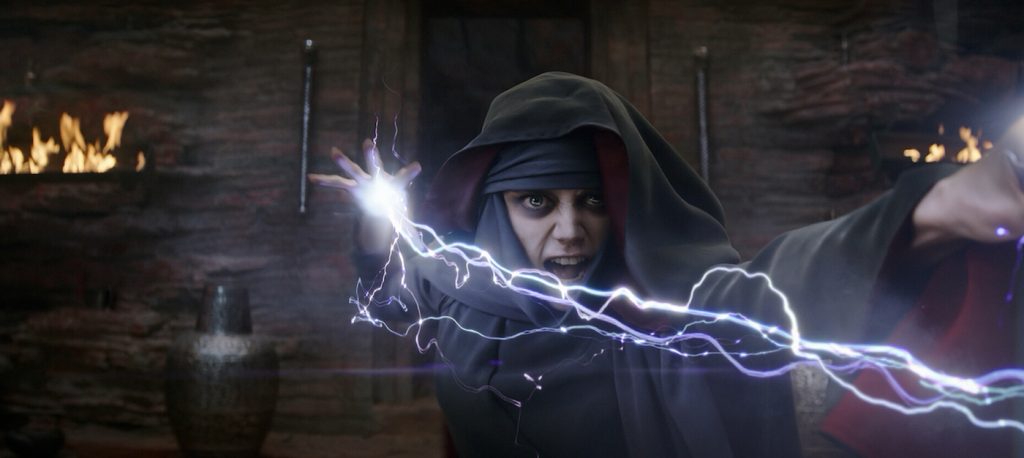 When it comes to asking for a take for production sound, what is your advice for someone gaining experience?
The answer to this depends on a few things. I do use a private line from the mixer to pass on concerns. This should be done as soon as possible after the take, so we haven't moved on. A certain amount of diplomacy is required as you don't necessarily want the cast to become concerned or feel it encroaches on their performance. If you think going again will not improve the likelihood of getting it clean or will dilute performance, this needs to be weighed up. Some directors and cast can grasp an issue and adapt quickly, and some can't. If it's something you spot during a rehearsal that may be problematic, a quiet word with the director may sort it out before you turnover.
 For more on Dungeons & Dragons: Honor Among Thieves, check out these stories:
How "Dungeons & Dragons: Honor Among Thieves" Costume Designer Amanda Monk Casts a Sartorial Spell
"Dungeons & Dragons: Honor Among Thieves" Review Round-Up: A Passionate, Fun-Loving Fantasy Romp
Featured image: Michelle Rodriguez plays Holga, Justice Smith plays Simon and Chris Pine plays Edgin in Dungeons & Dragons: Honor Among Thieves from Paramount Pictures and eOne.