How "Dungeons & Dragons: Honor Among Thieves" Costume Designer Amanda Monk Casts a Sartorial Spell
Dungeons and Dragons, or D&D as it's more commonly called, is the king wizard of role-playing games. First rolled out in 1974 by co-creators Gary Gygax and Dave Arneson, it's shifted from friends playing in basements to the public lexicon, in part, from the popularity of shows like Stranger Things, which has its characters rolling 20-sided die in their own version of the fantasy game. But D&D has a long history of inspiring television series and films. The franchise has spun its own film series with Dungeons & Dragons (2000), Dungeons & Dragons: Wrath of the Dragon God (2005), and Dungeons & Dragons 3: The Book of Vile Darkness (2012), albeit to lukewarm results.
Dungeons & Dragons: Honor Among Thieves from directors John Daley and Jonathan Goldstein changes all that with a fresh take that combines Guardians of the Galaxy-style humor with plenty of Easter Eggs D&D fans will love. Better, the story doesn't neglect the viewers who have never played the game with plot points you'd need to reference a Player's Handbook to understand. Instead, it thematically explores love, loss, family, friendship, and choice wrapped in a period piece of enjoyable characters, monstrous beasts, fire-breathing dragons, magical wizards, and awe-inspiring scenery.
The story follows a ragtag group of heroes in search of a tablet that has the power to bring back life. Chris Pine plays Edgin, a charming bard and master thief who has befriended Holga (Michelle Rodriguez), a Barbarian warrior. Brought into the fray are Simon (Justice Smith), a sorcerer still learning the ropes, and Doric (Sophia Lillis), a shape-shifting druid with an unapologetic tongue. Standing in their way is Sofina (Daisy Head), a Red Wizard with a serious lack of Vitamin D.
Stylizing the wardrobe of the cast, which also includes Hugh Grant as Forge and Regé-Jean Page as a helpful Paladin, was costume designer Amanda Monk. The UK native is known for her work on Ricky Gervais's After Life, In the Long Run with Idris Elba, and the upcoming film Damsel starring Millie Bobby Brown of Stranger Things fame.
For Honor Among Thieves, Monk and her team of talented cutters, seamstresses, embroiderers, costume prop makers, armory, and metal workers made hundreds of costumes with an authentic level of detail. She shares her inspiration, references, and how the characters' looks were sewn to life.
You've been designing costumes for some time now. Do you recall what drew you to the work?
I can remember early inspiration on two occasions in my teens; firstly, watching a televised production at school of the Royal Shakespeare Company's Macbeth with Dame Judi Dench and Sir Ian McKellen, first shown in 1979, and loving the bare staging and simple, stylized costuming. Secondly, being lucky enough to see a staging of David Hockney's designs for A Rake's Progress, both very different but both rather graphic. I don't feel my designs are particularly graphic as a result, but I do like to pay more attention to color and texture.
When it comes to the D&D, there is a tremendous amount of source material. Did any of it inspire the designs for Honor Among Thieves?
Our main consideration was realizing the D&D world for the avid fans and players. We had the 5th Edition Player's Handbook and the Wizards of the Coast to advise us. Since the creation of the game in the 1970s, there are now many points of reference to use for research. John and Jonathan are such great fans, and this film was a passion project for them, which made it such a rewarding experience to bring their characters and script to life. The film has a general medieval flavor in terms of silhouette but with a large element of fantasy.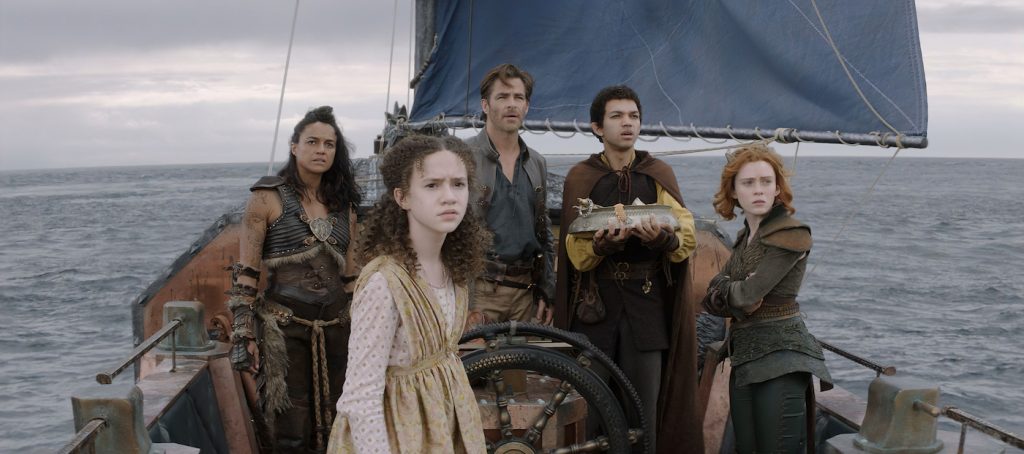 Did you have an overall direction in shaping the story's four heroes – Edgin, Holga, Simon, and Doric?

We wanted to create memorable, heroic costumes for our principal cast that perfectly reflect their character and alignment. There were many early concept discussions, using concept artists to reach the characters through color, texture, and tone. But it is, of course, necessary to do the research and try to enter the world of any project or period. However, it is best not to get too absorbed in order to retain some creative freedom.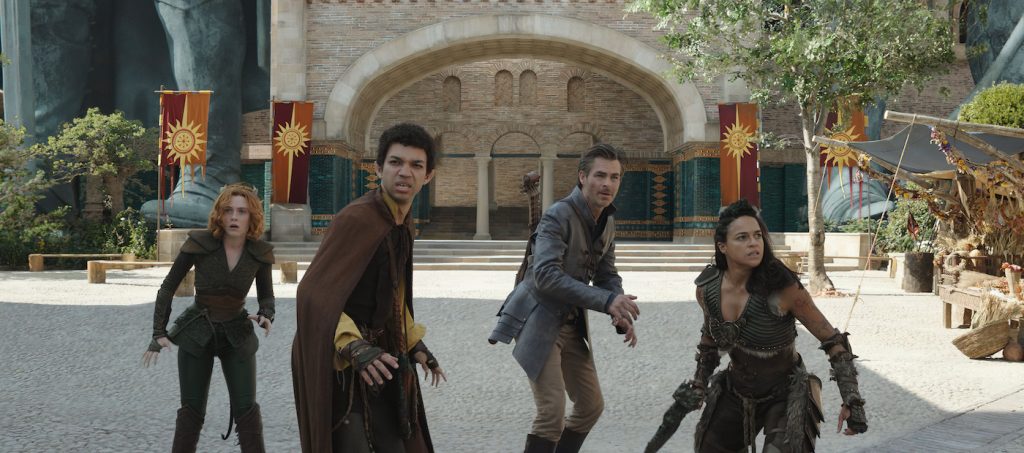 Can you share a detail about each of their involved costumes?
We collaborated closely with the actors. With Chris Pine, we landed on the heroic, adventurer leather jacket for Edgin. It was a detailed but functional item that suited Chris and the character.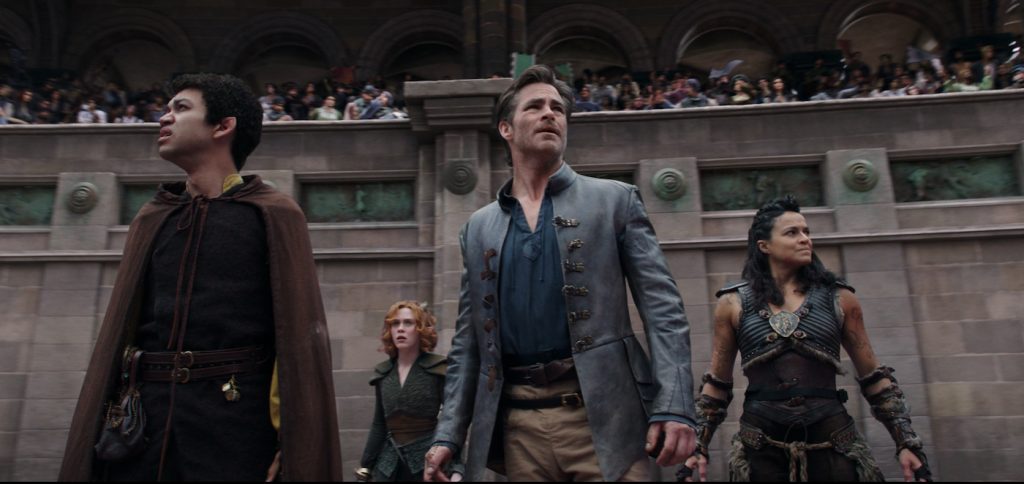 With Holga, the strong action-packed barbarian, we used leathers, skins, and textures. The ribbed detail on the bodice created a tough silhouette with small decorative touches.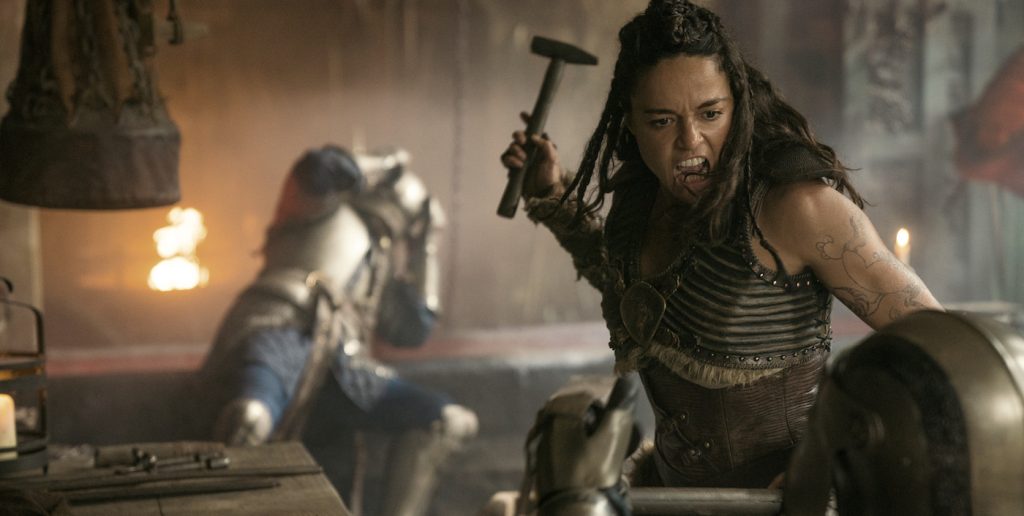 For Simon, the Sorcerer, it was our opportunity to add some color and interesting features. We lined his cloak with spell-making charms and embroidered magic symbols within his costumes.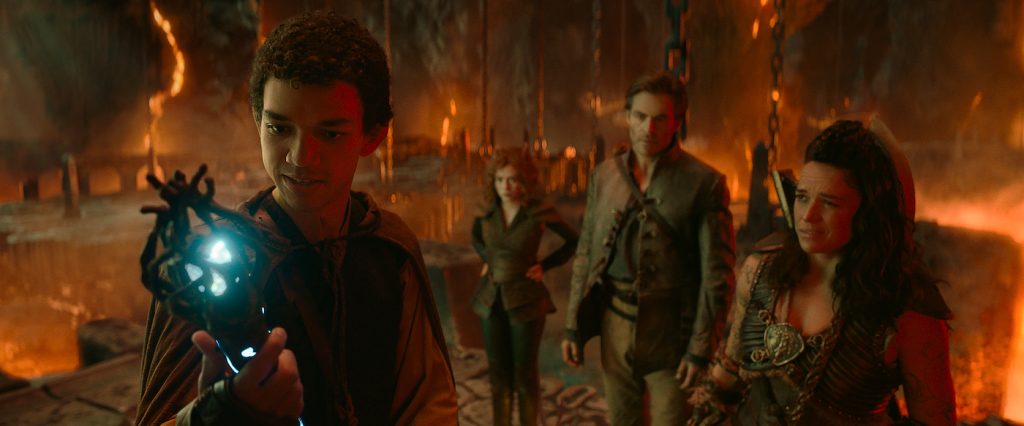 Doric lived amongst the Druids in the Neverwinter Wood, so her costume was made with materials and textures found within that habitat. We discovered a wonderful fabric made from bark, and our very talented costume props team experimented with all manner of fauna and flora to create interesting organic textures and patterns.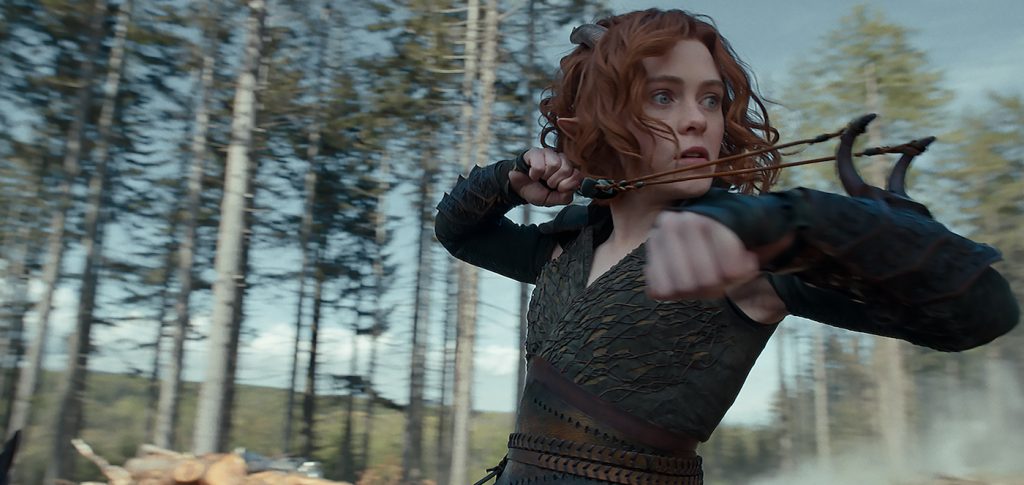 Sofina (Daisy Head) has a delightfully devilish design to her costume, playing the Red Wizard foe. The layering and head covering were magnificent. What was the inspiration behind her look?
We wanted a more sinister feel for Sofina's costume and decided on the ombre effect to add further drama. We needed a head covering to hide her Thayan markings and to provide more action in revealing her true identity. We decided on a skull cap and hooded cowl collar, which visually worked better than just the simple removal of a hat.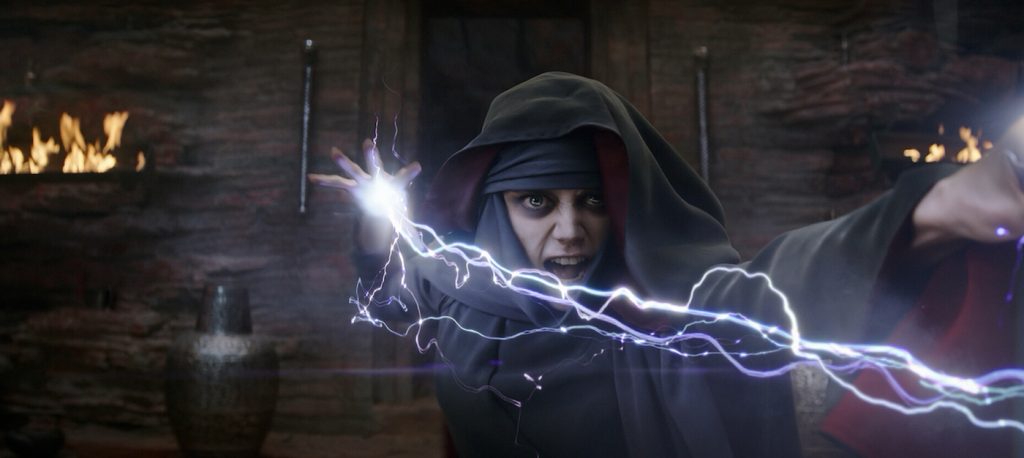 Regé-Jean Page's character Xenk, a lawful good Paladin, was yet another standout. Was there anything specific you wanted to express with his appearance?
The inspiration for Xenk's character was almost Godly, an immaculate Paladin, centuries old. I wanted to reference the Ottoman Empire, which influenced the colors and patterns of the silks and his armor.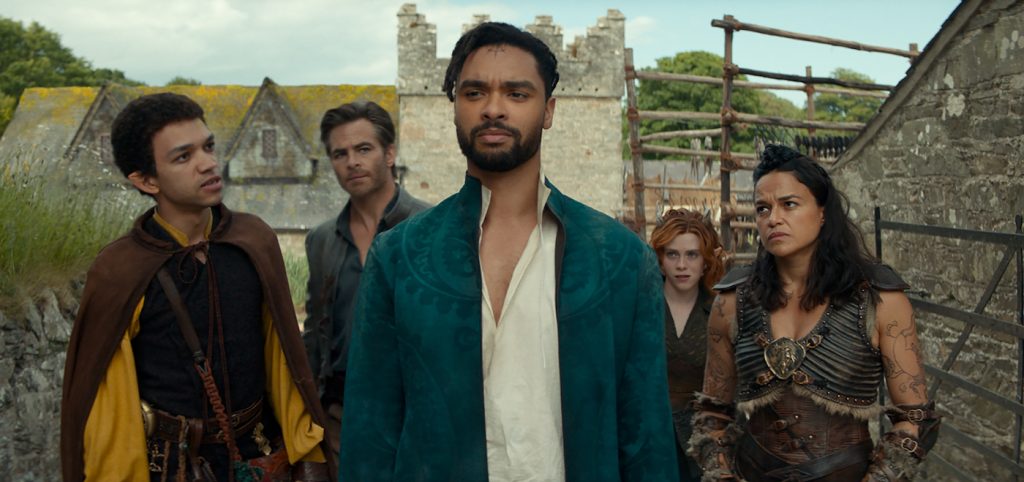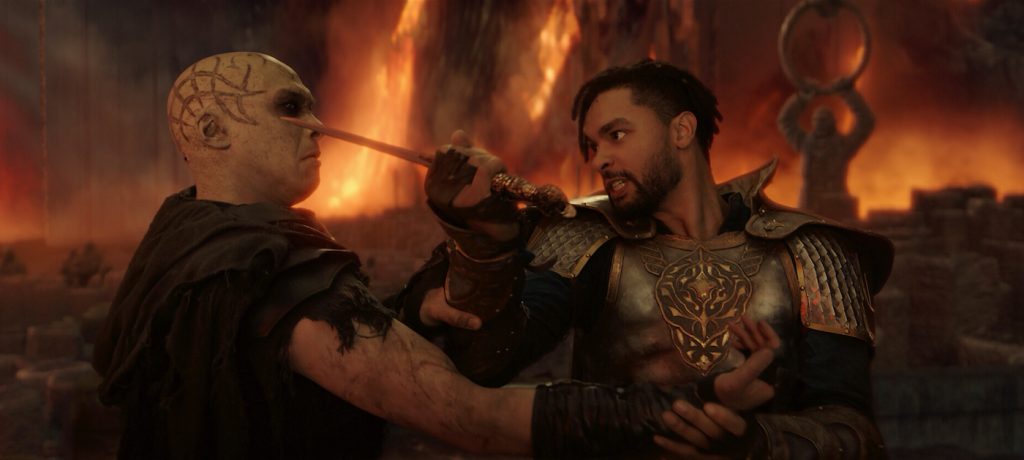 Another important element is the character's weapons. Did you work with the armory department to detail them?
We worked closely with Tommy Dunne in the armory department in all aspects of the weaponry. A great example is Holga's axe, regarding its size and weight for the many fight scenes and how she could carry it within her costume.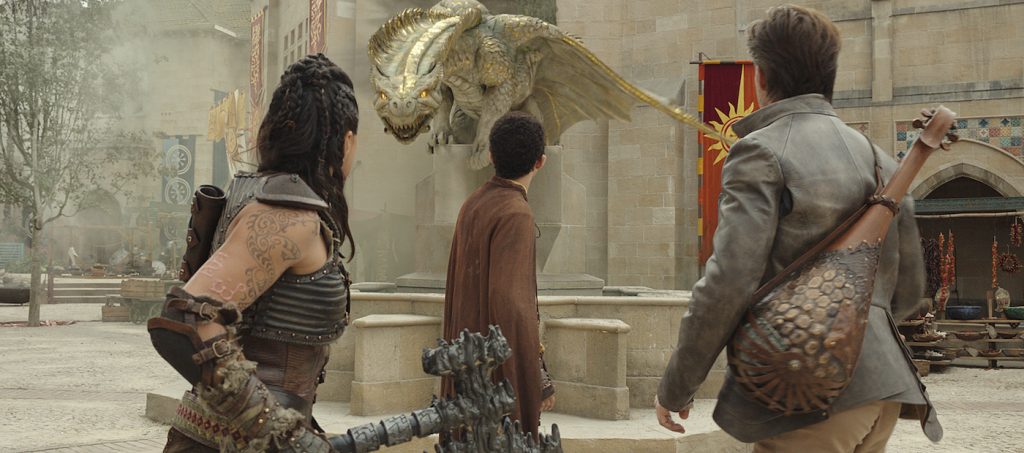 Outside the ensemble cast, there were a ton of smaller roles and extras. How did you approach the large volume of work?
For the many crowd scenes, we hired mixed periods, including Medieval and Renaissance. This gave us more freedom which we were allowed due to the fantasy element of the film. The hires were from several costume houses throughout Europe and the UK. I worked with a wonderful crowd team who were really creative, realizing the different groups within the Classes.
Dungeons & Dragons: Honor Among Thieves is in theaters now.
For more films and series from Paramount and Paramount+, check out these stories:
"Dungeons & Dragons: Honor Among Thieves" Review Round-Up: A Passionate, Fun-Loving Fantasy Romp
"Scream VI" Cinematographer Brett Jutkiewicz on Framing Scenes So They Cut Deep
"Scream VI" Editor Jay Prychidny on Stitching Together an Epic Slasher
Featured image: Justice Smith plays Simon, Rege-Jean Page plays Xenk, Michelle Rodriguez plays Holga and Chris Pine plays Edgin in Dungeons & Dragons: Honor Among Thieves from Paramount Pictures and eOne.