"Champions" Cinematographer C. Kim Miles Found Inspiration Everyday on Set
Cinematographer C. Kim Miles has shot everything from TV superhero The Flash and Robert Zemeckis' miniaturized soldier epic Welcome to Marwen to teen cannibalism drama Yellowjackets and Michelle Yeoh's upcoming miniseries The Brothers Sun, which he describes as "Crazy Rich Asians meets John Wick." But until director Bobby Farrelly's Champions came along, Miles had never worked with a cast of developmentally challenged actors. "It was one of the most inspiring experiences I've ever had on a movie set," Miles tells The Credits.
Champions, based on the 2018 Spanish comedy Compeones, features Woody Harrelson as a disgraced coach in charge of The Friends, a team of basketball players with disabilities that include Down syndrome and autism. Assisted by a player's sister (Kaitlin Olson) and rec center manager (Cheech Marin), Harrelson's Marcus learns to respect the athletes (portrayed by Kevin Iannucci, James Day Keith, Madison Tevlin, Tom Sinclair, Joshua Felder, Ashton Gunning, Matthew Von Der Ahe, Alex Hintz, Casey Metcalfe, and Bradley Edens) in their bid to compete in the Special Olympics.
Miles, raised in Malaysia, shot his first TV commercial at the age of 15, then migrated to British Columbia and studied photography at the University of Victoria before working his way up from gaffer and camera operator jobs to become an ASC Award-winning DP. Speaking from the Georgia set of a new Farrelly-directed movie-in-progress, Miles talks about the thrill of capturing Champions' pure performances and the chills of shooting on location in Canada during the dead of winter.
You've handled a wide range of genres but the field of comedy—not so much. Did you have a specific approach in mind for capturing the comedic beats in Champions?
Not really. The main motivating force for me was to keep it honest and to keep things rooted so it didn't feel like too much of a comedy. I didn't want The Friends, in particular, to come across as cartoonish so we were very careful about how we legitimatized these actors on set while still trying to pull some comedy out of the story and make something light-hearted. I think we mostly got there. There were times when I was thinking: "Hmm, I wonder if this is too much?" But all in all, I was pretty happy with how it worked out.
Did you have concerns about working with intellectually challenged actors?
My concerns were obvious: Are we going to be able to make our days? The first day we met the cast, it was sort of what I expected. They're very private people, sort of withdrawn, a function of not having [much of] a social network. Your world is your immediate family and your co-workers, and now all of a sudden you're coming to [a movie set] every day with 100 some people — I can't imagine anything more intimidating. But over the 35 or 40 days of shooting our movie, these actors just blossomed. they were able to express emotion with such purity, and that's all Bobby because of the care he takes in giving these people the respect they deserve.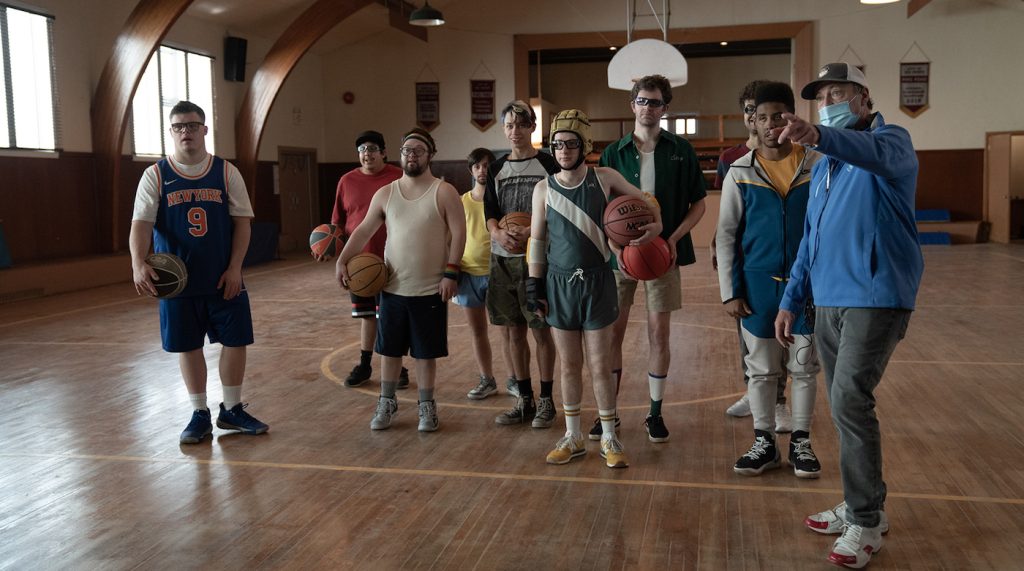 If I understand correctly, Woody Harrelson met these actors live on camera at the same time his character Marcus meets the basketball players. Is that scene in the movie an art-imitating-life moment?
I think it was, actually, and the scene went off like gangbusters. The kids really took to Woody. The funny thing was, they knew his lines better than he did. "Come on Woody; your line goes like this."
Looking back on Champions, what are your favorite scenes?
Moving the camera around for the basketball stuff was fun, and all the stuff between Woody and Katilin was fun because those two had great chemistry. And any time The Friends were on set, that was always a treat—if we could get them to stop bouncing the basketballs. That was the thing. On day three of the shoot, as soon as they saw basketballs, they started shooting hoops. It took Bobby fifteen minutes to calm them down. Then Woody shows up, and what's the first thing he does? Starts shooting hoops [laughing].
You compose some lovely ensemble shots of The Friends that convey each character's individuality in a very vivid way. Were you deliberately aiming to capture the spirit of this group?
Very much. Their body language was so indicative of what their characters were going through, so we wanted to stay a bit wider and include all of that. Because it's very much an ensemble thing, we went with a 2:39 aspect ratio, so the frame's a little bit wider. Bobby likes to go wide, which felt right for Champions in part because it was an ensemble piece and also because of the basketball sequences—we wanted the wide landscape to hold the courts. Plus wide screen gives you more storytelling opportunities within a particular frame because you're not cutting quite as much. All those reasons led us to go with 2:39.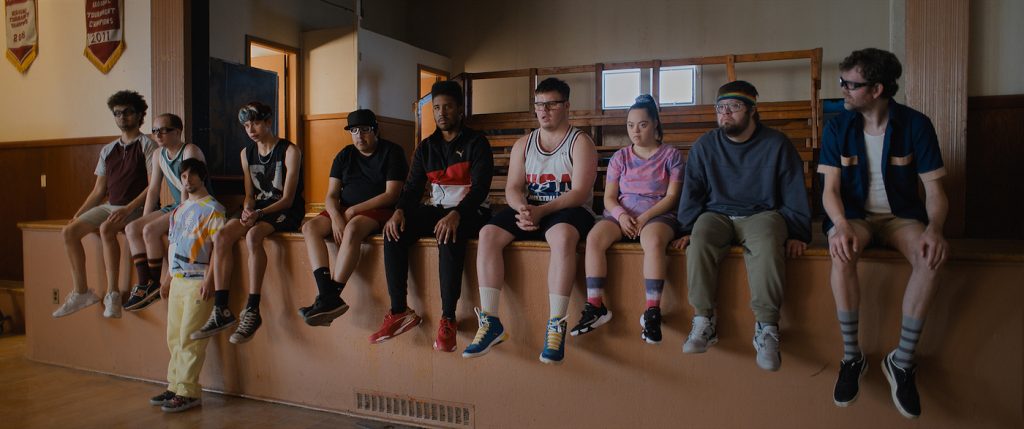 Did you work with storyboards?
We had some boards and got through three or four scenes until Bobby looked up and said, "What are we doing this for? I'm not going to look at them every ten minutes." So no, very little storyboarding,
How would you map out a day's shoot?
I'd get to set in the morning and run through all the scenes with my script before anyone else got there. Then Bobby would show up and go, "Okay, C. Kim, how are we going to do this?" I'd pitch him how I imagined it could work; we'd discuss and eventually find a way to shoot each scene. For me, it was nice because I had more creative input than normal. And I think Bobby was grateful for not having to conceptualize everything by himself.
What kind of camera did you use to achieve Champions' filmic look?
We shot with ARRI Alexa LF, large format cameras, which I'd also used on Yellowjackets. The beauty of the Alexa is they behave in a way that's reminiscent of film.
Lenses?
We found two sets of lenses that were built for Moviecam back in the eighties. I'd never heard of these things, but they'd been re-housed to work on large format cameras. We tested them and fell in love because they're sharp, well-resolving lenses, but they still have a warmth and a vintage-y feel to them. And they take a flare in a warm, soulful way, which is hard to explain, but you know it when you see it.
How did you approach camera movement?
We carried two cameras, but I'm kind of an A-camera hog. I like to use one camera and move it around to develop shots rather than getting too reliant on the editorial process to tell the story. We did a bunch of handheld stuff to keep things off-kilter early on when Marcus is getting to know The Friends. As the show progressed, we went with more Steadicam and then Technocrane and dollies as the story settled in.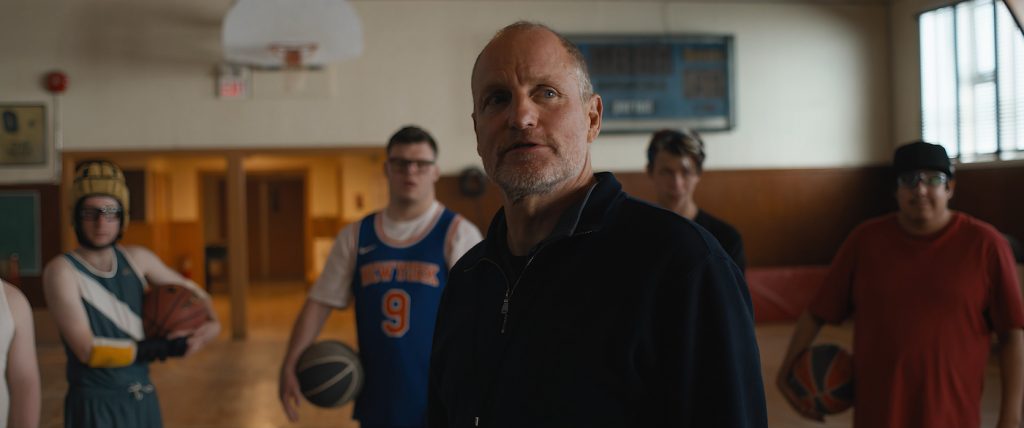 Basketball is basically a winter sport, so it's appropriate that Champions has a wintry feel. What was it like shooting this movie in and around Winnipeg, Manitoba?
Cold. [Laughing]. I got to Winnipeg in October, and within two weeks, the temperature dropped from 75 or 80 down into the teens. The scene where the bus drops the kids off on the side of the road? It was twenty degrees out, and the wind was blowing 30 knots—that was a feat of endurance. But we didn't want to fight the time of year, which you often have to do. We just embraced the color palette that was in the air.
Shortly before Champions, you filmed half of Yellowjackets' first season, and the show became a streaming sensation. Was that a fun shoot?
Yellowjackets was not an easy show. We had to manage all these different looks for different time periods: present day, flashbacks before the accidents, and flashbacks after the accident. There were very specific rules: In the forest, we were always handheld; the present day was always shot on dollies with spherical lenses. And the logistics of shooting in the woods were tricky. Sometimes you'd have fourteen cast members in one seven-page scene. The cast and the crew were great, so it was lots of fun, but that show was tough.
Back to Champions. You had not worked before with Bobby Farrelly. How did you get the gig?
My agent submitted my name, so I was on a list. We had an interview over Zoom. I'd read the script and looked at the Spanish movie Champions is based on. There were some things I thought we could do a little better or differently, so we compared notes on that. And we talked about being respectful of the subject matter. He was very clear that we didn't want to make The Friends into caricatures or objects of ridicule. I took that to heart right away.
Champions is in theaters now. 
For more on Universal Pictures, Peacock, and Focus Features projects, check out these stories:
"Champions" Star Kaitlin Olson on Doing Improv With Woody, Her Bond With Her On-Screen Brother & More
"The Fabelmans" Oscar-Nominated Production Designer Rick Carter Gets Personal With Steven Spielberg
"Cocaine Bear" VFX Supervisor Robin Hollander on Creating an Ursine Junkie
Featured image: (L to R) Kevin Iannucci as Johnathan, Kaitlin Olson as Alex, James Day Keith as Benny, and Woody Harrelson as Marcus in director Bobby Farrelly's CHAMPIONS, a Focus Features release. Credit : Shauna Townley/Focus Features