"Champions" Star Kaitlin Olson on Doing Improv With Woody, Her Bond With Her On-Screen Brother & More
Releasing in theaters March 10th, the heartwarming and acerbic dramedy Champions, directed by Bobby Farrelly, comes just in time to cheer those sick of winter and in the need for a little spring in their step. Based on the 2018 Spanish film Campeones, which won top awards and was the biggest hit of the year in that country, Champions stars Woody Harrelson and Kaitlin Olson and features an ensemble cast that includes ten performers with developmental disabilities. 
Harrelson plays short-fused basketball coach Marcus, who is sentenced to community service coaching a Special Olympics basketball team called The Friends after a DUI. At first, he just wants to get through his experience as quickly and uneventfully as possible, but working with these players proves transformational. Olson is Alex, Marcus's love interest, a funny, straight-talking Shakespearean actress living with and caring for her brother Johnny (Kevin Iannucci). Johnny has Down Syndrome and is a member of the close-knit and committed Friends team. 
In a chat with The Credits, Kaitlin Olson, who has a strong background in improvisation, talks about using improv with Woody Harrelson, which came really easily for the Disabled performers playing members of The Friends, the need for strong, multi-dimensional female leads over 40 in film, and more. 
What was the first scene you shot, and how did that help set the tone for the rest of the shoot?
The first scene I shot was an incredibly emotional breakup scene with Woody, in which I was supposed to be very upset and teary, and afterward, all the producers came up and were like, "We are so sorry we threw you right into the deep end with that one." But it was great because I remember Woody walking away and saying to Bobby, "Oh, my God, she's giving it 100%, and she's so good!" It was so lovely to overhear. I know that he didn't mean for me to hear that, and it just made me feel really good. I think it was just nice to be a part of something where everybody was appreciative that you were there. It was a hard scene, and when the camera was just on me and not on Woody, he was still there, fully engaged and giving me 100%. He didn't have to do that. Not everyone does that. It was a lovely way to be welcomed because I came after they started shooting, so they had all been working together for about a week by the time I got there.
In our introduction to Alex and in several of her subsequent conversations with Marcus, she reveals some of the challenges of being a 40-something woman in our world. Can you talk a bit about that aspect of Alex and the importance of characters like her existing onscreen?
Inclusivity is important, and I think that that goes for unmarried women in their 40s who are living at home. This is just a woman who has given her life over to taking care of her brother, and so what ended up happening is that she has sort of given up a lot of what she would have done if she were being selfish. There's something very selfless and beautiful about that because she doesn't consider herself a martyr. She's doing it because she feels like it's the right thing to do.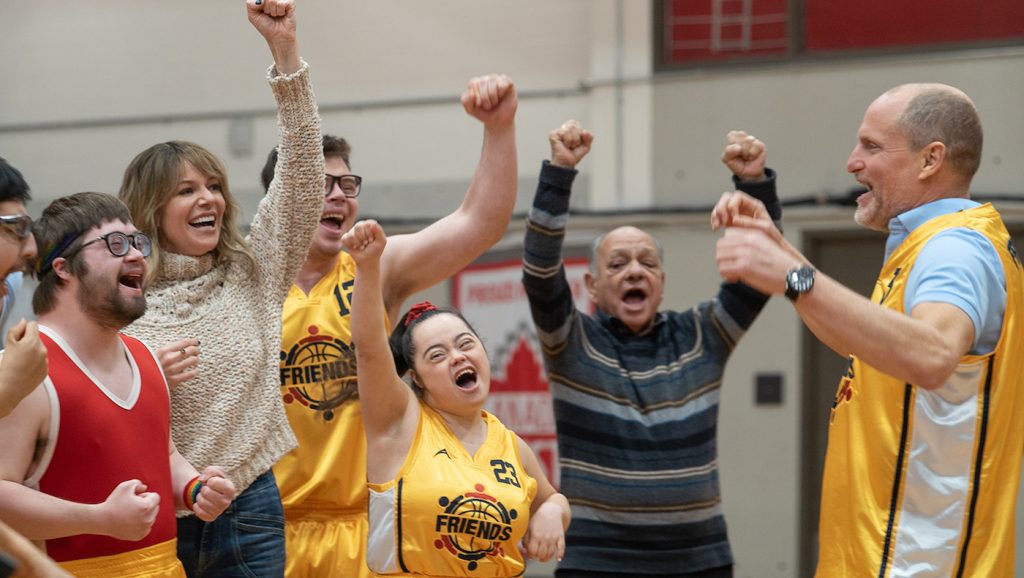 There aren't enough of those kinds of female characters on-screen. She's very complicated. She's not wholly good or bad but mixed, like most of the real women in the world. 
I love that she unapologetically explained her situation and what was going on. This is what it is, I don't feel sorry for myself, but we don't have a lot of time to mess around. Do you want this to happen or not? It was very bold. And, you know, she wasn't waiting around for him to ask her back out on another date. She was just like, "This is what we're doing. Let's do it or don't. Get out or stay in." 
You've mentioned working with Woody is a very collaborative and balanced experience. Can you point to a few ways in which that collaboration showed up onscreen?
I think Woody gets a little bit scared when you start improvising, and so it was fun to do things that would make him laugh and then make him loosen up and sort of give him the freedom to start playing around back with me. He's just such a talented person that he can deliver what is on the paper so beautifully, and then going off script was also a really amazing experience, and I think maybe even surprised him a little bit. I don't think he's used to that.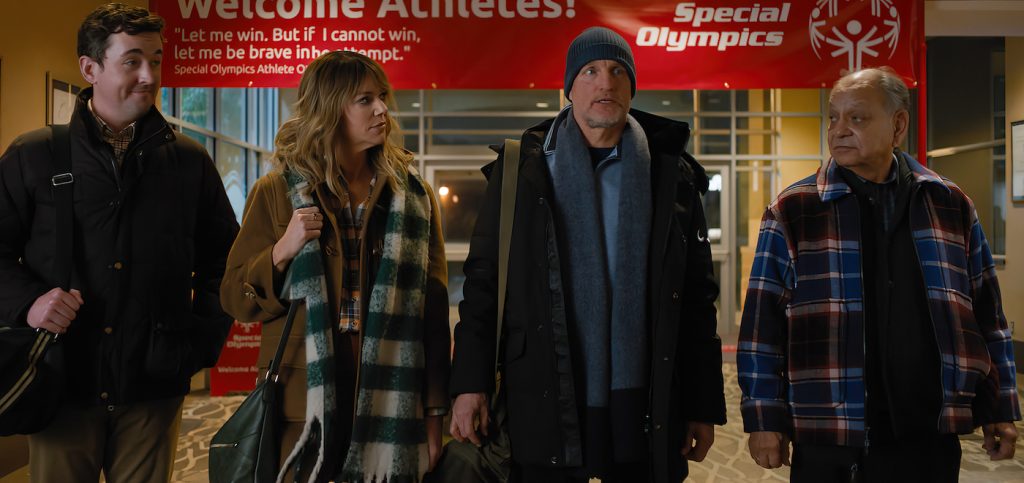 You come from an improvisational background, and there was a lot of improvisation and thinking on your feet in the film. Can you give some examples of moments made better by that or things that wound up on screen that were improvised?
A lot of the stuff with The Friends was improvised. We had cameras rolling all the time, so we were capturing just everything that was being said, so there was a lot that wasn't scripted that ended up in there, which was really fun to see. But there was a scene with Woody, an intimate scene where we were kissing, and we stop and have a conversation, and a lot of that was improvised. It was just fun because the scene is supposed to be awkward, and it was kind of awkward because I was changing what I was saying, and he was saying something different. That was particularly fun. It's also just fun to intimidate Woody.
Alex is a Shakespeare geek, and she performs it and drives a Shakespeare van. What's your connection to the bard?
I showed up and saw that van was like, "This is so amazing." She basically lives there. It's her heaven. She's probably the most comfortable in her van, and it definitely went along with the wardrobe. I was a theater major in school, and my school specialized in theater and Shakespeare. I wasn't a huge Shakespeare fan, but I went to the University of Oregon. It's very close to Ashland, Oregon, which is just like Shakespeare city. You had to pretend that you were interested in Shakespeare to get the head of the program to like you, so I did, and I did a lot of it. I felt very, very grateful for my accidental Shakespeare background shooting this movie.
Kevin Iannucci was wonderful as Johnny, Alex's brother. How did you come to the authenticity needed as brother and sister, and how was it bouncing off each other in your scenes together? 
I really wanted to meet Kevin before we were working together, and on the day that I was going to fly up there, Bobby called and said that Kevin wanted to meet with me before we worked together. And I was like, "Oh, that's great." So I met him with him and his mother, who is amazing, and we just spent some time together. You fall in love with Kevin the second that you meet him. It's impossible not to. He is a gem. He is kind, and he is so funny. He's up for anything. We fell in love instantly. He's a good friend. We text. We FaceTimed on Christmas. We've become very close. It wasn't hard to have a bond with him instantly. And also, he was nervous sometimes. He had big scenes. So, just as a more seasoned actor, I felt very protective of him. All of that came very easily and very naturally. 
Champions, from Focus Features, is in theaters nationwide on March 10th. 
For more on Universal Pictures, Peacock, and Focus Features projects, check out these stories:
"The Fabelmans" Oscar-Nominated Production Designer Rick Carter Gets Personal With Steven Spielberg
"Cocaine Bear" VFX Supervisor Robin Hollander on Creating an Ursine Junkie
Go Deep "Inside" With Willem Dafoe in Curated Look at his New Art Thief Thriller
Featured image: Kaitlin Olson stars as Alex in director Bobby Farrelly's CHAMPIONS, released by Focus Features. Credit : Shauna Townley/Focus Features