"The Fabelmans" Oscar-Nominated Production Designer Rick Carter Gets Personal With Steven Spielberg
Veteran production designer Rick Carter art-directed the first Avatar, won an Oscar for his work on Forrest Gump, designed two Star Wars films, and collaborated with Steven Spielberg on ten movies ranging from Jurassic Park to Lincoln. Last month, Carter earned his fifth Oscar nomination for designing Spielberg's autobiographically inspired The Fabelmans.
In contrast with much of his previous work, this sixties-era coming-of-age drama, nominated for seven Academy Awards, including Best Picture, unfolds on an intimate scale, with Paul Dano and Michelle Williams featured as the quarreling parents of Spielberg's alter ego Sammy (Gabriel LaBelle). "It's pretty subtle," Carter says. "There's almost an invisibility to the production design so you can feel the movie, but it's not very showy."
Carter, speaking from his home in Los Angeles, explained how he tracked Sammy's journey from New Jersey to Phoenix to Hollywood without once leaving southern California.
How did you approach the design for what is arguably Steven Spielberg's most personal movie?
It's a fable about Steven's growing up, so there's a three-act structure oriented to the three houses that the Fabelmans inhabit. We show a progression starting with their post-war house on the East Coast with the grandparents — the New Jersey house. Then they move to Phoenix in the desert for the middle section, and then we get to the "Promised Land," the West Coast, where things don't turn out the way they wanted, and the family splits up.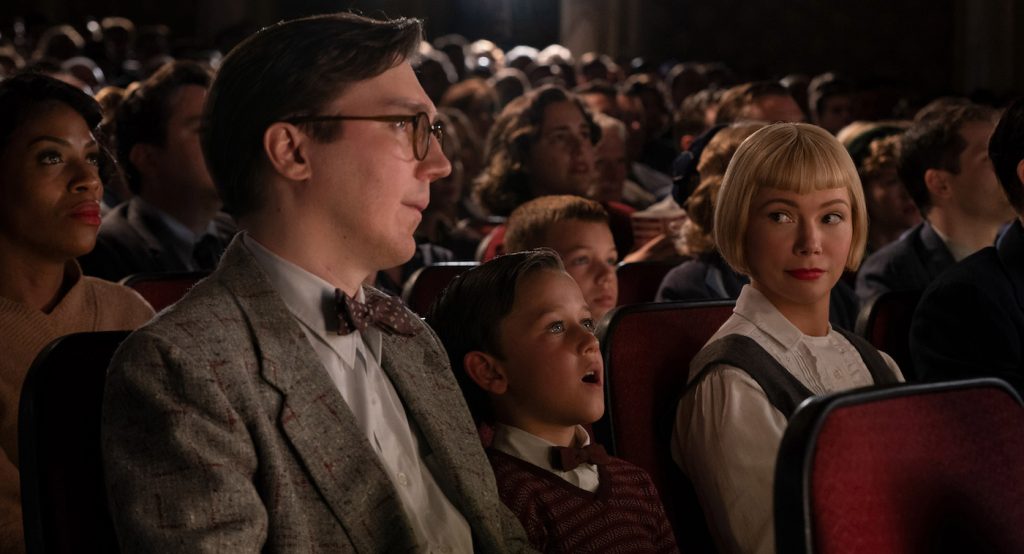 You filmed The Fabelmans during the pandemic. How did that constraint impact your design strategy?
It became absolutely necessary to shoot the exteriors in Los Angeles, basically within a 30-mile range. Also, we wanted to make the movie as inexpensively as we could, which meant not traveling great distances and putting people in hotels. But Steven and I share this background of working in TV and movies during the early seventies when you had to stay local and make it work. I think that limitation was helpful in the way it rooted Steven and myself to this era when you were expected to convey locations from all around the world using Los Angeles environments and with the minimal amount of building
So the "New Jersey" house was, in fact, shot where?
We needed a simple two-story plan that would have been built right after the War for a young family starting life on the east coast. Where do you find that in Los Angeles? We found it in [suburban] Chatsworth on a cul de sac with a lot of houses that seemed to fit that period. It was funny to be out there in the middle of the summer, 100 degrees, laying down all these white snow blankets to make it look cold. Then you look around at people [in the crew] wearing shorts and tank tops.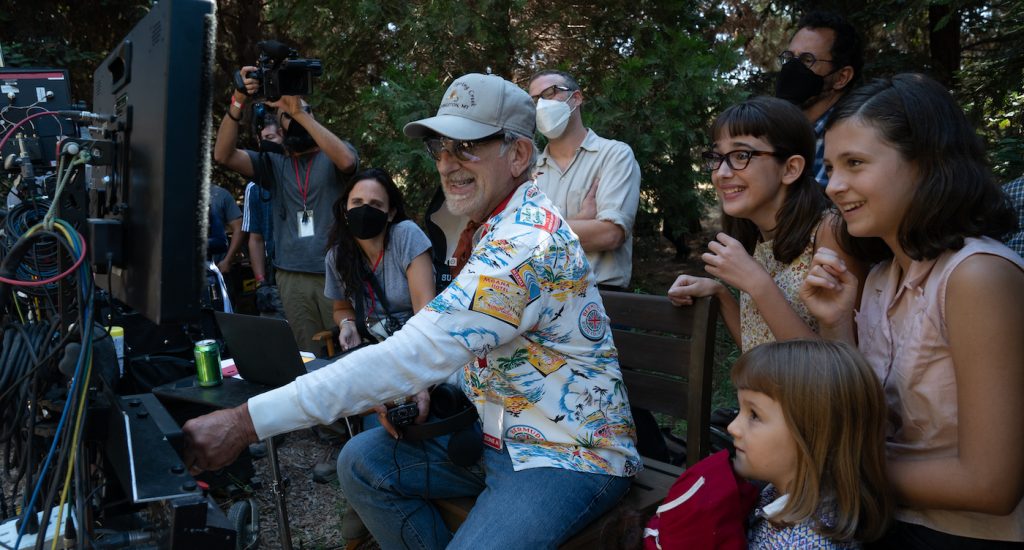 How did Spielberg guide you in terms of the home's interior?
Steven did little drawings of the New Jersey floor plan with a staircase near the center, a living room on the right, a dining room on the left, and the kitchen behind that. We made sure our interior allowed for this bifurcation. To the right is [Sammy's father] Burt's side of the house, and then the warmer place — dining room and kitchen area — that's for [Sammy's mother] Mitzi. Almost by osmosis, these visual cues set up a duality between the two parents having problems in this traditional house.
Next, the Fabelman family moves to Phoenix, and it's a whole new mid-century modern look. Where did you locate the Phoenix ranch house stand-in?
We found a house in Simi Valley, painted the wood, and made all the tones reflect the desert.
Did you have references to work from?
Yes. Steven had photographs of the Phoenix house and some home movies as well so we could see what the exterior cladding looked like. For the interior, the round dining room table and chairs are space-age sixties, very much like the ones he had. Steven also had pictures showing where the sink and refrigerator were located, and we knew where the baby grand went. None of it was as photogenic as we made it look. [laughing]
How did this ranch house interior reflect growing tensions within the family?
By the middle of the movie, we're getting into the metaphoric level of art versus family and the toll that takes. The Fabelmans now live in this mid-century, one-story ranch, elongated from the kitchen all the way to where Sammy has his bedroom. You're seeing this division that happens between Sammy and his family as he turns to cinema and art.
In the "Phoenix" chapter, Seth Rogen's Uncle Bennie character encourages Sammy outside a camera shop that seems very authentic to the period. How did those shots come together?
What anchored that scene was this old-style camera shop that our spectacular location manager Leann Emmert found in Whittier, California. It stocked many old cameras, so simply by pulling things away that were more modern, we had all the bones of an old camera shop. The shop was actually located in a modern mall, but luckily there was a street two blocks away that fit the period, so we didn't have to do a lot for the exterior. We digitally added a Cinerama sign and mountains in the background to make it look like [Phoenix-area landmark] Camelback Mountain. Then we combined that exterior with the camera store interior.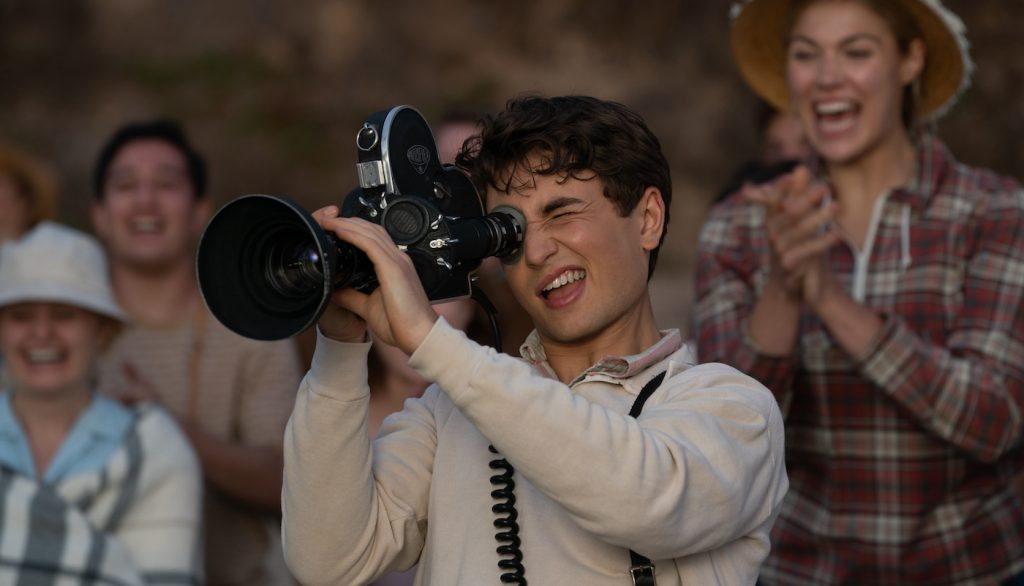 It almost looks like a vintage snapshot of Main Street USA circa 1965.
I'm nearly 73, Steven's 75, and because we were of the era, it's almost like we were doing it as a memory. We didn't feel any need to fetishize the period.
You've worked on many fantastical spectacles like Avatar and Star Wars: Episode VII – The Force Awakens. By contrast, the environments in The Fabelmans seem familiar rather than exotic. Did that kind of naturalism call for a different mindset than you would bring to a world-building epic?
Most movies that get recognized for honors like this [Oscar nomination] are what I would call horizontal movies. They expand out to an epic level, and designers fill that in. The Fabelmans is more of what I would call a vertical movie. You only have the three-act structure plus an epilogue, so everything goes vertical in terms of how deep you can go. We're showing splits within the characters, and we're showing [Sammy's home] movies within the movie where a few frames can have as much impact as a big battle sequence.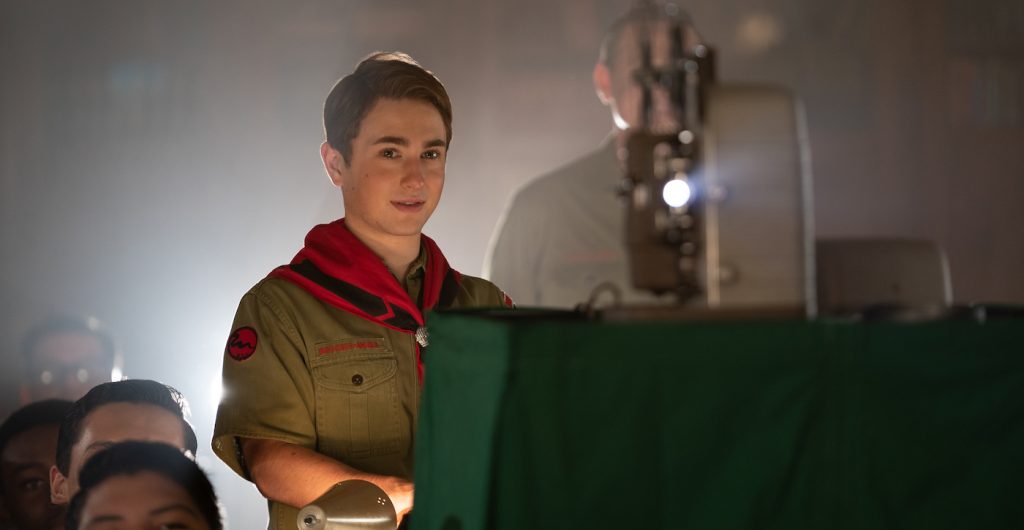 So little details can play a bigger role in the storytelling?
Which is why the set dressing becomes so important. We relied heavily on set decorator Karen O'Hara and the art department and the props. For example, When Sammy goes into his girlfriend's room for the first time, we see posters of Jesus and rock stars; then we pan over to this crucifix surrounded by a heart and pink light. People laugh, seeing what Sammy's gotten himself into. The set décor is telling you stuff without words being spoken.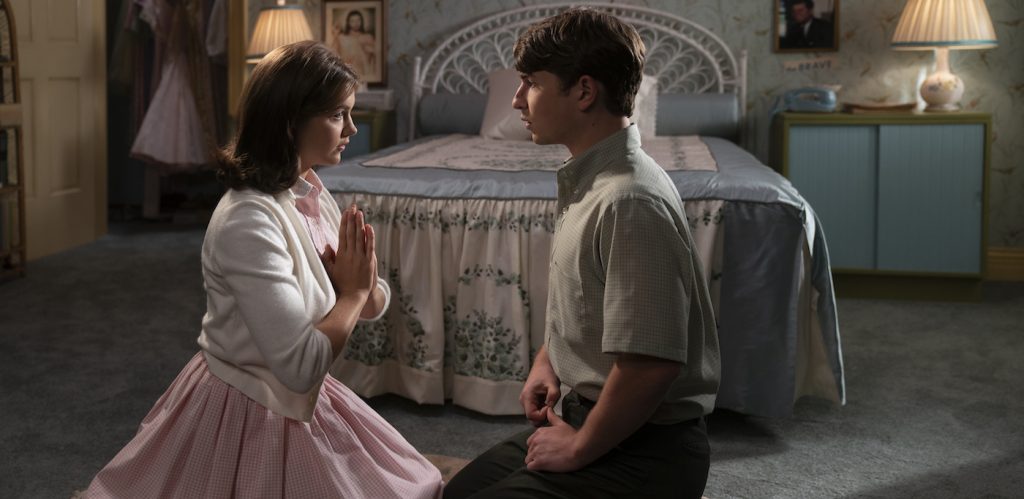 For Sammy's senior year of high school, the Fabelmans move to central California. Then we jump ahead a few months, and Sammy's in Hollywood, where finds himself unexpectedly in the office of John Ford, played by David Lynch, the gruff director responsible for The Searchers and other classic westerns. What was your design focus for that sequence?
When Sammy meets John Ford, we had to replicate paintings or come up with paintings to demonstrate what Ford tells Sammy about the low horizon and high horizon. It's Ford's way of saying that all the drama and all the confusion that Sammy feels can make him a good director if he can put it into an interesting form. Not in the middle, but in this case, raising or lowering the horizon. We're literally putting exposition into the set dressing.
At the end, Sammy saunters through an old-school studio lot surrounded by giant soundstages. Where did you film that final scene?
Paramount Studios. Damien Chazelle was shooting Babylon there, but he very graciously let us use the location for an afternoon. That scene shows this kid entering into a world that already has a structure to it. It's the way many young people feel when they first get to town. To be right there when the visuals are being created, you realize as a production designer, "Oh, I'm making it!" It's not so much "I've made it." It's about the making of the thing and creating an illusion that might become iconographic in the future. You just have to get in there, create images that go along the discovery of the story, and hope you get lucky.
For more interviews with Oscar nominees, check out these stories:
Oscar-Nominated Makeup & Hair Designer Heike Merker Paints With Mud & Blood in "All Quiet on the Western Front"
Oscar Nominee Brendan Fraser on his Deep Dive into "The Whale"
"The Whale" Oscar-Nominated Prosthetics Artist Adrien Morot Breaks the Mold
Oscar-Nominated Sound Designer Frank Kruse Makes Some Noise on "All Quiet on the Western Front"
Featured image: (from left) Sammy Fabelman (Gabriel LaBelle), Mitzi Fabelman (Michelle Williams), Burt Fabelman (Paul Dano), Natalie Fabelman (Keeley Karsten), Reggie Fabelman (Julia Butters) and Lisa Fabelman (Sophia Kopera) in The Fabelmans, co-written, produced and directed by Steven Spielberg. Courtesy Universal Pictures.