"Emancipation" Hair Department Head Andrea Bowman on Her Oscar-Shortlisted Work
Andrea Mona Bowman knew that Emancipation was going to be special.
Based on a true story, Emancipation stars Will Smith as Peter, a Southern slave who breaks free from his Confederate captors and escapes into the Louisiana swaps. Chased for days, Peter makes his way to Baton Rouge, where he joins the Union army to fight for his freedom. There, he is introduced to new technology — photography. Peter agrees to have his bare back — covered from waist to neck with deep scars from repeated whippings — captured on film. The image became a worldwide symbol of the brutality of slavery, fueling the rallying cry for emancipation.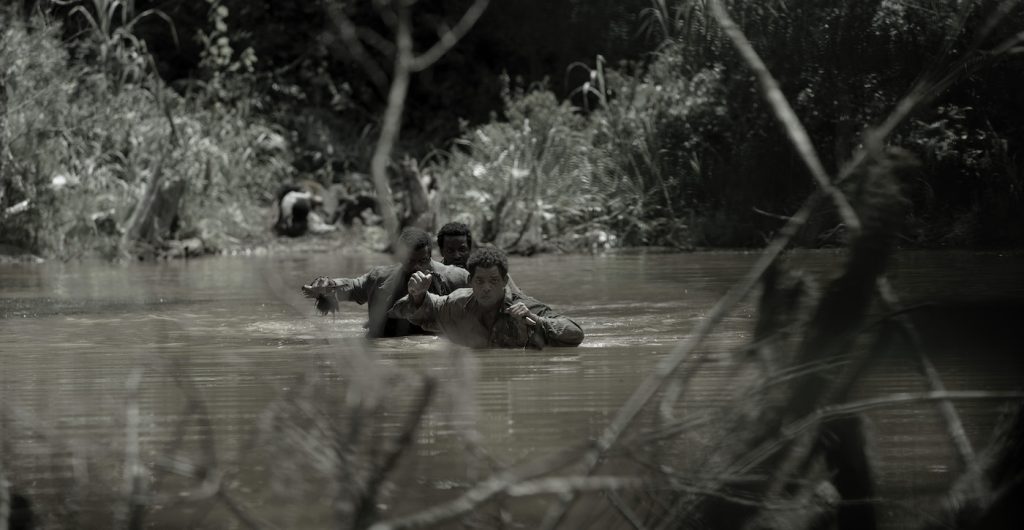 Bowman, whose credits include the 2022 TV series Women of the Movement and the 2019 feature Just Mercy, was well aware of the iconic 1863 photo of "Whipped Peter" by pioneering photographers McPherson & Oliver. So when she learned director Antoine Fuqua was helming a film based on its story (the original photo appears in the end credits), Bowman jumped at the chance to head the hair department for the 2023 Apple TV+ release.
"For me, it is personal. I'm from Louisiana. Peter could be one of my ancestors. So telling Peter's story was more of a spiritual thing," Bowman says during a recent interview from the set of Young Rock, where she heads the hair department. "I felt that this one was a lot different because of the intenseness —  how it was shot and portrayed and who Peter was. Peter was a real human being. There is documentation of all these things."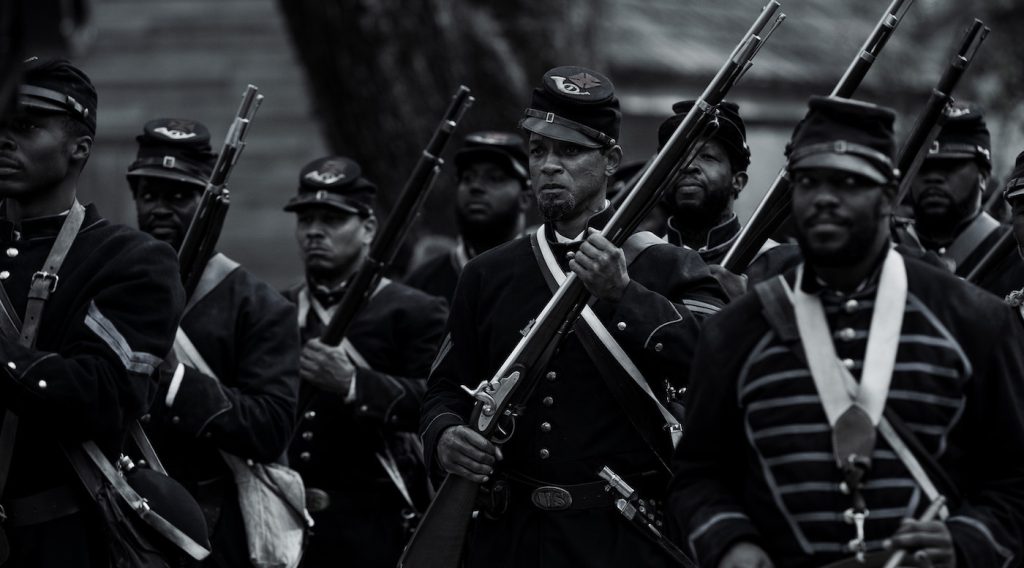 Bowman's first step was absorbing all that documentation. She spent hours on Google scouring for images. She found documentaries on YouTube. She spent her spare time during the Women of the Movement shoot hunting through Mississippi thrift stores for Civil War books. Stacks of material began piling up at home.
"I had this whole board with over 3,000 pictures. I'm still erasing pictures out of my phone," Bowman says. "My son would come in and say, 'Mama, you're surrounded by all of this stuff!' I was so intent on wanting to be correct."
Her quest for historical accuracy led to a unique strategy. Bowman decided to match each Emancipation performer to a historical photo. 19th-century images of slave hands, black and white Union soldiers, slave masters, and even slave catchers were brought to life.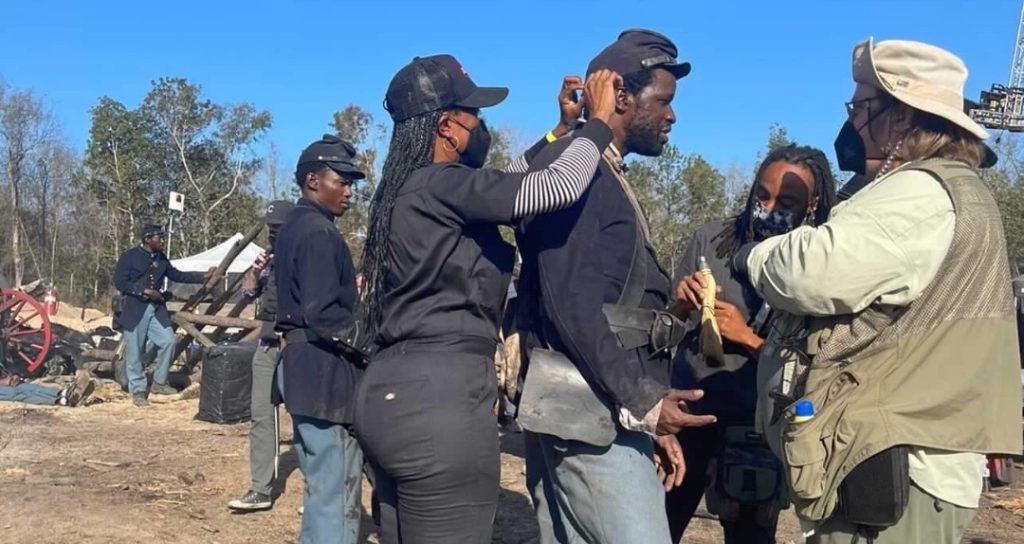 "I did my research by going back and forth and basing it off the length, color, and texture of the hair," Bowman adds. "I wanted every character from the background players and the stunt guys to the main characters to link to a real person."
With a set that stretched almost five miles long and a script calling for a sweeping plantation, epic Civil War battles, and grueling scenes of a Confederate camp where the slaves were forced to build a railroad, the task was not easy. Bowman estimates that during the first six weeks of filming, in addition to the main characters, the hair department transformed about 300 background extras. And that meant taking a lot of 21st-century haircuts back in time.
"Nobody came 1863," Bowman jokes. "Tomas (Jabbar Lewis), the young man that gets bit by the dogs, when he first came in, he had a nice haircut. "I was like, 'Oh, we can't have that' because they didn't razor edge their hair in the slave pen."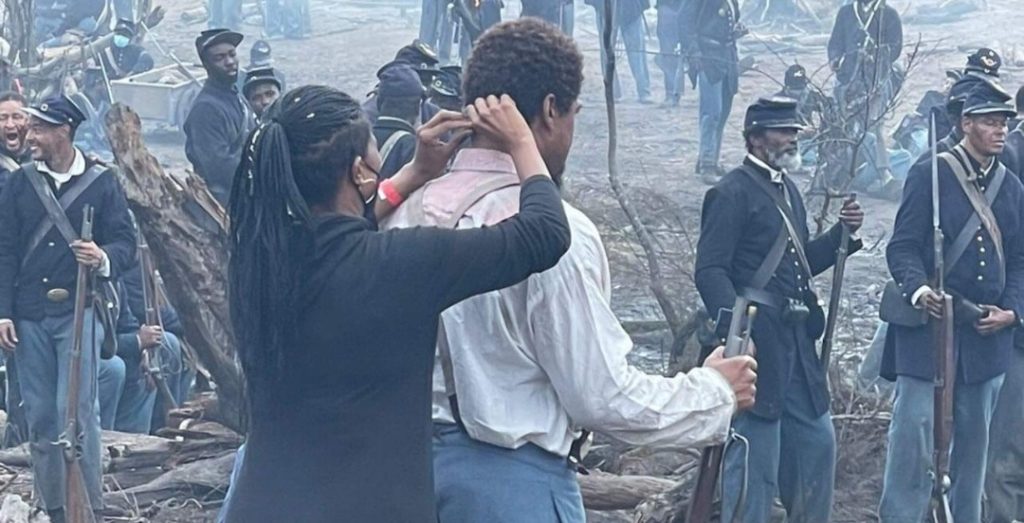 Adding to the degree of difficulty, everyone had to pass a COVID test each morning before work. This ate into prep time. But the team, which included a core group of Jorge Benitez, Christy Caudle, and Daina Daigle, and between 15 and 20-day stylists for the more expansive scenes, rose to the challenge.
"I had section techniques that I taught my team. They knew how many pieces were placed, how many sections were twisted, cross pinned. Everything had a process. It was like a well-oiled machine," says Bowman.
Wigs were used extensively. The hair team even created handmade pieces to fit the heads of the numerous dummies representing the dead slaves executed by the slave masters.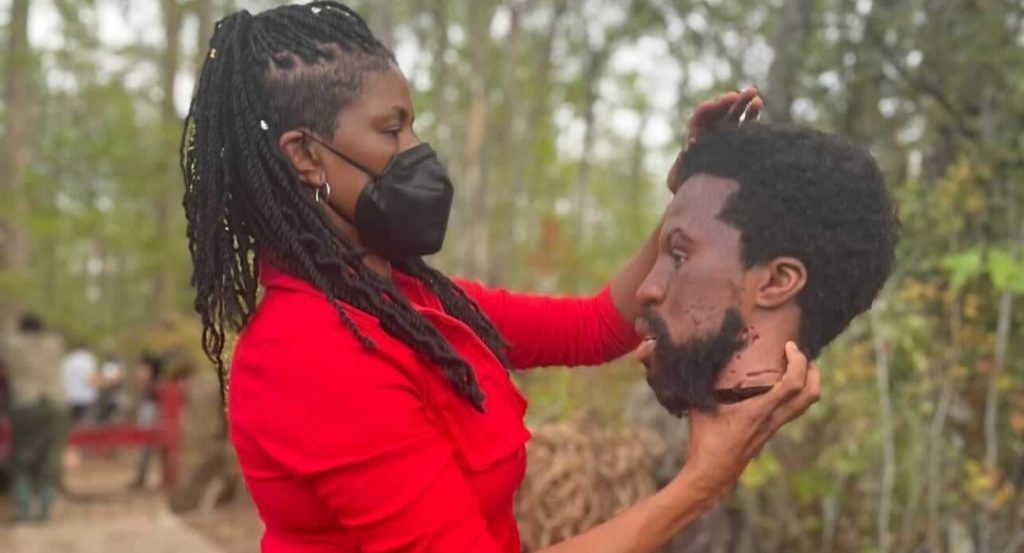 Smith wore a custom wig that was designed by Pierce Austin, his personal hairstylist. Bowman was tasked with recreating that look for Smith's stunt double.
All that extra hair added an additional challenge. Shooting extensive battle scenes, dusty construction sites, bustling cotton fields and murky swamps is tricky enough. But doing it during the height of a 100-degree Louisiana summer is just asking for a bad hair day.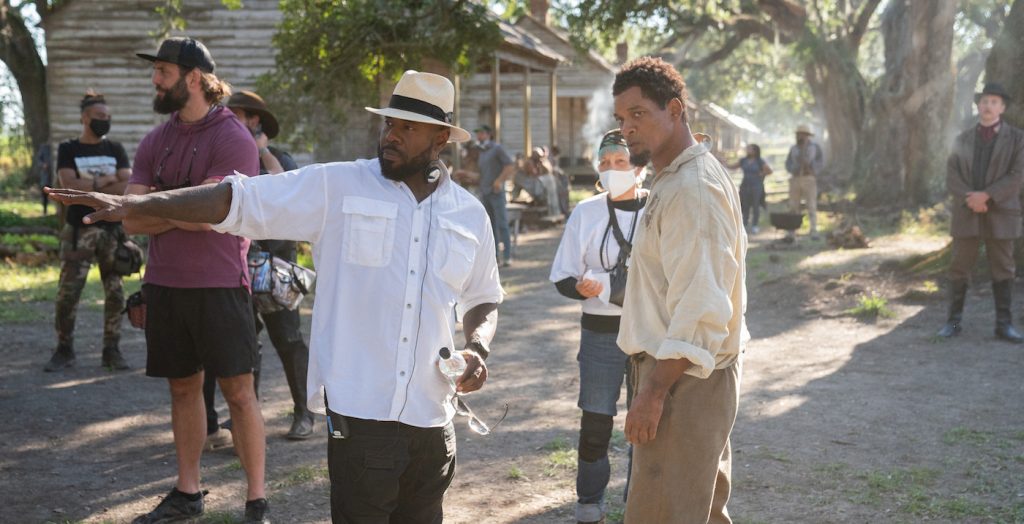 "The sweating, the dirt, the bombs exploding… glue don't care about none of that. It only lasts a couple of hours," Bowman explains. "So if you add the heat, which makes the body react with sweating… and the oils, you'll turn around and see a nicely done person going south. The heat had a great impact."
Bowman credits preplanned pinning techniques and constant vigilance for keeping things under control. And they had a secret weapon — cordless, battery-powered hair dryers. Easy to maneuver around the set, they kept the actors cool, the glue dry, and helped cut down on reapplications throughout the day.
As much as Bowman used historical imagery, she was also open to taking advantage of her actors. "We played off each person, what they had, what they brought to the table," she says.
Ronnie Gene Blevins, who plays Harrington, one of the slave catchers who chases Peter through the swamps, was fitted with hair extensions to make him stand apart from his colleagues. On the other hand, for Howard (Steven Ogg), a slave master, Bowman opted to use the actor's natural hairline. "He had such an edgy look, older and thinner on top," she adds. "We wanted that effect for the character as well."
Bowman also opted to keep it real with Charmaine Bingwa, who plays Peter's wife Dodienne. "We were thinking about a wig at first but I wanted to show texture," she explains. "I did a twist set technique on her hair so I could use her own hair."
Bowman adds that many of the slaves didn't have healthy hair because they were malnourished. But from the script, she knew that Dodienne needed to be the exception. "Peter was a strong-willed man," says Bowman. "As his wife, I wanted to show that she was the type of woman that would take that extra care of herself — much as she could. When I presented this to Antoine, he agreed. He wanted a good structured look that fit the period. He trusted me to bring that. When you see her, that is her natural texture."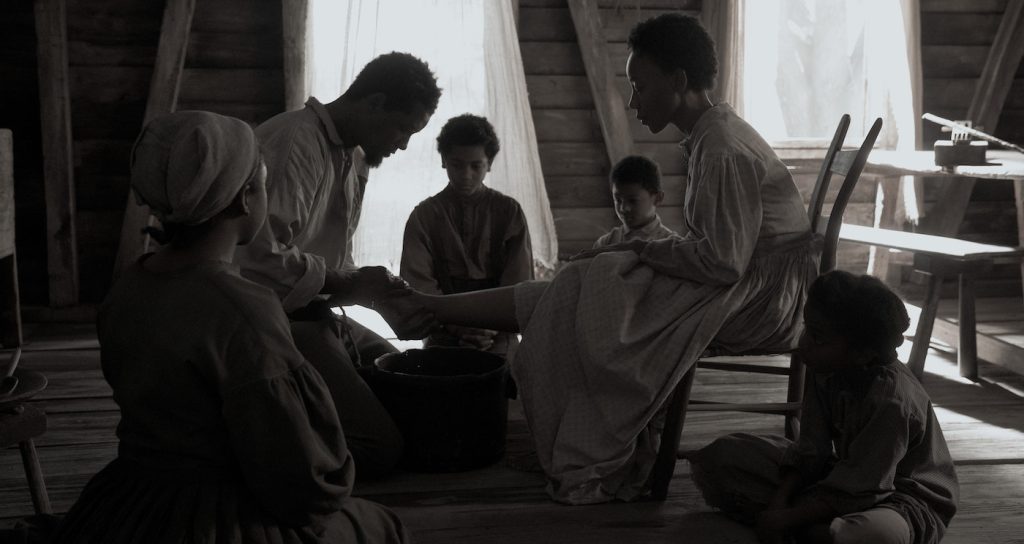 Bowman's efforts haven't gone unnoticed. Emancipation made the cut on the Oscar shortlist in the Makeup and Hairstyling category and is in the running for an Academy Award nomination.
Perhaps as important was the reaction when her mother saw the film. "It's actually living history. She said it looked like it was a picture moving," says Bowman. "And that's what we want, a seamless look. So when you see it, it draws you into the story. It's not just a history lesson, but a lesson of love and faith and endurance in a young black man."
Emancipation is streaming on Apple TV now.
For more stories on Apple TV series and films, check these out:
"Sharper" Trailer Reveals Apple TV's Julianne Moore-led Neo-Noir Thriller
"Causeway" Cinematographer Diego Garcia on Capturing Jennifer Lawrence's Subtly Powerful Performan
How "Causeway" Composer Alex Somers Cued the Cellos for Jennifer Lawrence's New Drama