How "Causeway" Composer Alex Somers Cued the Cellos for Jennifer Lawrence's New Drama
Jennifer Lawrence reanimates a no-frills acting style harkening to her 2010 breakthrough performance in Winter's Bone with the new indie film Causeway. Directed by Lila Neugebauer and set in New Orleans, Causeway (in theaters now [Oct. 28] and streaming November 4 on Apple TV+) casts Lawrence as a soldier who's returned from Afghanistan to her hometown burdened with physical wounds and PTSD. 
Lawrence's solemn performance opposite Brian Tyree Henrys enjoys subtle boosts from composer Alex Somers' spare score. "My background is more in atmospheric, slow-moving music, so Causeway was a perfect fit," says Somers, who previously wrote the music for such indie gems as Honey Boy, Captain Fantastic, and Miss Americana. He adds, "This film allowed my music to be unadorned and stay true to the character's experience."
Somers studied music at Berklee College of Music and then spent several years in Iceland producing experimental rock bands, including Sigur Rós, before moving to Los Angeles in 2017. Speaking from the patio of his home in L.A.-adjacent Washington Heights, Somers delved into the virtues of film-scoring simplicity and ventured off-topic to discuss his recent collaboration with Bob Dylan.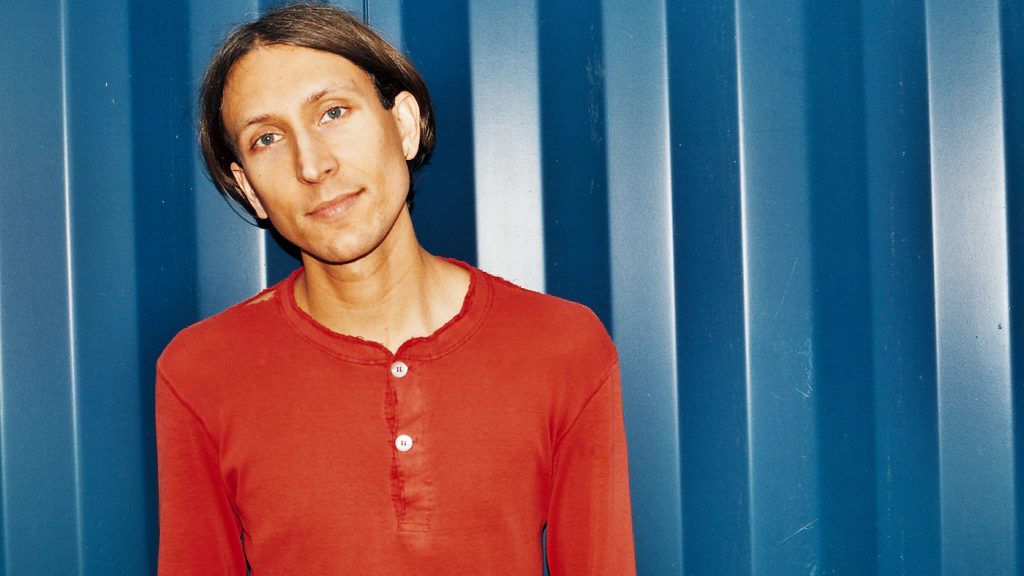 Your music does a nice job of supporting Causeway's understated aesthetic by keeping things simple. Was that intentional?
In my early conversations with Lila, the idea was to not actually have a ton of music. Jennifer's character Lindsey doesn't show a lot outwardly, and at times she doesn't say a lot, so when the music does happen, we wanted it to be a little window into her inner environment. 
Unlike a lot of contemporary movie music that features heavy percussion, your Causeway score has no percussion at all. Why is that? 
I did record some percussion with my friend Samuli Kosminen, but we didn't use it. Over the last decade, as I've done more scoring stuff, the number one critique I get after my first pass is: "We love it, but can we have more drive, more momentum, more percussion — just make it bigger?" Causeway was the opposite. Lila asked me to pare it back. "Let's get to the essence of what is happening behind Jennifer's eyes?"
So how did you conjure that inner emotional landscape in terms of instrumentation?
What I landed on is there's an amazing Icelandic cellist I work with named Gyða Valtýsdóttir. I basically muted all the other tracks and used varispeed on her parts to make them sound low down, so the bow sounds become thicker and more intense. It was about the sound of the music as much as it was about the notes.
Your melodic theme, which recurs throughout the film, sounds like it consists of just four chords?
Yep. 
Why did you limit yourself in that way? 
That's what the film wanted, but it's not difficult for me. This is how I live. I listen to very repetitive music in my home. I listen to field recordings. A lot of my favorite pieces of music are literally one chord for 60 minutes. So four chords seem like, you know, crazy! We're going all over the place!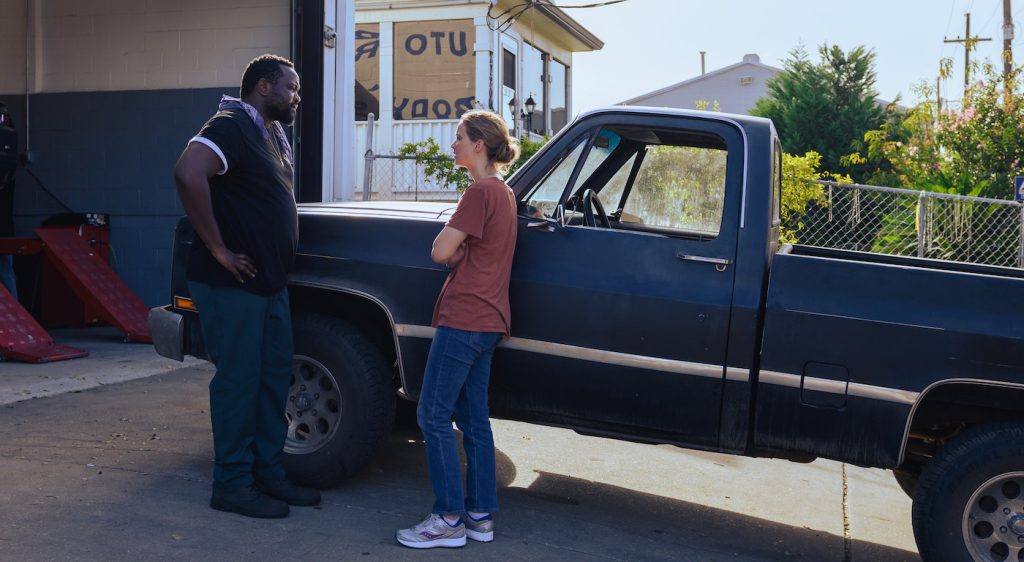 Less is more.
One of my favorite music quotes comes from Lou Reed, who said, "One chord is alright. Two chords are pushing it. Three chords, you're into jazz." Of course, he's exaggerating, but there's a beautiful grain of truth there that deeply resonates with me. I tend to be ambitious and experimental when it comes to the sound of the music, but harmonically, I lean toward writing simple music because that's how I hear the world.
So the score is mostly cello. Anything else? 
I played some of the music on a tiny piano from Japan called a Princess Piano, but I have up to sixteen layers of cello. It sounds like an ensemble, but actually, that's all Gyða. I'm also a mixing engineer, so I love the control of having one instrumentalist and multi-tracking them. For me, capturing the musicians is fifty percent [of the job], and then the other fifty percent happens in the way I pull the strings and f*ck things up and turn them into something new. It's super fun.
Growing up in Maryland, were you a music nerd?
Around 12 or 13, I became obsessed with music. I played every instrument I could get my hands starting with guitar. I acquired effects pedals, I got a Shure 57 microphone, and a TASCAM tape machine. When I learned you could play tape backward, that was a huge revelation.
Which artists influenced the way you think about music during these formative years?
I discovered My Bloody Valentine when I was fifteen and really got serious about ambient sounds. Aphex Twin's double CD Volume II changed my life because I became curious about electronic music and started buying synthesizers at flea markets. Also [I listened to] a lot of rock and roll like Nirvana, Joy Division, and Sonic Youth. 
In Iceland, you started producing bands, and you've also released albums of your own music.  How does solo work differ from the way you function as a film composer?
I try to let them occupy the same space as much as I can, but there is a difference. In film scoring, there's a frame around it and a timeline. You're accountable, you have to do it. Also, the music almost has to take a side, exaggerating what's happening on screen or commenting on it, or downplaying something on purpose to set up a reveal for later on. Whereas with your own music, it's special to create something out of nothing, but it's also hard to finish because everything's so nebulous. The thing I love about film scoring is that it's so collaborative. You're talking to many people about the work, you're revising it, and you might do something you love, but somebody decides it doesn't fit right, so you have to chuck it out. There's a lot of experimentation and failure.
Can you give an example from Causeway? 
I remember recording these really high-string cluster harmonics performed by my cool violinist friend Jake Falby, and then adding concert bass drums, so there's nothing in the middle — it's just air and earth. None of that made the cut. Sometimes you try things, and they get rejected, which can be difficult at times, but it's so rewarding in the end when you land on something that works. 
On a tangent, you served as music director for Bob Dylan on his 2020 concert documentary Shadow Kingdom. How did that happen, and what was he like?
[Honey Boy director] Alma [Har'al] called me and asked if I could outfit a band for Bob Dylan because he was keen to try something new for the sake of this one-off film project. Basically, all the people in the band are friends of mine. We pitched the musicians with black and white headshots and a little bit of text. Then I assembled the band and rented a little house in Laurel Canyon, where we rehearsed for days and days until everybody knew the songs inside and out.
Did you interact with Mr. Dylan? Some say he's a man of few words.
He chatted with members of the band a few times. My friend Buck Meeks played guitar, and after one of the takes, Dylan walked over to Buck. "What's your name? Who do you play with?" And there was a lot of impromptu jamming in between takes when Bob would just start riffing. He was gracious and very hands-on, looking at the monitor, talking to Alma. Dylan had a lot of opinions and wanted to make something cool.
Dylan's performance feels gritty and unaffected, not unlike Jennifer Lawrence's performance in Causeway. As a composer, you must have related well to her arc as she re-adjusts to civilian life.
Causeway is the closest thing to real life I've ever worked on. Most movies involve things that would never really happen, but Causeway doesn't do that. Some people might be like, 'It's too slow, nothing happens,' but I think there's space for films like this. I really hope people can connect to the earthiness and the truth of this story."
For more stories on Apple TV series and films, check these out:
"Raymond & Ray" Writer/Director Rodrigo Garcia Digs Deep With Ewan McGregor & Ethan Hawke
"Black Bird" Cinematographer Natalie Kingston Breaks Down Her Technique on Apple's Crime Thriller
Temuera Morrison to Play King of Maui in Jason Momoa's Series "Chief of War"
Featured image: Jennifer Lawrence in "Causeway," premiering November 4, 2022 on Apple TV+.