"Causeway" Cinematographer Diego Garcia on Capturing Jennifer Lawrence's Subtly Powerful Performance
"I would like to go back," says former U.S. soldier Lynsey (Jennifer Lawrence) to her physiotherapist (Stephen McKinley Henderson), who is overseeing her rehabilitation following a traumatic brain injury from an IED while serving in Afghanistan. But her reasoning for returning is more than a flashy comeback story found on the front page of a sports magazine. Her wounds run deeper, and the question of "should she go back" is the resonating theme of director Lila Neugebauer's (Maid, Room 104) debut feature.
Biding her time until she can redeploy, Lynsey picks up a job cleaning pools and meets James (Brian Tyree Henry), who lends a helping hand in fixing her truck. Their relationship flourishes into an affinity for one another, leading her on an unexpected path. Tasked with photographing the intimate visual language was cinematographer Diego Garcia (Tokyo Vice, Too Old to Die Young).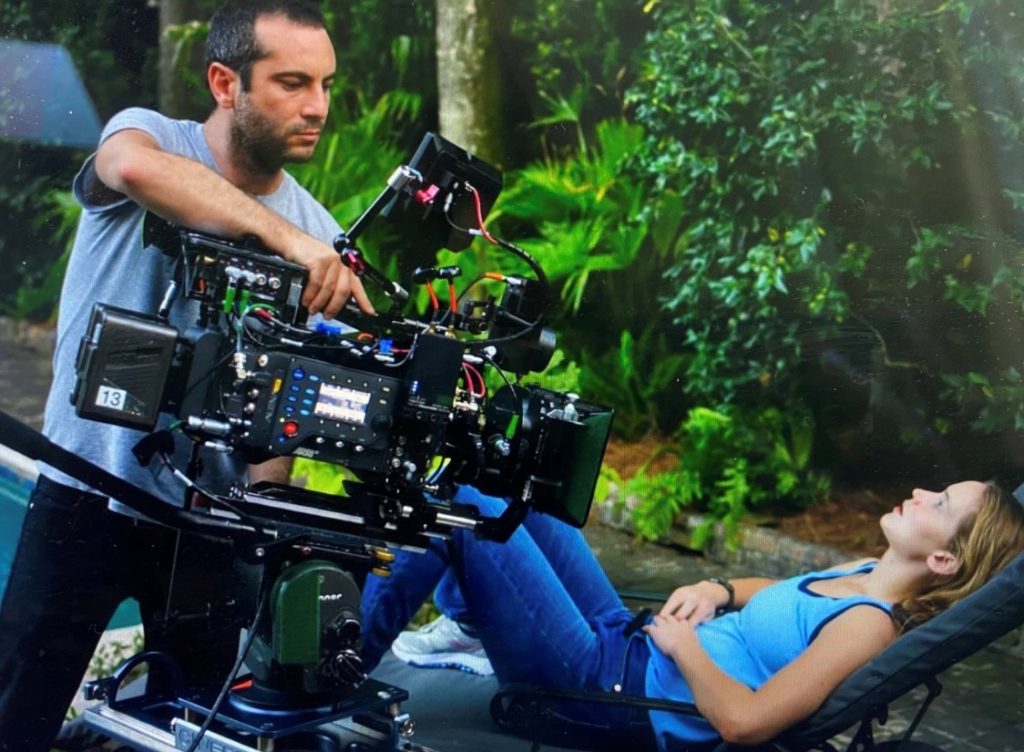 Framing the narrative with an ARRI Alexa LF and Panavision H series lenses, the widescreen (1.85:1) format invites us into Lynsey's psyche without getting close, a choice that viscerally complements her independence, her desire to keep those close to her at arm's length – especially her fickle mother (Linda Emond) – as well as her physical and emotional struggles. Layered through a vivid tapestry of colors and symbolism, for instance, the continuous presence of water representing Lynsey's journey to cleanse her body and mind, Causeway was beautifully shot, exploring an unconventional (yet welcoming) side of PTSD. Not to mention Lawrence and Henry are both phenomenal in their roles. Garcia shares how the color palette impacted his approach and the defining moment for Lynsey in this subtle and subtly moving film.
Blue hues are the dominant color palette in Causeway. We see them in the locations, lighting, costumes…pretty much everywhere.  Did you discuss that creative idea with director Lila Neugebauer and production designer Jack Frost early on in the process, or was it something already established when you joined the project?
There was nothing established before I joined the project. The whole idea of the visual language was explored and founded on the way of making the film as an open creative process. It's true; blue is an important color in the palette. In life, you can see different kinds of blue in the sky and sea, so it's a direct representation of depth and open spaces. It was probably a way to create a visual connection between Lynsey's interior world into her process of re-adaptation, healing, and personal seeking.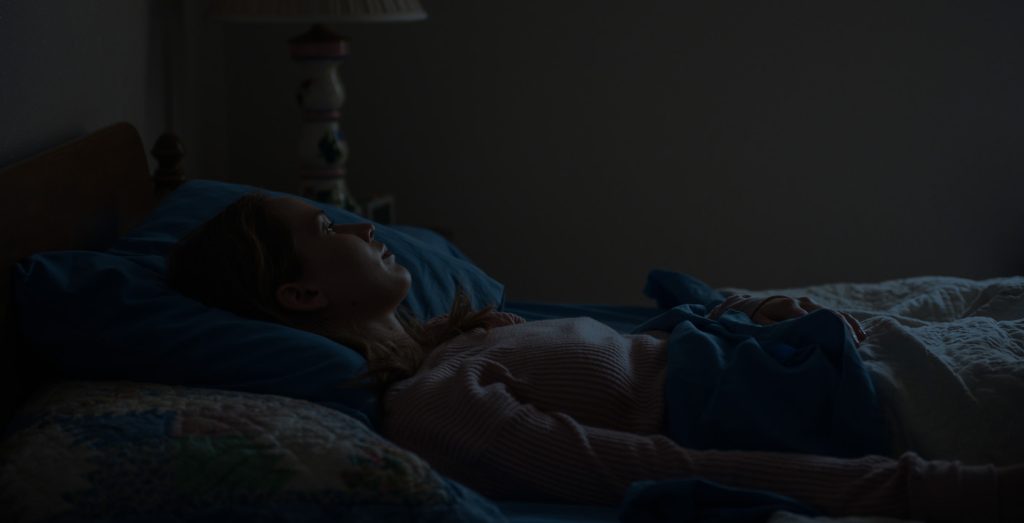 When you are working with a prominent color as a cinematographer, how does that affect your approach to photography?
I try not to force my approach or think in a rational way about how to use color. There are some conceptual and symbolic bases that I integrate into my creative process, and once I have them in me, it's easier for me to flow with them and make creative decisions on a practical level during prep or on set. It feels that they come out more in a natural way. This sometimes resonates and pays back later on the final result. 
There's a subliminal nuance to the blue palette that plays into Lynsey's recovery. There's almost this turning point for the character when she has drinks with James at the bar. The atmosphere becomes warmer. 
It's true that the bar scene comes at a turning point in the story, especially in Lynsey's and James' relationship. This is probably the night when they open themselves in a more intimate way. The red as a counterpoint or contrast from the prominent blue and cold tones was something that appeared on the way spontaneously. Jack Fisk did wonderful work going around the city, doing research in different neighborhoods just by driving or walking around. He found this iconic bar, and he thought it was rich in character and that it could give the scene a warm vibe at that particular moment for the characters. I loved the energy of the place, and I thought my job was to take whatever the bar was offering already and just tune up the lighting for the atmosphere of the scene, keeping the real essence.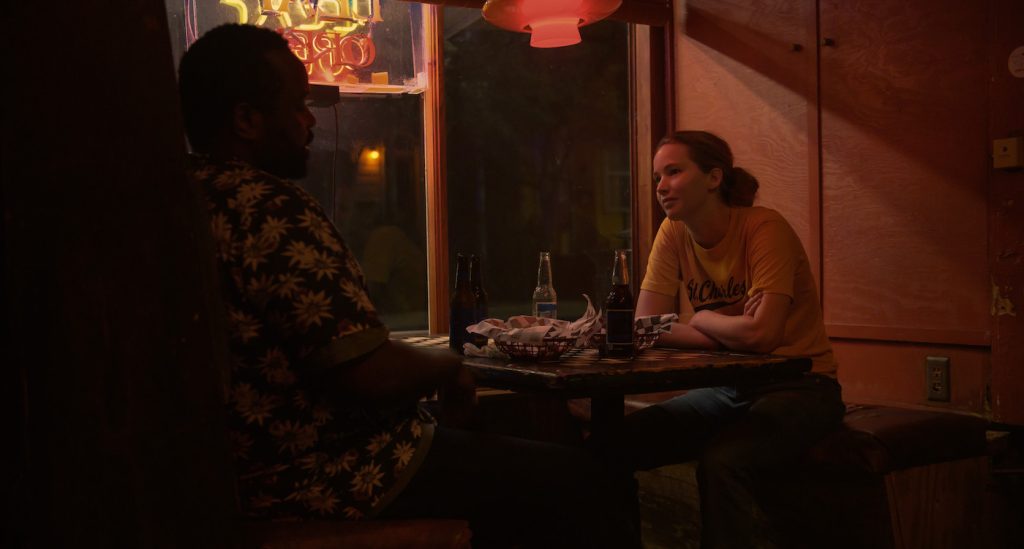 How did you want to approach lighting that bar scene?
The lighting in the bar scene was based on the real ambiance the bar already had. I did want to keep the warm tones and the mood. I decided to enhance the lighting on them by adding three different lighting qualities. I used a tungsten bulb on an unbleached pancake, trying to keep some clean skin tones. Also, there's some red coming from the practical fixture, and I also added a fluorescent tube coming from the outside, which I thought was a nice blend with the neon sign. In general, my intention was to create a cozy vibe atmosphere where they could feel comfortable and be themselves.
Lynsey's relationship with James is unique. Did you want to address their arc in a specific way through coverage?
The structure and dramatic arc of the film changed in many ways over the whole process of the film. So what I think worked better for the creative process was to frame with intuition for what we thought was emotionally correct and connected with the characters' moments in each scene. For me, it was more like absorbing the locations, staying present on the blocking, and zooming out while being aware of the dramatic importance of the scene and making them part of the whole picture.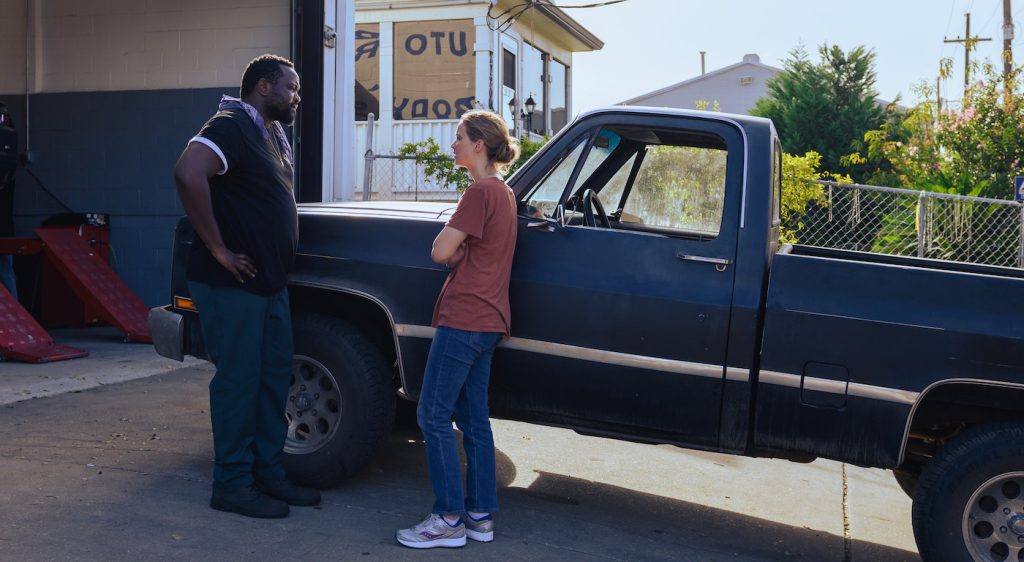 There are a number of pool scenes with Lynsey cleaning them or swimming. It's a place where she feels at home, and maybe a place where she's cleansing her mind of her tragedy. One scene in particular that breaks that idea is when she invites James to swim, and it ends in an argument. Can you share how you wanted to approach that scene?
The Octavia pool scene was probably one of the most challenging ones. It is a sensitive moment in the film where there's an important change of tone in their relationship. We wanted to stay close and intimate with them and also give them a  sense of freedom. For the first part of the scene, we used a Techo Crane so the camera could stay re-adjusting in position on the surface of the water. Then for the kiss part, we used splash bags and we did handheld, so the camera could stay close with a human pulse flowing with their slow movements. For lighting, I used tungsten light units in the pool with water housings. I bounce them on the surface of the pool, picking up the blue that the pool originally had, and I just tried to find interesting angles to shape it. I thought of using the light coming from the water as the key.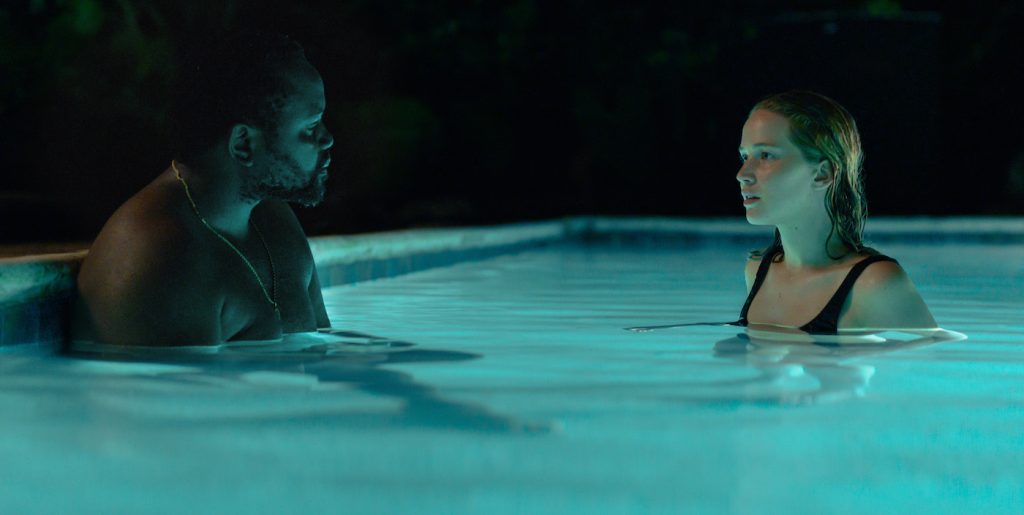 While on the topic of composition, what I liked about Causeway is its static frame. It adds more tension to Lynsey's character as she copes with the trauma of Afghanistan. Was that something you and Lila Neugebauer wanted to do from the start?
I believe each frame in this film is linked to the emotional and physical state of our characters. Composition is probably one of the stronger tools it has to translate their feelings and psychology into a visual expression – the unspoken language where the empty space and depth is telling us about them in a silent way. For me, each composition is like a little window into their time and reality.  
Interestingly, Lynsey's home isn't where she wants to be. How did you want to present that idea photographically?
Lynsey is constantly working on her recovery and re-adaptation. Finding her place and her space. New Orleans and her house open her past, and this makes her want to move on. We tried to be respectful in the way we photograph her spaces. Rooms in her house, streets in the city, pools. The distance of the camera from her and how we present her reality. Framing and lighting were not trying to accentuate this oppression but just to keep a natural and subtle approach into her world.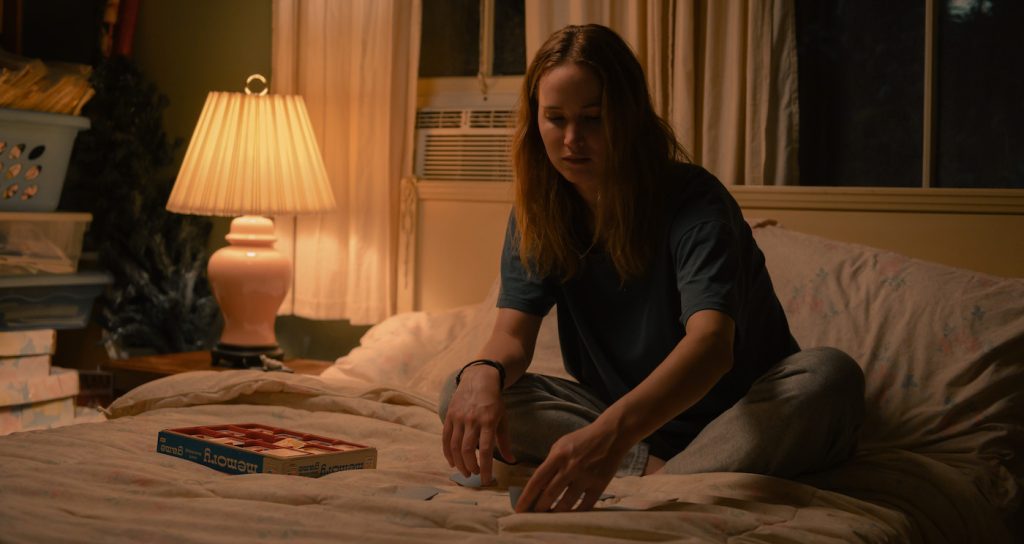 Was there anything you took away from photographing this wonderful film?
I would say a big lesson that I took from this film was to be patient and always open and receptive to whatever the process is, always flowing and focused on linking the storytelling to the visual language, even in small and imperceptible ways and details.
Causeway is streaming on Apple TV now.
For more stories on Apple TV series and films, check these out:
"Raymond & Ray" Writer/Director Rodrigo Garcia Digs Deep With Ewan McGregor & Ethan Hawke
"Black Bird" Cinematographer Natalie Kingston Breaks Down Her Technique on Apple's Crime Thriller
Temuera Morrison to Play King of Maui in Jason Momoa's Series "Chief of War"
Featured image: Jennifer Lawrence in "Causeway." Courtesy Apple TV