Shaping Locks & Lives With "We're Here" Hairstylist Abdiel Urcullu
One would think grammar school teachers and drag queen wigmasters have little in common. But having been both, Abdiel Urcullu can see the similarities.
For the past two years, Urcullu, who previously taught math to 4th and 5th graders, has served as the key hairstylist for the HBO series We're Here. Debuting in 2020, the reality series follows drag queens Eureka O'Hara, Shangela, and Bob the Drag Queen as they travel to small-town America to encourage a community to get in touch with its inner drag.
The hosts (dubbed "drag moms") meet with locals ("drag daughters") and help them create a drag performance that takes place at the end of the episode. As the daughters are put through their paces, their stories unfold — a sexagenarian lesbian couple who wed during their performance; a Tunisian refugee who comes to terms with the sexuality that would have imprisoned him in his home country; a good old boy from South Carolina who dons high heels and a dress to better understand and support his gay brother who is a drag queen; and a New Mexico mother coping with her gay daughter's suicide.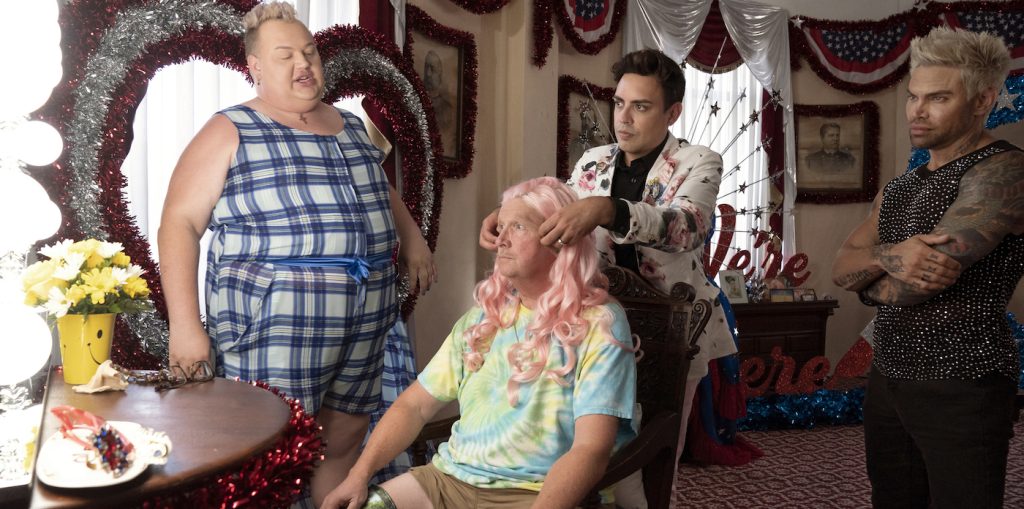 Though it doesn't hold back on the campiness, the overall goal of the Emmy-winning series is to promote positivity, love, and understanding for the LGBTQ community. And that's what particularly drew Urcullu to We're Here. As much as he wanted to follow his creative passion, he missed the feeling he got in the classroom.
"What I loved about teaching is that I felt I was making a positive impact and helping people," Urcullu said during a recent Zoom call. "Doing wigs for drag queens, even though it's rewarding on a personal level, doesn't necessarily feel like I'm making much of an impact. We're Here is giving me a bridge between personal success and helping and educating the community — providing a brighter future for queer youth."
As an added bonus, Urcullu realized his math skills came in handy in the world of hairstyling. "There is actually quite a bit in haircutting," he continues. "There's a surprising amount of geometry involved. And when you're coloring, there's quite a bit of ratios. After the show got picked up, I went back to school for cosmetology. It was really interesting to see a lot of the math things that I had been teaching. It was like, 'Yeah, this is what we do.'"
Urcullu, who also goes by the stage name "Gloria Divina," estimates that he takes between 40 and 50 wigs with him for each episode. Typically, only a fraction of those get used over the 12 shoot days. The tight schedule doesn't allow for much building, so instead, he draws from his arsenal of hair to create the desired look.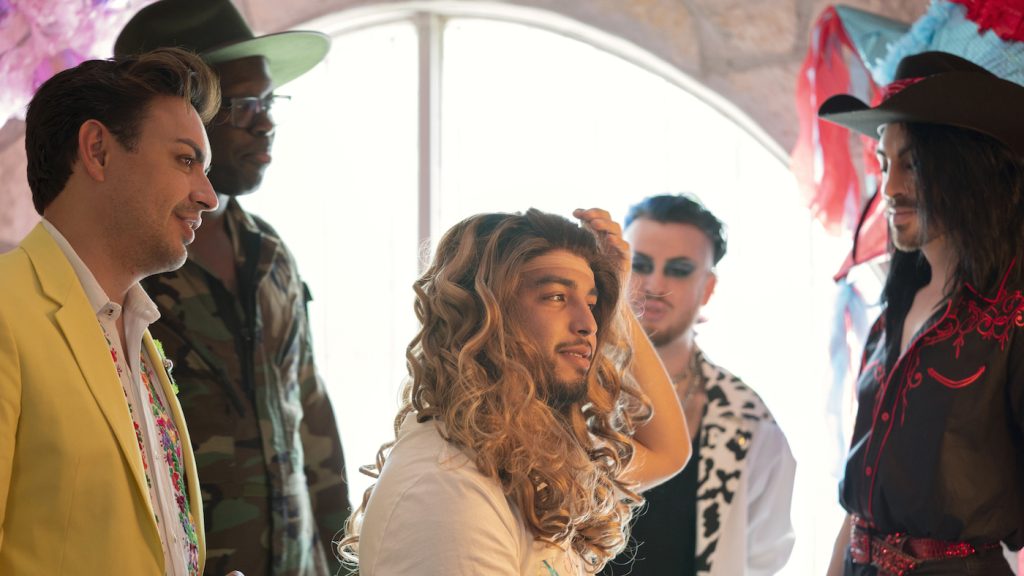 The opening shot is the biggest challenge. The "moms" wear wigs during the entrance segment when they descend on the location in all their fabulous glory. Location plays a big role in the choices. For example, season 2's Del Rio, Texas episode saw the drag moms decked out in football-inspired, shoulder-padded ensembles. Extending down to his ankles, Bob's braided coif included the message, "Go Rams," to cheer on the local high school team. The Selma, Alabama opener took big Southern hair to new heights.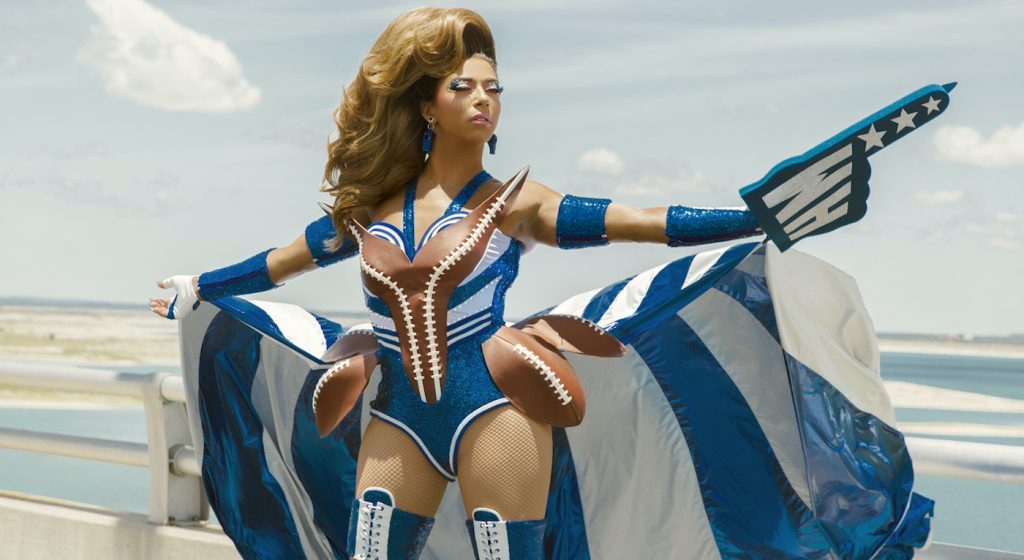 "Probably 50% of our time is spent on those entrance wigs," explains Urculla. "And they're seen for like a minute and a half. But it's supposed to be a very high-impact moment."
The wigs are also crucial to the show-stopping finales. Urcullu creates the hairpieces for all three sets of drag moms and daughters. The process starts even before the cast and crew leave for a location. It seems that before he can unpack his bags from the last shoot, Urcullu is receiving details about the next one.
"It has a bit of information about the town and a profile of the people that have been cast," Urcullu says. "It has their pictures, their gender identities, their ages, and a very brief summary of what we think their stories might be."
Next comes a meeting with the producers, the drag moms, and the other designers to brainstorm. Music themes are volleyed about. From these ideas, designers come up with sketch options.
"The wig design is heavily dependent on the costume designers," continues Urcullu. "Once they submit something, I'll call or text the drag queen mom and say, 'Hey, this is what I'm thinking. Do you have any ideas?' We try to collaborate and merge it all together."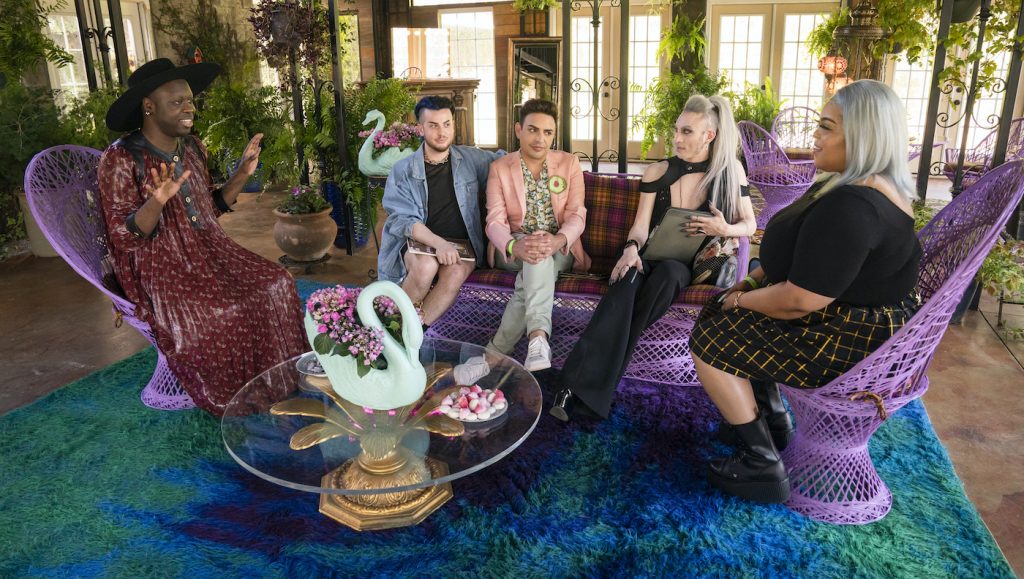 But Urcullu also keeps it flexible until he arrives at the location and meets the daughters. "That's when we pick the color. A lot of times, we're like, 'Okay, we think she's gonna want to be a brunette. We think she's gonna be a blonde,' he says. "But there are many shades of brunette, many shades of blonde. And we want to make sure that it's gonna work for them."
Urcullu also realizes he will encounter varying degrees of attitude towards doing drag and is prepared to adjust accordingly. He'll dial it down for a straight cisgender man who's never worn a wig and take it up a notch if he feels someone is willing to go full queen.
Visiting all these small towns also provides a reality check. Urcullu is a Houston native, and most of the cast and crew are from New York or Los Angeles. They've used to having their lifestyle choices accepted, or at the very least, tolerated. We're Here has shown him that not all of America is ready to greet the LGBTQ community with open arms.
Such was the case for season 3's opening episode in Granbury, Texas. Some in town didn't take kindly to what the show was doing. And for a reason Urcullu can't explain, they focused on the costume shop.
"They took pictures of the inside of the workroom and spread the word about these horrible things we were doing," Ursula remembers. "There was absolutely nothing particularly graphic about it. It was a few mannequins, a couple of wigs, and pieces of fabric. As soon as we found out, the designers, myself, and my assistant were like, "We're gonna go back to our hotel. Let us know when security gets here."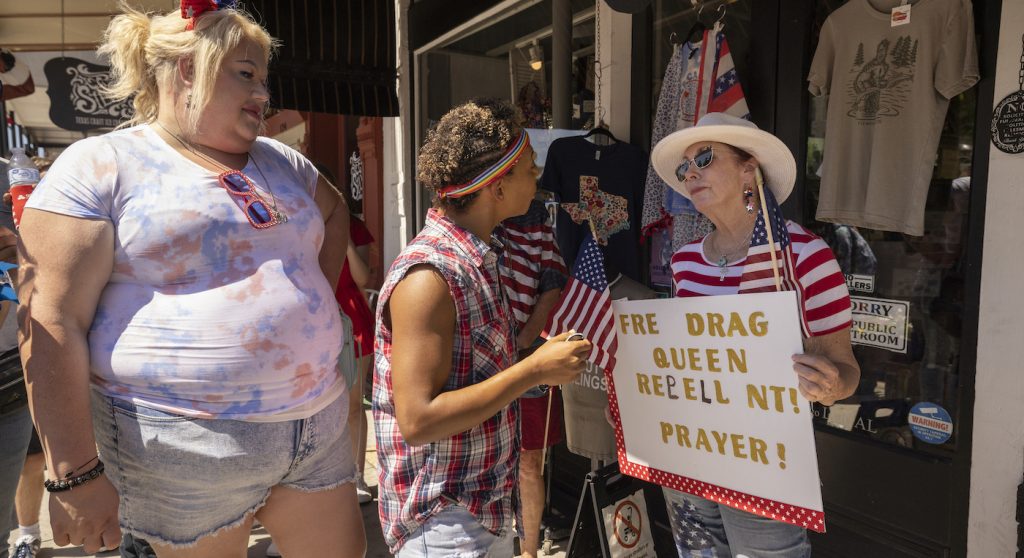 Overall, Urcullu finds his We're Here experience inspiring. The season 3 Kissimmee, Florida episode holds special meaning. One of its daughters is a survivor of the 2016 Pulse nightclub shooting. The episode also features a preteen trans girl. "I believe she's 11 or 12 years old," says Urcullu. "Her parents are just so supportive. And we know what's going on in Florida with not only book banning but with trans medical care for children. So having someone that is an advocate at home has to be very impactful for them."
Urcullu hopes that he and the show can build on that feeling.
"To me, what's important is those teenage kids that are watching at home —  possibly hiding that they're watching this," he says. "I do think this show's impact is enormous to them. I know it is because I hear about it all the time. I know that if I had had a resource like this, I would have been able to get past my personal challenges and my traumas would not have been as deep."
For more on Warner Bros., HBO, and HBO Max, check out these stories:
"The Flash" Will Speed Into Theaters a Week Early
Bong Joon Ho's "Mickey 17" Starring Robert Pattinson Reveals First Look
George Miller's "Mad Max: Fury Road" Prequel "Furiosa" Just Found Its VFX House
Featured image: Bob the Drag Queen in "We're Here." Photograph by Greg Endries/HBO