Exploring the "State of the Film Industry" at the Middleburg Film Festival
As part of the Motion Picture Association's 100th year, the leading advocate in advancing the business and art of storytelling for the film, television, and streaming industry has found a new way to be of service by becoming a sponsor of the Middleburg Film Festival. Now in its 10th year in operation, this festival has become a significant player in the windup to Oscar season. As part of their partnership with the MFF, the MPA presented a "State of the Film Industry" panel to a packed crowd of industry insiders, filmmakers, and movie lovers on the fest's last day. 
MPA Chairman and CEO Charles Rivkin opened the panel by thanking festival founder Sheila Johnson and Executive Director Susan Koch for the work they've done in the first 10 years of the Middleburg Film Festival, saying, "what they've done is nothing short of remarkable, making the film festival not only renowned and respected but one of the best festivals in the United States."  He turned the panel over to the moderator, chief critic for the Washington Post Ann Hornaday, who introduced those taking part. That includes film editor Terilyn Shropshire, who was at the fest to do a master class on editing and discuss her latest film, The Woman King; Phil Contrino, the director of media and research for the National Association of Theatre Owners; Andy Edmunds, the director of the Virginia Film Commission; Walt Disney Company's senior vice president of government relations Susan Fox; and Oscar-nominated and Spirit Award-winning producer Ron Yerxa, who brought his new film and Ray Romano's directorial debut Somewhere in Queens to the fest. 
Hornaday began by asking panelists how they saw the current state of the industry, to which Shropshire responded first, saying, "The Woman King was the first film on which I was able to go back into the editing space with my crew and collaborate in person. The Old Guard was released during the pandemic, so we were never able to see it on the big screen. With The Woman King, to be able to watch it in IMAX and Dolby Vision and experience it with an audience was very emotional for us because we hadn't had that in so long. I'm really encouraged. This is something we've all had to live with, but we've learned to adapt, and it's nice to see human beings rise above and figure out how to still experience cinema the way we want to."
Contrino talked about the need in theaters for a balance between blockbusters, which he said, post-pandemic are doing well, and mid-budget films and smaller festival circuit indies. "The blockbusters are back big time, but what we need is the kind of movies that are playing at the festival this week, like The Woman King, to make a comeback. We need those things because it's like a healthy diet, which is the best way I think of it. I do think the prestige movie is going to make a big comeback this fall. That's what the industry needs to fully recover at this point."
There were a number of questions about how to foster an environment for indie films and smaller projects to succeed, especially as it allows for more diversity of content and more inclusive casts and crews. Hornaday asked Ron Yerxa how he believes his film Peanut Butter Falcon, a film that featured a co-star with Down syndrome, broke through and became so financially successful. He explained, "Peanut Butter Falcon was a truly independent film made with equity money. It was, in large part, a spirited comedy but deals with some serious issues underneath that. Nobody wanted it. I mean nobody. But ultimately, it was finally accepted into SXSW and won the audience award, and it became the highest-grossing indie of that year. A lot of that was word of mouth." 
Hornaday turned to Susan Fox and asked her to speak to the fact that Lightyear was considered an underperformer in brick-and-mortar theaters but has had a healthy life online. Fox offered a perspective on what Disney has learned about how films find success. "We've always known that the creative process is an art, not a science. I think we're learning that marketing is an art, not a science, and that distribution decisions are an art, not a science. There is no formula. With Lightyear, for us, it's done really well on streaming. Encanto, which did well theatrically, became a phenom on streaming. There's not one size fits all, and we're figuring it out as we go along." Fox also talked about shifts in how Disney is presenting their projects, sometimes simultaneously online and in theaters, or shown in theaters months after release. "We've done communal screenings of Andor, which you could see 3 days later on your iPad. We did movie screenings of Shang-Chi and the Legend of the Ten Rings nine months after it came out. These screenings have been really well-received and supported."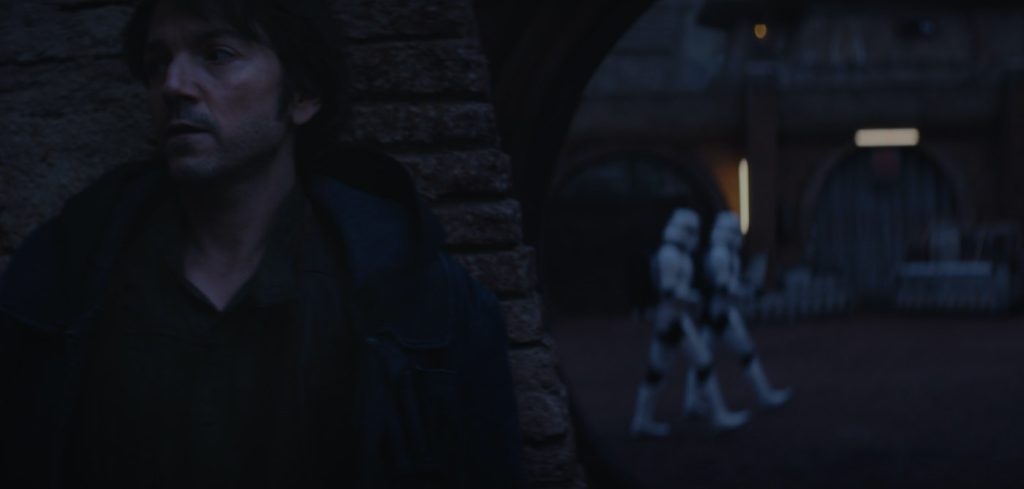 Edmunds talked about the value of a wide variety of platforms, what that means financially, and the challenges of drawing productions to work in a specific state or country. "It used to be the Virginia Film Commission would compete with stuff like the best location or logistical assets, but now that's all driven by incentives, tax credits, and rebates. Essentially a state or country has to buy the jobs, and there's a debate about whether it's worth the investment. I believe it is, because the film industry offers wonderful opportunities. When a producer like Ron Yerxa comes to Virginia, it's like a helicopter full of money that touches all parts of the economy." 
Hornaday asked Contrino if he felt the movie theaters have learned anything from the pandemic about the culture of film-going. He responded, "What you see is that when one movie theater innovates and lands on something that works really well, it puts pressure on the entire industry, in a sense, to innovate as well." 
When an attendee asked how more political perspectives could be presented on the big screen, there was a consensus that the most successful movies being released have both a political component and the ability to entertain. The films of Jordan Peele were hailed as a great example of that. The last question was from a young film critic in the audience who identified as immunocompromised and prefers watching films at home. They asked how many on the panel would be happy if movie theaters faded out of existence. Shropshire said she believed in the value and strength of the collaborative experience that movie theaters provide. Yerxa added that there's a crucial difference between theater and home. "At home, you're in control, and you're the director. In a theater, you have no control. You're experiencing something, and you're just totally immersed in it." The night before, when Somewhere in Queens was screened, he said a woman relayed to him she was going to leave halfway through because Ray Romano's character was so annoying, but she stayed. He explained, "She said, 'I'm so glad I did because everyone had their redemptive, transformational moment.' If she had been at home, she would have turned the channel or turned off the screen."
The panel wrapped on a positive note, with the panelists echoing one another. They all believe that the industry may be in transition, but the sheer volume of content across platforms means more opportunities. More diverse voices will be heard, and every kind of audience, whether at home or in theaters, can enjoy the storytelling experience.