Inside "House of the Dragon" Episode 6
Episode 6 of House of the Dragon takes us on a major jump forward in time, a leap in years that also includes the switch-over for the actresses playing two of the main roles. Out are the great Milly Alcock as Princess Rhaenyra and Emily Carey as Queen Alicent, and in are Emma D'Arcy and Olivia Cooke, playing the Princess and the Queen, respectively. As episode 6 gets underway, Princess Rhaenrya is giving birth (a relatively mild birth scene by Game of Thrones standards), and the baby is not even a minute old before she's told she and her new son are being summoned by the Queen. So soon? It turns out that there's been no refreshed love between Rhaenyra and Alicent over the years, and episode six explores their frosty relationship and the implications that will be felt realm-wide because of it.
This ten-year jump and major recasting of a series halfway through its first season run is no easy feat. Yet we quickly come to accept D'Arcy and Cooke as Rhaenyra and Alicent as they immediately set upon each other. In fairness, it's Queen Alicent who makes the first move. After summoning the Princess and her Prince, Ser Laenor Velaryon (John Macmillan), she tells Ser Laenor not to worry; one of these times, he'll get a child that looks like him. The implication, explicit and cruel, is that the Queen is well aware that the children don't belong to Laenor but Princess Rhaenyra's true paramour, her sworn defender, Ser Harwin "Breakbones" Strong.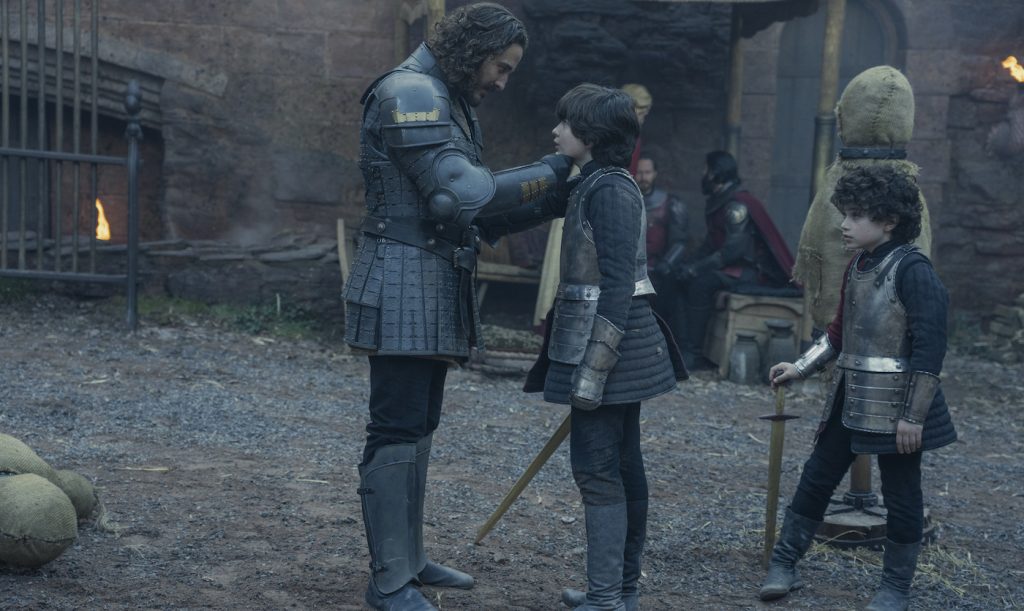 And what about Rhaenyra's old sworn protector, Criston Cole? He's found a new purpose by protecting Alicent. "His loyalties have shifted completely because Alicent was the one who pulled him out at the moment at which he was at his lowest, and now he's sworn his vows to her," says Fabien Frankel, the man who plays Criston, in a new "Inside the Episode" released by HBO.
In fact, Criston Cole takes it upon himself to publicly imply that Ser Harwin Strong is the true father to Princess Rhaenyra's children, suggesting his devotion to one of the prince's training is odd and would only be as fierce if the child were related to Ser Harwin, especially if he were his son. Ser Harwin takes this poorly and beats Ser Criston down. This is precisely what Ser Criston wanted. Stirring the pot and making life miserable for Princess Rhaenyra, with Queen Alicent's approval, of course, now seems to be a part of Ser Criston's charge.
"Criston Cole's rationale is if I can goad this guy into a fight, it proves the point," the episode's director Miguel Sapochnik says. "This has been percolating for a long time. The pressure that Rhaenyra is under. It seems that finally, she has reached a point where the lie is too much to bear."
"She's living multiple lies at once, believing she's getting away with it, and ultimately nobody's buying it," Emma D'Arcy says about the Princess. "When King Viserys named her air, that comes with an understanding that she'll have to change." Yet the Princess hasn't changed enough for the members of the King's court, especially his Queen. So Princess Rhaenyra strikes her most conciliatory tone yet—she suggests that her son, the heir to the throne once Rhaenyra herself is gone, should marry the Queen's daughter. It's a gesture of humility; here is Rhaenyra admitting she's erred and offering a way to align her house with the Queen's and strengthen all of them in the process. Unfortunately, Queen Alicent is in no mood for such gestures. She promises she'll consider it, along with the King, but it's clear Alicent has grown in power and impatience in the past ten years, and her view of Rhaenyra is dim, perhaps even cruel.
There was more in episode 6, quite a bit more, including another doomed marriage for Prince Daemon (Matt Smith), this time with Princess Laena Velayron (Nanna Blondell). We get yet another brutal birthing scene, only in this instance, Lady Laena decides to take matters into her own hands. Daemon finds himself faced with the same decision his brother Viserys was in the pilot, whether to kill his wife in order to save the baby. Daemon doesn't do it, but Laena, as a dragon rider, wants to die a dragon rider's death, so she instructs her dragon Vhagar, the biggest in the fleet, mind you, to finish her off. Vhagar hesitates at first, but before Daemon can get to his young wife, the colossal dragon finally takes the order, and Laena is killed in a blast of fire.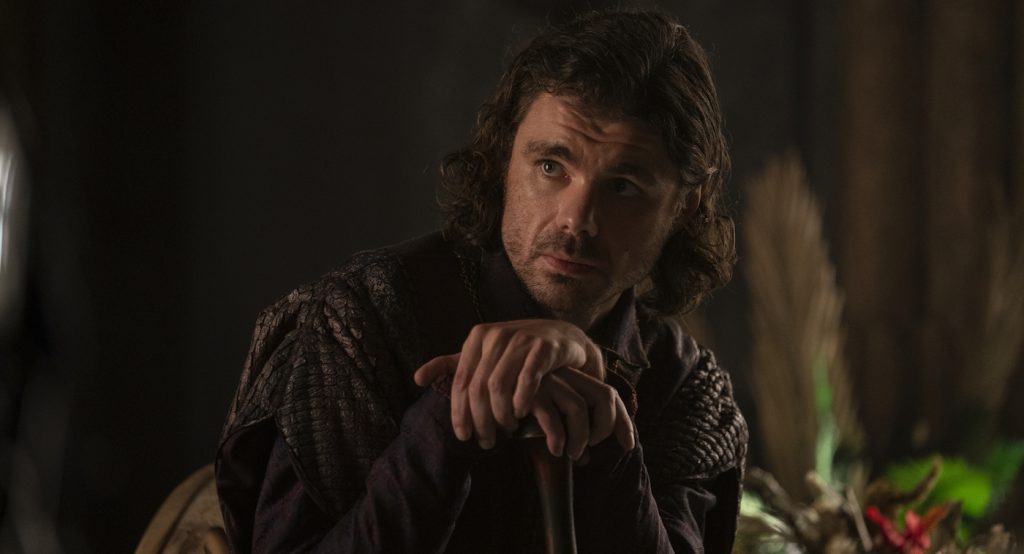 And finally, before we turn you over to the "Inside the Episode" video, a word on one of House of the Dragons' true villains coming fully into view, Larys Strong (Matthew Needham), the man who has been gently pushing Queen Alicent into an ever colder, darker place of paranoia and revenge. "He's a player, and he's looking into the future and seeing what she's going to be," says writer Sara Hess, who co-wrote the episode with showrunner Ryan J. Condal. "He's sort of placed his chips, and he'll wait for that to come home for him." Larys' maneuvers to get the Queen's father, Otto Hightower (Rhys  Ifans), back as King Viserys' hand. How does he suggest they do this? By having his own father, the current hand, killed. Despite Larys' physical weakness, he is perhaps House of the Dragon's most ruthless schemer.
Check out the "Inside the Episode" for episode 6 of House of the Dragon here:
For more on House of the Dragon, check out these stories:
"House of the Dragon" Episode 6 Trailer Introduces Older Princess Rhaenyra & Queen Alicent
Inside the Cursed Wedding in "House of the Dragon" Episode 5
"House of the Dragon" Episode 4: Sex, Lies, & High Treason
Inside "House of the Dragon" Episode 3's Crab-Nasty Drama
"House of the Dragon" Renewed For Season 2
Featured image: Olivia Cooke and Fabien Frankel. Photograph by Ollie Upton / HBO