Going For Broke in HBO's "Industry" With Cinematographer Federico Cesca
For fans of HBO's Industry who relished its hyper-intensive peek into the world of international finance, the series' return this August after an 18-month hiatus was like welcome news on the financial markets.
The ambitious hirers who survived the cutthroat trading floor in season one are upping their game as they fight to make their mark at Pierpoint & Co, the prestigious London-based investment bank. Harper Stern (Myha'la Herrold) is scoring points by currying the favor and business of Jesse Bloom (Jay Duplass), an uber-powerful American hedge fund manager. Yasmin Kara-Hanani (Marisa Abela) is angling to parlay a chance meeting with Celeste Pacquet (Katrine De Candole), an executive in Pierpoint's private wealth management section, into her ticket off the trading desk. And Eric Tao (Ken Leung) is fighting for relevancy as Danny Van Deventer (Alex Alomar Akpobome), a young executive from the New York office, maneuvers to take control of the CPS desk.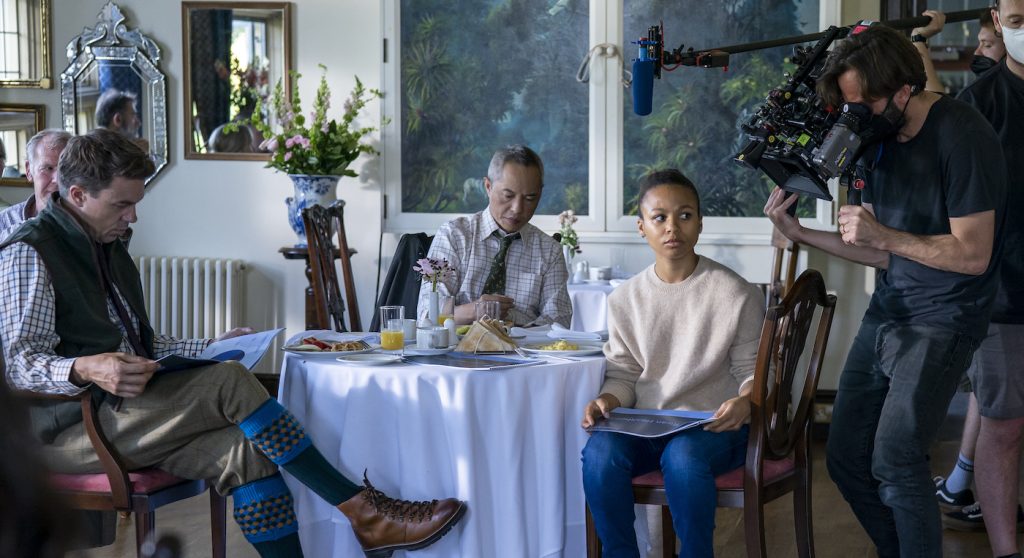 There's no doubt the trading action is just as potent as the first season. But cinematographer Federico Cesca, who shot four of this season's eight episodes, was more interested in revealing a different side of the characters. 
"I feel like the moments that stand out the most are the ones that are a bit outside of that world," says Cesca during a recent conversation over Zoom. 
Cesca cites a bird hunting excursion to Wales in episode three that plants the seeds of a blossoming relationship between "Gus" Sackey (David Jonsson), who was fired from Pierpoint last season, and Bloom's son Leo (Sonny Poon Tip), who feels lost in his father's shadow. Episode four offers a unique look into Tao's homelife as he connects with his wife and young daughters. There's a glimpse of Bloom's quirky lifestyle in episode seven as a visit to his cavernous mansion shows furnishings consisting of a wall of computer screens and a basketball hoop. 
"Those, to me, were really cool memorable moments when I was shooting them," Cesca continues. "Previously, 80% of the time, you're on the trading floor. This is just different. You get the sense that you can explore different aesthetics, different things with a more personal touch."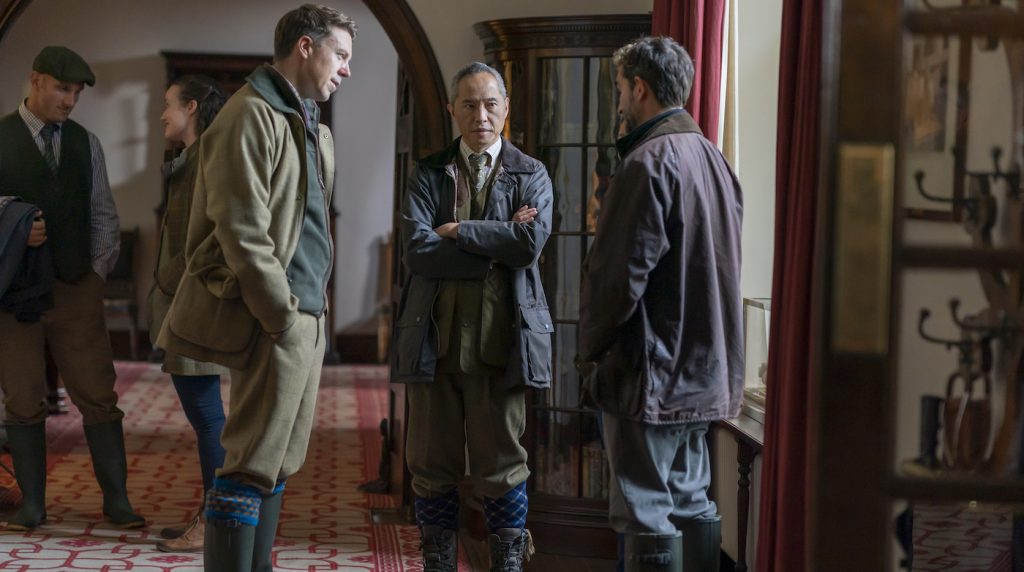 Cesca's previous work, which includes the feature Patti Cake$ and the TV series Tales of the City, was primarily based in the United States. So he was intrigued when the producers of Industry approached him. Watching season one sealed the deal. "My wife loved it," says Cesca. "My wife was like, 'You have to do this.'"
Cesca read the scripts for the first two episodes of season two, but the director of those had already chosen a DP. But Cesca didn't mind. It gave him the opportunity to team up with director Isabella Eklöf. "I'd seen Border, which is a great film that she co-wrote. And then I watched her first feature, Holiday, which is also really good…a very strong vision, a clear kind of idea."
Even though he hadn't read the scripts, Cesca signed on for episodes three, four, seven, and eight. "I just jumped in blindfolded," he says with a laugh. "Your instinct tells you this is gonna be good."
Shooting was done with an ALEXA Mini and Canon K35 lenses. Knowing Industry creators Mickey Down and Konrad Kay were pushing for a more cinematic and textured look than season one, Cesca mixed things up by opting for 24mm and 35mm lenses rather than the typically used 50mm lens. "We were going with wider lenses which immediately changed the way things feel," he explains. "Because you are making the depth of field deeper, you're closer to the actors and feel the world a little more."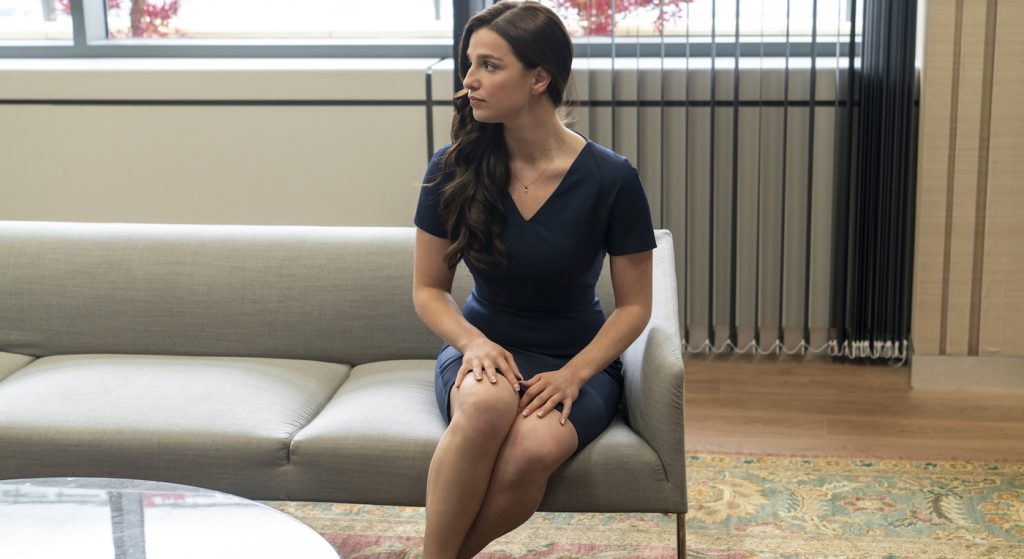 Eklöf shook things up by asking Cesca to avoid over-the-shoulder shots and to always keep the characters in the middle of the frame.
"That's something that I hadn't really done before. That was challenging to me," Cesca continues. "But I think it's something that you feel in the episodes that we shot, especially when you compare them with the others. It's a signature of what Isabella likes."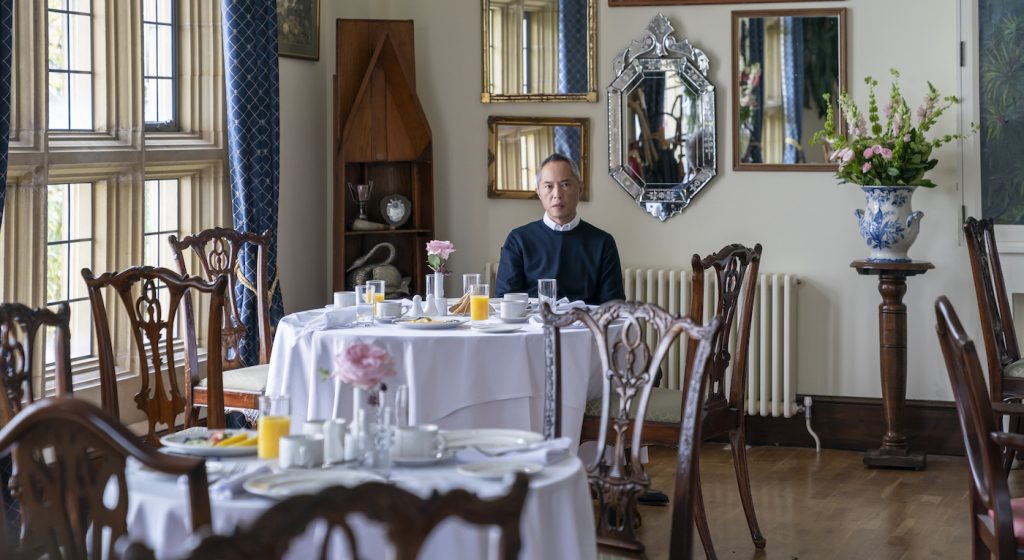 In many of the two-character scenes, Cesca was so close that the camera was literally between the actors. "We were in the middle of the action with a very reacting and very proactive camera," he adds. "The camera itself is a participant as opposed to just watching."
Cesca admits that at first, the cast wasn't quite sure how to react to these unusual setups. But as shooting progressed, he believes it helped spark the actors' creativity. "As soon as we started shooting, Isabella and I felt we were on the right path," he says. "You could see something unexpected happening. I did feel the actors were enjoying it. It was exciting for them to work this way."
Cesca also decided at the start of production to deliberately give his director and actors some space. He'd watch the blocking and strategize about his lighting choices. But he didn't intrude and made sure he wasn't cluttering the stages with stands and equipment. "I'm prioritizing so that the directors and actors can move freely," he explains, adding it freed him up as well. "I can basically shoot 360 degrees in most of the situations. It feels like we are in that world, and the world is three-dimensional. It's not three walls and a fourth wall."
Though most of Industry's action is shot at Wolf Studios Wales, some location shooting was needed. Cesca remembers the difficulty in particular of finding a suitable hotel look for Tao's trip to New York City in episode four. Scouting trips to nearby Cardiff and Bristol came up empty. Finally, a suitable space was found in London.
"The irony is that you have these incredible views of London. You see the tower Bridge and all that," Cesca says. "But then you have to put in a green screen, block the view completely, and pretend you're in New York City."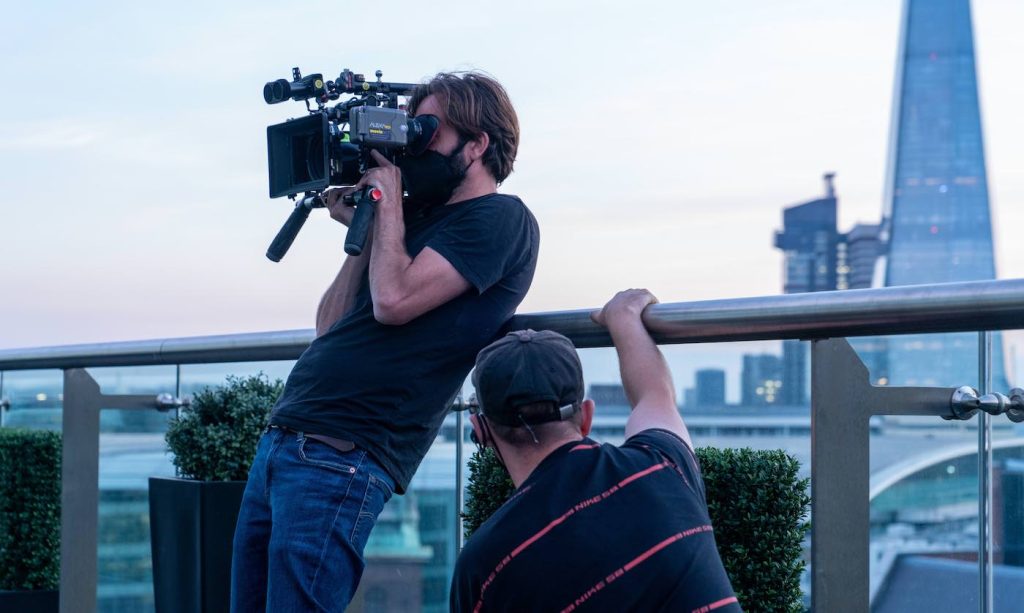 Location choices for episodes seven and eight also presented Cesca with some challenges. The script called for a team led by Stern and Tao, to meet with a variety of different investment bankers. All these scenes were shot in the Bloomberg London building.
"You're kind of in a box with windows pretty much all around," explains Cesca. "You can't really light from outside. So you really need to take into consideration the sun and the natural light and somewhat manage to keep it consistent throughout — whatever four or five hours or more that you're shooting in this room."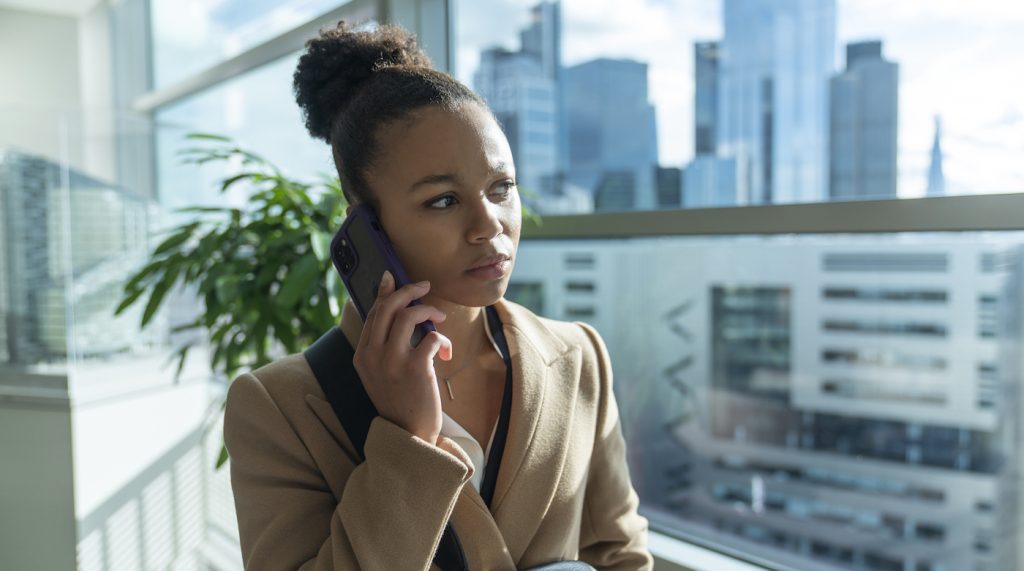 Wanting to vary the shots, this was the only occasion when Cesca brought in a second camera. "Shooting in all these offices and meeting rooms when you have seven, eight characters, all with lines, you just need to start using the second camera and try to grab as much as you can in the shortest amount of time possible," he adds.
The British weather proved to be an unlikely ally when Cesca was shooting these scenes. "I just loved it. One thing that is incredible is that the sun never really gets quite high," he says. "The light kept getting lower and lower as we were going into winter. That's definitely an advantage. It's easier to make something look good when the sun is shining straight up."
Season Two of Industry debuted on August 1, 2022, on HBO and HBO Max with new episodes airing on Monday nights at 9 pm ET.
For more on Warner Bros., HBO, and HBO Max, check out these stories:
"Joker 2" Adds Brendan Gleeson
Inside "House of the Dragon" Episode 3's Crab-Nasty Drama
"House of the Dragon" Renewed For Season 2
"Godzilla vs Kong 2" Synopsis Reveals Epic Continuation of Monster Fight
Featured image: Jay Duplass. Photograph by Simon Ridgway/HBO