"Inventing Anna" Costume Designer Lyn Paolo on Dressing a Cunning Chameleon
When Anna Sorokin, a Russian woman in her early twenties, landed in New York, she had little in the way of entry to the glitzy social world she hoped to break into — no wealth, few friends, and a single stint as an intern at Purple, a raunchy Paris fashion magazine. 
But as creator Shonda Rhimes swiftly demonstrates in Inventing Anna, Netflix's nine-hour recounting of the fake German heiress Anna Delvey (Julia Garner) and the reporter who broke her story, the Russian had a knack for getting what she wanted, upgrading from stealing a wealthy mentor's credit card information to conning her way into months-long unpaid luxury hotel stays, and in what would have been her con-artist pièce résistance, nearly getting a $40 million bank loan.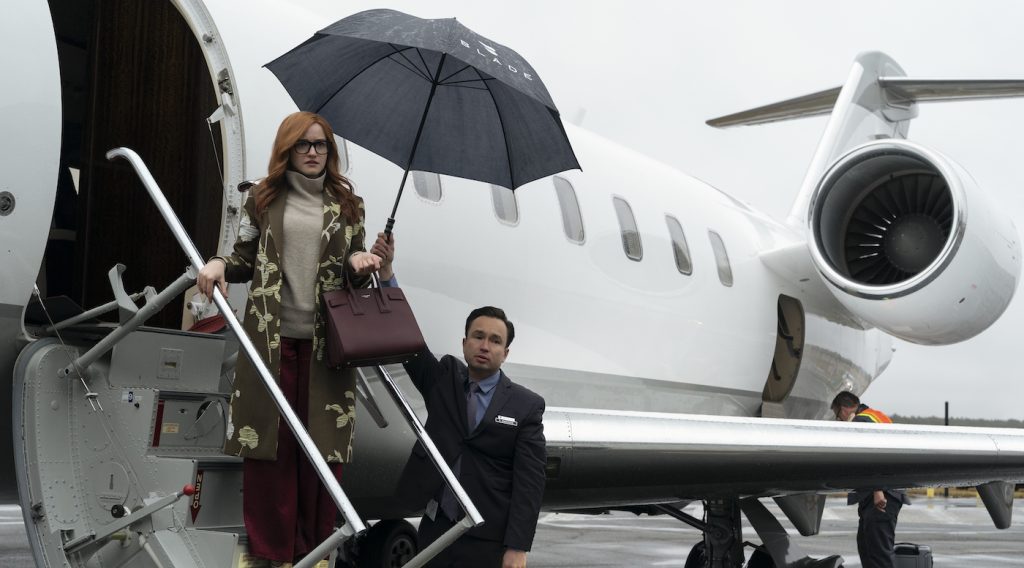 The failed bid for the loan was her downfall, as was sticking her friend Rachel (Katie Lowes) with a $62,000 Marrakesh hotel bill, lest the pair otherwise be jailed by the Moroccan authorities. But Anna still managed to con her way into plentiful funds. So, what'd she buy? Clothing, and a lot of it. References to Anna's multitudinous fashion personalities pepper the script, betraying her as a scammer. Some friends were certain she had to be old money — with little personal charm and the general look of a potato, it was dressing the part that got her into their circles. To Nora Radford (Kate Burton), the mentor she robbed, she had "trash taste." Business types called her out for showing up to meetings in bust-revealing dresses, an early blunder she learned to correct. And of course, the real Anna was infamously late to her own court appointments because she couldn't decide what to wear. 
For costume designer Lyn Paolo (Maid, Scandal, Shameless), the limited series was a jigsaw puzzle predicated on toggling between the many versions of "Anna Delvey" that Sorokin presented to the world. Paolo and her co-designer Laura Frecon show us Anna's journey, from babydoll dresses and fur-trimmed coats to yacht-ready headscarves to, finally, a prison jumpsuit. We spoke with Paolo about her methods to keep track of it all, inventing looks for characters who managed to keep their names out of the headlines, and coming up with subtle visual cues for the strange influence Anna had on her marks.
Beyond Anna's own Instagram account, where did you turn for costume inspiration?
To give credit as always to my amazing, fabulous writer-producer Shonda [Rhimes], everything is usually on the page. In our read-throughs with the cast, we'd be reading the script and then the directions would be read by [executive producer] Betsy Beers. And it would say 'Anna enters the room in a gorgeous outfit,' because she puts it on the page if she's entering a glamorous restaurant or if she's a business woman. Shonda's amazing because she gives me the freedom to just play, with the actor in the room, and come up with a plan. I'll send the images to her, and she'll weigh in too, but she's just an amazing person to work for and collaborate with because she loves fashion as much as I do. The volume of costumes and clothing was probably the most I've ever done.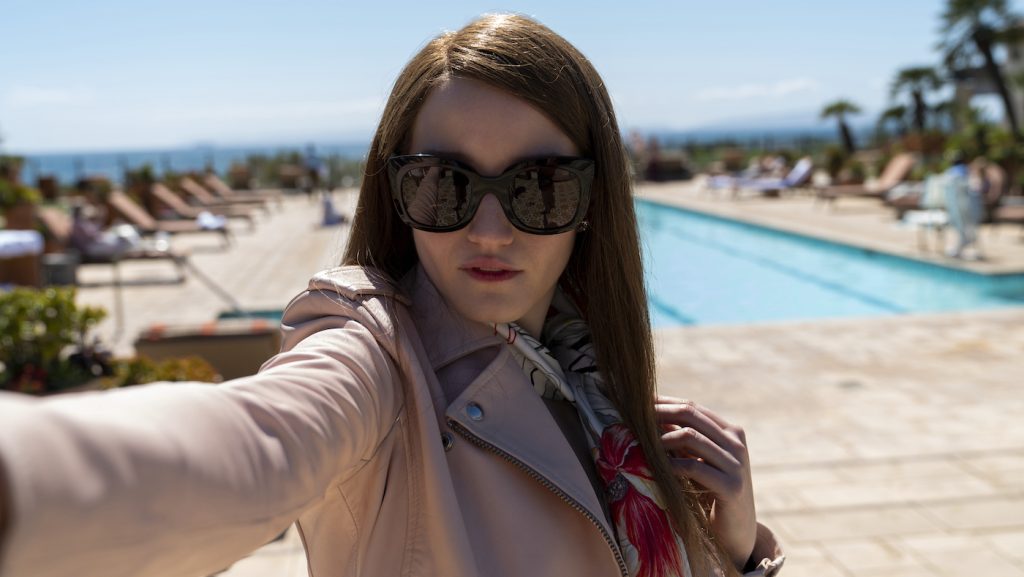 Was Julia Garner pretty involved with the planning around her character, then?
Julia is one of those amazing actors who just gets into the character end of it. Often, when we'd have a fitting, she might not have seen the next episode or had time to read it yet, so we were really telling her okay, in the next episode you're going to be doing this, this, and this, or we think it's this, how do you feel about that? Generally she was completely onboard with any direction that we went in. She's such a chameleon. If you give her the space to be a different human she just completely inhabits the space. I really love working with her. Those moments with actors should be collaborative. That's what we're here for, not just to create a new world but to give the actor the space and the tools they need to inhabit that new human.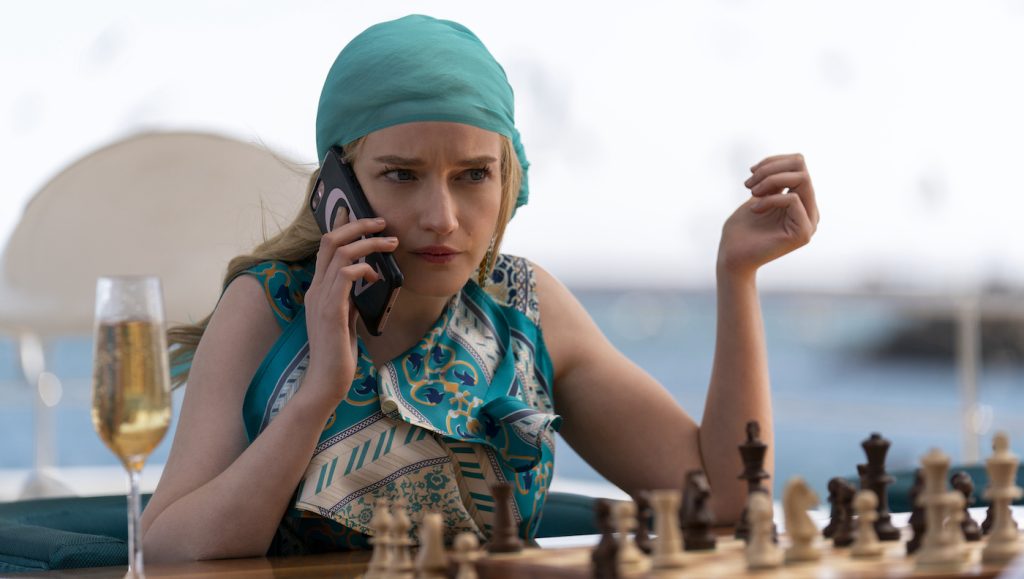 How did you reconcile the references in the dialogue to the way Anna dressed with where you ultimately decided to go with the character's wardrobe? 
I think that was part of the jigsaw puzzle that was Inventing Anna. There was the Instagram layer which was one whole world. Then there's the courthouse layer. Then there were all the different Annas. All the dialogue that Shonda had in the body of the scripts themselves led us to the path we needed to go down. So the first time you meet Anna in Anthony Edward's [playing banker Alan Reed] office, she's in a babydoll dress — completely inappropriate. Then later on, someone references the babydoll dress, or dresses. When I say it was on the page, it's no joke — it was in the dialogue. We had a roadmap from Shonda, and then the trick was, which Anna are we meeting in which particular scene? We had all these pictures on the wall. We had a timeline for Anna — who she was at which time to what person. It was challenging but it was fun, too. I've never done a show that way. 
Did you have certain silhouettes for one Anna, for example, which would never be worn by another?
That's exactly right. All those other people in the story are sort of our Greek chorus, aren't they? They're saying Anna was a snazzy dresser, or Anna was overweight, or Anna was sleeping with men. Each of those blips of Anna had to tie in with what was being said. It was a riot. In our fittings we would joke, which Anna is this? Do we have the right clothes for this Anna?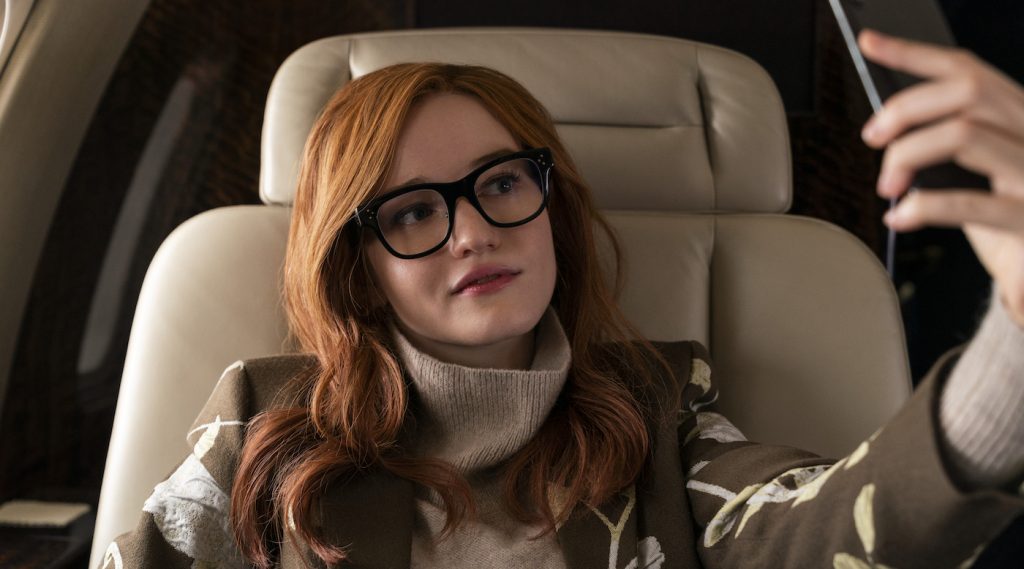 Were there any designers you used on Anna which were unexpected?
Just given her age and that the real Anna wore a lot of Rick Owens, a little more avant-garde, I was a little surprised that we ended up having her in so much Etro. It sold the South of France for us, when she ended up on the yacht, because we actually ended up shooting that in San Pedro because of Covid. So the Etro head scarves and that sort of I'm-in-Europe vibe, I wasn't ever expecting to use that on the character but it worked for the scene, so that's where we went.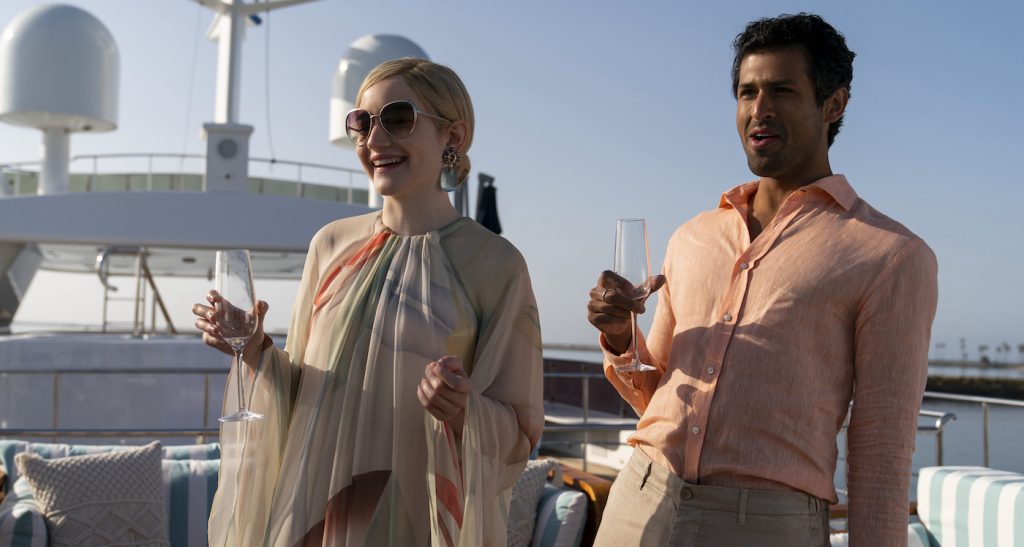 Was there a particular setting you really enjoyed dressing?
You're going to think I'm crazy, but even though we were at this amazing hotel in Marrakesh, about five days before Christmas the hotel said oh, we're sorry, but we can't loan you any of the hotel uniforms. So we had five days to create the whole hotel. At the time I remember thinking, I don't know if we're going to get this done. But when we went to the hotel the manager said oh, I love your uniforms, they're nicer than ours. So it was one of those weird moments where other people won't care about the hotel staff, but I was so proud of my crew because they pulled it together for me and it looked beautiful.
How did you design the look of non-fiction characters who have managed to remain mostly unknown, like Anna's mentor, Nora Radford?
I always want to say, there are only so many colors in the rainbow. Color is so important to me in the beginning, and then silhouette. So for me, working with Kate Burton [who plays Nora] again, whom I've worked with several times, it had to feel like she was from old money, but also, she was an artist. She loved art. She goes to Storm King and she donates money to all these museums. So we tried to ensure that for her character, everything felt like it was from money, but it had a little artistic bent, like the kaftans. That was also a little nod to Liz Taylor. So you take a nugget of information from the script, that this woman is a huge art aficionado, and she has lots of money, and then you build on that. You just mold these humans with your clothing and hope that it works for the writer, the director, and the actor. The same is true for Anthony Edwards. He was just the 1950s man in the suit with the white shirt, but then with Anna's influence, he evolved into much brighter shirtings and Hermès ties and beautifully tailored suits by Italian designers. I just like that tiny attention to detail that you can bring to a show that I think the audience might not notice, but is subliminal to them. They might understand it without knowing it, that there's been an evolution to a character.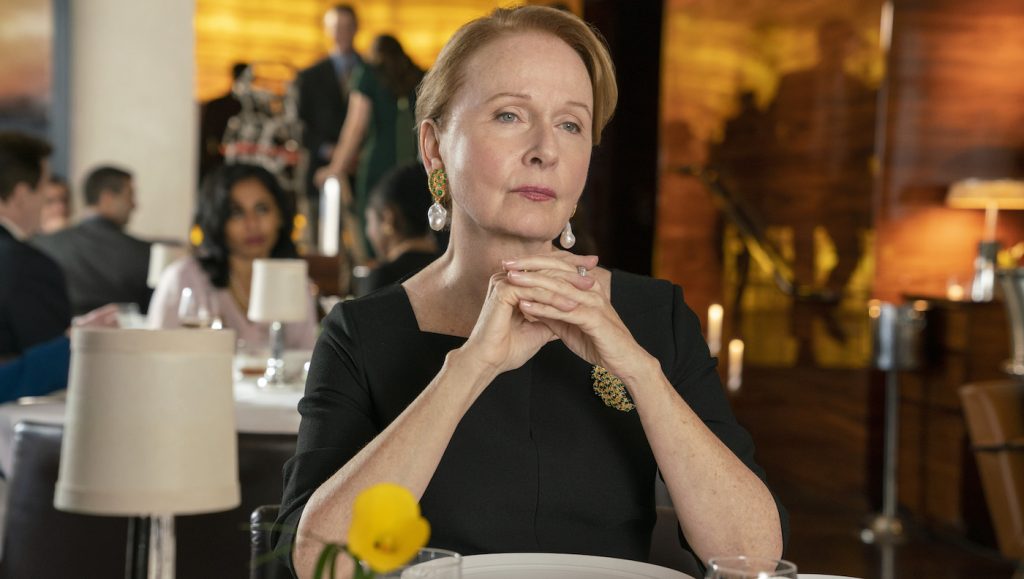 For more on big titles on Netflix, check these out:
"Stranger Things" to End With Season 5, Massive Season 4 Coming This May
J. Lo, Jamie Foxx, Jason Momoa, Ryan Reynolds & Chris Hemsworth Highlight Netflix's 2022 Movie Slate
"Texas Chainsaw Massacre" Trailer Reveals the Return of Leatherface
Featured image: Julia Garner as Anna Delvery in episode 104 of Inventing Anna. Cr. Nicole Rivelli/Netflix © 2021