"The Gilded Age" Cinematographer Manuel Billeter on Lighting Old Money & New
Set in New York in the 1880s, The Gilded Age isn't so much a follow-up to Downton Abbey as an across-the-pond companion piece from creator Julian Fellowes. In what's being oft-referred to as a 'lavish epic' up and down the internet, this new HBO series follows in the footsteps of Fellowes' previous series, with a slickly-produced focus on all the ways the rich are not like you and me.
On one side of 61st Street, you have the Brook-Van Rhijn clan. They're old money. Matriarch Agnes (Christine Baranski) is an unrepentant snob primarily occupied with lounging archly on the sofa and ensuring her newly arrived penniless niece, Marian (Louisa Jacobs) gets off on the right social foot. The wrong foot is practically peering through their brownstone's windows, having just landed across the street in the form of the Russells. These nouveau riche arrivistes are richer than God and hellbent on making sure the old guard knows it. George Russell (Morgan Spector) recently made his fortune as a railroad baron, enabling his wife, Bertha (Carrie Coon), to pursue her passion as a naked social climber. George plays his cards more subtly than his wife, if only as a professional necessity — it's easier to take down your rivals if they can't see it coming. The old money, of course, quietly seethes in their dim parlors at the Russells' palatial new home, their use of the wrong architect, and their generally dogged incursion into the old New York social world.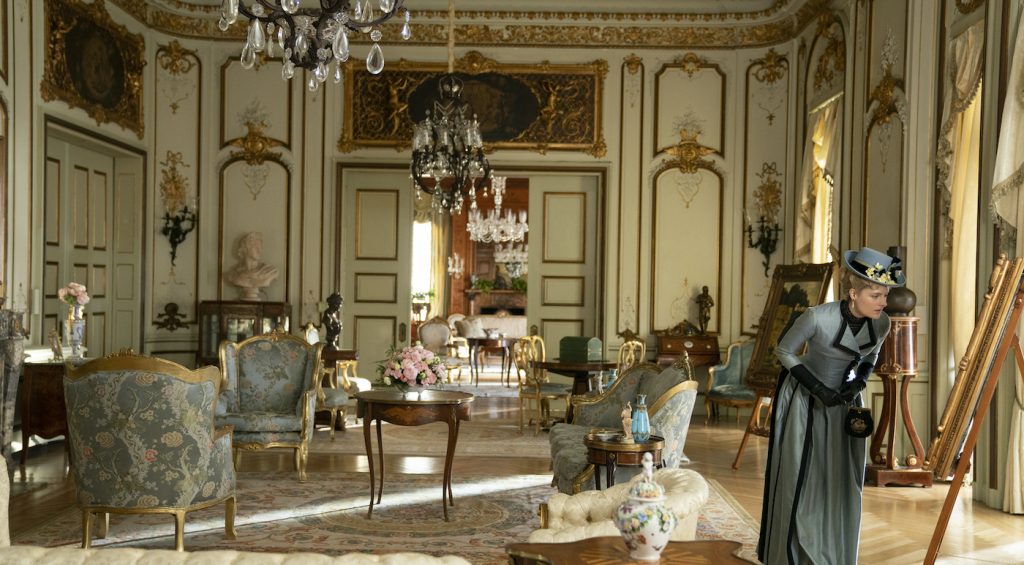 And what a world it is. The production built a full city block on a backlot on Long Island, representing most of 61st St. at Fifth Avenue, and shot on locations in Newport and Troy, New York. Characters experience individual struggles — Marian's cousin Oscar is a closeted gay man and a fortune hunter, the Russells' daughters Gladys just wants a suitor her mother didn't choose for her, that sort of thing — but the crux of the show is the battle between new money desperate to get in and old money fighting (and failing) to keep them out. To that end, through impossible-seeming wide shots and more portrait-like photography, cinematographer Manuel Billeter's camera always lets you know where you are. The Russells may appear to be lost in an empty museum, but that is indeed their house. At home with the Brooks, the Morrises, and the Fanes, space shrinks and darkens — as nice as it might seem to the servants working in the basement, these plush brownstones are veritable caves compared to the newer homes of the upstart rich.
We got to speak with Billeter, one half of the show's DP team with Vanja Cernjul, about the unusual techniques the pair used to make palatial spaces appear even grander, how they lit for the gas lamp period, and getting into the era via Edith Wharton and Henry James.
At a time in history when so much suddenly got a lot bigger, how did you highlight scale?
What's put in front of us is key. The design of the sets obviously reflected the gaudiness, the unfettered display of wealth the new rich wanted to flaunt by building massive palaces. The square footage, the cubic footage, the high ceilings, everything had to be palatial. When we were shooting scenes that took place in the new money world, we tried to capture the vastness and the scale of these rooms and the opulence of it all — and the brightness as well. Those rooms were flooded with light rather than being closed in. It was an open display of money and power. So we did use wider lenses there, just to place the people within these opulent surroundings. Also, we moved the camera more in that world, so the perspective would shift a little bit, and also become about the architecture and rooms where these people were moving about.
So the camera movements help create the space?
There were more 180-degree and 360-degree moves to take in these rooms, which were really designed, in a way, to astound. There was also another signature, go-to technique that we applied. We made panoramic frames — we dubbed them ultra-wides, or stitched frames — where we shot the scene with the actor in it in one frame, but after the actors were gone we panned up and tilted and scanned the whole room to create what, in theory, were impossible-to-get shots because of the perspective. It really showcases the enormity of these spaces. It's not just using a wide-angle lens to show the whole room, it was more like medium range lenses that captured the action initially, and then it took some more photography to capture all around it to create a new frame out of that, in order to capture all the detail within one portrait-style shot.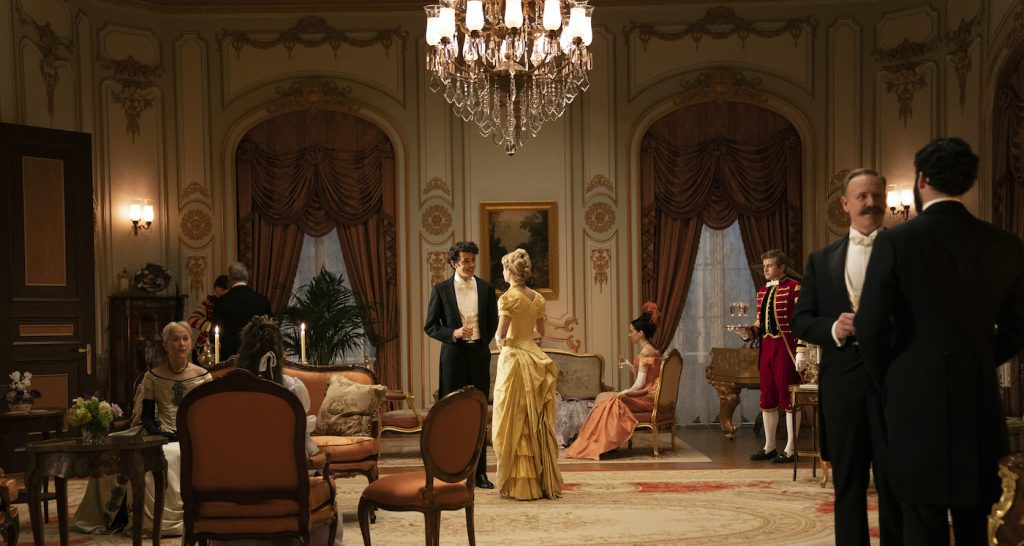 That seems like an ideal way to convey the enormity of the Russells' home.
We did that in the Russell home, in the Brooks home, and I did it in one of my episodes in a regular bedroom that was very small. But it was a scene with Marian and Ada, and they had a long heart-to-heart talk. I wanted to convey this notion of them being alone in this room. In that case, it wasn't really to showcase [the space] but to find a psychological tone in the scene that I thought was fitting for the instance. But then we did it in Mrs. Chamberlain's house, wherever we wanted to showcase how detailed, how rich, and how ornate both the locations and the sets built by our genius production designer, Bob Shaw, were.
How much did nighttime period lighting — gas lamps, fireplaces, candles, and the like — affect your process?
That was something that Vanja and I were very mindful of — to try and create lighting that was period accurate. We did several tests trying to find LED fixtures or tweak LED fixtures so they would match the color of a gas flame. Obviously, we can't just light with gaslight or candles alone. Off-screen we always had our own light fixtures that were trying to emulate a period-correct lighting scheme. We also had fireplaces that were either in the frame or out of frame that provided an additional source of lighting that was always flickering. The gas light was also flickering. It's not very pronounced, because it can get quite distracting to get light levels that are changing all the time. Back in the day, when Thomas Edison electrified some buildings, the common thread in what eyewitnesses reported was that the electric light was so soothing because it was constant and it wasn't flickering. It was an interesting perspective because this is something we take for granted now — you turn on a light and it's not flickering. So the flickering is there, but it's light so it doesn't become too invasive or distracting.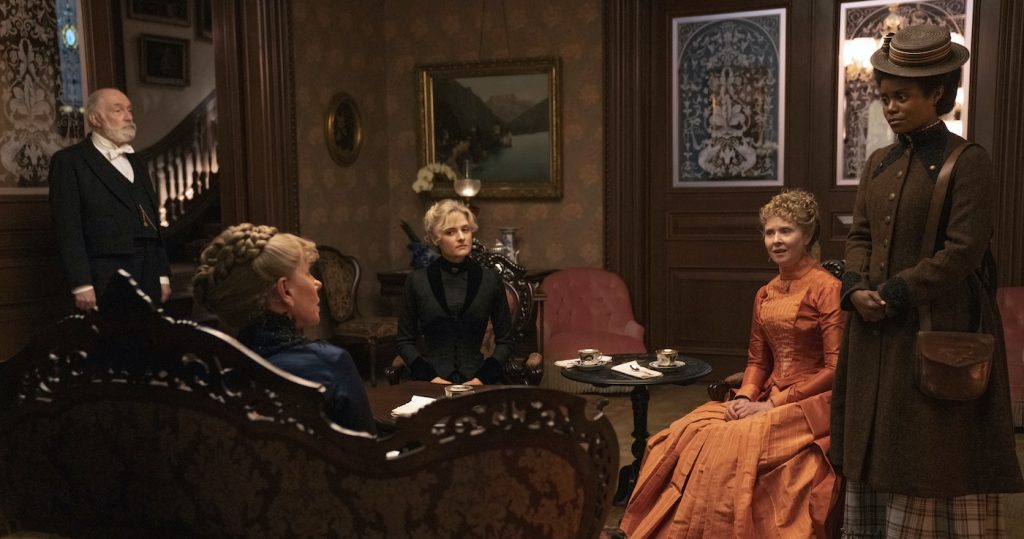 Speaking of older elements, how did your process differ in lighting and shooting the old money homes?
To get back to your first question, I spoke about how vast and light everything is in the Russell home, whereas the old New York feels a bit more enclosed. The materials used to decorate the homes were different. There were all kinds of colors and textures and patterns that create a very rich and varied visual texture. You have edged glass, heavy draperies, darker colors, a lot of natural wood. Also the dimension of those houses, they were brownstones. They were large, but nothing like a palace. So naturally, those rooms feel a bit more confined, they feel a bit more like a cage, or they feel a bit more like a shelter. And they're more old-fashioned. They're not designed by the latest architects, they're more conservative, and they're more subdued. We used different sets of lenses for the old New York world. We shot those with anamorphic lenses which give you almost a nostalgic feel of older movies. Anamorphic lenses have some [aspects] that we hoped were subconsciously connecting the viewers with an era that is gone. The lenses that we used there were also a little bit tighter, and there wasn't as much movement with the camera. It was more like static, almost portrait-style cinematography, more like a painting where you pose for that frame and everything happens within it.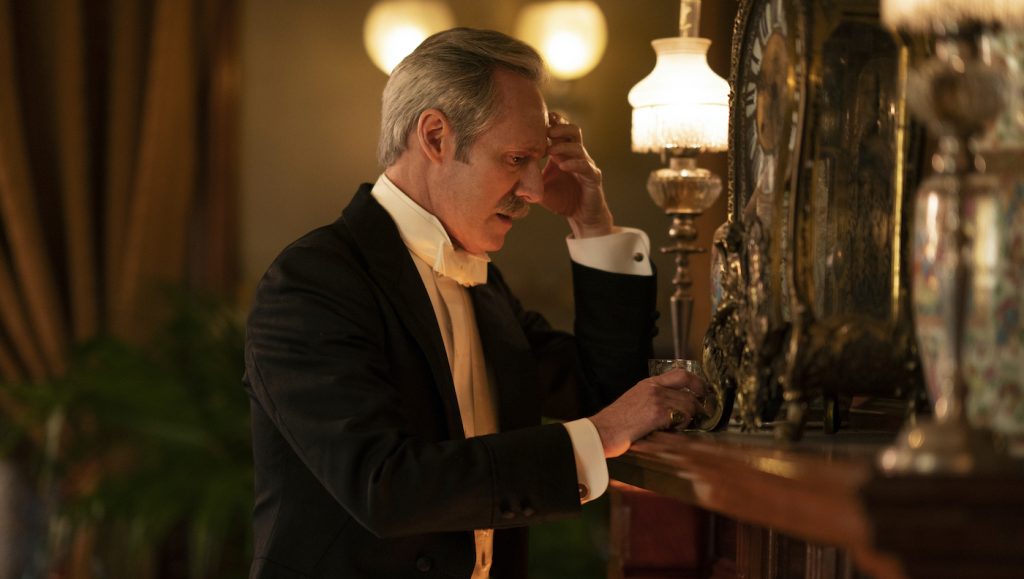 The show was pretty delayed by the pandemic. Did that affect your process?
I'm just glad this project has seen the light of the world. I remember being approached in August 2019. We got so close to starting shooting in March 2020. The camera was in the trunk, and then the lockdown came and we postponed it. In a way, having the extra time in the lockdown just to prepare and read up more about the period and read novels of the period, I was able to get my head a little more into the realities of the time. Knowing more about the history of the time just helps you in making more informed decisions. It's fictionalized, but many of the events depicted really happened, and the narrative is really historically accurate. I read "The Age of Innocence" by Edith Wharton, then I read Henry James' "Daisy Miller." I also read the report by Jacob Riis, "How the Other Half Lives." There's the whole downstairs world that we barely get to see, except when they're in the house in the servants' quarters, but there are a couple of scenes where we venture out into a tenement building and see a different reality from what we see in high society.
For more stories on HBO and HBO Max, check these out:
"Station Eleven" Cinematographer Christian Sprenger on Threading Timelines & Revealing Humanity
"Batgirl" HBO Max Movie Adds More Stars to Join Lead Leslie Grace
"Station Eleven" Costume Designer Helen Huang on a Post-Pandemic World Filled with Art & Humanity
Featured image: Christine Baranski, Blake Ritson, Cynthia Nixon, Louisa Jacobson. Photograph by Alison Cohen Rosa/HBO