First "Moon Knight" Images Reveal Oscar Isaac as Marvel's Conflicted Superhero
Marvel Studios has started really giving us the Moon Knight goods in recent weeks. The first official trailer, the Super Bowl spot,  and now a slew of new images have filled out the picture on what the upcoming Disney+ series will be like. Moon Knight stars Oscar Isaac as Steven Grant, a gift-shop employee who seems like he'd be spooked by his own shadow. When Moon Knight begins, Steven is still unaware there's a lot more to him than he realizes. He is, in fact, two people, the milquetoast Steven and a mercenary named Marc Spector. It's Spector's life and deeds that will come to dominate Steven's world, as the two personalities and one man are plunged into a mystery involving dangerous enemies, a mysterious man named Arthur Harrow (Ethan Hawke), and, wait for it, Egyptian gods.
The new images give us a few of Steven, including one compelling image of Marc confronting Steven in an elevator reflection.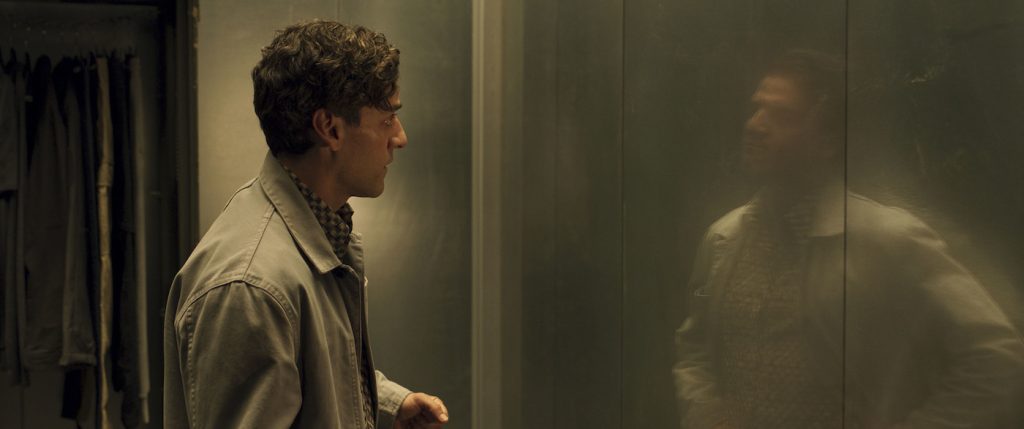 Then there's Hawke's Arthur Harrow, who the actor has compared to the Branch Davidian cult leader David Koresh, and who may be modeled on one but two Marvel villains.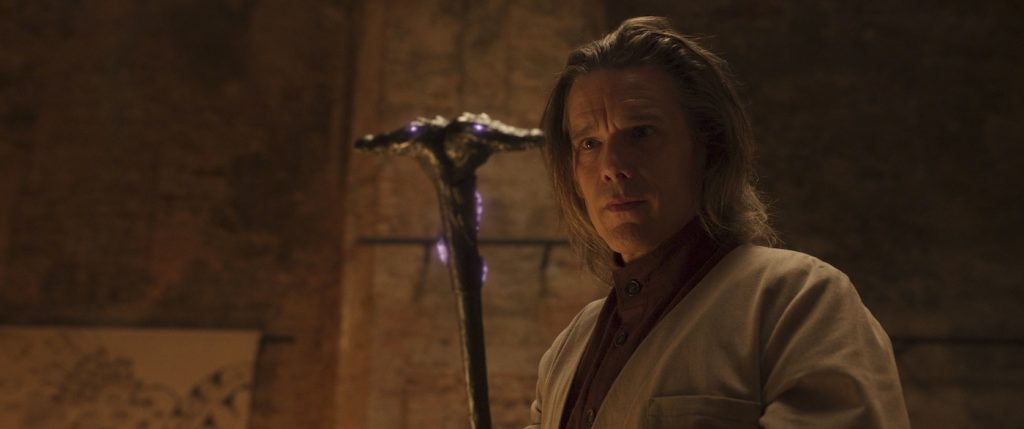 And we keep coming back to something Marvel Studios President Kevin Feige said to Empire Magazine — that Moon Knight will be louder and more brutal than anything they've done before. "He's brutal," Feige told Empire about Oscar Isaac's Steven Grant/Marc Spector. "It's been fun to work with Disney+ and see the boundaries shifting on what we're able to do. There are moments [in the series] when Moon Knight is wailing on another character, and it is loud and brutal, and the knee-jerk reaction is, 'We're gonna pull back on this, right?' No. We're not pulling back. There's a tonal shift. This is a different thing. This is Moon Knight."
Moon Knight arrives on Disney+ on March 30. Here are the rest of the images: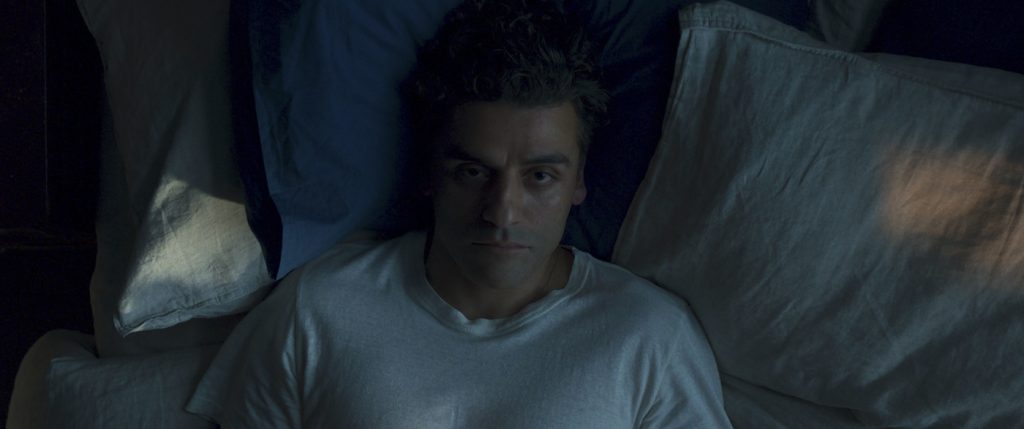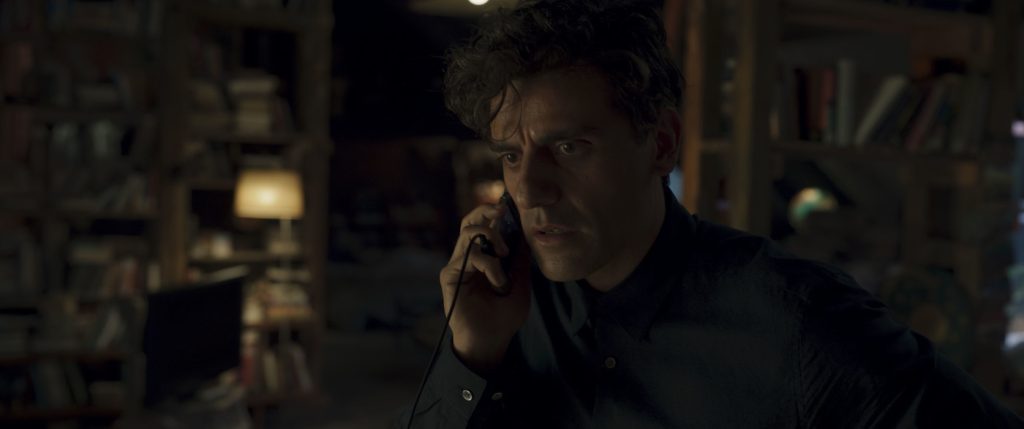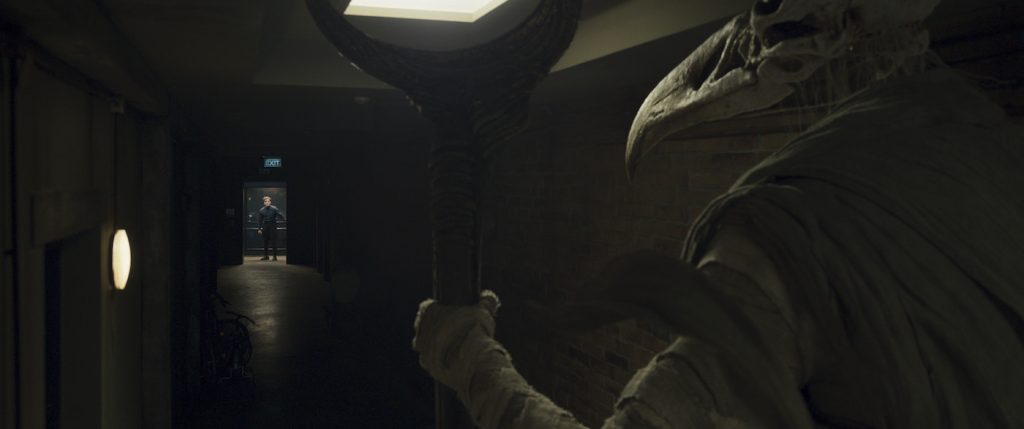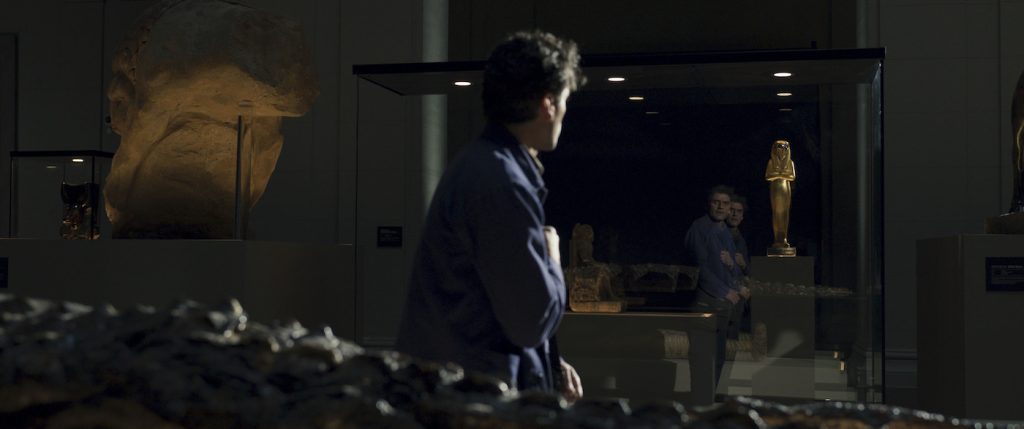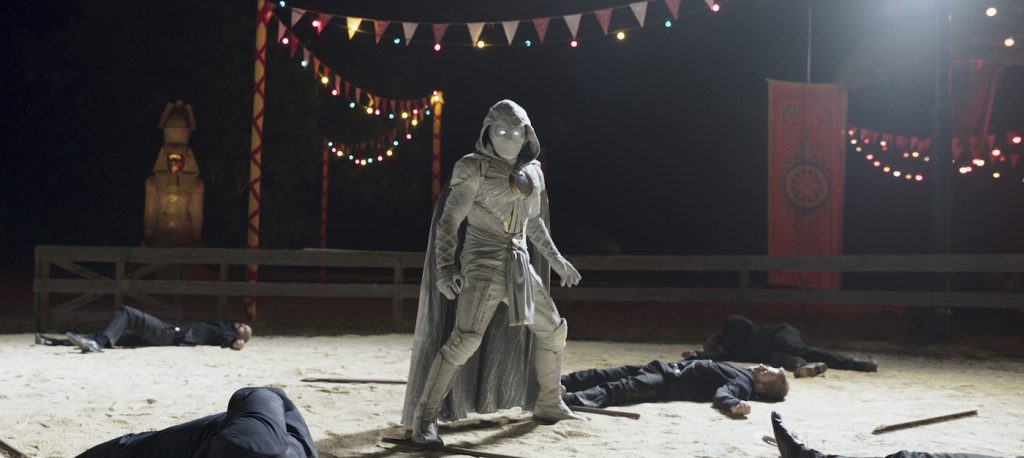 Here's the official synopsis for Moon Knight:
When Steven Grant, a mild-mannered gift-shop employee, becomes plagued with blackouts and memories of another life, he discovers he has dissociative identity disorder and shares a body with mercenary Marc Spector. As Steven/Marc's enemies converge upon them, they must navigate their complex identities while thrust into a deadly mystery among the powerful gods of Egypt.
For more on Moon Knight, check out these stories:
"Moon Knight" Drops a Twisted Super Bowl Spot
Ethan Hawke's "Moon Knight" Villain Might be a Hybrid of Two Very Bad Dudes
Marvel's "Moon Knight" Trailer Reveals Oscar Isaac in Wild New Series
Watch Oscar Isaac's Stunt Training For Marvel's "Moon Knight" Series
May Calamawy Joins Oscar Isaac in Marvel's "Moon Knight"
Featured image: Oscar Isaac as Moon Knight in Marvel Studios' MOON KNIGHT. Photo courtesy of Marvel Studios. ©Marvel Studios 2022. All Rights Reserved.