Marvel's "Moon Knight" Trailer Reveals Oscar Isaac in Wild New Series
Marvel Studios has revealed the first official trailer for Moon Knight, their latest Disney+ series, revealing Oscar Isaac as the troubled Brit Steven Grant. Once again, Marvel has managed to mix up the tone and tenor of their latest series, offering a completely different vibe from what we've seen thus far in Hawkeye, Loki, What If…?, The Falcon and the Winter Soldier, and WandaVision. In Moon Knight, Isaac's troubled gift shop employee Steven Grant makes a very unsettling discovery—he shares a body with a mercenary named Marc Spector.
The character Moon Knight has had a few iterations since he first burst on the pages of Marvel Comics in 1975. Marvel's version here is based on more recent versions, which focus on Isaac's Grant has dissociative identity disorder and struggles to function in society. Those struggles take on epic proportions when he finds out about his little Marc Spector problem, a mercenary with seriously dangerous enemies. One of those enemies is played by Ethan Hawke, who told Late Night With Seth Meyers that his character is modeled on the cult leader David Koresh, who lead the Branch Davidians and died during the Waco siege in 1993. Joining Isaac and Hawke are Gaspard Ulliel and May Calamawy.
Isaac has previously said that the series will be quite different from what we've grown to expect from superhero stories. Speaking with GamesRadar, Isaac said: "I thought there was an incredibly unusual story to tell within the world of, you know, the superhero language. But we're making something that's quite different, and that doesn't follow the same… not necessarily even logic of what a lot of superhero films do."
The series was written by Umbrella Academy's Jeremy Slater, with directors Mohamed Diab, Justin Benson, and Aaron Moorhead helming all six episodes. (Intriguingly, George Clooney is listed as a director for episode 5, but that hasn't yet been confirmed.)
Check out the trailer below. Moon Knight hits Disney+ on March 30.
Here's the synopsis for Moon Knight:
The series follows Steven Grant, a mild-mannered gift-shop employee, who becomes plagued with blackouts and memories of another life. Steven discovers he has dissociative identity disorder and shares a body with mercenary Marc Spector. As Steven/Marc's enemies converge upon them, they must navigate their complex identities while thrust into a deadly mystery among the powerful gods of Egypt.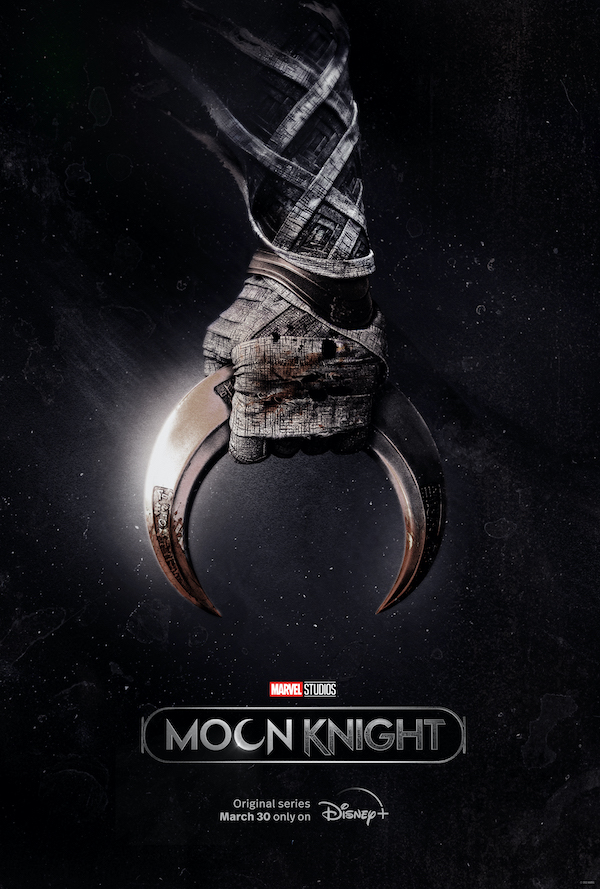 For more on Marvel Studios, check out these stories:
"The Marvels" Adds Rising Star Composer Laura Karpman
See How All The Trick Arrows in "Hawkeye" Were Created
"Ant-Man and the Wasp: Quantumania" has a New Villain – Bill Murray
"Doctor Strange in the Multiverse of Madness" Trailer Reveals Scarlet Witch & an Evil Stephen Strange
Featured image: Oscar Isaac is Marc Spector/Moon Knight in Marvel's "Moon Knight." Courtesy Marvel Studios/Disney+.